Easter Sunday is only two weeks away – do you have any plans? Between all the new lodging packages, dining specials, and fun events slated for this special weekend, it looks like the White Mountains just might be the perfect place to elevate your Easter.
EASTER EVENTS
LIVING SHORES AQUARIUM (Saturday, 4/9 & Sunday, 4/10)
Forget the Easter Bunny; we want to dine with Humpty Dumpty! The Bistro at Living Shores Aquarium (Glen, NH) will be hosting Humpty for a morning of fun the weekend before Easter. There will be plenty of pancakes, as well as an Easter Egg Hunt on the aquarium exhibit floor and a quick craft for all ages during this one-of-a-kind spring event.  
The Details:
Humpty's Easter Egg Hunt and Pancake Breakfast runs 8am – 10am, 4/9 and 4/10. Open to all children ages 12 and under. Ages 3 – 64: $24.99 (includes aquarium admission). Purchase your tickets online in advance.
Want to learn more about Living Shores? Check out our blog.
SETTLERS GREEN (Saturday, 4/9)
Some bunny told us the best pre-Easter idea ever; pair your trip to Living Shores Aquarium with a trip to nearby Settlers Green on Saturday, 4/9. Lindt Chocolate Shop is sponsoring a sweet Easter Treasure Hunt throughout Setters' open-air Courtyard, and we can't wait to spot the eight bunnies and eggs scattered along the way. After you collect a punch at each location, redeem your card at Customer Service for an Easter basket; you just might win a $50 Settlers Green Gift Card to cap off the day!
The Details:
Easter on the Green runs 11am – 2pm. Open to all children ages 12 and under (while supplies last). Treasure Trail maps available at Customer Service.
WATERVILLE VALLEY RECREATION DEPARTMENT (Saturday, 4/16)
An Easter egg hunt in the mountains…is there anything more idyllic? The Waterville Valley Recreation Department is hosting its Annual Easter Egg Hunt at Packards Field in Waterville Valley, NH. Expect thousands of eggs hidden across the field (including special golden eggs!) and photo opportunities with the Easter Bunny. The hunt is split into two age categories, giving little ones a half-hour extra for exploring before the big kids take the field.
The Details:
Easter Egg Hunt starts at 9:30am (ages 5 and under) and 10am (ages 6 – 11). $5/member, $10/guest. Online mandatory registration available online at wvrd.recdesk.com. Must register by 4/15 at 12pm.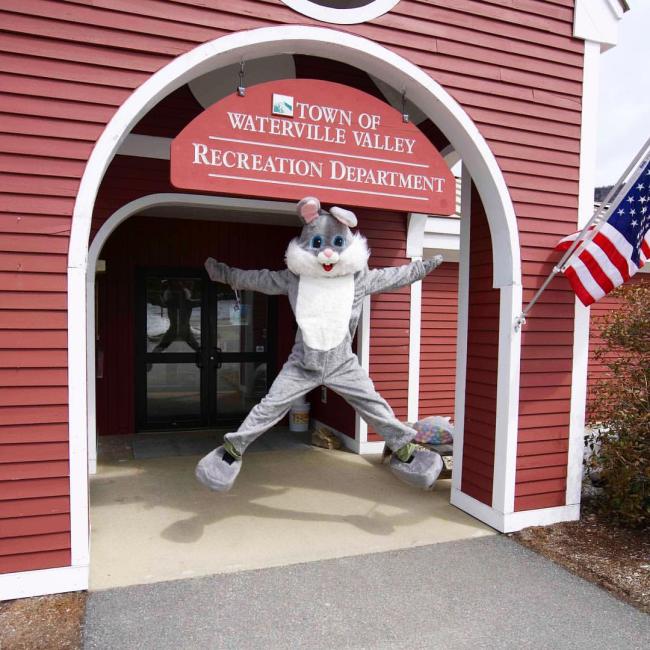 JACKSON AREA CHAMBER OF COMMERCE (Sunday, 4/17)
The Jackson Area Chamber of Commerce is hosting its 2nd annual Easter Spring EGGstravaganza on Sunday, 4/17, and you're invited! Start your Easter adventure in Jackson, NH; this small town serves as the perfect jumping off point for an egg and treasure hunt scattered across multiple properties.
The Details:
The Easter Spring EGGstravaganza runs 11am – 2pm (or until all eggs/treasures are found). FREE event for kids ages 2 – 12. All children must be accompanied by an adult. Email Kathleen@JacksonNH.com for a brochure map and list of participating properties.
LOON MOUNTAIN RESORT (Sunday, 4/17)
Celebrate Easter with a bit of tradition and attend a beautiful Easter Sunrise Service at the top of Loon Mountain Resort (Lincoln, NH). This non-denominational event (hosted by Loon Mountain Ministry) is the perfect option for those looking for some spiritual inspiration before a few exhilarating runs down the mountain.
The Details:
$5 per person. Tickets must be purchased online in advance starting 4/1. Schedule: 5:15 - 5:45am: Load gondola | 6:20am – 7:00am: Sunrise Service | 7:00am: Gondola ride back to the base | 7:30 – 7:45: First tracks.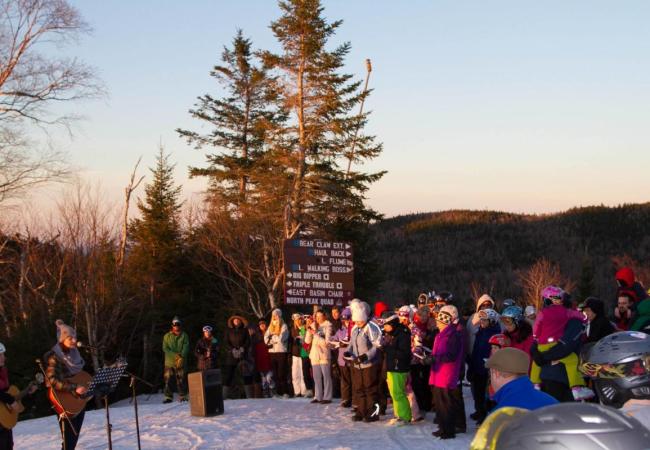 CONWAY SCENIC RAILROAD (Saturday, 4/16 & Sunday, 4/17)
All aboard the Easter Bunny Express! This festive train excursion departs from the historic Conway Scenic Railroad station in North Conway, NH throughout Easter Weekend. The ride includes a special goodie bag, a photo op with the Easter Bunny, and a scavenger hunt to make the 11-mile journey to Conway and back a hopping good time.
The Details:
Coach: Adult (13+): $21 | Child (4 -12): $15 | Infant (3 and below): Free. First Class: Adult: $27 | Child: $20, Infant: $12. Premium: Adult: $34 |Child: $25 | Infant: $15. Duration: 1 hour. Departure Times: 11:00am | 12:30pm | 2:30pm. Purchase your tickets online in advance.
EASTER LODGING
EAGLE MOUNTAIN HOUSE (Easter Weekend)
Eggs-cellent accommodations await at the Eagle Mountain House in Jackson, NH. Interested visitors should check out the Easter Package, which includes a welcome drink for each adult guest and a voucher for Easter Brunch at Highfields Restaurant for the whole family. To take advantage of this package, book your stay to include Saturday night -- that will leave you with a whole weekend to play, and plenty of activities to stay busy!
The Details:
Brunch voucher is $25 per adult, $10 per child. Voucher does not include tax or gratuity. Easter Brunch is served from 10am – 3pm on Sunday, 4/17.  Reservations required; call (603)383-9111.
RESIDENCE INN BY MARRIOTT (Easter Weekend)
Ready to get competitive? Check into the Residence Inn by Marriott in North Conway, NH for an Easter Egg Hunt with slightly higher stakes. In addition to traditional scavenging for little ones aged 5 and under, hotel guests can seek out one of two silver eggs for a secret prize valued at $50, or the elusive golden egg for a free 1-night stay!
The Details: 
Easter Egg Hunt available to hotel guests only. This is a free event. 
WHITE MOUNTAIN HOTEL & RESORT (Easter Weekend)
Head over to the White Mountain Hotel & Resort in North Conway, NH for an Easter weekend package complete with a rousing Easter Egg Hunt and a chance to meet the Easter Bunny! A 2-night stay starting Friday, April 15th includes one complimentary full breakfast, one dinner, and an Easter Plated Brunch, plus access to all the nearby entertainment that North Conway has to offer.
The Details:
From only $277 per person (double occupancy). Easter Plated Brunch and Easter Egg Hunt scheduled for Sunday, 4/17. Easter Egg Hunt starts at 12pm for ages 1 – 5, 12:30pm for ages 6 – 11.
EASTER DINING
OMNI MOUNT WASHINGTON RESORT (Sunday, 4/17)
The Omni Mount Washington Resort in Bretton Woods, NH is renowned for fine dining, including its outstanding prix fixe three-course Easter dinner. Artichoke stuffed squash blossom, veal osso bucco, and roasted peaches & cream are just a few of the spring-inspired dishes that diners can sample.
The Details:
Easter Dinner will be held in the Main Dining Room. Open to public 12 – 4pm; open to resort guest 12 – 8pm. Adults: $60 | Children (5-12): $30 | 4 & Under: Free (Prices do not include tax & gratuity). Reservations required; call (603) 278-8864.
WOODSTOCK INN BREWERY (Sunday, 4/17)
Egg-centric celebrators, it's time to reserve your table at the Woodstock Inn Brewery's Easter Brunch Buffet! Enjoy festive fair, including eggs benedict, a carving station with ham and prime rib, and bountiful desserts at the Inn's laidback setting in North Woodstock, NH.
The Details:
Easter Brunch Buffet runs from 9am – 12pm.  Adults: $29.99 | Children (Under 12): $19.99. Reservations accepted but not required; call (800) 321-3985.
MOUNTAIN VIEW GRAND RESORT & SPA (Sunday, 4/17)  
Wondering what to do in Whitefield, NH on Easter Sunday? Hop over to the Mountain View Grand Resort & Spa for an epic Easter Breakfast Buffet in the Crystal Ballroom. Reservations are required, but a little bit of advance planning is well worth the pan seared salmon with maple bourbon glaze, artisan cheese display, and leg of lamb with rosemary (as well as a bevy of other options).
The Details:
Easter Breakfast Buffet runs from 10am – 3pm. Adults (13+): $50 | Age 6 – 12 $25 | Age 2 – 5 $15 | Complimentary for children 2 and under. Alcoholic beverages are additional. Reservations required; call (855) 837-2100. Our Easter celebration is open to the public.
THE COMMON MAN
If you don't feel like hightailing it to the kitchen to make an epic Easter feast the day of, The Common Man has you covered with Easter Dinner to go! Take your pick of a premade dinner for 1 or 4 (complete with ham, potatoes, green beans, house-bake rolls, carrot cake, and more), or sample a la carte side offerings (ranging from prime rib with horseradish sauce to a 10" cheesecake). Especially on holidays, we're all about enjoying awesome comfort food, right from home in comfy clothes.
The Details:
Dinner for four:  $89.95 + tax. Individual dinner: $22.95 + tax. Orders must be placed by Monday, April 11th by calling the location where you plan to pick up your order. Orders will be ready for pick up on Saturday, April 16th. Participating locations in the White Mountains: The Common Man - Lincoln (603) 745-3463 | The Common Man – Ashland (603) 968-7030.
Jump to it and start booking your Easter adventure today! And while you're at it, take a look at other springtime activities in the White Mountains.