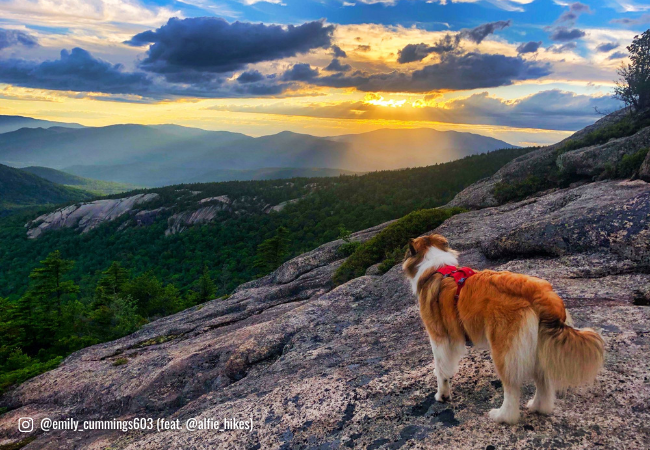 Atop a mountain, the world unwinds itself. Stretching below you, a dark green expanse of trees seems to move like waves in the wind. Rocky ledges, old as time, remind you that while your legs might be aching, you are still very young in the grand scheme of it all. If you're lucky a bird might even find you fascinating and play in the thermals above you.
For a time, the only thing that matters is the mountains, the view, and the very insistent wish for that one gray cloud to stick to the far edge of the horizon. Alone, you can see it all (or simply think of nothing at all).
But even in the quiet, we find that adventures are best when shared.
The next time you plan a trip through the woods to the top of a mountain, bring someone you love. A friend. A family member. An athletic pup. Whatever you choose, hold tight to the memory of that little hand clasped in yours as you clamber over tricky spots, or a shared laugh over smushed trail snacks. What about the way your dog's ears ruffle in the ever-present wind?
It's not just nature that makes the mountains wonderful. It's you and it's them – as integral to the landscape as the peaks just beyond your reach.
We hope this quick piece has inspired your next adventure in the mountains. Start planning your trip through browsing our website, a call to 1-800-346-3687, or a stop at the White Mountains Visitor Center in North Woodstock (located at Exit 32 off Interstate 93).