Winter Hiking in the White Mountains
Winter has arrived in the White Mountains and with it, potentially deadly conditions. Please scroll down to the Winter Hiking section of this page for additional information, including suggested resources and packing essentials.
...........
Hiking in the White Mountains of New Hampshire is the experience of a lifetime. The views from the summits are spectacular, and the rocky, rooty, winding paths that lead you there are marvels all their own. In fact, there are hundreds of miles of hiking trails, 48 immense peaks over 4,000' feet in elevation, and scenery stretching into our neighboring New England states and even the Atlantic Ocean!
Between all this and limitless, beautiful photos of adventurers out and about in the wilds, it's no wonder that our mountains are one of the top reasons visitors fall in love with our region and return time and again.
If hiking the White Mountains is a must during your travels, remember to explore sensibly. While most of our hikers walk away with fond memories and a few sore muscles, many others have also faced serious injury or death due to a lack of preparedness.
Our mountains and the amazing memories they can offer are very real, as are the potential consequences if you fail to respect them. Remember: being on vacation isn't an excuse to forget common sense.
Here are our top White Mountains hiking tips to keep you happy and careful on the trail.
...........
Disclaimer: The information provided on this page serves as general recommendations for visitors to the White Mountains region. The White Mountains Attractions Association and its employees are not experts or professionals in the outdoor recreation field, and are not liable for any accident, injury, or fatality resulting from outdoor recreation.
...........
Winter Hiking in the White Mountains, NH
Winter in the White Mountains is beautiful. Fewer crowds and snow-covered trails can make for an enjoyable traverse on bluebird days. Tempting as it sounds though, remember: winter can be deadly for casual and regular hikers alike.
Unless you have significant experience in the outdoors in the wintertime or have booked with a professional guide service, do not attempt to hike our higher peaks during this season. Every year, visitors have died or faced serious, life-altering injury due to the complex nature of hiking in the winter, a lack of expertise and planning, and the harrowing, deadly weather regularly found above and below tree line. If you do choose to hike, do so with a partner.
We love the White Mountains, but we also respect them. You would be wise to do the same during your travels.
No matter the terrain, traction is a must during wintry weather! Wear microspikes for your lower elevation excursions (including walking around town). Snowshoes are a minimum for hiking in the mountains, and crampons and an ice ax are nonnegotiable above treeline.
...........
The 10+ Essentials for Winter
Pack as if your life depends on it. Always bring the 10 Essentials plus the below winter items based on your hiking plans and chosen route.
Navigation
Headlamp
Sun Protection
First Aid Kit
Knife/Multi Tool
Fire Starter
Shelter
Food
Water
Rain gear/warm layers
Proper footwear
PLUS
Add for Winter:
Extra warm clothing (insulated parka, extra mittens)
Balaclava or face mask
Insulated boots
Overmitts
Snowshoes
Add for Above Treeline:
Crampons
Face mask
Ice axe
Goggles
Add for Avalanche Terrain:
Avalanche transceiver
Avalanche probe
Snow shovel
The proper skills and knowledge to know how to use said equipment (including attending an Avalanche Safety Course)
...........
Looking to tackle your first winter hike at elevation? Book a guide service. To learn more about the ins and outs of the 10 Essentials, keep scrolling.
...........
...........

...........
Outdoor outfitters can advise on the best hiking gear (including the 10 Essentials) based on your budget, experience, and desired adventure. Here are some local White Mountains hiking shops to get you started!
Local maps and guidebooks for the White Mountains are also a great addition to your pack. You can find these resources plus more at the Mountain Wanderer Map & Book Store (Lincoln, NH) and the Little Village Toy and Book Shop (Littleton, NH), as well as some area gas stations in Lincoln and beyond.
The 10 Essentials for Hiking
Download the 10 Essentials for Hiking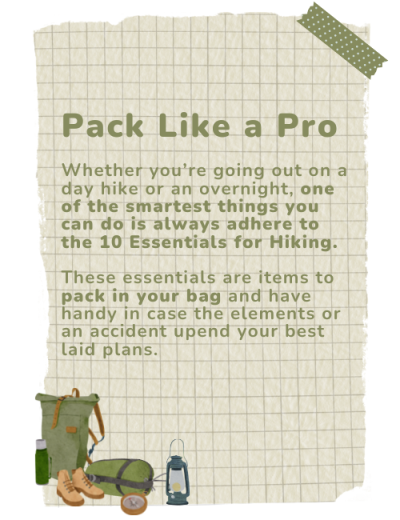 1. NAVIGATION
A paper map and compass are required equipment. Helpful add-ons include a GPS device, personal locator beacon (PLB), satellite messenger, or altimeter. Do not rely on your cell phone and apps to guide your way; cell service in the White Mountains can be spotty, and oftentimes nonexistent when out on the trail. Make sure you understand the basics of map reading, as well as how to operate your chosen navigation or emergency signaling device, before setting out on the trail. 
2. HEADLAMP
No matter the time of day, bring a light source whenever you adventure. You never know when a short hike might turn into an all-day affair due to unforeseen circumstances. Remember to pack extra batteries as well.
3. SUN PROTECTION
Even in the snowy White Mountains, sun protection is a must year-round. Items to consider include sunglasses, sunscreen, and sun protective clothing.
4. FIRST AID KIT
From items for foot care (like moleskin and blister pads) to wrap bandages for sprained ankles and insect repellent in the summer, it's a great idea to keep a small first aid kit tucked in your backpack.  
5. KNIFE/MULTI TOOL
A simple, sturdy knife can come in handy in many emergency scenarios, and also makes a great tool for sharing trail snacks.
6. FIRE STARTER
 Packing a compact backpacking stove can turn a long uphill slog into something to look forward to. Anyone for hot chocolate at the top? In case of emergency, packing matches and tinder, as well as a candle (which provides a great, consistent flame) also just might save your life. Rescuers can spot smoke from a signal fire much easier than a solo strander hiker.
If you choose to use either option, do so responsibly. Visit the White Mountain National Forest website for backcountry fire regulations during non-emergency situations.
7. SHELTER
A quick emergency shelter is a must, and even more so in the winter. A bivy sack is a lightweight, packable option to keep you relatively sheltered from the elements.
8. FOOD
Pack extra snacks, always. Pick calorie dense options to help keep your energy up.
9. WATER
Hiking in the White Mountains entails a fair amount of exertion, even for very fit hikers. Bring more water than you think you need, and a simple water purification option such as iodine tablets, a water filter, or sterilizing pen. Don't depend on water sources found along the trail though; just like all things in nature, they can be unpredictable!
10. RAIN GEAR/WARM LAYERS
"Cute" isn't a priority when you're hiking. Forget clothes that will look nice in pictures, and instead focus on warm, waterproof, windproof layers that will keep you safe during any excursion. The best outfits are ones you can adapt, including base wicking layers to keep you dry, cozy toppers like a lightweight down jacket or fleece, and weather repellent shells. Long underwear bottoms, weather-blocking pants, a hat, mittens/gloves, and extra socks are a must as well.
You can remove or add items as needed, but always save room in your pack for all options (and keep them in easy-to-reach spots to adapt your 'fit throughout your hike). The mantra to remember is "dress like an onion". Peel off layers when you are feeling warm and add layers when feeling cold.
Last but not least….steer clear of cotton. This fabric gets wet and stays wet for long periods of time, which can bring down your core temperature.
Bonus! We're adding one more to the list…
11. PROPER FOOTWEAR
Street sneakers, sandals, and other stylish shoes have no place on the trail. During an average hike in the White Mountains, you will encounter sharp rocks, slick roots, muddy spots, and many other conditions. Be smart and stick with a pair of hiking boots to keep your feet dry and safe.
Visit the "Winter Hiking" section of this page for additional winter recommendations.
This 10 Essentials list is an aggregate based on the information found on several prominent outdoors sites, including:
...........
Important Hiking Tips for Beginners
Download Important Hiking Tips for Beginners
Beginner hikers and advanced adventurers alike can benefit from reviewing and sharing this list.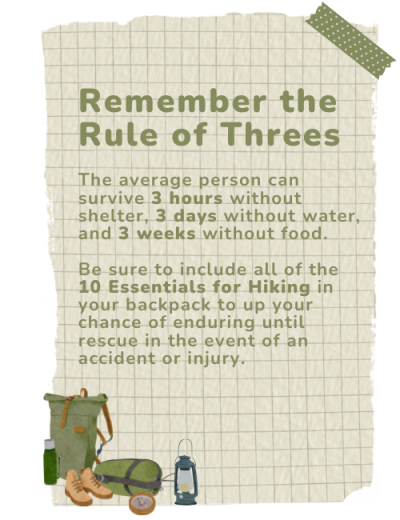 Always file your hiking plan with a friend or family member, including your chosen route and return time. Don't change your route or extend your trip partway through your travels. Set a firm time for when your point of contact should alert authorities if you have not checked in with them.
 
Study your route ahead of time: know your mileages, trail difficulty and junctions, trailhead location, and more.
 
​Check the forecast OFTEN. The weather in the White Mountains is always changing, and the conditions you see at the trailhead are not what you will encounter as you ascend in elevation. Snowstorms and other harsh weather conditions are a regular occurrence in the mountains, even during the summer months. 
If you do have cell service, text the Mount Washington Observatory at 603-356-2137 with the words "weather forecast" to receive the latest high elevation forecast.
​Don't depend on your cell phone. Many trailheads and peaks in the White Mountains have little to no cell service.
 
​Always pack the 10 Hiking Essentials, even for shorter excursions.
 
Plan your hike according to the least experienced hikers in your group. If numbers allow, have your strongest hikers serve as leaders and trail sweeps. Place beginners in between. This ensures that no one gets left behind!
 
Keep in mind this quote from mountain climbing legend Ed Viesturs: "Getting to the top is optional. Getting down is mandatory." Don't let summit fever cloud your judgement – the mountains will always be there. Turn back when in doubt.
 
Respect the resource. Our mountain summits are filled with beautiful, fragile ecosystems. The lichen and other flora found there can take hundreds of years to grow. Stay on trail and take only pictures during your travels! In other words, LEAVE NO TRACE.
 
To-die for photos are not worth dying over. Evaluate your surroundings before taking out your camera/phone, and never move past barriers, ignore signage, or otherwise put yourself in a dangerous position to get "the shot".
 
Hike with humility and empathy. All hikers are subject to injury or worse when out on the trail. Tread carefully and respectfully, and remember that your potential rescuers are put in just as much danger (if not more!) if/when they come to your aid.
 
Even in this modern era, rescue isn't always an option. Don't rely on a safety net that might not be there due to communication failures, dangerous weather, or worse.
 
Have fun and applaud yourself along the way! Even hiking a mile into the woods or up a mountain is a major accomplishment.
...........
Hiking Recommendations for the White Mountains, NH
Now that you've read up on how to hike safely, it's time to pick your path. Our Trip Ideas are a great place to begin. We would also recommend contacting the White Mountain National Forest with additional questions, doing your own research online, consulting with friends and family who are well versed in the great outdoors, and maybe even booking a guided hike for your first adventure.
The White Mountains are a wonderful place to explore when you are well prepared. We hope to see you out there!
Helpful Websites & Resources
For Current Trail Conditions​
...........