Covered Bridges of the White Mountains
The Covered Bridges of the White Mountains are an integral part of the landscape and a place to wait out a summer shower or steal a kiss or watch raging river waters swollen by the melting winter snows. Covered Bridges were often called "courting bridges." Their distinctive shapes form a signature for New Hampshire. Why the first covered bridges were built has been obscured by time. Some say that horses were more comfortable crossing an enclosed span than an open trestle. Others point to the fact that a bridge lasts longer if its heavy timbers are protected.
Certainly monetary considerations came into play: the first covered bridges were toll bridges. One bridge in Lebanon (now gone) was so profitable for its owner, that it provided a 70% annual return on the investment in the 1870's! Covered bridges consist of a roadway supported on each side by a wooden truss and a roof. The frame, made of heavy timbers called chords, is made of two high walls that span the stream with cross timbers top and bottom for the ceiling, floor and foundation. The chords were connected with trusses. Tree nails, called trunnels, made of hardwood hold the bridge together. Truss designs varied. Many bridges in the White Mountains utilize paddleford trusses, which were originated by Peter Paddleford of Littleton, New Hampshire. Each covered bridge is unique and holds many special and scenic features.
Click here for a Google Map of the White Mountains Covered Bridges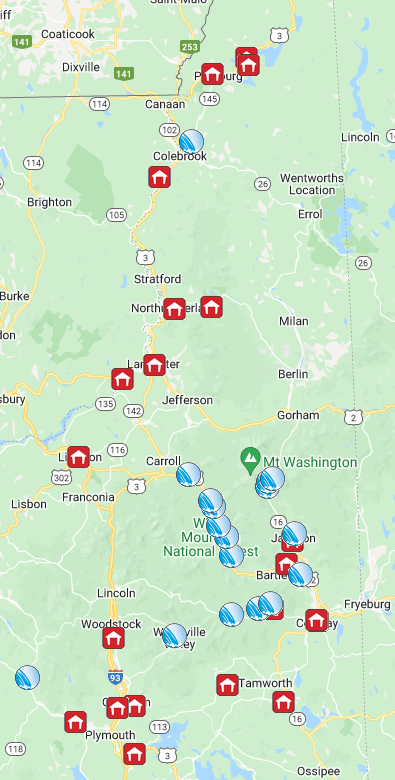 Albany Covered Bridge
Length: 120 feet   Built: 1858
Location: North of Kancamagus Highway, 6 miles West of Conway on Dugway Road

Bartlett Covered Bridge
Length: 167 feet  Built: 1851
Location: West of Route 302, 4.5 miles East of Bartlett
Bath Covered Bridge
Length: 4 span, 375 feet   Built: 1832
Location: West of Route 302 on Pettyboro Road
Bath-Haverhill Covered Bridge
Length: 2 span, 256 feet   Built: 1829
Location: Route 135, .25 mile North of Route 302 at Woodsville
Blair Covered Bridge
Length: 293 feet   Built: 1869
Location: East of Route 3, 2 miles North of Livermore Falls on Blair Road
Bump Covered Bridge
Length: 68 feet   Built: 1972
Location: 1 mile East of Route 175 on Bump Road at Campton Hollow
Clark's Bears Covered Bridge
Length: 116 feet   Built: 1904
Location: At Clark's Bears, along Route 3
Columbia Covered Bridge
Length: 146 feet   Built: 1912
Location: West of Route 3, 4 miles south of Colebrook Village
Durgin Covered Bridge
Length: 96 feet   Built: 1869
Location: 1.5 miles North of Route 113, 2 miles East of N. Sandwich on Durgin Road
Flume Covered Bridge
Length: 50 feet   Built: 1871
Location: East of Route 3 at the Flume Gorge
Groveton Covered Bridge
Length: 126 feet   Built: 1852
Location: East of Route 3 in the village of Groveton
Happy Corner Covered Bridge
Length: 61 feet   Built: mid 1800's
Location: 200 yards East of Route 3, 6 miles north of Pittsburg Village on Hill Road
Honeymoon Covered Bridge
Length: 121 feet   Built: 1876
Location: At the intersection of Route 16 and 16A on Village Street
Jack O' Lantern Covered Bridge
Length: 76 feet   Built: 1986
Location: Route 3, .25 mile South of Exit 30 off I-93
Littleton Covered Bridge
Length: 300 feet   Built: 2004
Location: Off Main Street, next to Schillings Brewery
Lost River Gorge Allen Hollis Covered Bridge
Length: 41 feet   Built: 1981
Location: Off Route 112W, located at Lost River Gorge
Mechanic Street Covered Bridge
Length: 94 feet   Built: 1862
Location: East of Route 2 and 3 on Mechanic Street
Mount Orne Covered Bridge
Length: 2 span, 266 feet   Built: 1911
Location: West of Route 135 on South Lancaster Road west of Lancaster Village
Pittsburg-Clarksville Covered Bridge
Length: 89 feet   Built: 1876
Location: South of Route 3, on Bacon Road
River Road Covered Bridge
Length: 51 feet   Built: 1858
Location: 7 miles North and 1 mile East of Route 3 on the road to Lake Francis State Park
Saco River Covered Bridge
Length: 2 span, 225 feet   Built: 1890
Location: .25 mile North of Route 16
Sentinel Pine Covered Bridge
Length: 61 feet   Built: 1939
Location: East of Route 3 in the Flume Gorge
Smith Millennium Covered Bridge
Length: 171 feet   Built: 2001 (rebuilt)
Location .5 mile North of Route 3A, 2.5 miles west of Plymouth on Smith Bridge Road
Squam River Covered Bridge
Length: 61 feet   Built: 1990
Location: Off Route 3 on River Street
Stark Covered Bridge
Length: 2 span, 134 feet   Built: 1862
Location: Northwest of Route 10 on North Road
Swift River Covered Bridge
Length: 129 feet   Built: 1870
Location: .5 mile north of Route 16
Swiftwater Covered Bridge
Length: 158 feet   Built: 1849
Location: North of Route 112 on Valley Road in Bath
Whittier Covered Bridge
Length: 132 feet   Built: 1870
Location: West of Route 16, on small road which is used to connect Route 16 & Route 25