White Mountains Attractions Association Travel & Health Update
Know Before You Go
As New Hampshire continues to flex open businesses and recreation, it's important to recognize that we're all responsible for keeping each other safe and healthy. Do your part by following our Granite State Visitor Code of Conduct.
Have a Plan
Think about where you want to go before you leave home and familiarize yourself with what to expect when you get there. Review the website of the places you wish to visit to learn about restrictions and special instructions for visiting in advance of arrival. The guidelines provided today might be different tomorrow. Businesses and Attractions are following state-issued guidelines from Covidguidance.NH.gov.
Postpone If You Are Not Feeling Well
If you or anyone you are traveling with is feeling ill and/or has any of the COVID-19 symptoms, please reschedule your visit. We look forward to seeing each of you when you're feeling better.
Be Prepared with Personal Protective Materials
Bring hand sanitizer and cloth face coverings or masks. Some businesses will have these materials available for guests as part of being open for business, but it's a good idea to have your own as well.
When Visiting
Be Acceptant
Expect things to be different. Attractions and Businesses are adapting to the new "norms" posed by COVID-19, and we encourage you to embrace the changes designed to protect the health of everyone.
Be Considerate
Front line employees at attractions, restaurants, lodging and camping properties, retail shops, and others business are there to assist you in having a great experience. For their safety and yours, please respect business requests for you to wear masks and remember proper social distancing.
Be Respectful of Others' Space
Different people have different levels of concern for the coronavirus, and therefore may be more – or less – worried about close contact with others. Please be thoughtful about this in our communities and businesses and stay 6 feet (2 meters) from others and wear a mask when in public areas.
Past updates:
Updated June 2, 2020
For the latest information and guidelines on activities, attractions, and lodging please refer to www.covidguidance.nh.gov.
We will continue to update our blog post with information about specific businesses that have reopened in the White Mountains. For information on guidelines safety procedures at each business, visit their indivudal websites.
Updated May 1, 2020
The White Mountain National Forest has re-opened several trail heads that were closed last week. The decision was based on safety concerns due to illegal parking while trailheads were closed, and to alleviate congestion on other locations during a continued demand for local recreation.
The White Mountain National Forest will continue to implement a phase-based opening of the Forest in alignment with the State of New Hampshire. A limited number of sites will remain closed as the Forest continues to coordinate with local communities, the states of New Hampshire and Maine, and partners to address concerns before safely re-opening. A complete list of what is open and what is closed, including those sites still seasonally closed, can be found at: https://www.fs.usda.gov/main/whitemountain/home.
Everyone is urged to take the precautions recommended by the Centers for Disease Control and Prevention (CDC). These safety precautions will help to maintain a safe environment for employees, visitors, and local communities. Many amenities, such as restrooms and garbage, at sites remain seasonally closed. Visitors should be prepared to pack in and pack out.
White Mountain National Forest offices remain open virtually to protect the health and safety of employees and members of the public during the COVID-19 outbreak. Customers needing information, permits and maps are encouraged to call Forest Headquarters at: (603) 536-6100, Saco Ranger Station (603) 447-5448, and Androscoggin Ranger Station (603) 466-2713 during regular business hours.
Trails listed here: https://www.fs.usda.gov/main/whitemountain/home
Updated April 24, 2020
In alignment with current federal, state and local guidance for physical distancing and to ensure health and safety of employees, visitors and volunteers, the White Mountain National Forest is shutting down several high use trailheads, day-use areas, and dispersed recreation facilities until further notice. While the White Mountain National Forest remains open, we are reminding the public to please recreate responsibly. New Hampshire has a Stay Safe at Home order in place and has asked the public to recreate locally.
There have been unseasonably high numbers of visitors to the National Forest resulting in increased potential for exposure to Coronavirus where visitors are not able or willing to follow guidance from the Centers for Disease Control and Prevention (CDC) or with current federal, state and local guidance for physical distancing. In order to ensure such guidance from experts at the CDC and federal, state and local guidance for physical distancing, the White Mountain National Forest is shutting down some recreation sites and trailheads. Closing these areas will allow the Forest to assess our ability to do work safely, reduce the number of vehicles and congregation at trail heads, help control vandalism and to meet CDC guidance and cleaning standards. Trails would remain open, but only accessible by foot traffic in order to discourage long distance travel and to adhere to the State's Stay Safe at Home orders. If you are able to walk to the trailhead without driving, you can access the trail. Parking on most roads is prohibited. Remember to pack out what you pack in.
Updated April 21, 2020
Just like you, all of us in the White Mountains are looking forward to an awesome summer. Sunshine, getaways, and fun with family and friends. While we are facing challenging times now, we are excited for the time when we can welcome you back to the White Mountains so you can take a scenic drive, soak in the mountain views, and visit our 17 iconic and family-friendly attractions.
We wanted to let you know that due to the global pandemic and rules surrounding social distancing, our attractions have decided to delay their summer season opening dates. We know that many of you plan your visit to the White Mountains based on which attractions you will be visiting, and while there is uncertainty about when we can welcome you to visit, rest assured that we are doing all we can to make sure that when you do come to our region, that your visit will be safe, enjoyable, and memorable.
March 27, 2020
These are very difficult and uncertain times as the COVID-19 pandemic continues to develop at a rapid pace. It is important that good citizens listen to the guidance of public health authorities and take all the necessary precautions to keep themselves, their families and their communities safe. In response to the Covid-19 pandemic, the White Mountains Attractions Association and its partners wish everyone hope and support as we navigate these unchartered waters.
New Hampshire Governor Chris Sununu has issued a stay-at-Home order for the State of New Hamshire and has directed all non-essential businesses that have not already voluntarily closed to end in-person and public-interacting operations by 11:59 PM Friday March 27, 2020 and to last until May 4, 2020. During this time, it is important to practice the following per the Governor's request: stay at home, only leaving for the essentials; exercise outdoors, practicing social distancing; and check in on your neighbors, bringing groceries and supplies to those who can't go out.
The White Mountains Attractions and our businesses are committed to doing everything we can to ensure the safety and health of our employees, communities and visitors. At this time, members of White Mountains Attractions are working together to keep the experience of visiting the White Mountains safe and enjoyable when communities are ready to welcome travelers again. We are monitoring and coordinating with local and regional health authorities, implementing health and safety regulations and trainings with employees to help keep everyone safe and happy.
We encourage visitors to continue to plan their vacations to the White Mountains for this summer. We want you to have the utmost confidence that our mountains, attractions, and businesses will be here to greet you with open arms, warm hearts and a smile as soon as it is safe to travel again.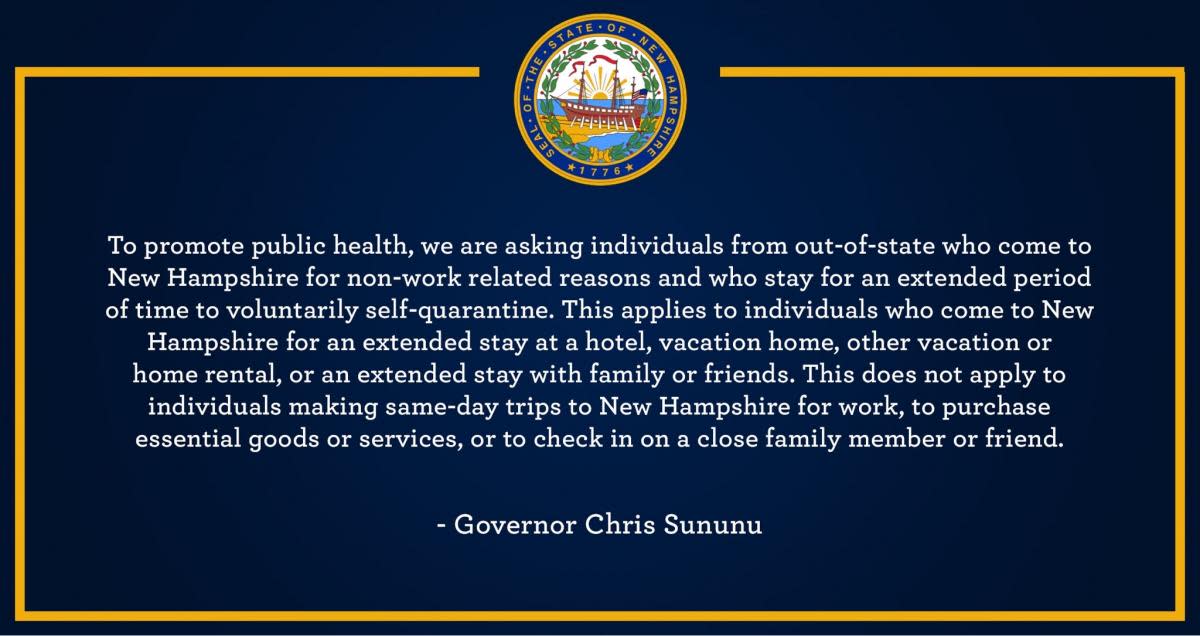 Frequently Asked Questions:
What is the White Mountains doing to prepare visitors and the hospitality community for coronavirus?
The White Mountains Attractions Association is working daily in coordination with industry partners. We are closely following announcements and recommendations by the U.S. Travel Association and local officials in line with guidance from the CDC to communicate current information and best practices.
Can visitors come and hike in the White Mountain National Forest?
The White Mountain National Forest has issued temporary shut down orders for some trailheads, day-use areas, and dispersed recreation facilities until further notice; we continue to urge visitors to consider postponing hiking trips to a later date or find trails closer to home to explore. If you do come up to hike in the White Mountains, realize that other people may also be on the trails and the 6' of social distancing still applies to the trails. If a parking lot looks crowded, have a plan B hike in mind. All trailhead restooms are currently closed and the White Mountain National Forest has more information regarding temporary closures in place. Additional hiking guidlines and restrictions.
How are White Mountains area restaurants impacted?
The New Hampshire Lodging and Restaurant Association is in constant conversation with relevant government agencies, lodging and hospitality partners and the National Restaurant Association to ensure the organization and the local dining community has the most up to date information.
We continue to update our White Mountains Distance Dining page with local restaruants that are offering take-out, curbside pickup, and delivery services.
What are hotels doing to ensure guest safety?
Regional hotels are implementing proactive strategies, following CDC guidelines and monitoring the information from local government agencies as they manage this issue with the wellbeing of hotel guests being of paramount concern.
Local Resources
National Resources
Industry Resources