New Hampshire is known as the "Granite State" and it's no surprise where that name came from.  From rocky ledges and glacial boulders to great mountains flecked with granite, the White Mountains has its share of cool rocks that "rock"! There are several rock formations that are famous for their human or animal features and don't forget the mighty boulders with their own claims to fame. Perhaps you've made the pilgrimage to some of these legends, but be sure to "rock on" as you add the rest to your bucket list.
The Indian Head-Lincoln
This rock profile is also known as Mount Pemigewasset, named after Chief Pemigewasset of the Pemigewasset tribe. Impressive views of this rock face can be seen from the Indian Head Resort parking lot on Route 3. To access the trailhead, take Exit 34A off of I-93 and park in the north parking lot at the Flume Gorge's Visitor's Center. The hike itself is about 3 miles round-trip and is a great family hike. From the summit, you will experience truly breathtaking views of the White Mountains, including Mt. Lafayette, Mt. Haystack, and Mt. Liberty.
Elephant's Head-Crawford Notch
Heading east through Crawford Notch, just past the AMC Highland Center, be sure to set your gaze upwards. You may just catch the profile of what appears to be the ears and trunk of an elephant on this mountainside. There is a trail that goes to the top of the elephant's head and parking can be accessed at the AMC Highland Center or alongside Route 302. The trail itself is only 0.6 miles round-trip, but there are a couple of steeper sections to keep in mind if bringing younger hikers. The top of the Elephant's Head offers lovely views down through Crawford Notch. For those wanting to make it a longer hike, there is also a loop trail around Saco Lake, which is located at the base of Elephant's Head. This 0.5 mile loop trail is mostly flat and a good option for smaller children, or people who don't want to make the trek to the top of the Elephant's Head.
Boise Rock-Franconia Notch
Boise Rock is a large glacial boulder in Franconia Notch with quite the history. Folklore tells us that in the early 1800's, a local teamster by the name of Thomas Boise was riding through the Notch when he was overcome by a massive snowstorm. He was unable to continue his ride home and had to seek shelter for the night. He came upon a large boulder (Boise Rock) and made camp for the night underneath it. With the wind howling, the snow swirling, and the temperatures falling, he realized he would not survive the night. He made the decision to sacrifice his horse and wrapped himself in its hide. The next morning, a rescue party who came to find Mr. Boise, cut the frozen hide away and home he went. Boise Rock, along with an informative sign can be found heading North through Franconia Notch.
Pulpit Rock-Carter Notch
Located on the east side of Carter Dome, this large boulder juts out over Carter Notch and is reminiscent of a pulpit (or the face of a monkey…depends on who you ask!) To get an up-close and personal view of this boulder, you do have to hike a part of Carter Dome, which is one of the 48 4,000-footers in the White Mountains. About ½ mile up the Nineteen Brook Trail, there is a side path that leads to a viewing ledge, and not only will you find beautiful views of Wildcat Mountain and the Carter Notch Hut, but if you look to your left you will be met with the imposing Pulpit Rock.
Old Man of the Mountain Profile Plaza-Franconia Notch
While the iconic Old Man of the Mountain fell on May 3, 2003, his profile still lives on as New Hampshire's state symbol. Also known as the Great Stone Face and the Profile, the rock's face was first written about in 1805 and 200 years later is still a tourist destination and point of pilgrimage for many. There are still several viewing areas within Franconia Notch as well as the Old Man of the Mountain Profile Plaza where you can take a walk down to Profile Lake and view the Old Man as he once was through a series of iron pillars.
Madison Boulder Natural Area-Madison
It is said that this massive boulder is the largest glacial erratic in North America and among the largest in the world! It is 83 feet long, 23 feet high, and 37 feet wide. AND it weighs in at about 5,000 tons. Spend some time checking out this 17-acre state park which was designated as a National Natural Landmark by the U.S. Department of the Interior.
Cathedral Ledge-North Conway
Cathedral Ledge is part of NH's State Park system and is an incredible rock ledge that you must see to believe.  A popular spot for both rock climbers and ice climbers it is also an easy, family-friendly hike to the top where you will be greeted by stunning, panoramic views of the Mount Washington Valley.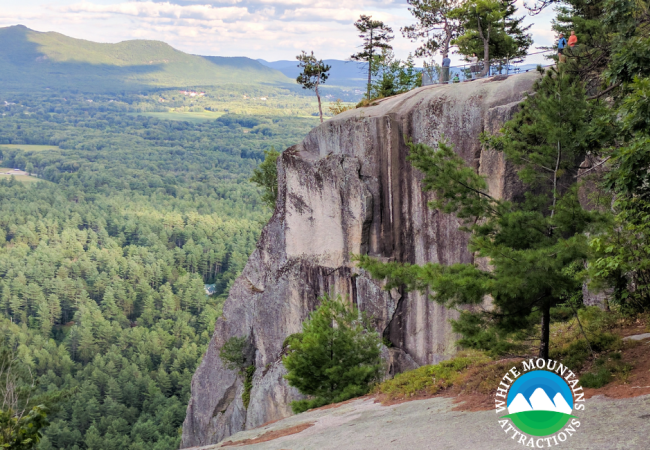 There are lots of other awesome NH State Parks in the White Mountains that rock.  Check out our blog post on 9 Must Visit State Parks in the White Mountains. 
Check out Lost River Gorge & Boulder Caves or Polar Caves Park to explore incredible glacial boulder caves that will truly rock your world.