7 White Mountains Swimming Holes For Those Lazy, Hazy, Days of Summer
The best thing to do on a hot, summer day is throw on your bathing suit and find a cool, refreshing river to jump into river. The good news is that there is an abundance rivers in the White Mountains and several fun swimming holes to explore on those super sunny days. Here are 7 spots to check out the next time you need to cool off.
Livermore Falls State Forest-Holderness
This popular swimming hole/tubing spot on the Pemigeswasset River is part of the state park system, which means there is a $5.00 fee to park, however there is an ample parking lot, bathroom facilities, and grills along with a great place to swim, sunbathe, and look for tadpoles.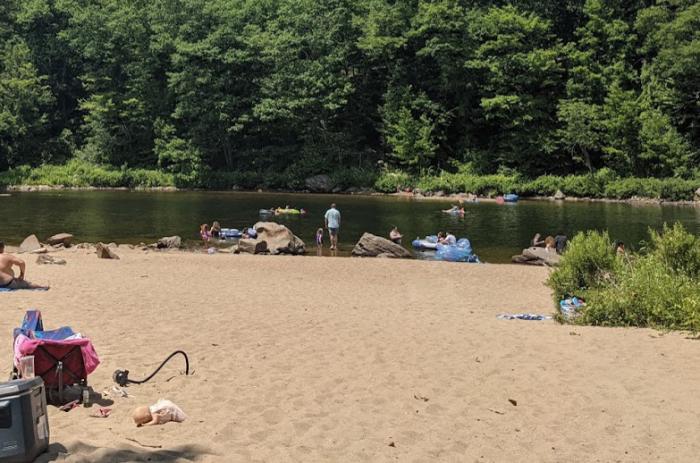 Cascade Park-North Woodstock
With many flat rocks and natural cascades, this is a fun place to take a dip, bring a tube, or just lay out and chill out. The upper section of Cascade Park is flat, with gently moving water and many places to wade. The cascading water flows beyond that and has carved a natural waterslide into the rocks. Below the cascades are deeper pools of water for swimming and tubing. There is ample parking in the Municipal lot behind the Main Street businesses.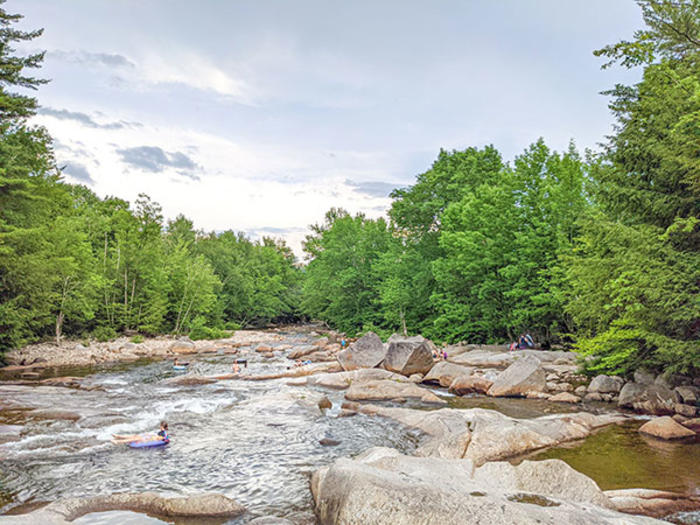 Sawyer Rock-Bartlett (Crawford Notch, Route 302)
This family-friendly spot on the Saco River can be hard to spot as you are driving, but as you drive West on 302 from Bartlett you will pass Sawyer Rock Picnic Area on your left. Directly after that, keep your eyes out for the dirt pull-over parking on the right-hand side (you'll probably see some cars there) you will see a small pull-off on the right, and will probably see cars parked there. Take a short walk down the dirt path and you will come to a beach, sunning boulders to jump from, and large pools of water to swim in.
Smith Covered Bridge-Plymouth
Swim under the Smith Covered Bridge at this swimming spot on the Baker River. There is ample parking on either side of the bridge as well as a sandy beach. This is a great spot to swim, tube, or kayak, or simply relax on the beach.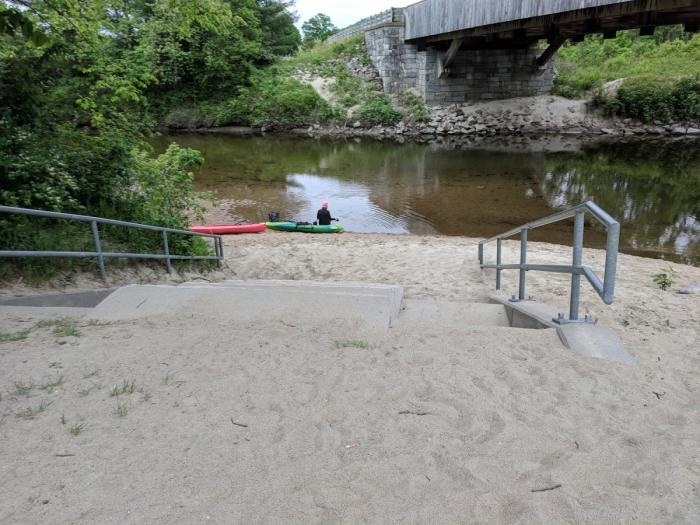 Lower Ammonoosuc Falls-Twin Mountain
This stunning, natural cascade is the perfect spot for cooling off on a hot summer day. There are many spots below the falls where the water pools up and is great for swimming or just dipping your toes in. When the water is high enough, the rocks form a natural waterslide. Parking for this swimming hole can be found off US-302 on Old Cherry Mountain Rd. Almost immediately after turning onto Old Cherry Mountain Rd, take a left onto Lower Falls Rd. Drive 0.2 miles on Lower Falls Road and park at the end of the road on the right.
Smarts Book-Thornton
A quick 1.1 mile walk along the Smarts Book Trail will lead you to a cascading swimming hole, complete with a rope swing. The clear, cool pool below the falls can get to 10 feet deep so it is a great place to swim and as it is near a Forest Protection Area, you will be surrounded by lush, green forest.
Swiftwater Covered Bridge-Bath
The Swiftwater Covered Bridge goes over the mighty Ammonoosuc River and another delightful White Mountains swimming hole. There is the upper part of the swimming hole, which is great for wading and the lower area, under the falls is perfect for swimming and tubing. To access this swimming hole, drive over the Swiftwater Covered Bridge and park in the lot to the left.