4th of July in the White Mountains of New Hampshire is all about fireworks, family, live music, and fun times spent in the great outdoors. Keep scrolling for a round up of our best celebrations and special events over the July 4th weekend!
ASHLAND, NH
Live Free and 5k (7/3)
Let's get moving! On Sunday, July 3rd from 7 – 9am, the town of Ashland will be hosting their Live Free and 5k Race for serious runners and casual strollers alike. Participants are encouraged to dress patriotically, so don't forget to bust out those stars and stripes! The first 100 race participants will also have the chance to upgrade their attire thanks to a free t-shirt, so register early if you'd like some race swag to commemorate your exertions.
$10/participant. Event logistics and registration available on the Live Free and 5k Facebook Events page.
BETHLEHEM, NH
REK'-LIS BREWING COMPANY
4th of July Block Party (7/4)
Get boogying to Bethlehem for one heck of a 4th of July Block Party! This special event hosted by Rek'-lis Brewing Company starts at 12pm and includes everything live music, a kid-friendly bouncy house, a dunk tank, corn hole, a local food truck, and the return of Rek'-lis' iconic barrel bar. Mountain bikers are also invited to join in on one of Bethlehem Trail Association's group rides (scheduled throughout the day).
Brewery and restaurant open for regular service from 12pm - 10pm. The July 4th Block Party will be held in the field adjacent to Rek'-lis. Admission is $5 per person at the door and kids are free (15 and under). More information available on Rek'-lis' Facebook Events page.
COLONIAL THEATRE
Double Bill! Oshima Brothers & Coyote Island (7/3)
Over the 4th of July Weekend, the Colonial Theatre will be hosting not one, but TWO amazing local acts. The Oshima Brothers and Coyote Island will take the stage on July 3rd at 8pm to offer a mishmash of "roots-based pop sound" and a genre-defying amalgamation of playful takes on pop, R & B, 60's surf rock, and more.
Book your tickets on the Colonial Theatre's website, and don't forget to grab your discounted ticket if you are a Colonial Theatre member!
GILFORD, NH
GUNSTOCK MOUNTAIN RESORT
4th of July Craft Weekend (7/2 – 7/3)
If you'd like to celebrate the spirit of independence and help support some awesome local artists, head a little bit south of the White Mountains to Gunstock Mountain Resort. Over the 4th of July weekend, this ski mountain becomes a mecca for over 85 exhibitors, as well as live music, demonstrations, and festive food.
Free entry, event held rain or shine. Leashed pets welcome. Visit Gunstock's website for additional information.
Saturday Afternoon Music Series (7/2)
Head to The Patio at Gunstock Mountain Resort on Saturday, 7/2 for some live music from Island Mark & Jammin' Jake. The sights of Gunstock's alpine trails bedecked in their summertime greenery, plus yummy cocktails and food, will keep you jammin' throughout the afternoon.
Visit Gunstock's calendar for more information and dates for the Saturday Afternoon Music Series.
GLEN, NH
Past Bedtime (7/2)
Story Land after dark…can you think of anything more magical? Families are invited to enjoy the rides, food, and entertainment that Story Land is known for, but with a fun twist! Expect well-lit pathways and the potential of sparkling night skies above, as well as childhood memories in the making. We'll see you Past Bedtime!
Separate ticket required for admission. Event runs from 5 to 10pm. Head to Story Land's website for tickets.
JACKSON, NH
JACKSON AREA CHAMBER OF COMMERCE
Jackson Area Fireworks Display (7/2)
Jackson Village will be looking extra picturesque on July 2nd from 9 to 10pm. Take in the charm of this classic White Mountains town as a fireworks display illuminates the village and local vendors sell ice cream, popcorn, glow necklaces, balloons, and other fun finds perfect for July 4th revelers.
Questions? Contact the Jackson Area Chamber of Commerce at (978)580-0905 or visit their website!
JEFFERSON, NH
ISRAEL RIVER CAMPGROUND
Independence Day Celebration (7/2)
Israel River Campground is making your 4th of July celebrations easy as pie! Step out of your tent at 2pm on Saturday, July 2nd and hop into the parade! All campers are invited to dress patriotically, bring your dog along, and walk, ride a bike, or drive a golf cart through the campground in festive celebration.
For more information, visit the Israel River Campground Facebook Events page.
LINCOLN, NH
Friday Night Bikes (7/1)
Summer plus the slopes of Loon Mountain Resort equals your NH mountain biking dreams come true.
Loon's Friday Night Bikes sessions offer extended hours on Fridays throughout the summer, including Friday, July 1st. Grab (or rent!) your bike, clip it to the new Kancamagus 8 chairlift, and take a ride to the top of Loon's trail system. With routes like Derailer, Hopper, and more, riders will be able to enjoy the dusk hours while ripping down gnarly paths in the heart of the Whites.  
Friday Night Bikes lift access is included for Access Pass, MTB Season Pass and those who purchased MTB tickets for that Friday. A special Friday Night Bike ticket will also be available for purchase. To purchase tickets and reserve bike rentals, visit Loon's website.
NORTH COUNTRY CENTER FOR THE ARTS AT JEAN'S PLAYHOUSE
Comedian Juston McKinney (7/2)
Head into the holiday with some humor! Juston McKinney brings his signature Granite State-style comedy to North Country Center for the Arts at Jean's Playhouse on Saturday, July 2nd. The show runs from 7:30 – 9pm and is conveniently located in the adventure hub of Lincoln, NH. Doesn't a hike, then dinner at a brewery and a comedy show sound just about perfect?
Tickets are $28, and can be purchased on the Jean's Playhouse website.  
LITTLETON, NH
LITTLETON PARKS & REC
Littleton Parks & Rec Independence Day Celebration (7/1)
Remich Park is your destination for a Littleton, NH Independence Day celebration! On Friday, 7/1, the fun activities start at 2pm, followed by food trucks and local vendors at 3pm, a variety of live music from 3 – 5pm and 6 – 9pm, and fireworks as soon as the sun sets.
Set aside a little extra time to visit Littleton's Main Street too; First Friday, featuring local artists set up on sidewalks throughout town, runs from 5 to 8pm on 7/1.
NORTH CONWAY, NH
Friday Night Vertical Series (7/1)
Let's get vertical! Ski the Whites and Cranmore Mountain are hosting their 5th iteration of the Friday Night Vertical Series, which encourages runners and hikers of all abilities to conquer the slopes of Cranmore in summertime style. The group run to the top starts at 7pm, but those looking for a gentler ascent can always start their run/walk any time after 6pm.
$5 registration fee per event. Register online today. Dates available throughout the summer.  
4th of July Parade and Fireworks (7/4)
North Conway, NH is celebrating the 4th of July with a blowout bonanza, including an annual parade, fireworks, local vendors, and live music, all at Schouler Park! The parade starts at 1:30pm and the fireworks will light up the night sky starting at 9:30pm. In the hours in between, revelers can explore the shops along North Conway's idyllic Main Street, watch a performance from the Tina Titzer Act One Dance Co., and listen to the sounds of Mike Malkin & Becca Deschenes and The Riley Parkhurst Project.
For more information, click here.
SETTLERS GREEN
July 4th Sales (7/1 – 7/4)
Over the 4th of July weekend, get ready for major sidewalk sales at Settlers Green in North Conway, NH. Some stores will be offering 50% off or MORE! Visit Customer Service to grab a free 4th of July kit that includes a glow stick, American flag, and activity book to help keep the kiddos happy while you shop.
NORTH WOODSTOCK, NH
WOODSTOCK INN BREWERY
Live Band (7/1 & 7/2)
Every Friday and Saturday 8:30 – 11:30pm, the Woodstock Inn Brewery hosts local, live music. Come check out some fresh talent over the holiday weekend, and sample some of the most famous beers that the brewery has on tap!
Yoga in the Woods (7/3)
Yoga in the Woods is back! Sign up for the first session of the season, scheduled for July 3rd at 8am. During this hour-long class, participants will enjoy gentle stretching and calming breath work amidst the natural splendor surrounding Lost River Gorge. Expect bird song and the distant sound of the burbling river, as well as expert instruction from Margarita Dufresne of Live a Little Fitness.
After class, participants are invited to explore the Gorge! Your $30 registration fee includes a self-guided exploration along the boardwalks and through the caves. Pre-registration is required. For more information, please visit https://www.livealittlefitness.com/yogainthewoods/ .
TOWN OF NORTH WOODSTOCK
4th of July Celebrations 2022 (7/4)
North Woodstock, NH is hosting a whole day of 4th of July festivities. At 11am, events kick off with a cookout at Soldier's Park (hosted by the Lin-Wood Rotary Club), followed by a parade at 2pm, a patriotic concert back at Soldier's Park, and at dusk a fireworks display being shot off at the Hobo Railroad. Find a spot along Main Street for the best viewing!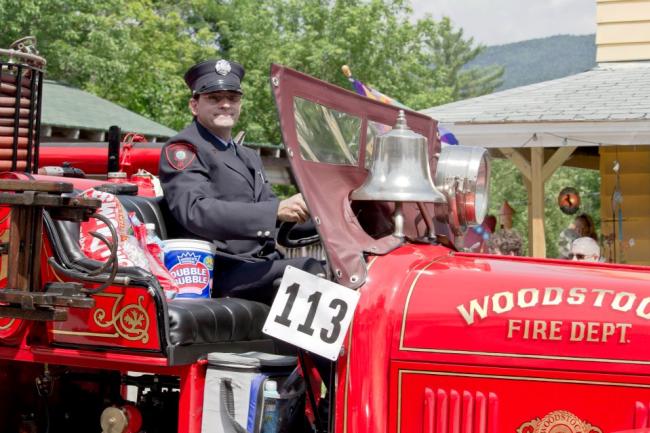 PLYMOUTH, NH
THE FLYING MONKEY MOVIE HOUSE & PERFORMANCE CENTER
Choose Love (7/1)
With just 5 days to practice and present an original musical, Choose Love is an artistic exploration of the creative talents of local actors from Grades 3 – 8.  Show your support for youth in drama, and purchase tickets for this extra unique event at The Flying Monkey Movie House & Performance Center!
Tickets start at $8. Purchase yours ahead of time on The Flying Monkey's website. The performance runs 6:30 – 8pm.
Mike Gerard's Big Swing Thing (7/2)
Rock n' Roll meets Big Band vibes with Mike Gerard's Big Swing Thing, playing at The Flying Monkey Movie House & Performance Center on Saturday, July 2nd. There will be plenty of horns and fun covers, plus that vivacious energy we all love to bring into any holiday weekend.
Tickets start at $29, and are available on The Flying Monkey's website. Performance scheduled for 7:30 – 9pm.  
TAMWORTH, NH
BARNSTORMERS THEATRE
Into the Woods (7/1 – 7/3)
Head to Tamworth, NH and the renowned Barnstormers Theatre for Into the Woods, a Stephen Sondheim musical centered around classic fairytale characters. We love the idea of scheduling this iconic performance into your 4th of July weekend plans – it's a winner for all ages!
Additional performances are scheduled for dates falling outside of July 4th weekend. Visit the Events page on our website for full schedule.
WATERVILLE VALLEY, NH
WATERVILLE VALLEY RECREATION DEPARTMENT
4th of July Family Carnival (7/2)
Did someone say carnival? We're down! Waterville Valley Recreation Department is hosting a 4th of July Family Carnival in Packard Field on Saturday, July 2nd at 11am. There will be inflatables, music, relay races and a dunk tank, a tie-dye station, mini-golf, and a food truck! Keep an ear out for live music scheduled at Town Square too, including Rhythm Method Trio from 12 – 3pm and Diversity Duo from 6 – 9pm.
Register at the Registration Tent at Packard's Field on arrival. $15 for entry wristband. $20 for entry wristband and WVRD t-shirt to tie-dye.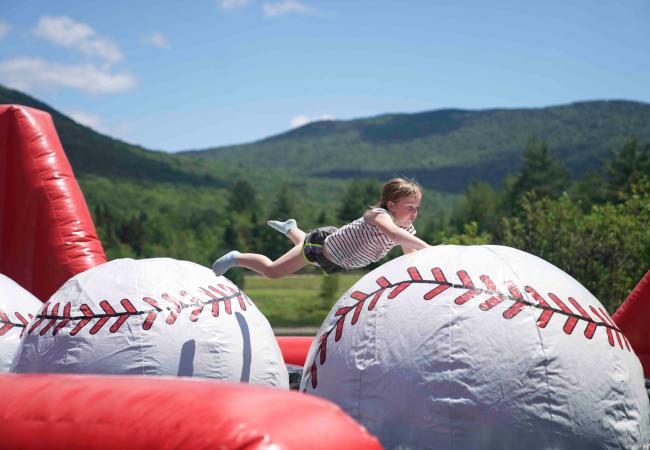 WATERVILLE VALLEY TOWN SQUARE
Independence Day Parade (7/4)
 Join the celebration at the Waterville Valley Town Square and walk, bike, or ride your scooter as part of the parade, or take it easy and watch the community floats from a variety of vantage points in Town Square. See if you can pick your favorite of the bunch – the best of the best wins the highly coveted Spirit Cup!
Advanced registration required for community parade floats.
4th of July Fireworks and Live Music (7/4)
Post-parade on Monday, July 4th, Town Square turns into a free outdoor concert, including a performance from the Jordan and Clint Duo at the Gazebo from 6:30 – 9:30pm and a glimmering fireworks spectacle above Corcoran Pond post-show. Is there a better (and free!) way to spend a 4th of July evening?
WHITEFIELD, NH
WEATHERVANE THEATRE
Eurydice (7/1, 7/2)
A romantic twist on the classic tale of Orpheus and Eurydice takes the stage at the Weathervane Theatre in Whitefield, NH. Contemporary, humorous, and with stunning technical effects, Eurydice is sure to please a wide audience.
Additional performances are scheduled for dates falling outside of July 4th weekend. Visit the Events page on our website for full schedule.
Once you've narrowed down which events to attend, the next thing is where to stay and what to eat.  Whether you'd like to set up a tent in a riverside campground, unwind at a cozy motel, or explore a grand resort hotel, our top-rated lodging and dining in the White Mountains are fit for all kinds of 4th of July adventures.