Fireworks, cookouts, and all kinds of adventure – can't you feel it? The 4th of July vibes are in the air! This time around, the list of White Mountains 4th of July events is better than ever, and since the 4th actually falls on a Tuesday, we're being generous with our interpretation of "July 4th weekend". That's right – it's not just two days, it's FIVE. Keep reading for our roundup of local events running 6/30 – 7/4.
4th of July Fireworks in the White Mountains
JACKSON AREA CHAMBER OF COMMERCE (Jackson, NH)
We get it. This is what you're here for – a spectacular fireworks show in the White Mountains. For those staying near Mount Washington Valley over their holiday weekend, look no further than Jackson, NH. Head to Jackson Village Park and find yourself a good spot. At 9pm, this charming enclave will be illuminated with a sparkly show in the skies above! But don't forget to look around you too – there will be ice cream, popcorn, glow necklaces, balloons, and other fun goodies to commemorate the festivities.
Sunday, July 2, 9 – 10pm. For more event info (including parking logistics), head over to the Jackson Area Chamber of Commerce website.
TOWNS OF LINCOLN & WOODSTOCK, NH
Is it really the 4th of July without a parade and fireworks? Get both, plus a cookout and free concert at Soldier's Park, when you spend all day enjoying the patriotic offerings found in Lincoln and Woodstock, NH.
Tuesday, 7/4 (11am to 9pm). 11am: Cookout hosted by Lin-Wood Rotary Club at Soldier's Park in North Woodstock. 2pm: Annual 4th of July Parade ("Peace, Love, and the 4th of July"). 7pm: Free patriotic music concert at Soldier's Park. Dusk: Fireworks along Lincoln's Main Street and the Hobo Railroad.
TOWN OF JEFFERSON, NH
We like the sounds of fireworks and food trucks! Get your best fireworks spotting setup ready to go; you'll definitely want to linger over the dazzling Jefferson fireworks display while you dine the night away.  
Monday, July 3 (7 – 9:30pm) at Couture Field. Fireworks start at dusk. Other 4th of July weekend events include the Jefferson Firemen's Association Breakfast and a townwide yard sale (Sunday, 7/2, 9am – 2pm) and an Independence Day Parade, Picnic, and Fishing Derby at Hicks Field (Tuesday, 7/4).
TOWN OF NORTH CONWAY, NH
If you haven't got your fill of fireworks over the weekend, swing over to North Conway on Tuesday, 7/4 for a 1:30pm parade and 9:30pm fireworks display in the one, the only Schouler Park.
WATERVILLE VALLEY TOWN SQUARE (Waterville Valley, NH)
Celebrate 4th of July in Waterville Valley with the Independence Day Hometown Parade. The festivities run from 11am to 12pm on Tuesday, 7/4, and revelers have the option to watch or walk (or bike!) in the parade. There will also be a friendly float competition put on by area businesses – wouldn't you like to see who takes the Spirit Cup? After that, stick around town after the parade for a rousing display of Independence Day Fireworks from 7:30 – 8:30pm at Corcoran Pond.
Advanced registration required for parade floats.
What's Up at the Attractions?
CRANMORE MOUNTAIN RESORT (North Conway, NH)
Calling all Cranmore Mountain Resort fans - Summer Cranapalooza means you'll find all sorts of games, music, and prizes at the Artist Falls Lodge. This family-friendly event recurs weekly on Fridays through the first Friday in August. Another great recurring event? Cranmore's early bird-friendly Sunrise Yoga Series, where you can stretch it out every Saturday through 7/29.
Summer Cranapalooza: Friday, 6/30, 12:30 – 2:30pm (Artist Falls Lodge). Sunrise Yoga: Saturday, 7/1, 7am – 8am (Arlberg Children's Center). $15 per class.
Live Entertainment in the White Mountains
BARNSTORMER'S THEATRE (Tamworth, NH)
Snag your seats for the second-longest-running Off-Broadway show in history – "Nunsense" is coming to the Barnstormers Theatre! Laugh at the antics of the Little Sisters of Hoboken, ooh and aah over the tap and ballet dancing, and get ready for an audience quiz. This fun 4th of July option will get you ready for a weekend of revelry.
"Nunsense" show dates include 6/30, 7/1 & 7/2. For additional dates, showtimes, and ticket prices, visit the Barnstormers Theatre website.
THE COLONIAL THEATRE (Bethlehem, NH)
Music prodigy Grace Kelly is set to wow you at the historic Colonial Theatre on Saturday, 7/1 (8 – 10pm). The list of accolades for Kelly is long, ranging from 14 acclaimed albums and performing at Barack Obama's 2009 inauguration to composing tunes for the Boston Pops and performing at the Hollywood Bowl. Won't you show up to salute her unequivocal jazz skills?  
Ticket prices range from $26 - $46. For more information, visit The Colonial Theatre website.
THE FLYING MONKEY MOVIE HOUSE & PERFORMANCE CENTER (Plymouth, NH)
If pulling off an original production in just 5 days doesn't sound like the embodiment of that "can-do" American spirit, we don't what does. Cheer on a mix of local children and theatre, music, and dance professionals as they take to the stage at the The Flying Monkey Movie House & Performance Center to "Team Up Together".
"Team Up Together" is one-night only (Friday, 6/30, 7 – 9pm). Please call The Flying Monkey Movie House & Performance Center for tickets (starting at $10/adults, $5/children
NORTH COUNTRY CENTER FOR THE ARTS AT JEAN'S PLAYHOUSE (Lincoln, NH)
Deep dive into the deliriously funny granite state of mind with Comedian Juston McKinney. This beloved act returns to the North Country Center for the Art's at Jean's Playhouse on Saturday, 7/1, 7:30 – 9:30pm.
Ticket Price: $32.For more information, visit the Jean's Playhouse website.
WEATHERVANE THEATRE (Whitefield, NH)
Two actors, 15 characters – we're hooked! "Stones in His Pockets" promises plenty of laughs with its tale of small-town shenanigans and two Irishmen set against the backdrop of a Hollywood production.
Saturday, 7/1 (7:30 – 10:00pm, plus a 2pm matinee). Tickets start at $19. For more information and additional dates and showtimes, visit the Weathervane Theatre website. Contains adult themes and language. Recommended for ages 10+.
If you adore the likes of Dolly, Carrie, Reba, and Patsy, get ready for a jukebox musical packed with country tunes, bootscootin' boogie, and just a bit of revenge courtesy of two "Honky Tonk Laundry" stars.
Monday, 7/3, 7:30 – 10pm. Tickets start at $29. Recommended for ages 12+. Additional show dates can be found on the Weathervane Theatre website.
WOODSTOCK INN BREWERY (North Woodstock, NH)
In addition to reliably excellent beer and accommodations, the Woodstock Inn Brewery has kept up their tradition of live bands, open mic nights, music bingo, and even karaoke, every single week! Check out their 4th of July offerings below.
Live Band: Friday, 6/30 & Saturday, 7/1 (8:30 – 11:30pm). Open Mic: Sunday, 7/2 (8 – 11:30pm). Music Bingo: Monday, 7/3 (7 – 9pm). Karaoke: Tuesday, 7/4 (8:30 – 11:30pm).
Other Fun 4th of July Weekend Activities
GUNSTOCK MOUNTAIN RESORT (Gilford, NH)
A  4th of July Weekend Craft Fair, right in the heart of the Lakes Region? We're down! Make the trip to Gilford, NH on Saturday, 7/1 & Sunday, 7/2, and more specifically, Gunstock Mountain Resort. Over 90 artists have gathered to show off everything form gourmet oils and vinegars to handmade jewelry, pet portraits, and cedar wood furniture.
Hours: 10am – 5pm, FREE admission & free parking.
OMNI MOUNT WASHINGTON RESORT (Bretton Woods, NH)
Guests of the Omni Mount Washington Resort are in for a real treat over the weekend leading up to 4th of July. From a Red, White & Pool Party, scavenger hunts, firepit smore's, and a guided painting session to "drive in" movies on the Jewel Terrace, a patriotic family 5k, and fireworks on the Back Veranda, this grand hotel is making the absolute most of the holiday.
Resort guests only. For more information, head to the Omni Mount Washington Resort website.
WATERVILLE VALLEY TOWN SQUARE (Waterville Valley, NH)
Do you know an animal with a bad reputation? Revamp your take on some much-maligned critters with the help of the Squam Lakes Natural Science Center! Head to Waterville Valley Town Square (and more specifically, the tent waiting there) – a naturalist and some native NH wildlife are ready to guide you through the latest "Animal Encounter Series: Animals with Bad Reps".
Sunday, 7/2, 10am – 11am. Free.
WATERVILLE VALLEY RECREATION DEPARTMENT (Waterville Valley, NH)
Dunk tanks, tie dye, mini golf, and relay races are just part of the fun at this year's Independence Day Carnival. Get your wristband on the early side - the Waterville Valley Recreation Department has gone all out for this popular event in Packard's Field, and we'd hate for you to miss one second of the fun.
Saturday, 7/1 (11am to 3pm). $15 per wristband.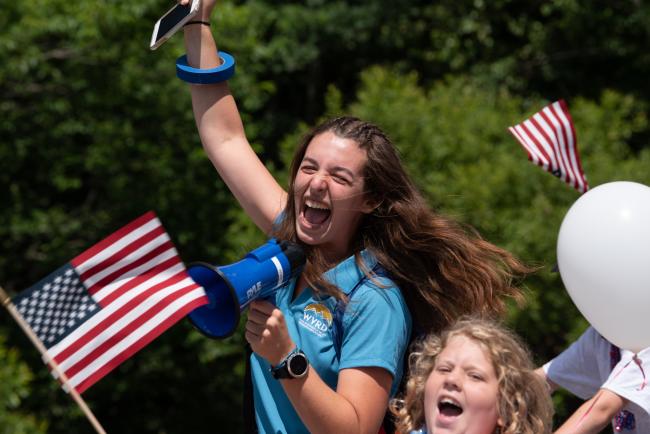 Photo Courtesy of Waterville Valley Recreation Department Facebook
Ready for a great weekend?