The temps are finally climbing into the eighties and nineties here in the White Mountains, and we couldn't be more thrilled! When we're not out exploring one of our major attractions during their prime season, we're all about taking a waterfalls road trip.
Keep scrolling for a compilation of 5 of our favorite falls to visit in the summertime. Just keep in mind, these ones require a little bit of hiking (aka, pack those hiking boots)!
JACKSON FALLS (Jackson, NH)
The charming town of Jackson is your picture-perfect jumping off point for an adventure at Jackson Falls. On your way into the village, stop at the Honeymoon Covered Bridge just off Route 16 for an inimitably NH snapshot. After that, continue along to Carter Notch Road and the small parking lot for Jackson Falls. This gentle waterfall has a total drop of 100' spread prettily over a series of small riffles.
Jackson Falls has several picnic tables, wide waterside rocks for sunning, and a two-hour time limit for parking, so plan your adventure accordingly.
GLEN ELLIS FALLS (Jackson, NH)
Head just north of Jackson proper and start winding through the heart of Pinkham Notch State Park. Along the way, you will encounter the breathtaking plunge of Glen Ellis Falls.
While the falls lie to the east side of Route 16, the parking lot is on the west side of the road; follow the short tunnel at the end of the parking lot to travel beneath Route 16 and pop out on the 0.4-mile roundtrip path to the falls. A series of cobbled pathways, stone steps, and overlooks mark your way to the 64-foot-tall plunge.

Pictured: upper section of falls
THOMPSON FALLS (Gorham, NH)
Wildcat Mountain is known for its gnarly trails and unparalleled views of the eastern White Mountains – but what about its waterfall?
Thompson Falls is tucked into the base of Wildcat Mountain, so start your journey by parking in Wildcat's large lot. From there, head over the footbridge adjacent to the lodge and turn left to follow the river and the Wildcat Trail until you spot signs for Thompson Falls. Stick to the left and enjoy a very small brook crossing (as well as wildflower spotting!) before you reach Thompson Falls. The distance is only 1.1 miles (out and back), but we still think you deserve a reward. How about dipping your toes in the deep pool at the base of the falls?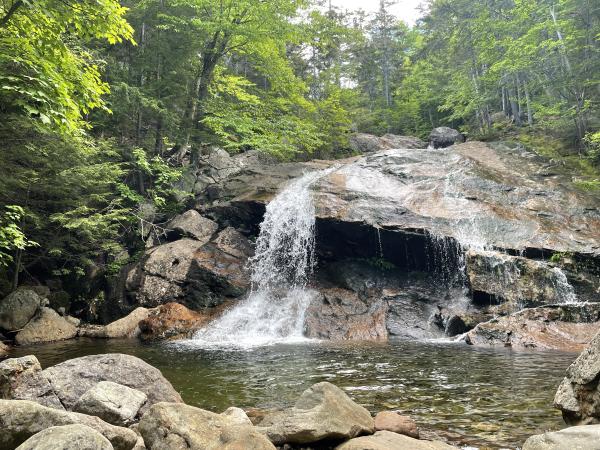 RIPLEY FALLS (Hart's Location, NH)
The parking lot is small for this stop, so get here early!
Ripley Falls is one of the most imposing cascades on our list, topping out at 100' total drop. To access the falls, follow the 1-mile out and back trail (rated moderate). Along the first stretch, take note of the train tracks – this is an active section, so pay attention. If you're lucky, you just might spot the Conway Scenic Railroad's Mountaineer Train!
Once you've wrapped up your hike, head just a few minutes north through Crawford Notch for another interesting stop: the Willey House historic site.

SABBADAY FALLS (Kancamagus Highway, NH)
A drive along the Kancamagus Highway isn't complete without a stop at Sabbaday Falls. As one of the most popular waterfalls on this list, you can expect plenty of company while exploring this stunning 0.7-mile out and back trail. Happily, with the help of a wide, gentle path and the babbling sounds of nearby Sabbaday Brook, this short hike flies by in a series of dreamy, forested moments.
 The trail ends at Sabbaday Falls, a multi-plunge waterfall with a total drop of 35'. A mini loop at trail takes you to both the bottom and upper stretches of the falls – we love snapping a picture every few steps to capture all the unique views offered by this beauty.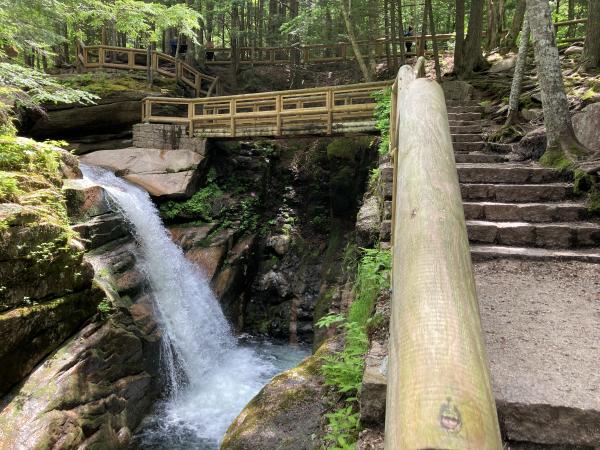 As with all waterfalls, pay careful attention to signage along the trail and at the waterfall itself. Swimming and climbing are strictly prohibited at many waterfalls in the White Mountains, including several on this list. Keep your vacation a safe one…and make plans to visit several of our other amazing waterfalls!
Remember to purchase a recreation day pass or annual pass to access waterfalls within White Mountain National Forest (including Glen Ellis Falls, Ripley Falls, and Sabbaday Falls). You can purchase an annual pass at our White Mountains Visitor Center for $30 for one vehicle, or $40 for two, or pay the $5.00 day fee at the iron ranger which is located at each parking lot (cash only...pay once for a whole day of fun).
Can't make it up to the White Mountains? Tour these waterfalls minus the road trip! Click the link below.