Start planning for a White Mountains adventure this Father's Day 2022. From local outfitters hosting summer kickoff parties to castle tours, tributes to Cream, and microbrews galore, June 18th and 19th are looking pretty spectacular this year!
ACTION TOUR GUIDE (KANCAMAGUS HIGHWAY, NH)
Take Dad on a scenic self-guided tour of the Kancamagus Highway! Action Tour Guide is offering 15% off their app-based audio tours, meaning you'll have 29 in-depth stories to listen to as you take a leisurely 2 – 3 hour drive across one of New Hampshire's most scenic byways. If Dad is into all things techy, don't forget to tell him that this is a GPS-enabled tour which delivers narration based on your exact location on the Kanc. How cool is that?!
To access Action Tour Guide's 15% off Father's Day discount, use code FD15 at checkout.
BURGEON OUTDOOR (LINCOLN, NH)
Keep Dad cozy in locally manufactured hiking gear and head to Burgeon Outdoor's Midsommer Hiking Kick-Off Party in Lincoln, NH! The festivities run from 4 to 7pm on Saturday, June 18th, with plenty of food, beverages, gear specials, contests, and raffles to sweeten the celebration.
All are invited, but please take a few minutes to RSVP for this family friendly event!
BRETTON WOODS VACATIONS (BRETTON WOODS, NH)
Plan an escape to the mountains for the whole family with a stay at one of Bretton Woods Vacations' properties. Your lodging options include cozy cabins, sleek townhomes, and more – just don't forget to use the coupon code HAPPYDAD at checkout for 10% off booking with check-in dates through June 30th, 2022.
CASTLE IN THE CLOUDS (MOULTONBOROUGH, NH)
Make your dad feel like a king this Father's Day and celebrate with a mountaintop castle tour! On Sunday, June 19th, the Lakes Region's famed Castle in the Clouds estate will be offering free admission for all fathers and grandfathers.
The purchase of a separate full-priced adult or child admission is required to access this awesome deal.
(Photo Credit: @colleeninthe603)
THE FLYING MONKEY MOVIE HOUSE & PERFORMANCE CENTER (PLYMOUTH, NH)
Whoa daddy! Thursday, June 16th through Saturday, June 18th, The Flying Monkey Movie House & Performance Center in Plymouth, NH is hosting three mighty fine performances from The Music of Cream, Steve Earle & The Dukes, and Gaelic Storm. Take your pick of which act your pops would love best and book your ticket online today.
HARMAN'S CHEESE & COUNTRY STORE (SUGAR HILL, NH)
Harman's Cheese & Country Store in Sugar Hill, NH is offering a whopping deal this Father's Day – 1 lb. blocks of Harman's 3-year aged cheddar cheese will be on sale for just $3.00! Send Dad into Harman's on Sunday, June 19th to claim his special cheese and get prepared to share – this offer is good for just one block of the heavenly stuff.
Other in-store discounts available in celebration of Father's Day.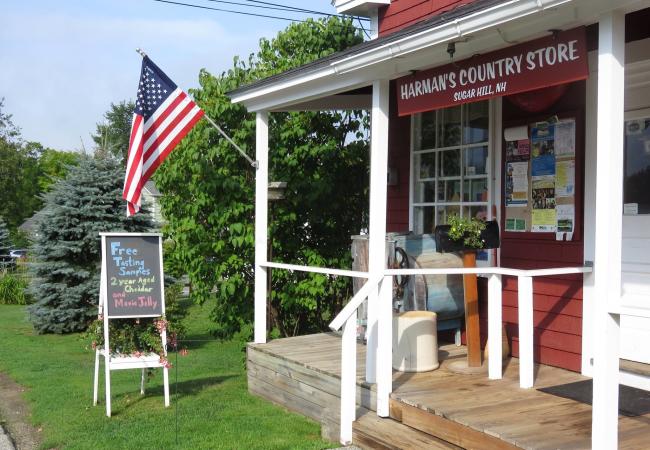 OMNI MOUNT WASHINGTON (BRETTON WOODS, NH)
Get out on the green on Sunday, June 19th! Dad will get a complimentary 18 holes at the Omni Mount Washington's iconic course with the purchase of an accompanying full-price round of golf.
Based on availability, space is limited. Call 603-278-4963 for tee times and reservations.
SETTLERS GREEN (NORTH CONWAY, NH)
Shop while Dad sips! Settlers Green in North Conway, NH is hosting a Tuckerman Brewing Co. Pop-Up Beer Garden throughout Father's Day weekend. Head to The Green on Saturday, 6/18 and Sunday, 6/19; Dad will have from 12 - 4pm each day to try a selection of outstanding local microbrews. 
SEVEN BIRCHES WINERY (LINCOLN, NH)
Did someone say charcuterie? We're in! Grab Dad and visit Seven Birches Winery in Lincoln, NH for a scrumptious Father's Day Wine & Meats Pairing event. This special event starts at 4pm on Sunday, June 19th and includes 4 local wine samples plus meat and crackers to compliment each pour.
Tickets are $25 per person. Reserve your spot on the Seven Birches Winery website.
WOODSTOCK INN BREWERY (WOODSTOCK, NH)
Local brews plus Dad are a no brainer this Father's Day. Head to the Woodstock Inn Brewery in Woodstock, NH for special Mug Club prices (aka, $1.75 off all pints of beer) on Sunday, June 19th, as well as delectable dinner specials.
YOGI BEAR'S JELLYSTONE PARK CAMP RESORT: GLEN ELLIS (GLEN, NH)
Is there a better place to than Glen, NH on Father's Day weekend? Book a stay at Yogi Bear's Jellystone Park Camp Resort: Glen Ellis. where the Lazy River Riders will be playing a musical set and complimentary gifts are available for children looking to give something special to Dad on Father's Day.
Check out our events calendar for even more fun ideas over Father's Day Weekend, including the last few days of the 99th Anniversary of Laconia Motorcycle Week (June 11th - 19th). We'll see you in the White Mountains! 
Take a quick trip to Harman's Cheese & Country Store in Sugar Hill, NH. Click the video below!