I scream, you scream, we all scream for ice cream! We can't think of a better way to top off a delicious dinner, celebrate finishing a long hike, or cool off after a hot day in the White Mountains than with a couple scoops of creamy, dreamy, ice-cold ice cream.
Here's the scoop on some of the best ice cream in the White Mountains of New Hampshire. 
CLARK'S BEARS (Lincoln, NH)
When you think of Clark's Bears, whimsical trained bear shows certainly come to mind. But what about the other attractions in the park that are equally iconic? Our nostalgia runs at full tilt when we conjure up childhood memories of riding White Mountain Central Railroad into Wolfman territory or having the world turned upside down inside Merlin's Mystical Mansion.  Another sweet constant is the delicious Peppermint Saloon. At this old-fashioned ice cream parlor, you take a trip back in time via a scoop or two of your favorite hard ice cream, or even up the ante and create a masterpiece at the sundae bar (to be enjoyed al fresco while you admire the sights of Clark's nostalgia-filled Main Street, of course!).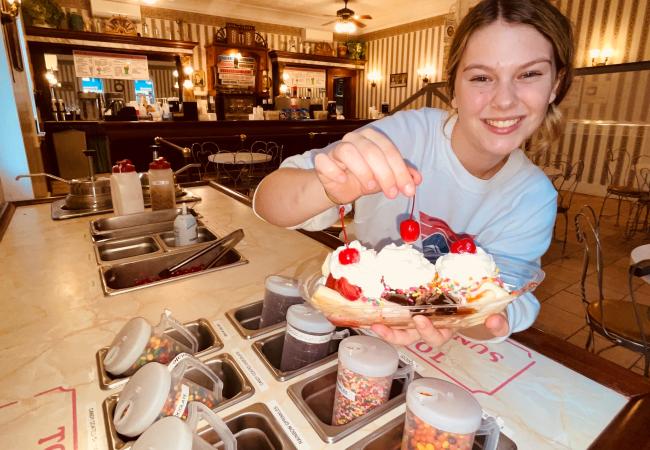 CRANMORE MOUNTAIN RESORT (North Conway, NH)
We're always down to journey for some ice cream, but this trip might top the list for most scenic! Head to Cranmore Mountain Resort in North Conway, NH and take their chairlift to the Summit Meister Hut (elevation 2,000') for a yummy taste of Giffords ice cream. For the best views, take your ice cream out on the deck and soak in the sights of Mount Washington Valley. After that, take the short loop trail at the top to burn off some of that extra sugar! 
The Cranmore Mountain Resort Scenic Chairlift Ride runs $19 per passengers 42" and taller (42" and under ride free). Visitors can also access the Scenic Chairlift with the purchase of a Mountain Adventure Park pass.
SANTA'S VILLAGE (Jefferson, NH)
Since 1953, generations of visitors to Santa's Village have experienced "Pure Joy, Family Style" from the moment they set foot in this merry amusement park. That joy can be found in from the Reindeer Barn to the Yule Log Flume and Polar Paradise and everything in between. For us, we can't resist the lure of Santa's in-park treats!  There are devotees for the mini Doe-Nuts, as well as the gingerbread people just waiting to be frosted at the Gingerbread House. If you really want to get into that fully festive spirit, however, you'd be remiss if you skipped a trip to the one of the true culinary stars of the park, the Frosty Freezer. Here you'll find ice cream made right onside, as well as fan favorites like the coffee-flavored Zinger, and the oh-so chocolatey Frozen Hot Chocolate.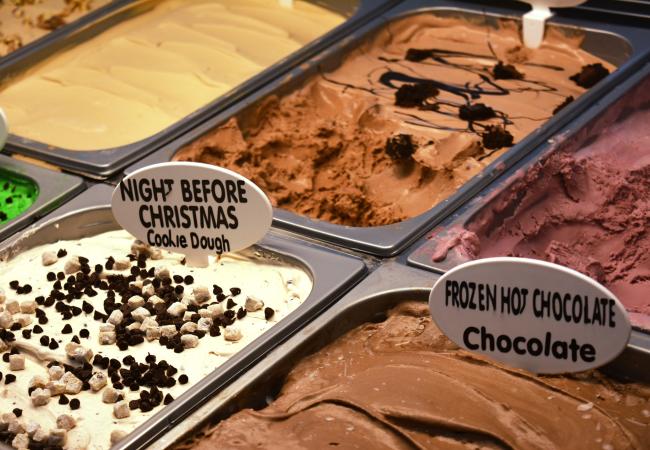 STORY LAND (Glen, NH)
Fantasy Lives at Story Land. Since 1954, families have come to know and love this storybook-themed park for its many fun rides (including rollercoasters and log rides, carousels and ferris wheels, and, of course, the wet and wild Dr. Geyser's Remarkable Raft Ride) and features (like Cinderella's Castle, of course).  Exploring everything this park has to offer can leave one famished by midday - thankfully, Story Land offers plenty of food options ranging from burgers and pizza to falafel, gyros, and everything in between. When you're ready for a sweet treat to inject a little pep back into your step, head on over to the Dutch Village Ice Cream Shop. Choose from a hard ice cream cone, soft serve, or Dippin' Dots, or create your own, delicious sundae from over 20 different toppings.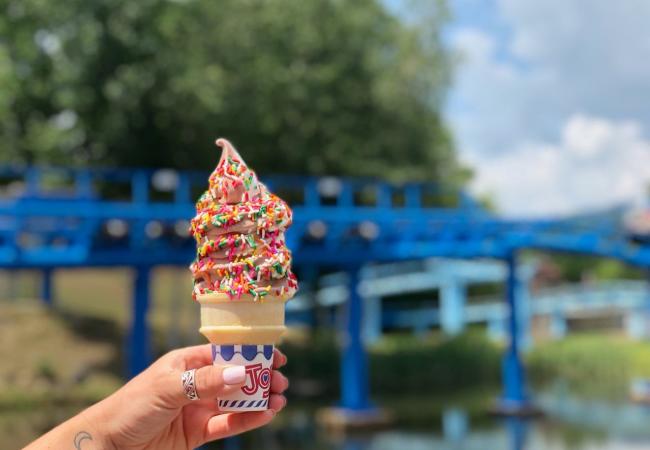 SUPER SECRET ICE CREAM (Bethlehem, NH)
Do you have a craving for hyper-local ice cream and surprising flavors straight out a sugar-soaked daydream? Super Secret Ice Cream in Bethlehem, NH is your must-stop ice cream shop. Here you'll find specialties like Blueberry Gooey Butter Cake, Toasted Marshmallow, and Swirly Strawberry sharing space with freezer staples like ice cream cookie sandwiches, Single Origin Chocolate, Mount Cabot Maple, and the inimitably awesome Honeycomb. Flavors come and go with the seasons and can be swayed by what local farmers have on hand, so come ready with your most adventurous of tastebuds! Our recommendation? Order an ice cream flight to get started.
As a bonus, Super Secret Ice Cream also has plenty of inside seating for hot summer days plus great branded swag like cotton ballcaps, sweatshirts, and hand stamped ice cream bowls made by - you guessed it! - a talented local potter. 
TRICKS & TREATS @ THE CHRISTMAS LOFT (North Conway, NH)
The Christmas Loft in North Conway has long been known for their immense collection of Christmas ornaments, holiday décor and collectibles, and stunning life-size Christmas Village. Recently, they expanded their offerings with Tricks & Treats, which delves into Halloween décor, costumes, and more.  Along with the silly and spooky aspects of the store, they also serve delicious ice cream and other frozen treats for customers to consume while enjoying the stunning panoramic view found on their patio.
CONEHEADS SUPREME (North Woodstock, NH)
Coneheads Supreme, right on North Woodstock's main street, offers over 50 flavors of ice cream, frozen yogurt, and soft serve, with much of their product made on-site. Check out their ice cream factory where you can see how their delicious treats are made!
UDDERLY DELICIOUS ICE CREAM SHOP (Lincoln, NH)
This little shop on the Main Street of Lincoln offers fresh, New England-made ice creams with the usuals like vanilla and chocolate as well as more festive flavors like "Freedom of Espresso" and "Monster Mash". Enjoy your scoop in a delicious candy-coated waffle cone or make your own treat at Udderly's scrumptious Ice Cream Sandwich Bar.
Are you tapped out on sugar? Try a taste of the local dining scene and scope out these best places to eat in the White Mountains!