I scream, you scream, we all scream for ice cream! We can't think of a better way to top off a delicious dinner, or celebrate finishing a long hike, or cool off after a hot day in the White Mountains, than with a couple scoops of creamy, dreamy, ice-cold ice cream. We have the scoop on some of the hot spots in the White Mountains to get a nice cold treat.
Clark's Bears-Lincoln
When Clark's Bears come to mind, obviously the fun and whimsical trained bear shows come to mind, but there are plenty of other attractions in the park that are iconic and conjure up childhood memories and feelings of nostalgia.  Taking a ride on the White Mountain Central Railroad into Wolfman territory may be one, as is having your world turned upside down in Merlin's Mystical Mansion.  But there is one sweet area of the park that should be familiar to many and that is the Peppermint Saloon. Take a trip back in time to the old-fashioned ice cream parlor and enjoy a scoop or two of your favorite hard ice cream or create a masterpiece at the sundae bar.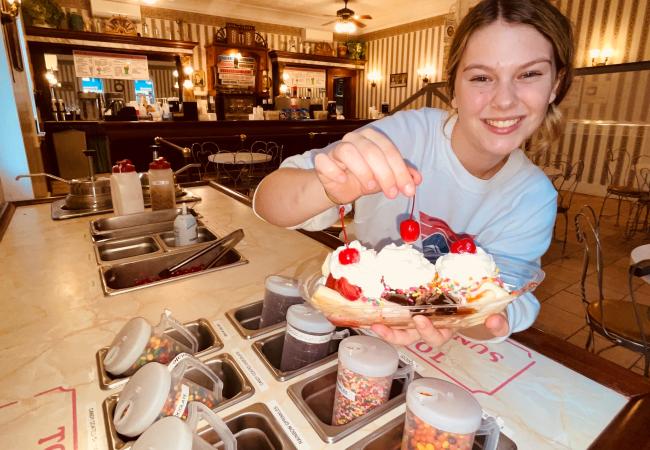 Cranmore Mountain Resort-North Conway
We're always down to journey for some ice cream, but this trip might top the list for most scenic! Head to Cranmore Mountain Resort in North Conway, NH and take their chairlift to the Summit Meister Hut (elevation 2,000') for a yummy taste of Giffords ice cream. For the best views, take your ice cream out on the deck and soak in the sights of Mount Washington Valley. After that, take the short loop trail at the top to burn off some of that extra sugar! 
Cranmore's Scenic Chairlift opens July 1st for the 2022 season and costs $19 for passengers 42" and taller (42" and under ride free). Visitors can also access the Scenic Chairlift with the purchase of a Mountain Adventure Park pass.
Santa's Village-Jefferson
Generations of visitors have been through the doors of Santa's Village since they opened in 1953 and have experienced the Pure Joy Family Style that Santa's Village is known for.  Another thing that they are known for are their delicious in-park treats. There are devotees for the mini Doe-Nuts, as well as the decorate your own gingerbread person, however one of the true culinary stars at the park is the homemade ice cream from the Frosty Freezer. This tasty treat is made right on-site and fan favorites include the coffee-flavored, Zinger, and the oh-so chocolatey, Frozen Hot Chocolate.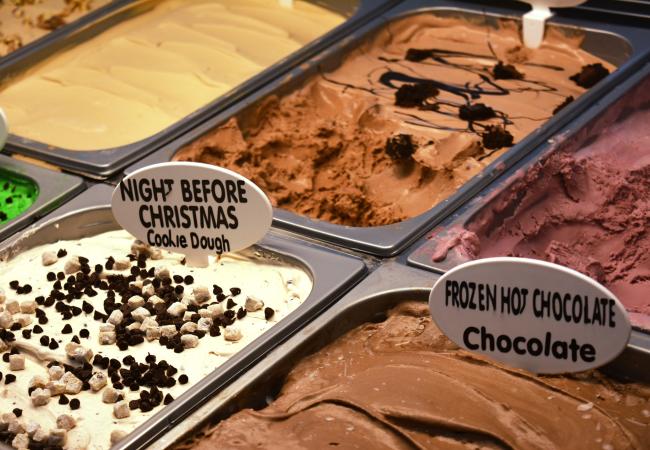 Story Land-Glen
Fantasy Lives at Story Land, which has been delighting guests since 1954. Families have come to know and love the storybook-themed park for the rollercoasters, log ride, carousel, the wet and wild Dr. Geyser's Remarkable Raft Ride, and of course, Cinderella's Castle.  A day at the park can leave one rather hungry, and thankfully Story Land offers plenty of food options ranging from burgers and pizza to falafel and gyros, and something for everyone in between.  When you're ready for a sweet treat, head on over to the Dutch Village Ice Cream Shop where you can choose from a hard ice cream cone, soft serve, Dippin' Dots, or create your own, delicious sundae from over 20 different toppings.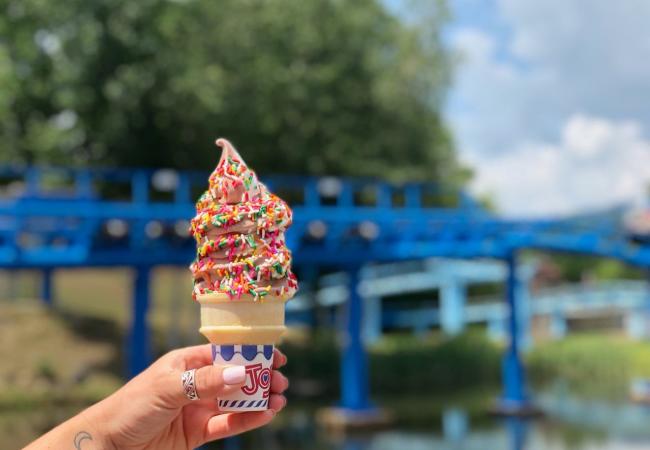 Aloto Gelato-Lincoln
Aloto Gelato brings international delights to the White Mountains. Unwind and let the stresses of the world melt away while enjoying a refreshing gelato or satisfy your sweet tooth with a homemade crepe. For a quick pick-me-up, have a sip of espresso. Delicious!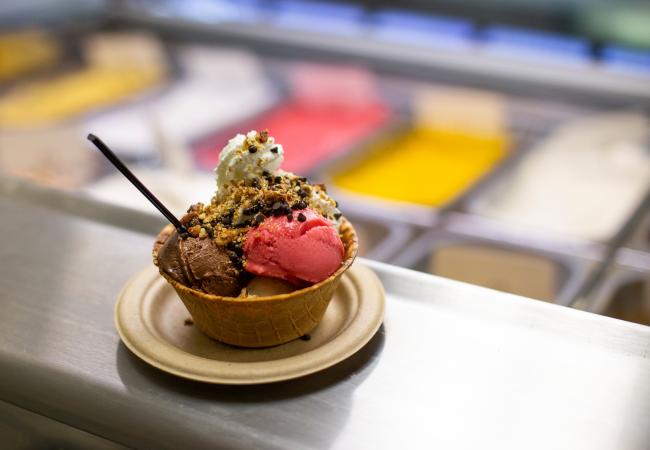 Coneheads Supreme-North Woodstock
Coneheads, on the Main Street of North Woodstock, offers over 50 flavors of ice cream, frozen yogurt, and soft serve, with much of their product made on-site. Check out their ice cream factory where you can see how the delicious treat is made!
Tricks & Treats at the Christmas Loft-North Conway
The Christmas Loft in North Conway has long been known for their immense collection of Christmas ornaments, holiday décor and collectibles, and stunning life-size Christmas Village. Recently, they expanded their offerings with Tricks & Treats which delves into Halloween décor, costumes, and more.  Along with the silly and spooky aspects of the store, they also serve delicious ice cream and other frozen treats that customers can consume while enjoying the stunning panoramic view from their patio.
Udderly Delicious-Lincoln
This little shop on the Main Street of Lincoln offers fresh, New England-made ice creams with the usuals like vanilla and chocolate, to the more festive flavors like "Freedom of Espresso", and "Monster Mash". Enjoy your scoop in a delicious candy-coated waffle cone or make your own treat at their Ice Cream Sandwich Bar.