What is there to do for Memorial Day weekend in the White Mountains? A lot! Take your pick of adventures up the Mount Washington Auto Road, live music and craft fairs, rubber ducky races, tax-free shopping, vintage car shows, and more.
This round up represents the best of the best Memorial Day events in NH. In between it all we hope you'll give some time to also remember and honor service members across the country.
LOST RIVER GORGE & BOULDER CAVES (North Woodstock, NH)
Get nearer to nature at Lost River Gorge & Boulder Caves in North Woodstock, NH! In addition to the amazing 1-mile wooden boardwalk and 11 boulder caves that are yours to explore, Lost River is hosting the Squam Lake Natural Science Center for a Live Animal Presentation with a Naturalist on Saturday, 5/27 at 10:30am. This time, the theme is "Owls of New Hampshire". Learn all about owls, including their calls and cool facts, and meet some fine feathered friends. After that? Go explore the gorge!  
Book your gorge entry tickets in advance for this popular event. Gorge entry includes free admission to the live animal presentation. 
MT. WASHINGTON AUTO ROAD (Gorham, NH)
Are you feeling a little wacky and ready to test your mettle? Head to the Mt. Washington Auto Road on Saturday, 5/27 for Alton Weagle Day! The namesake of this day was legendary for climbing the Auto Road in a myriad of ways, including walking backwards, summiting blindfolded, and even pushing a wheelbarrow full of sugar. If you'd like to participate with your own creative take on a "first ascent", submit your idea to the Auto Road – the best submissions will give you the chance to participate in this one-of-a-kind day.
Email info@mt-washington.com to submit your first ascent idea.  Runs 6am – 2pm on Saturday, 5/27.
ACTION TOUR GUIDE (Kancamagus Highway, NH)
Take a classic driving tour of the 34.5-mile Kancamagus Highway, and listen to Action Tour Guide along the way! This self-guided audio app will delve into the history of this iconic byway and provide plenty of tips for fun stops along the way.
Use code KANC 15 at checkout to get 15% off the Kancamagus Self-Guided Driving Tour (usually $14.99).
THE COLONIAL THEATRE (Bethlehem, NH)
Jump into Memorial Day weekend with a tribute to all things Americana. Griffin William Sherry with guest Town Meeting takes to the historic stage at The Colonial Theatre on Saturday, 5/27 with a showstopping display of vocal harmony, extended instrumental sections, and folk-rock sounds. See you there?
Saturday, 5/27 from 8 – 10pm. Tickets $18 - $28.
JACKSON AREA CHAMBER OF COMMERCE (Jackson, NH)
The Wildquack Duck Race & Music Festival is the late spring event in for the Jackson Area Chamber of Commerce. This beloved tradition (now in its 33rd year) includes festive food, kids' activities, a parade, live music and local artisans, a silent auction, AND rubber ducky races sure to delight. Entry to the event is free, but remember: there are prizes to be won for best dressed during the parade and the fastest duck in the race. The grand prize? A fabulous stay at the renowned Inn at Thorn Hill & Spa, right in town.
Sunday, 5/28. Events start at 8am. Parade starts at 1:30pm at the covered bridge.

MOUNTAIN VIEW GRAND RESORT & SPA (Whitefield, NH)
Travelers to the Mountain View Grand Resort & Spa in Whitefield, NH, take note: service members and first responders are invited to enjoy a complimentary, patriotically-themed breakfast during their stay! It's just one of the many fine amenities at this historic hotel – might we suggest a visit to the working farm on the resort's grounds and an ax throwing session while you're at it?
SCHOULER PARK (North Conway, NH)
Looking for a full day of activities in the Mount Washington Valley? We'd recommend taking a ride on the Conway Scenic Railroad and then touring the Memorial Day Craft Fair at Schouler Park (located on the field just in front of the Conway Scenic's historic train station). Enjoy the works of 120 arts & crafts exhibitors and take home the likes of pottery, glassware, jewelry, home décor, paintings, handmade soaps, and more.
Saturday, 5/27 & Sunday, 5/28 (9am – 5pm).  
SETTLERS GREEN (North Conway, NH)
Settlers Green in North Conway, NH is offering two special celebrations in honor of Memorial Day: a Memorial Day Block Party and the 35th Anniversary Celebration: MWV Old Car Club Cruise Night (both on Monday, 5/29). Admire classic old cars, listen to live music, and take your pick of food trucks and local beer from Tuckerman Brewing Company's Pop-Up Beer Garden. If you've brought the kiddos, there's also face painting and yard games to keep them entertained.
Memorial Day Block Party: 5/29, 4 – 7pm. MWV Old Car Club Cruise Night: 5/29, 5:30 – 7:30pm. All vehicles old and new are invited to participate.  
WATERVILLE VALLEY RECREATION DEPARTMENT (Waterville Valley, NH)
Picture this: a youth fishing derby running 13 years strong and a picturesque pond…on Saturday, 5/27 you can enjoy both thanks to the Waterville Valley Recreation Department! Sign your kids up for  Casting for Kirby, a friendly competition for kids ages 15 and under. Over $1,000 in prizes is up for grabs, as well as face painting and DIY t-shirts for all. Best of all, Corcoran Pond is stocked with trout prior to the event (meaning every kid will have a good chance of success).
After the fishing is done, stick around town if you'd like to hear some music. More info below.
5/27, 8 – 10am. Age groups will have staggered start times.
WATERVILLE VALLEY TOWN SQUARE (Waterville Valley, NH)
Mark your calendars! The Waterville Valley Town Square will hosting three fun events over the holiday weekend: live music on Saturday, 5/27, the 33rd Annual Chowderfest on Sunday, 5/28, and an Animal Encounter Series on Monday, 5/29. While the aforementioned music and chowder is certainly a draw (with generous samples and a voting ballot to show off your palate's preference), we are extra eager to see which native wildlife ambassadors from the Squam Lakes Natural Science Center will make an appearance on Memorial Day.
Live Music: 5/27, 12pm – 3pm (Bob Pratte Band); 4pm – 7pm (Green Heron Duo). Chowderfest: 5/28, 12 – 2:30pm; $7.50 for adults; $5 for children 12 and under. Animal Encounter Series: 5/29, 10 – 11am.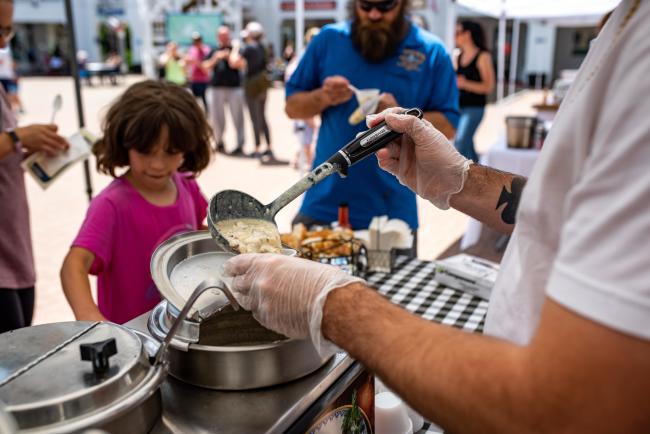 WREN LOCAL WORKS MARKETPLACE & GALLERY (Bethlehem, NH)
Ponder how color, asymmetry, fabric, poetry, and paint can all play off each other in "Echoes & Reflections", the latest gallery show hosted by WREN Local Works Marketplace & Gallery. This exhibit runs through June 25, leaving you plenty of time for a repeat visit to admire your favorite pieces on display.
"Echoes & Reflections" can be viewed in the Gallery at WREN during WREN's regular hours (Mondays – Saturdays, 10am – 5pm and Sundays 10am – 4pm. CLOSED Wednesdays.)
WOODSTOCK INN BREWERY (North Woodstock, NH)
Is music a must for your long weekend to feel like a celebration? Make your way to the Woodstock Inn Brewery for a rousing calendar of events!  Off the Map performs Friday, 5/26, followed by the Bob Pratte Band on Saturday, 5/27 and Dan Parkhurst on Sunday, 5/28. The weekend rounds out with Music Bingo on Monday, 5/29, making a Memorial Day to remember.
Off the Map: 5/26, 8:30 – 11:30pm. Bob Pratte: 5/27, 8:30 – 11:30pm. Dan Parkhurst: 5/28, 7 – 10pm. Music Bingo: 5/29, 7 – 9pm.
Peruse our Trip Ideas for additional ways to fill out your Memorial Day weekend plans, and don't forget to book your lodging ASAP! See you in the mountains.