The northern section of the White Mountains stretches from Franconia Notch State Park to points as far north as Colebrook and Pittsburg and one could spend several days exploring the ins and outs of this outdoor mecca.  We'll keep things simple and then if you want to extend your stay to keep the adventure alive, we will certainly give you the go ahead!
Explore Franconia Notch State Park
Franconia Notch is one of our stunning mountain passes within the White Mountain National Forest and while you drive the 8-mile roadway that meanders through the pass, there is a lot of wonderful things to see and do.  One could feasibly spend an entire day seeking out all the treasures that Franconia Notch State Park possesses but here are some great options to get you started. As you travel north through the "Notch", start your journey at the Flume Gorge. This attraction is a natural gorge that you can access via a 2-mile loop trail that winds past covered bridges, glacial erratics, and Avalanche Falls, a 45' waterfall. The Flume Visitor Center has historical displays, gift shop, and a 20-minute video on the natural history of the area. Your next stop on your Franconia Notch State Park tour is the Basin. This granite pothole was created by the glaciers 15,000 years ago and is now a beautiful water feature that is an easy, 10-minute walk to get to. Continue on to Exit 34B for the Cannon Mountain Aerial Tramway, the New England Ski Museum, and the Old Man Memorial Plaza. The Cannon Tramway is a 7-minute tram ride to the 4,080' summit of Cannon Mountain. Enjoy sweeping foliage views and on a clear day you can even see into Canada. Explore the Rim Trail and Observation Tower for even more stunning views. Head back down the mountain and take a walk down to the Old Man Historic Site and Memorial Plaza to learn about the "Great Stone Face" that was viewed and written about for over 200 years before crumbling in 2003. If you have time and want to learn more about New England and New Hampshire's role in ski history, make a stop over at the free New England Ski Museum.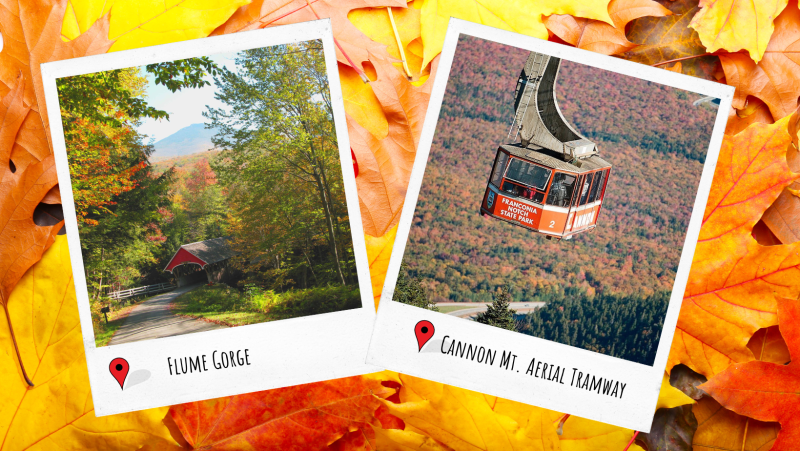 Time for Lunch!
Littleton's Main Street is a vibrant and welcoming community with many local shops, restaurants, and artwork to explore. Grab a bite to eat at Schilling Beer Co., then spend time visiting shops such as Bella Funk Boutique, Chutters, and Little Village Toy & Book Shop. Take a walk across the Riverwalk Covered Bridge, which spans across the Ammonoosuc River, then be sure to get a selfie with Pollyanna at the Littleton Public Library or at one of the various murals throughout town, sponsored by the North Country Mural Project. If you'd rather explore some of the White Mountain's backroads and stunning mountain views, head over to Franconia and Sugar Hill and enjoy lunch at Polly's Pancake Parlor. Grab some cheese at Harman's Cheese, then enjoy the view of Mt. Lafayette and the woodsy trails at the Frost Place.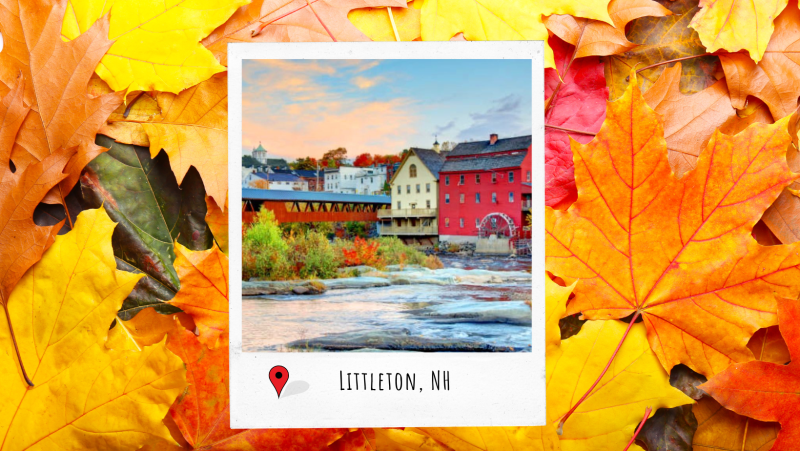 Hike and Explore
After enjoying a satisfying lunch, spend the afternoon exploring or heading out on the trails. If your journey takes you back through Franconia Notch State Park, you may enjoy the Artist's Bluff/Bald Peak loop which is a popular 1.5-mile loop trail that provides a bare summit with incredible foliage views of Franconia Notch and Cannon Mountain. If you're looking for a longer and slightly more challenging hike, head to the trailhead for Randolph's Pine Mountain. This 3.4 mile out and back trail starts on a dirt road before heading into the woods and Chapel Rock's summit offers incredible foliage views. (Bear in mind that Chapel Rock is on private property and the summit often is closed due to church services or retreats but when not in sessions, hikers are more than welcome to enjoy the summit's views. (More info can be found at hortoncenter.org) If you're wanting to just get out and explore the great outdoors (and awesome views), without much effort, Weeks State Park in Lancaster is an excellent option. This 446-acre estate was given to the state in the 1940's and is open to the public to walk the grounds, soak in 360° views of the Presidential Range, the Green Mountains of Vermont, the Kilkenny Range and more, as well as explore the stone fire tower that sits prominently on property.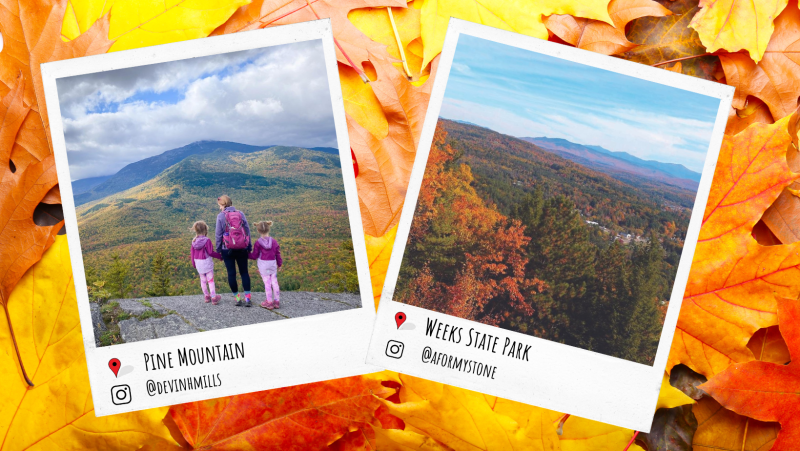 Bringing the Kids?
If you're spending a day over the weekend and are bringing the kiddos, consider a fall visit to Santa's Village. All their favorite rides are open and set amidst the beautiful fall colors. Santa's Fall FESTival event runs Sundays in September and the first Sunday in October. Price of admission also includes a variety of delicious foods throughout the park. For those looking for a spookier experience, plan a visit during October weekends for the Merry Trick or Treat Celebration. The park is decked out for Halloween and costumes are encouraged!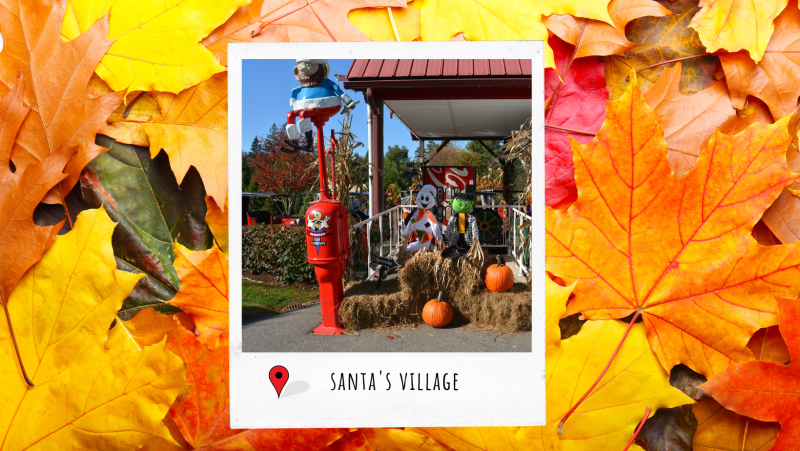 Have the evening?
If you plan on staying into the evening hours, plan a visit to Main Street in Bethlehem and peruse WREN for some unique, locally made gifts and artwork.  Have dinner and a beer tasting at Rek Lis Brewing Co. Check out the schedule at the Colonial Theatre and stay for a movie or concert.
Spending the night? Enjoy the evening at a historic Inn or Bed & Breakfast