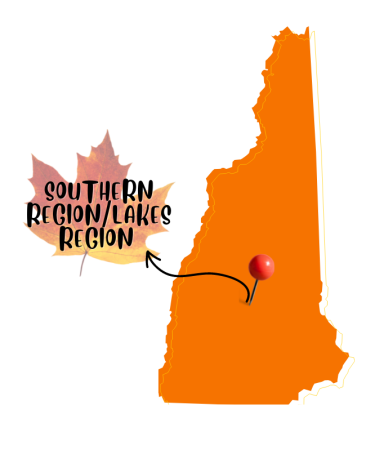 Whether you call it the Southern end of the White Mountains or the Lakes Region, there's no denying the beauty of this area, especially in the fall.  Lake-front activities topped with mountain views make this a prime destination if spending one day in this region.
Visit an Attraction
Located in Rumney, Polar Caves Park will be open weekends through October 16 and is a fun way to get outdoors while being surrounded by beautiful fall foliage.  Polar Caves offers 9 glacial caves to explore along with a mining sluice for the kids and an Animal Park with Fallow Deer and ducks to feed.  The boardwalk throughout the park winds upward to a viewing platform which offers stunning foliage views. Book online to ensure availability.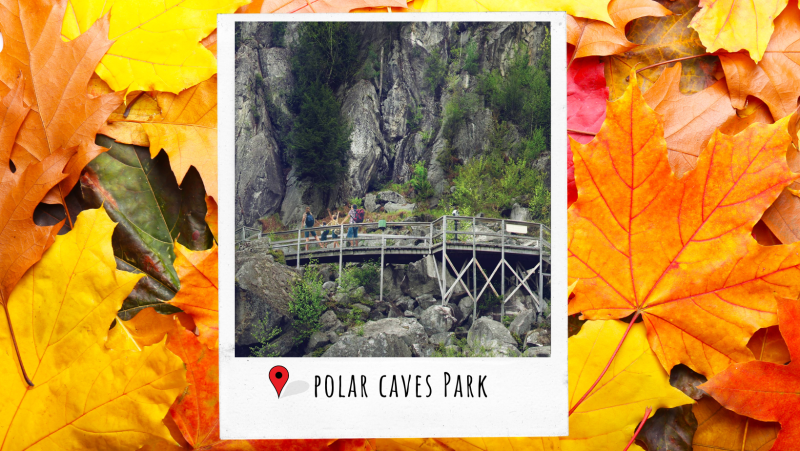 Enjoy Nature
While strolling around downtown Meredith; on the shores of Lake Winnipesaukee, through the Mill Falls Marketplace, and over by Hesky Park, the self-guided Meredith Sculpture Walk will lead you to over 30 incredible sculptures and pieces of artwork by commissioned artists. Brochures are available around Meredith and on the website. 
The Castle in the Clouds in Moultonborough is probably most well known for its 20th century Arts & Crafts estate that is open for self-guided tours of the property and grounds. It should be mentioned as well, that there is an incredible trail system on property that is maintained by the Lakes Region Conservation Trust. Trails range in difficulty from easy to moderate and many offer outstanding views of Lake Winnipesaukee, the Castle itself, and the White Mountains beyond, while others showcase cellar holes, cemeteries, wildflower fields, and even gorgeous waterfalls.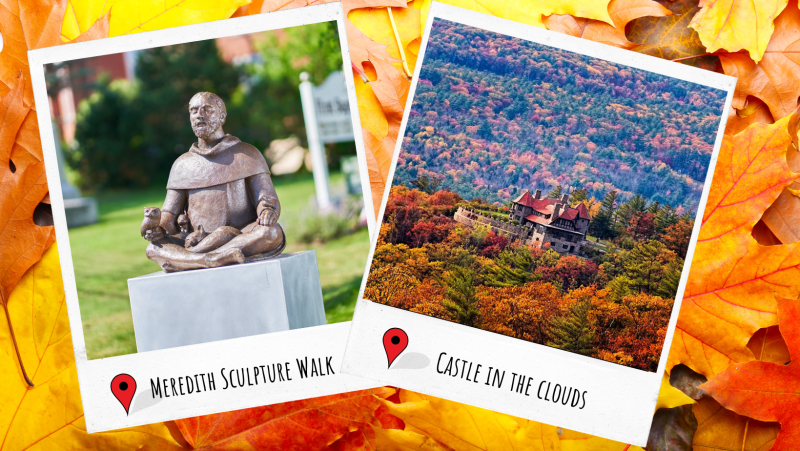 Time For Lunch!
A quick stroll up Meredith's Main Street will bring you to Hermit Woods Winery & Eatery. Not only does the team at Hermit Woods handcraft delicious wines, many made from local fruits, but they also serve an extensive lunch menu including sandwiches, pizza, charcuterie boards, and other light fare. Stay for a tasting and a tour and peruse the shop for some wine to take home.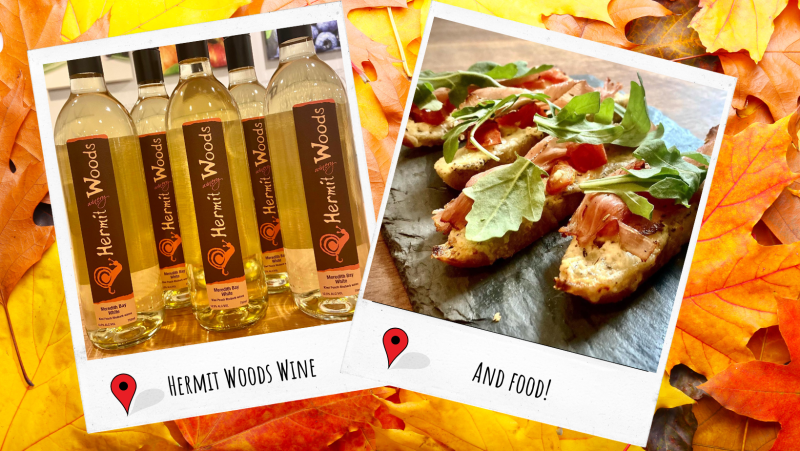 Fun and Adventure
A day in the Lakes Region would not be complete without spending time on or near some of the most beautiful lakes in the state. Coming in at 21 miles wide and 180 feet deep at its deepest point, Lake Winnipesaukee is New Hampshire's largest lake, and the M/S Mt. Washington has been cruising its waters for 150 years.  If you only have a couple of hours to spend, taking a ride on the M/V Sophie C, the cruise line's 1945 mail boat is the best way to cruise the lake and take in the beautiful foliage from her shores.
If you're here during a fall weekend and are looking for a unique way to spend a few hours, head over to Laconia's Rail Bike Adventures. Each rail bike can fit up to 4 people and with your pedal power, you will enjoy the 5-mile round trip which begins and ends at the historic Laconia Railroad Station. The tracks, which date back to the 1800's, ride alongside Lake Winnisquam and there is an opportunity to hop off the bikes and get some pictures of the beautiful lakeside foliage.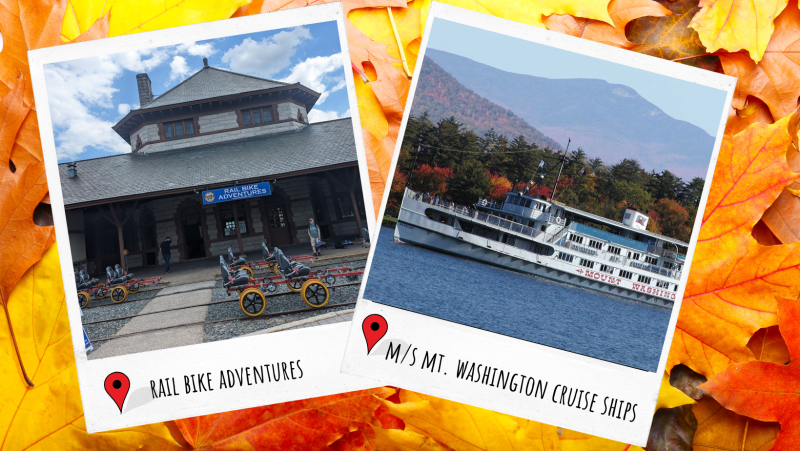 Bringing the Kids?
Get "Nearer to nature" at the Squam Lakes Natural Science Center in Holderness. Near the shores of Squam Lake, this is a great place to bring the family to walk the wooded trail to see the live animal exhibit, and to gets hands on with interactive exhibits and play structures throughout.  If you have extra time, book one of their scenic Squam Lake cruises for a glimpse at the fall colors from the lake and you might even catch a glimpse at a bald eagle or a loon family.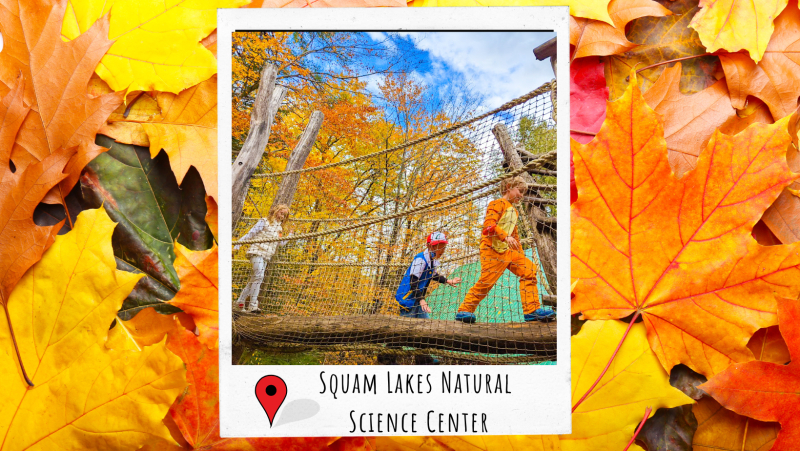 Staying For Dinner?
There are many tasty fining options in the Lakes Region and if you're having a hankering for a turkey dinner, then Hart's Turkey Farm should be on your list. They have been a Lakes Region family tradition for nearly 70 years and while they are known for their turkey, they serve other delicious American cuisine on their menu. 
Spending the night? The Common Man Inn & Spa in Plymouth is a great place to rest your head for the evening, grab a bite to eat, and maybe book a spa treatment while you're at it!
Don't forget to hit the Tanger Outlets in Tilton in the morning on the way home!