Packing a picnic lunch for a day out adventuring in the White Mountains is a must, and sometimes, planning your day's adventure based on the top picnic spots is essential too. Here are 12 of our favorite places to picnic in the White Mountains.
Rainbow Falls, Plymouth
As part of the Walter Newton Conservation Area, families will be delighted to bring a picnic lunch to this serene waterfall in the woods. Rainbow Falls are located at about the halfway point of this 1.2 mile loop trail.  Have a seat on the bench that is perfectly placed to view the falls and enjoy your packed lunch or snack. 
Thompson Falls, Route 16-Pinkham Notch
This easy, 0.7 mile trail meanders along the Peabody River and begins near the Wildcat Mountain parking lot. Follow the Way of the Wildcat Nature Trail for about 0.2 miles and at the trail juncture, continue left to keep heading to the falls. Thompson Falls is a serene location to enjoy a picnic lunch and if weather and temperature condtions are right, you may want to dip a toe in the pool to cool off.  
Jackson Falls-Jackson
This series of cascades falls are a family favorite, and it is right off of the road! Park your car and grab a picnic table, then relax and cool your feet off in the cool water.
Hancock Scenic Overlook
Enjoy stunning views of the Osceola Range as you eat your picnic lunch. There is a covered gazebo to help ward off the sun, or rain. Keep an eye out for the heart-shaped tree, which is a fan favorite to take photos of.
Sugar Hill Overlook
This lovely picnic spot offers panoramic views of the Swift River Valley and surrounding mountains. There are interpretive signs that explain the landscape and National Forest information.
Lower Falls:
Located on the Eastern side of the Kancamagus Highway, this picnic spot offers beautiful falls, restrooms, and picnic tables with outdoor grills. Plan to stick your feet in to cool off on a hot, summer day.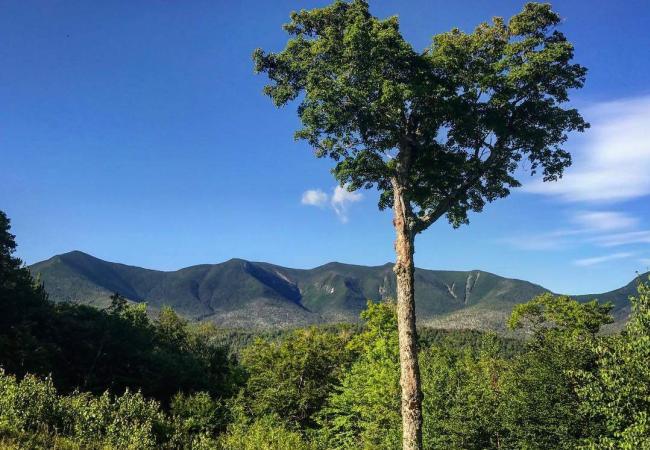 (WMAA Staff Photo-Hancock Overlook)
Take a Hike or Ride Your Bike
Certainly, plan on bringing a packed lunch or snack on any hiking or biking trail you adventure on; however we like these options as they are perfect for exploring and then settling in for a delicious picnic.
The Dells-Littleton
This easy, 1.3-mile out and back trail features tall-stately trees, a beautiful pond, and several picnic tables (and grills!) to lay out your perfectly packed picnic once you have completed your walk. AS the trail system is quick with no elevation gain, it is a great natural area to explore in any season.
Weeks State Park-Lancaster
Set at the top of Mt. Prospect in Lancaster, NH, the 446-acre estate offers numerous hiking trails, 360-degree panorama mountain views, and a historic house and stone tower to explore.  Picnic tables and benches throughout the estate make this a wonderful and scenic spot to picnic. As this is a State Parks property so there is a small entrance fee.  
Pondicherry Wildlife Refuge/Presidential Rail Trail-Jefferson
While there are 20 supremely scenic and idyllic miles of trail to bike or walk, the section of trail that works around the Pondicherry Wildlife Refuge couldn't be a more beautiful back drop for a picnic. When you need a break from pedaling or jaunting, there are many benches along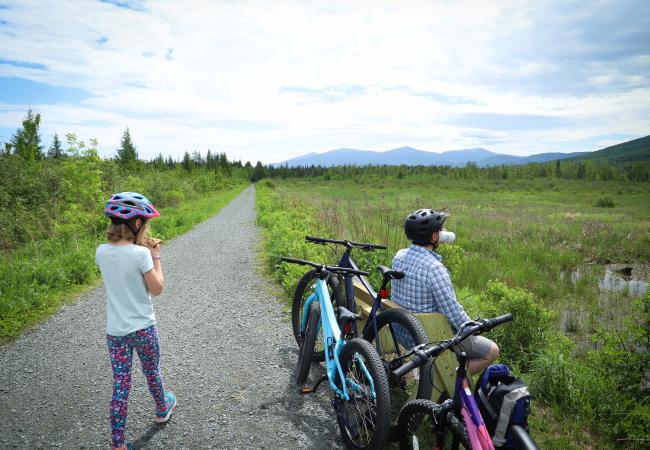 (Photo Courtesy of @colleeninthe603)
Park Yourself at a Picnic Table
Besaw Iron Furnace Interpretive Center-Franconia 
The Gale River flows along this roadside picnic area and above that rises the 200-year old Iron Furnace, which is the only one of its kind still standing in New Hampshire. Enjoy your picnic lunch then spend some time walking the riverside trail and reading the interpretive signs which teaches the history of the furnace. 
Moose Brook State Park-Gorham
If you're heading slightly more north in your travels, Moose Brook State Park is a delightful place to access trails by foot or bike, go fishing, or relax with a picnic lunch.
White Mountains Visitor Center-North Woodstock
Our Visitor Center is the perfect spot to use the restroom, browse the gift shop, pick up some brochures or maps, then have a rest and a lunch break at one of our picnic tables. There are many restaurants in Lincoln and Woodstock that you can get take out from and then come dine at one of our tables before continuing on your journey.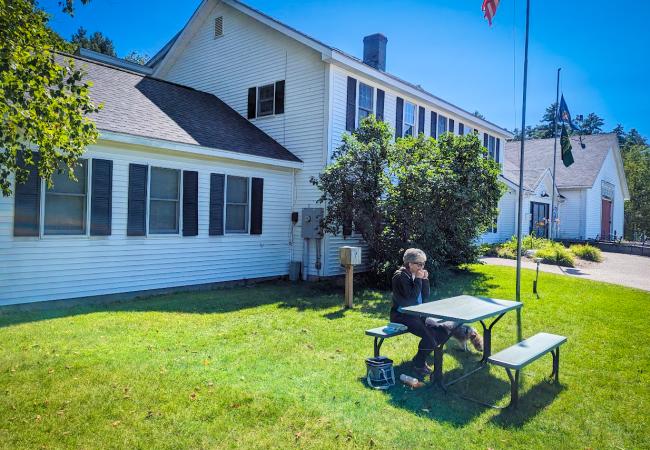 (WMAA Staff Photo)
Download Our Eastern White Mountains Picnic Resource Guide