8 Ways to Summit a Mountain (That Doesn't Involve Hiking)
We are proud of the fact that the White Mountains is known for its incredible mountain views and people come from all over the world to bask in the beauty that we are so fortunate to be surrounded by. There are 48 4,000 footers as well as many dozens of other mountains that are prime for accessing via foot. The White Mountains hiking community is strong and vibrant in this neck of the woods! But what if you want to see stunning views and are limited in your accessibility or maybe you have small children who can't do a vigorous hike? Maybe you just want to play tourist for the day and get all the view bang for your buck without a lot of effort? We see you and this blog is FOR you.
Cannon Mountain Aerial Tramway
As the site of America's first aerial tramway, Cannon Mountain knows a thing or two about shuttling people up a mountain.  The Cannon Mountain Aerial Tramway was first installed in 1938 and has been thorough a few upgrades here and there in its nearly 90-year history. Today, passengers can ride up to Cannon's 4,080' aboard a yellow or red tram car (Mustard or Ketchup, don't you know).
The 7-miunte ride will bring you to the summit building, where you can explore the Rim Trail, a 0.4 mile loop trail with incredible views of Franconia Notch along the way. Be sure to save time to climb to the top of the 360° observation deck for a different perspective.  Grab a bite to eat at Café 4080' and once you have returned to the base, visit the free New England Ski Museum.
Cranmore Mountain Resort Scenic Chairlift
Cranmore Mountain Resort is wonderful family-friendly ski mountain, located in the heart of North Conway, but did you also know that they offer some awesome summer activities as well? If you're looking for stellar views of Mount Washington Valley and beyond, snag a ride on Cranmore's Scenic Chairlift.
Each chair accommodates 4 people, and the 7-minute ride brings you to the Summit Meister Hut where you can grab lunch or some cool, creamy ice cream with a view. You can always bring a picnic lunch to enjoy as well.  
If you're looking to fill up a full afternoon after your ride back down the hill, we'd recommend tackling Cranmore's Mountain Adventure Park (which includes a climbing wall, summer tubing, a bungy trampoline, and more) or booking a downhill mountain biking class.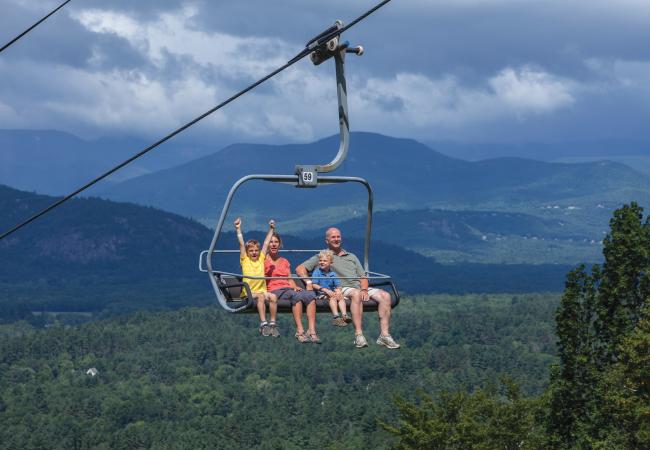 Loon Mountain Resort Gondola Skyride
Loon Mountain Resort's Gondola Skyride is NH's longest scenic gondola skyride! This 1.5-mile journey to the summit is smooth and swift and the views of Mt. Moosilauke to Mt. Washington are worth the 15-minute ride. Herbert's Observation Tower offers more of those stellar views, while the nearby summit amphitheater offers a different perspective of life high in the White Mountains. Grab a bite to eat or an adult beverage at the Summit Café and don't miss the naturally formed glacial caves at the top; they're the perfect remedy for a hot summer day.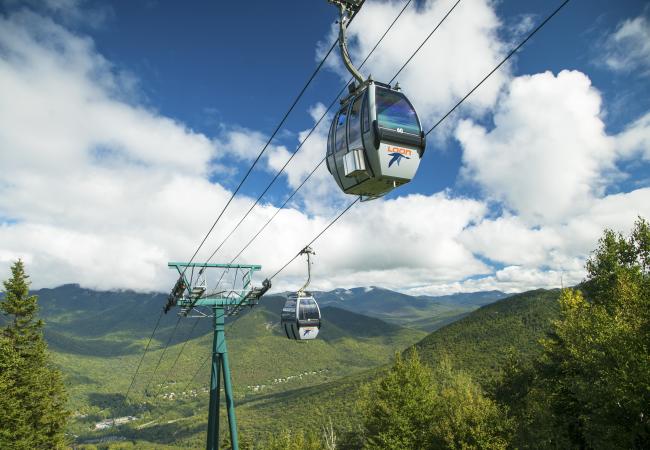 Mt. Washington Auto Road
If you ever wanted to drive up the side of a mountain, this is your chance! First opened in 1861, the Mount Washington Auto Road is America's oldest man-made attraction. The winding 7.6, fully paved road brings drivers to the summit of the Northeast's highest peak.  There are several parking areas off to the sides so you can stop to take photos. Driving yourself not your thing? Be a passenger in one of the Stage Coach Vans and let an experienced guide take you on a narrated adventure. At the summit, explore the Mount Washington State Park's Sherman Adams summit building for a bathroom break, a bite to eat, or take time to explore the Mount Washington Observatory's Extreme Mount Washington Museum.
Mount Washington Cog Railway
Steeped in history and technological innovation, the Mount Washington Cog Railway is a unique and exhilarating way to reach the summit of Mount Washington.  Built in 1869, it is the world's first mountain climbing cog railway and has been enchanting visitors ever since.  The 3-hour round trip journey to the 6,288' summit of Mount Washington provides the rider with spectacular views and fascinating narration by the train's brakeman. At the top, explore the summit building and relax in one of the Adirondack chairs while you watch other trains and cars come and go. The Mount Washington Cog Railway is open year-round with winter trips to Waumbek Station where you can enjoy warming huts, a fire pit and smores at 4,000'.
Wildcat Mountain Scenic Chairlift
Wildcat Mountain's Scenic Chair is all about the view from 4,062'. Head to Pinkham Notch (one of the White Mountains beautiful and scenic notches) to this Gorham, NH ski resort for one of the best views of Mount Washington that we've ever seen, complete with a summit sign to get the perfectly posed photo moment.
Once returning to the base of Wildcat, extend your stay by taking a quick walk along the Way of the Wildcat Trail (approximately 1 mile) and be sure to seek out the trail junction to Thompson Falls, one of our top waterfalls in the White Mountains.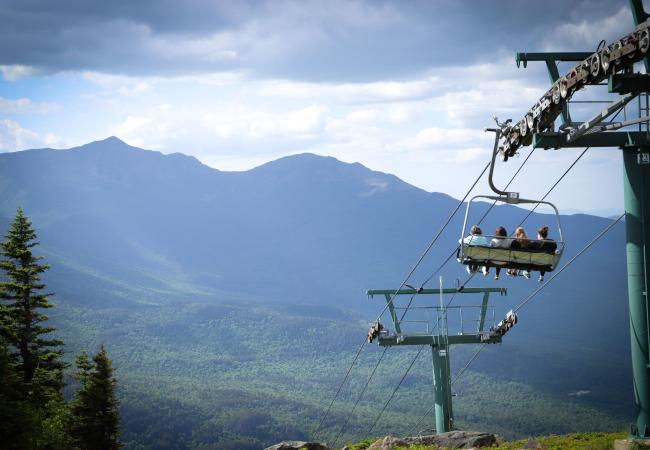 Bretton Woods Scenic Gondola Ride
Enjoy a scenic ride on the Bretton Woods Skyway Gondola for breathtaking views of Mount Washington and the Presidential Range. The 12-minute ride takes you to the summit where you can experience more of those spectacular views of Mount Washington.  Hungry? The new Rosebrook Lodge has several on-mountain dining options such as the Switchback Grille, Crystal Hills, or Peaks Café. There are also several hiking trailheads to explore. 
(Photo Courtesy of Bretton Woods)
Gunstock Mountain Resort Scenic Chairlift
Relax on Gunstock Mountain Resort's leisurely 15-minute ride to Gunstock's summit on the four-passenger Panorama Chairlift. At the top, soak in the views of Lake Winnipesaukee below (New Hampshire's largest lake) and the White Mountains beyond. On a clear day, you can see Mount Washington rising in the distance. Explore hiking trails or pack a picnic lunch to enjoy at the summit. Gunstock also offers one-way scenic chairlift rides for those who would prefer to hike up and ride down or ride up and hike down.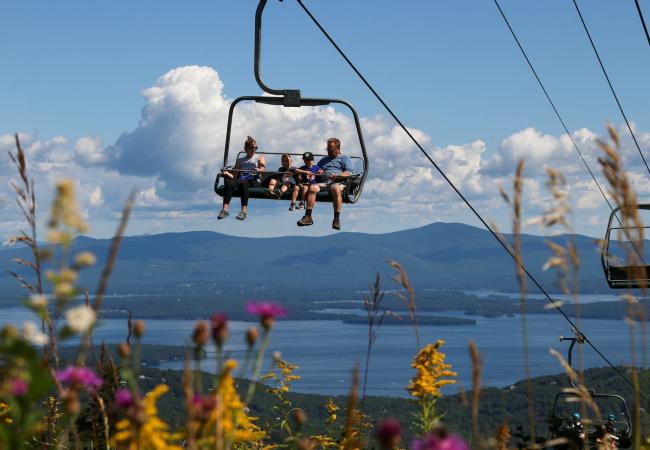 (Photo Courtesy of Gunstock Mountain Resort)
If you would rather summit a mountain using foot power, don't miss our blog on Summer Hikes Under 5 Miles to get you started!