The White Mountains are known for a lot of things. Breathtaking scenery. Amazing family-friendly attractions. Outdoor adventures. But we'll let you in on a little secret...our local museums are pretty stupendous too! From vintage arcade games to lots of loons, poetic retreats, and wild weather, there are plenty of museums ready for a visit during your next trip to the Whites.
In honor of May 18th, aka International Museum Day, we've pulled together a list of some of our favorite museums in the White Mountains.
AMERICAN CLASSIC ARCADE MUSEUM (LACONIA, NH)
Gamers with an appreciation for "old school" will adore the American Classic Arcade Museum in Laconia, NH. This 501(c)3 nonprofit is the first of its kind and is dedicated to the history and preservation of classic arcade games. What makes this stop even cooler? You can play most of the over 250 classic arcade games on display! Admission is free, so all you need to bring is a bag full of quarters and those child-like reflexes.
The American Classic Arcade Museum is open seven days a week and is located inside Funspot (the largest arcade in the world).
THE CLARK HISTORY MUSEUM (Lincoln, NH)
Dancing bears. Train rides. A walkable, retro main street. There's so much to love at Clark's Bears in Lincoln, NH, and that includes The Clark History Museum! This small venue features the rich history of the Clark family, including photos and mementos from the Roaring Twenties.
Other museums on the Clark's Bears property include the Florence Murray Museum (showcasing odd taxidermy, antique games, and more) and the Americana Museum (including early household appliances, vintage advertisements, and steam and gas engines from yesteryear)
Entry to The Clark History Museum is free for Clark's Bears ticketholders. Open seasonally. 
DOUGLAS A. PHILBRICK RED BARN MUSEUM (Gorham, NH)
"This Car Climbed Mt. Washington" – it's the bumper sticker spotted across New England highways, and you can only earn it by driving all 7.6 steep miles to the top of the Mt. Washington Auto Road. After you've made it back down off the mountain (and done a little victory dance for your car!), head to the Douglas A. Philbrick Red Barn Museum. This small museum is conveniently located just across the street from the Mt. Washington Auto Road entrance and showcases a selection of antique cars that impressively summited the Auto Road in its earlier years, as well as related memorabilia.
The Red Barn Museum is open Fridays - Mondays from 10am to 4pm.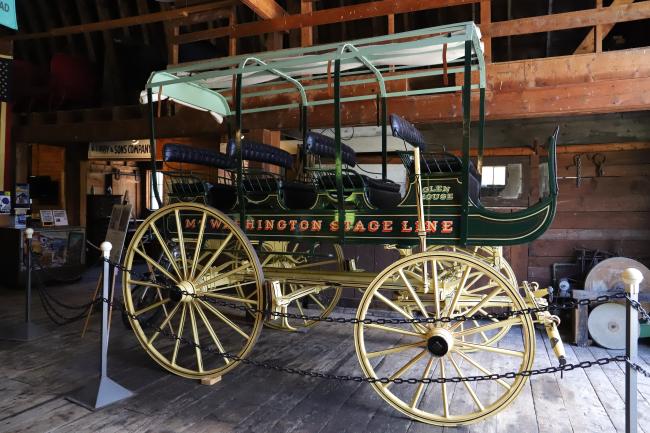 ENFIELD SHAKER MUSEUM (Enfield, NH)
Take a deep dive into the Shaker lifestyle and pay a visit to the Shaker Museum in Enfield, NH! This authentic, preserved Shaker settlement boasts many fine examples of the Shakers' signature precision and craftsmanship. Visitors can also bring a bit of the Shaker aesthetic home thanks to the Enfield Shaker Museum's awesome gift shop.  
If you would like to take a little longer to explore the Shaker way of life, look into booking an overnight stay right in the immense, inimitable Great Stone Dwelling!
Ticket prices are available on the Enfield Shaker Museum website.
EXTREME MOUNT WASHINGTON (Mount Washington, NH)
At the tippy top of the tallest mountain in the Northeast is Extreme Mount Washington, a small but mighty museum tucked within the Sherman Adams Visitor Center. Visitors to the museum will delight in the high-tech, hands-on displays that capture the challenges of working as a Mount Washington Observatory scientist, including plenty of info on the arctic conditions found atop the "home of the world's weather".
Free museum entry is included for those riding the Mt. Washington Auto Road or Mount Washington Cog Railway. There is a $2 fee for the general public (ages 7 and above).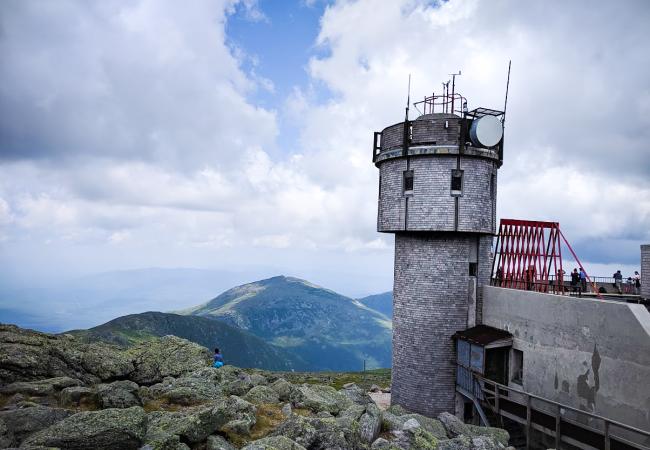 Photo Credit: Colleen Eliason
THE FROST PLACE (Franconia, NH)
Poetic landscapes are kind of a Franconia thing, and so is Robert Frost. For a time, Frost called this small town, and small cottage, home. Today the sweeping views from this cottage-turned-museum capture the rugged, natural wonder of Robert Frost's work. While it might be tempting to linger on the porch of The Frost Place to take in views of the Franconia Range, we love the quiet reflection found along the Poetry Trail. Don't miss it during your visit!
As of publication, the museum remains closed due to COVID-19 precautions. The grounds, porch, and Poetry Trail are always open for exploration and inspiration.
LOON CENTER & MARKUS WILDLIFE SANCTUARY (Moultonborough, NH)
Have you ever heard the ululation of a loon out on a lake at dusk? The Loon Center & Markus Wildlife Sanctuary in Moultonborough, NH captures a bit of that magic with its informative exhibits, adorable gift shop, and two lakeside walking paths dedicated to all things loon.
We find it particularly noteworthy that the Sanctuary has over 200 acres of wild land within it, including 5,000 feet of untouched shoreline on Lake Winnipesaukee. Special presentations and live "LoonCams" offer some extra insight into New Hampshire's varied, wonderful wildlife.
Visit the Loon Center's website for dates of operation, hours and more. Open seasonally.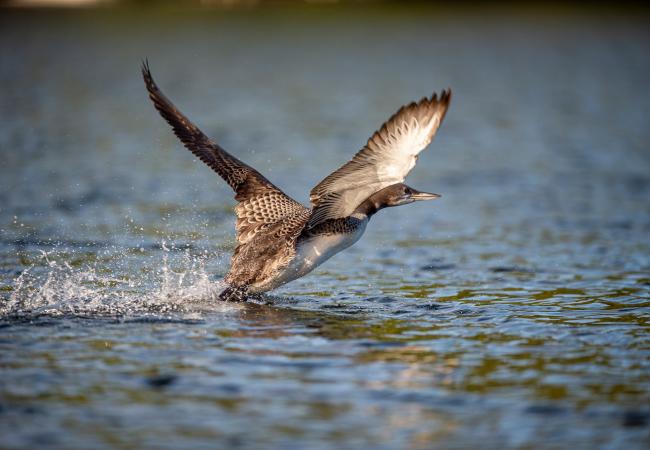 MUSEUM OF THE WHITE MOUNTAINS (PLYMOUTH, NH)
The Museum of the White Mountains, located on the Plymouth State University campus, is an intimate experience with regularly rotating exhibits. Visitors can expect student art displays, impressive historical collections from donors, and the charm of Main Street Plymouth, NH just outside the front door.
 Visit the Museum of the White Mountains website for additional information, including hours and current exhibits. 
NEW ENGLAND SKI MUSEUM (FRANCONIA, NH & NORTH CONWAY, NH)
Two locations, one amazing concept: the history of skiing! Be sure to set aside enough time during your visit for the New England Ski Museum's signature exhibition, "From First Tracks to the Fall Line: Eight Thousand Years of Skiing". Other can't miss displays include a section dedicated to alpine Olympian and hometown hero Bode Miller, who famously skied Franconia's Cannon Mountain in his youth.
Admission to the New England Ski Museum is always free. After you've visited, spend some extra time exploring Franconia or North Conway. Both towns offer skiing, hiking and biking, local dining, and tax-free shopping just a short drive away from their respective Ski Museum locations.
OLD MAN OF THE MOUNTAIN MUSEUM (Franconia Notch, NH)
The Old Man of the Mountain might have fallen, but his memory lives on at the Old Man of the Mountain Museum. Learn about the preservation measures that kept the Old Man intact for many years, review historic photos, and take a short stroll to Profiler Plaza for an imaginative recreation of the silhouette that is revered statewide.
Open May to late October. Free admission.
WHITE MOUNTAINS VISITOR CENTER (North Woodstock, NH)
Come visit us! We have a small but mighty museum hosted by the U.S. Forest Service (USFS) right inside our visitor center. Discover the history of logging in the region, pet a giant stuffed animal moose, and get some expert advice on adventuring from the Forest Service staff as well as our White Mountains Attractions crew.
Conveniently located in the heart of the White Mountains in North Woodstock, NH. Open 7 days a week, 8am – 5pm. Free entry.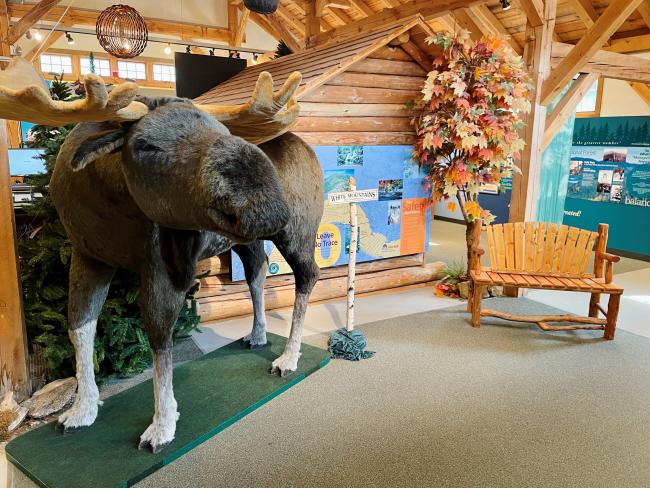 BONUS! OTHER HISTORICAL MUSEUMS in NH
New Hampshire has a lot of history. If you'd like to get a little regional taste for the last few hundred years, the New Hampshire Historical Society in Concord, NH is a great place to start. Exhibitions range from Abenaki artifacts to antique snowmobiles and the 19th-century paintings of Boston artist Samuel L. Gerry.
Head a little further north and you will find historical museums on a more intimate scale. The Littleton Area Historical Museum (Littleton, NH), Bethlehem Heritage Society Museum (Bethlehem, NH), Sugar Hill Historical Museum (Sugar Hill, NH), Jefferson Historical Museum (Jefferson, NH), and Gorham Historical Society & Railroad Museum (Gorham, NH) offer local insight as well as plenty of small-town charm.
Visit the Museums & History page on our website for more information, including operating hours, and website links. We'll see you out there!
Take a spin through our Visitor Center & museum! Click the video below.