Ask anyone about their favorite New Hampshire memories, and "camping in the White Mountains" invariably comes out near the top, with eager smiles spread across every face. And really, who could leave that off the list?
As kids, camping revolved around marshmallows poked through sticks fresh from the woods, sunburnt noses and freshly stubbed toes, and the delirious exhaustion of afternoons spent swimming or hiking. As adults, there's a little more fire tending and a lot more time spent packing for the trip, and yet we still love camping right to the core. Camping is a tradition in the White Mountains.
But sometimes, we also like to change it up! Maybe this year, we'll trade a tent for a cabin or see if glamping is more our speed. Perhaps we'll stick with the tent or bring an RV or just switch up our signature campground.
Want to join us? Here are some of the best White Mountains campgrounds, as well as some fun alternatives to the traditional experience.
WHITE MOUNTAIN NATIONAL FOREST CAMPGROUNDS
There's a reason White Mountain National Forest camping is at the top of everyone's to-do list in our region – it's fantastic! While camping near Mount Washington is definitely a must, we'd also recommend trying out other nearby spots; all are a relatively short drive to the trailheads, towns, and major attractions that make up our marvelous White Mountains.
Here's a full list White Mountain National Forest campgrounds to get you started.
NORTHERN WHITE MOUNTAINS (Androscoggin Ranger District)
The Androscoggin Ranger District of White Mountain National Forest is located in the northern stretches of our region. Here you can enjoy a fantastic proximity to Mount Washington's Tuckerman Ravine, the wondrous sights of Glen Ellis Falls, and bountiful outdoor adventure.  
EASTERN WHITE MOUNTAINS (Saco Ranger District)
If you like the great outdoors but love variety on your vacation, the Saco Ranger District is a safe bet. Here you can drive across the Kancamagus Highway one day, snap scenic photos of Mount Chocorua the next, add in a shopping trip or two at a nearby town, and still find time for some classic campground unwinding.
WESTERN WHITE MOUNTAINS (Pemigewasset Ranger District)
Headed north on I-93? Hop off the highway, and right into the Pemigewasset Ranger District! Enjoy diverse experiences like rock climbing at Rumney Rocks, fishing at Russell Pond, or hiking a few 4,000' footers. All are part of the reason the Pemi District is so darn special.
NH STATE PARK CAMPGROUNDS IN THE WHITE MOUNTAINS, NH
New Hampshire's state parks are nothing to sniff at; in fact, the state park system is home to some of the most iconic experiences in our region. From hiking the breathtaking ridgelines of Franconia Notch State Park to moose spotting in Umbagog Lake State Park, adventure is never far away.
But why not get even closer to it all? Stay at one of the many NH state park campgrounds in the White Mountains! Some offer full-hookup RV sites while others are all about that classic tent camping or lean-to experience. 
NORTHERN WHITE MOUNTAINS
EASTERN WHITE MOUNTAINS
WESTERN WHITE MOUNTAINS
SOUTHERN WHITE MOUNTAINS
PRIVATE CAMPGROUNDS IN THE WHITE MOUNTAINS, NH
If you love amenities-filled camping experiences, book a stay at one of our private campgrounds in the White Mountains, NH. These spots often feature on-site showers, pools, special activities for young campers, live music performances, and other add-ons to elevate your stay.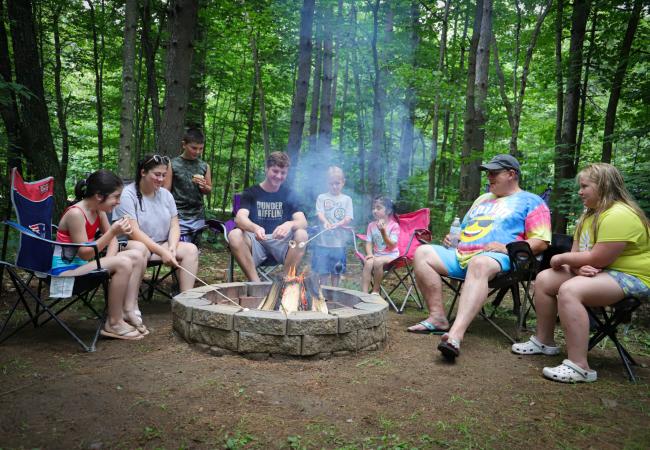 (Photo Credit: Colleen Eliason – Branch Brook Campground)
NORTHERN WHITE MOUNTAINS
EASTERN WHITE MOUNTAINS
WESTERN WHITE MOUNTAINS
SOUTHERN WHITE MOUNTAINS
GLAMPING IN THE WHITE MOUNTAINS, NH
Glamping and the White Mountains – we like the sounds of that! Picture spacious canvas and wood tents (or tiny houses!), queen beds with plush mattresses and cozy blankets, and pizza fresh from an on-site retro Airstream, and you'll have a good idea of Huttopia's offerings. Located on Iona Lake in Albany, NH, Huttopia is a quick drive to the Kancamagus Highway and North Conway, as well as all kinds of outdoor adventures.
In case you need any other reasons to book a stay, let the words "heated saltwater pool" soak right in. Between that and canoes, kayaks, and stand-up paddleboards available to rent, Huttopia is a haven for campers looking to up their cozy game.
You can also find opportunities to glamp within many private campgrounds, as well as the state parks system (including 4 primitive camping yurts at Milan Hill State Park Campground (Milan, NH) , fully equipped cabins at The Lodges at Coleman State Park (Stewartstown, NH) or the paddle-to cabin rentals at Ellis Camps at Umbagog Lake State Park).
Now that you know all about camping in the White Mountains, your only question should be "which campground to stay at first?" We know it's a hard one, but really, there's no wrong answer. A tent sounds lovely, but so does a yurt…so get a group consensus and book early online. Camping is one of the most popular experiences in the White Mountains, NH, and we'd hate for you to miss out!
We'll see you fireside, s'mores in hand.