Spring is almost on its way, and we think it's high time to cheers the changing of the seasons with a local tasting tour. Yes, there will be awesome, inventive beers, but there will also be handcrafted seltzers and ciders and surprisingly stellar wines. The best part of the tour, besides the tastebud tickling that awaits? You can take it any time of the year!
Try to tackle all of these stops in one tour (in which case, sip sensibly), or take your time and sample a new spot each time you visit. This White Mountains tour showcases the best breweries, wineries, cideries, and more in the state of NH.
HERMIT WOODS WINERY (Meredith, NH)
All hail the fruit wine! Hermit Woods Winery in Meredith, NH is perfectly poised to kick off our White Mountains tasting tour. This charming Lakes Region spot has an impressive menu to complement its array of fun fruit wines, plus two gorgeous assets just outside the front door – beautiful Lake Winnipesaukee to the east, and the foothills of the White Mountains only a short drive north.
We'd be hard pressed to recommend just one thing off the menu, but if we must, Hermit Woods' thoughtfully arranged cheese and charcuterie board is a crowd-pleaser that pairs well with any wine flight.  
PURPLE TOMATO TASTING ROOM (Lincoln, NH)
Do a bit of gourmet grocery shopping and reward yourself with a great glass of wine.
The Purple Tomato Farmers Market in Lincoln, NH is your second stop on this scrumptious tour. Famous noshes include their outstanding lobster roll and other premade, picnic-friendly meals to go, but we are also big fans of the latest addition to their space: a wine tasting bar with a curated list of bottles to take home. The Purple Tomato staff is well versed in the origin of the wines they carry, so take your time and ask questions to your heart's content.
The Purple Tomato Farmers Market and Purple Tomato Tasting Room are two separate locations within LinWood Plaza (just off Lincoln's main thoroughfare, NH-112.)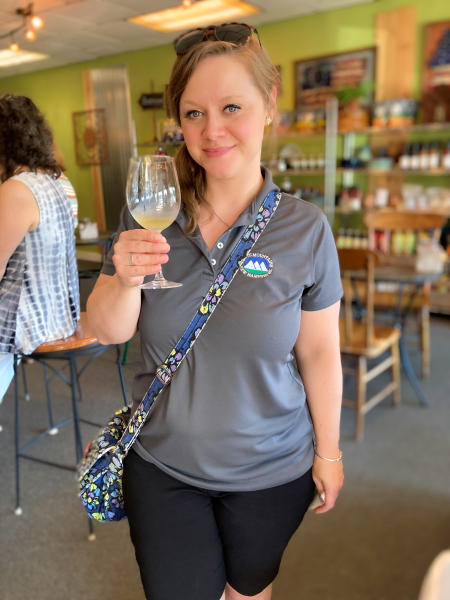 RHYTHM HANDCRAFTED BEVERAGES STUDIO (Lincoln, NH)
Hop in your car and drive just a few minutes more; Rhythm Handcrafted Beverages Studio is up next. This relative newcomer to the Lincoln scene is a sister brand to Seven Birches Winery (more on that later), and both share a dedication to innovation. Rhythm has all the trending concoctions of the moment, including fruit-infused hard seltzers (perfect for those hot summer days), honey and local berry meads (you'll find us gulping these down with gusto in spring and fall), and classic hard ciders with labels designed by local artists.
Consider purchasing several flavors from each category to host your own tasting at home, post-trip.
Rhythm Handcrafted Beverages Studio is located inside the Lincoln Village Shops. Conveniently, this stop is right across the street from Seven Birches Winery, which is next on our tour.
SEVEN BIRCHES WINERY (Lincoln, NH)
Seven Birches Winery rounds out the trio of wineries and cideries that make Lincoln a perfect town for adventurous oenophiles. Hard to believe it, but this stop grows all of its own grapes onsite, right on the grounds of the expansive Riverwalk Resort at Loon Mountain. Seven Birches is housed on the ground floor, and their cozy tasting room complete with birch tree décor and generous pours is quite the place to toast making it halfway through your tour. Here you can opt for a simple tasting, or you can always plan ahead and reserve a spot on one of their popular "Meet the Winemakers" tours.
If you go with the latter option, consider splitting your adventure into two days and booking a night at one of these places to stay.
WOODSTOCK INN BREWERY (North Woodstock, NH)
Now, it's on to the beer! Take a five minute drive to North Woodstock, NH – you'll find the Woodstock Inn Brewery there, taking center stage on Main Street. This sprawling pub/brewery/inn has live music and open mic nights, as well as a great menu packed with chowders, burgers, nachos, and other comfy mainstays. But the main draw is still, undeniably, beer. Take a tour through the 30-barrel production facility and lab to get the inside scoop on local staples, including seasonal brews like the Kanc Country Maple Porter (made with maple syrup brewed right in town), and the Double Pig's Ear Brown Ale (a heady 8.4% brew with caramel and toffee notes).
If you're interested in taking the tour, plan your excursions around the Woodstock Inn Brewery. Tours occur just once, daily, at 12pm. For more information and to reserve a spot, visit the Woodstock Inn Brewery website. Tour price: $9 (includes pint glass and tasting).
REK'-LIS BREWING (Bethlehem, NH)
Can you hear it? Franconia Notch is calling your name. Get on I-93 and head north. You'll pass towering mountains on either side plus Echo Lake and the site where the Old Man of the Mountain once stood on your way to brewery #2: Rek'-Lis Brewing in Bethlehem, NH.
This stop has grown by leaps and bounds in the past few years. Initially a brewpub with Baja-inspired eats and classic burgers, Rek'-Lis now lays claim to The Pint House, a hip tasting room with great outdoor spaces in the warmer months, a food truck, and plenty of special events throughout the year. Definitely grab a flight to sample what's on tap, and pick up some swag on your way out the door.
SCHILLING BEER CO. (Littleton, NH)
Last on our list is Schilling Beer Co., housed in a historic gristmill on the banks of the Ammonoosuc River. It takes about fifteen minutes to get here from Rek'-Lis, so urge your crew to review the menu online during your drive over. This spot is renowned for its mouthwatering array of flatbread pizzas, as well as its pretzel twists with flaky salt and beer cheese or mustard dipping sauces. Your next choice? Which pour to pick. Schilling keeps a rotating list of seasonal offerings, as well as classics that keep the crowds coming, year after year. Our favorite for spring? Schlaumier, a Bavarian wheat ale with notes of banana and clove.
If there's still time after you imbibe, take some time to shop Schillings take-home offerings and then explore Littleton. This charming town has received numerous national accolades, and its boutiques, antique shops, and galleries are well worth a walk around town.
The White Mountains also has several other breweries, cideries, wineries, and distilleries to tour during your time here. But if you'd rather switch it up, we'd urge you to check out our trip ideas, plan a visit to an attraction, or see if an itinerary might just be the perfect pairing to your tasting tour.