Gather your gingham and get ready for a flavorful adventure! This time of year, we are living for wicker baskets full of local picnic snacks and grassy knolls where spring flowers are just starting to poke through.
This collection of the best picnic spots in the White Mountains offers a mix of gentle hiking, historical sightseeing, vista viewing, and river hopping. Read on for all kinds of inspiration, plus some of our favorite local sips and snacks. 
National Picnic Day is 4/23/22. If you'd like to celebrate, be sure to check the operating hours for your desired picnic area as some listed locations are subject to seasonality. On a recent tour, we still found snowy patches at higher elevations.  
Picnic Spots
BEAVER POND (Kinsman Notch, NH)
Let's start out with a little elevation! Drive to the top of Kinsman Notch on Route 112, where you'll discover a gem-like pond tucked into the lower slopes of Mt. Moosilauke. Beaver Pond is right off the road, has a picnic table placed right by the water's edge, and is just minutes from one of our favorite attractions in the area, Lost River Gorge & Boulder Caves.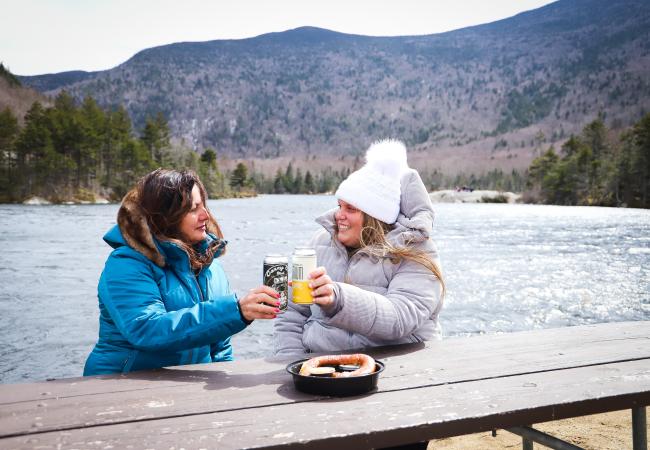 OTTER ROCKS DAY USE AREA (Kancamagus Highway, White Mountain National Forest, NH)
No trip to the White Mountains is complete without a crossing of the scenic Kancamagus Highway. We like to take our time on this signature trip and pack a picnic lunch to be eaten along the way. If you're headed east from Lincoln, one of the first stops you will encounter is Otter Rocks. Here you'll find picnic tables, the tumbling waters of the Hancock Branch, and the promise of nearby adventures right after lunch.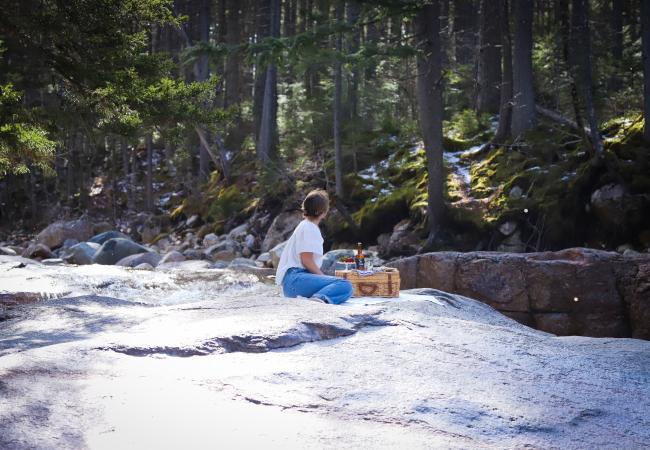 RUSSELL-COLBATH HISTORIC SITE (Kancamagus Highway, White Mountain National Forest, NH)
Travel further east along the Kancamagus to the Russell-Colbath Historic Site and homestead. Here, amenities include picnic tables, a handicapped accessible Rail 'n River trail, restroom facilities, and a beautiful house circa 1832 that is available to tour on weekends (Memorial Day through Columbus Day). While you're eating, wow your fellow travelers with the fact that this home is the only original structure left from the town of Passaconaway.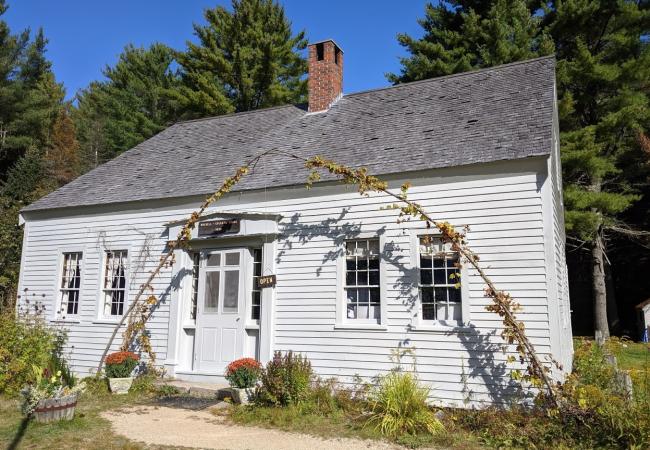 SWIFT RIVER COVERED BRIDGE (North Conway, NH)
The covered bridges in the White Mountains are one of the many reasons we love road-tripping and picnic planning. If you're in the North Conway area, swing by the Swift River Covered Bridge to snack inside one of our favorites. This bridge spans an impressive 129' feet, was built in 1870, and has several picnic tables along its length, making it quite the local landmark for picnickers and photographers alike. This is also our preferred place for picnicking on a rainy day!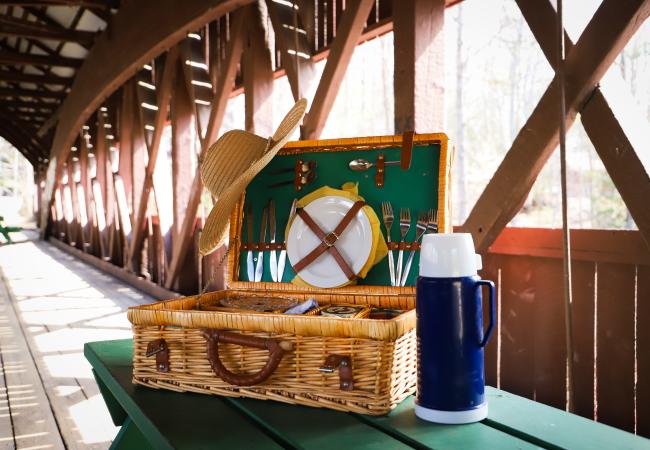 JACKSON FALLS (Jackson, NH)
Just a little bit north of Conway is the cozy town of Jackson and beautiful Jackson Falls. This small cascade is part of the Wildcat River and has a total combined drop of 100 feet, as well as a few picnic tables. Either pre- or post-picnic, be sure to take some time to stroll across the bridge perched above the falls and also dip your toes in the water where it's safe to do so.
Keep in mind that parking is tight at this location, so don't forget to make alternative plans in case all spots are full! If you have your heart set on visiting another waterfall, check out our "5 Quick Roadside Waterfalls" Reel on Instagram.
WILLEY HOUSE HISTORIC SITE (Crawford Notch State Park, Hart's Location, NH)
For a little more history, head to the Willey House Historic Site in Crawford Notch State Park. This sublime spot has mountainous views, a small pond, restrooms, and a gift shop, as well as an unexpectedly dark past.
This historic site was once the home of the seven members of the Willey family (as well as two hired hands) who all met tragic ends when a rockslide occurred in the mountains above their homestead. Hearing the rocks give way, all fled into the night and directly into the path of the slide. The house, surprisingly, was spared. While it might not be the cheeriest of tales to recount over lunch, the surroundings remain as beautiful as they were nearly two centuries ago.

FOSS MOUNTAIN (Eaton, NH)
This last stop is a little more off the beaten path, but well worth the journey. Head to the small hamlet of Eaton, NH, then traverse local winding roads until you reach one of two trailhead parking lots for the lovely Foss Mountain. The lower lot is your best bet to avoid muddy conditions, and a small backpack is a smart choice for carrying your picnic to the summit.
The hike to the top is a kid-friendly 0.4-miles and is the perfect option for families looking for easy adventures in the eastern White Mountains. Just remember to bring a blanket or packable chairs for the open rock slabs!
For directions, regulations, and more, visit the Foss Mountain website.
Local Flavors
PUB PRETZELS WITH BEER CHEESE & A FEW LOCAL BREWS
Add a little panache to your picnic with this flavorful combo from Bethlehem, NH's beloved Rek'-Lis Brewing Company. We could spend days waxing rhapsodic over the Rek'-Lis' beer cheese, and don't get us started on the regional fervor that each new brewery batch brings. This spring, we're all about a refreshing Premium Lager for hot days and a Carry Out Stout for cooler nights post-hike.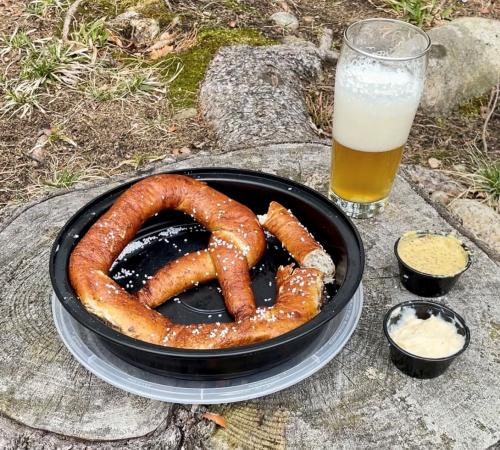 HANDCRAFTED HARD CIDER (NOT JUST THE APPLE KIND), PLUS SELTZERS
Lincoln, NH's Rhythm Handcrafted Beverages Studio boasts playful, Insta-worthy labels highlighting the work of local artists. The only thing more beautiful? The zesty ciders and seltzers with inventive flavors that are making Rhythm a mainstay in the White Mountains brew scene. For picnics, we're partial to the Raspberry Lime, Blueberry, or Peach seltzer, or Blood Orange cider.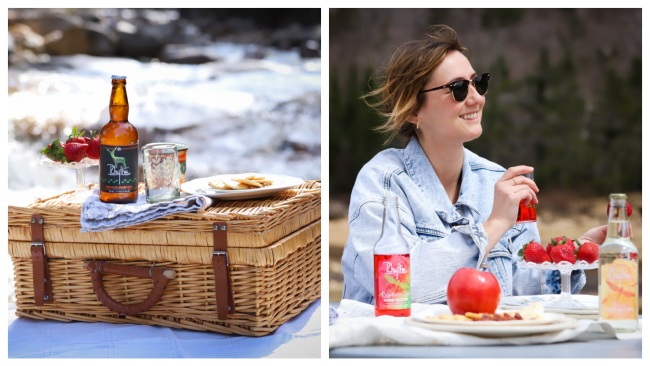 REALLY  SHARP CHEDDAR CHEESE AND NH-MADE JAMS
Grab some crackers – you'll want to carve up the whole glorious block of cheese once you've tasted any of the offerings from Harman's Cheese & Country Store in Sugar Hill, NH. The smoked cheddar, as well as the 2-year aged cheddar, top our list of must haves for an epic picnic spread. Add something a little sweet, and pick up some jam while you're at it! Harman's carries several flavors from local producers.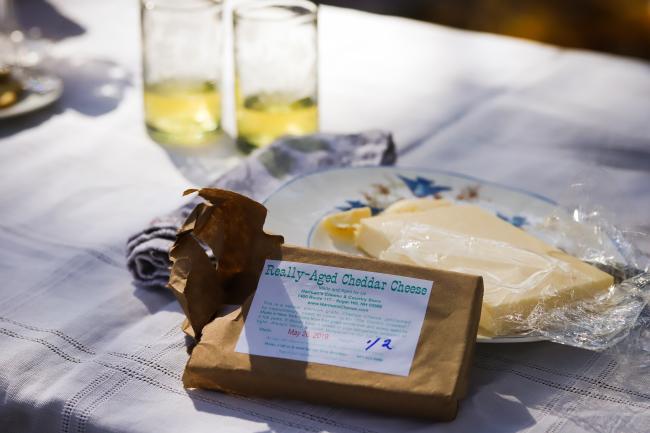 If you're looking to add some other outdoor spots to your bucket list, take some time to peruse all the picnic areas within White Mountain National Forest. There are over twenty to choose from!
Let's go on a picnic! Click the video below.

Photo Credits (Excluding Social Media Assets): Colleen Eliason 
Download Our Eastern White Mountains Picnic Resource Guide