Whether you are a biking pro or haven't been on a bike since you were 12 years old, the White Mountains is the perfect spot to hop on and take a scenic ride. Our lift-serviced downhill trails, winding gravel paths, and bike-centric events are just a few of the reasons biking is such a big thing in the Whites.
BYOB (bring your own bike) or rent one! Try finishing a trail that crosses all of NH, or take a quick ride through Franconia Notch State Park. We've curated quite the list of standout spots, so start taking notes and put a spin on that vacation itinerary.
BEST BIKING TRAIL NETWORKS IN THE WHITE MOUNTAINS
CRANMORE MOUNTAIN RESORT (North Conway, NH)
North Conway is one of the White Mountains' best adventure hubs, and that includes mountain biking. Head to Cranmore Mountain Resort for their epic Downhill Mountain Bike Park, which includes lift-serviced riding for all abilities, a skills park and fully equipped bike and service shop at the base of the mountain, and in-depth lessons for beginners looking to boost their skills.
Once you're done exploring Cranmore's myriad of trails, scoot over to Settlers Green or North Conway's main street to stretch those aching legs with a little tax-free retail therapy!  
LOON MOUNTAIN RESORT (Lincoln, NH)
Loon Mountain Resort in Lincoln, NH has it all – bike rentals and lessons, a local network of nearby trails, and an amazing 7.2 miles of lift-serviced, downhill mountain biking paths for all ability levels. Beginners looking for a flowy ride should add Mainline to their summer bike paths bucket list, while advanced riders will fall in love with Derailer or Steam Punk for their challenging terrain and steep berms.
After returning your bike, head to the Woodstock Inn Brewery or one of the many other great eateries in town for some well-earned sustenance and local brews.
BRETTON WOODS ADVENTURE CENTER (Bretton Woods, NH)
Bretton Woods Adventure Center's Valley Trail System offers everything from easy to expert trails, as well as a great proximity to nearby Crawford Notch. More often than not, you'll find us leisurely pedaling along the flatter paths come summertime, taking in those chill mountain feels alongside family. Those looking for a tougher experience can book a front suspension cross-country bike and traverse some of the more challenging paths, then link back with loved ones later in the day.  
If you'll be in the area for a few days, look into reserving a room at the Omni Mount Washington Resort for something extra special, or rent out a whole house for the family through Bretton Woods Vacations.
GREAT GLEN TRAILS OUTDOOR CENTER (Gorham, NH)
As the name would suggest, there are some pretty great trails to explore at this Gorham, NH outdoor mecca. From well-marked carriage roads that wind along the base of the mountains to forested single track paths, Great Glen Trails Outdoor Center offers a diverse experience rooted in the beauty of the White Mountains. Everything from kid-sized mountain bikes to trendy fat-tire bikes are available to rent onsite, while riders bringing their own bikes just have to pay a small day use fee.
Those with a competitive spirit should also check out the race series that runs on summer Tuesdays in the late afternoon -- anyone can sign up, and registration is free! 
Planning a weekend visit to Great Glen Trails Outdoor Center? Book a stay at the nearby Glen House hotel so you can maximize your time out on the trails! After that, take a drive up to the top of Mount Washington – it's right across the street!
WATERVILLE VALLEY ADVENTURE CENTER (Waterville Valley, NH)
Would you rather go mountain biking, fat biking, or road biking? At the Waterville Valley Adventure Center, you can do all three! This outpost has rentals for all kinds of cyclists, over 50km of nearby trails to discover, and a bike repair shop. Now, which trail to choose? On hot summer days, we love catching the chairlift and reveling in the cool breezes atop Snow's Mountain before taking a rugged trail back down the mountain.   
If one of your party isn't too keen on biking, send them off to explore all the fun shops at Waterville Valley Town Square.
OTHER TRAIL NETWORKS TO CHECK OUT: 
BEST BIKE PATHS IN THE WHITE MOUNTAINS
CROSS NEW HAMPSHIRE ADVENTURE TRAIL/XNHAT (Woodsville, NH to Gorham, NH)
The Cross New Hampshire Adventure Trail (XNHAT) is an impressive path. In fact, it spans the entirety of northern New Hampshire! This 83-mile route is made up of a series of scenic rail trails, dirt roads, bike paths, and paved backroads, so be sure to bring your mountain bike for the smoothest, safest ride.
Some cyclists choose to complete the XNHAT in one weekend trip, but we like tackling this route section by section on summer weekends. With plenty of spots to park your car and hop on, and a celebratory patch waiting after you've finished the entire route, this is a sweet, rewarding option for cyclists looking for some accolades at the end of it all.
The XNHAT stretches from Woodsville, NH (on the border of Vermont) to Gorham, NH (on the border of Maine). Get a free map for the route at xnhat.org.
FRANCONIA NOTCH RECREATIONAL TRAIL (Franconia Notch State Park, NH)
The Franconia Notch Recreational Trail stretches 9 miles one way through one of the most scenic sections of the White Mountains. On this paved bike path, we choose to tackle the journey from the south headed north – that way, you can gain all the elevation when your legs are fresh and then enjoy some easy coasting back to your car. Another option? Book a rental with Sport Thoma in Lincoln, NH and get dropped off at the north end of the notch!
Get extra trip planning points for excellence, and stop to tour the Old Man of the Mountain Museum, Boise Rock, and The Basin on your return trip! All options offer a bit of history and sightseeing and are short side trips just off the recreational trail.
To access the trail from the south, park at the Flume Gorge. To access the trail from the north, park at Echo Lake or Cannon Mountain. Please note, all parking areas can be full during the busy summer months.
PONDICHERRY RAIL TRAIL (Jefferson, NH)
The Pondicherry Rail Trail is an exquisite place to visit if birdwatching, mountain views and peace and quiet are at the top of your bicycling musts. Located in Jefferson, NH, this crushed gravel path extends approximately 1.5 miles one way to Cherry Pond (and parallels the longer XNHAT for its entire length). Canadian Geese, turtles, and all kinds of songbirds are frequently in attendance, and all are easily spotted from the viewing platform complete with built-in benches.
To get to the viewing platform, bear right at Waumbek Junction and follow the very short spur trail. If you would like to extend your trip, continue past the viewing platform and along the Presidential Rail Trail for another 2.6 miles one way (at which point you'll encounter a small parking lot and NH-115A.)
WARREN RECREATIONAL TRAIL (Warren, NH)
The Warren Recreation Trail is an awesome multi-use, multi-season trail designed for mountain bikes and ATVs in warmer months. This 4-mile trail offers beautiful scenery and runs along Black Brook. As one of the White Mountains' scenic rail trails, you can expect quaint village views as your start your journey in Warren proper, then plenty of natural beauty along the way.
This recreational trail connects with the Mount Moosilauke ATV trail system. Stay alert at trail intersections and move to the side of the path for passing ATVS.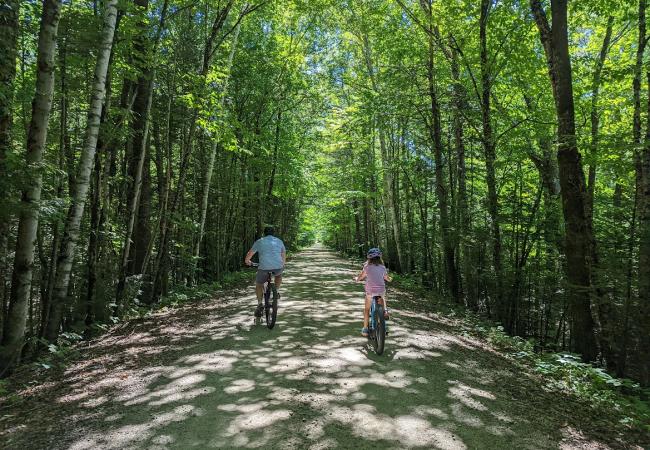 MOUNT WASHINGTON VALLEY RECREATION PATH (NORTH CONWAY, NH) Coming Summer 2023
The Mount Washington Valley Rec Path is currently in its final stages and should be paved by summer 2023! This 2.9-mile, multi-purpose path is a great spot for walkers, joggers, and bikers of all ages and abilities that will offer scenic beauty as well as easy access to local businesses along the route. There will be several access points including at the new Fairfield Inn & Suites North Conway.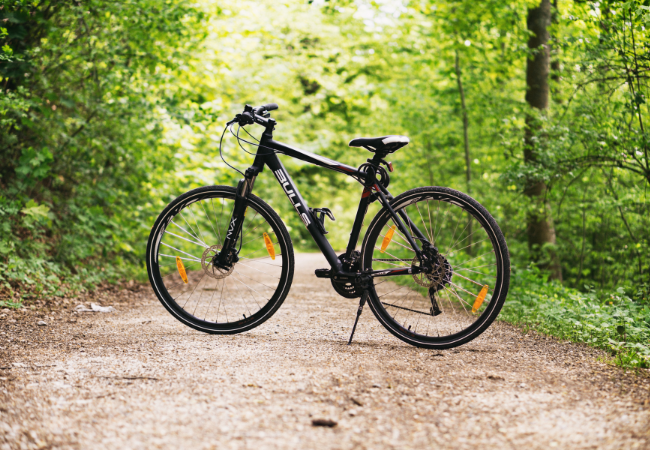 For more information on additional Rail Trails in the White Mountains, check out the New Hampshire Rail Trails Coalition
BIKE OUTFITTERS IN THE WHITE MOUNTAINS
WHITE MOUNTAIN BIKE SHOP (Franconia, NH)
In addition to horseback riding, tennis, and other fun summertime adventures, the Franconia Inn Activities Center has a fantastic bike shop. Rent one of their mountain bikes and get some expert advice on the best local trails; from there, it's up to you how you'd like to explore the outdoors just north of the notch. A great place to start? The Franconia Area Trails system.
FRANCONIA BASECAMP (Franconia, NH)
Not only is Franconia Basecamp a great place to pick up new and consigned outdoor clothing and gear, they also offer e-bike rentals as well! Suitable for ages 12+, e-bikes are a unique and convenient way to bike around town or on the local trails. Choose from their fleet of RadRunner or RadCity e-bikes and rent online for a day of fun.
SPORT THOMA (Lincoln, NH)
Your all-in-one place for biking fun! Sport Thoma in Lincoln, NH offers full bike rentals (including a helmet and bike lock) from their retail shop in Lincoln, as well as a super convenient shuttle drop off service to the base of the Cannon Mountain Aerial Tramway. That means you can take full advantage of the 9-mile Franconia Notch Recreational Trail minus any worries about where to park!
RODGERS SKI & SPORT (LINCOLN, NH)
Looking to buy a fresh mountain bike?  Visit Rodgers Ski & Sport in Lincoln, NH. This shop is all about the perks, and that includes a free first service for your new ride, free installation for any car racks purchased in-shop, and local expertise on the best area trails to visit based on your ability level. Rodgers will also be offering bike rentals during the height of the summer season, which is the perfect option for riders just breaking into the sport.
BIKE EVENTS IN THE WHITE MOUNTAINS
WHITE MOUNTAIN BICYCLE WEEK
Have you heard about White Mountain Bicycle Week? We are beyond excited for this one!
Saturday, May 28th through Saturday, June 4th, 2022, the communities of Lincoln, Woodstock, and Franconia Notch are coming together to celebrate all the different ways to explore the White Mountains via bike while also giving back. Bike for the Better is this year's mantra, and that means many activities scheduled throughout White Mountain Bicycle Week will benefit area non-profits.
Events are being added regularly, so visit the Western White Mountains Chamber of Commerce website for more information!
BONUS! A DIFFERENT WAY TO GO BIKING
RAIL BIKE ADVENTURES (Laconia, NH)
Swap your dirt and gravel trails for a whole other experience – riding right on the train tracks! Rail Bike Adventures in Laconia, NH is one of the coolest options we've found for biking with a twist. Grab 3 friends, reserve a rail bike, and take a seat. Soon, you'll be pedaling along a circa-1848 rail line towards scenic Lake Winnisquam!
This 5-mile roundtrip journey is perfect for friends and family looking to catch up and sight see while also getting a bit of a workout. All tours are guided.
SCENIC RAIL RIDERS (Concord, NH)
If you're traveling past our state capitol, Scenic Rail Riders in Concord, NH is a must-do adventure! Here, you have your choice of a 2- or 4-person custom made rail bike, and 6.4 pretty miles to traverse in style. We love the idea of making this outing into a day date, complete with lunch out on the town after your journey wraps up.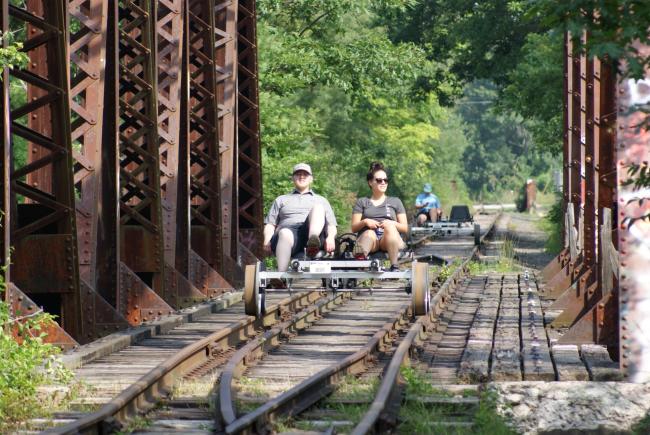 While you're out on the trails you're bound to get hungry! Check out all the great restaurants that are nearby to the trail systems. You call also download our Mountain Biking and Road Cycling resource guides to help you plan your next biking adventure.