Our Major Attractions are gearing up for the summer season, and that means adventures are afoot! But where to start? What is the best thing to do in the White Mountains at each Attraction? In addition to old favorites, we've rounded up fresh ways to explore summertime offerings.
Visit each Attraction's respective website for operating dates, hours, and more, as well as online ticket sales.
ALPINE ADVENTURES (Lincoln, NH)
Alpine Adventures has ziplines, 6-wheeled mountain climbing Pinzauers, Side x Side excursions, a challenging aerial course, and even snowshoe tours during the winter! But if you're looking for our all-time favorite sort of secret offering, check out the BigAirBag Stuntzone. This massive, inflated bag serves as the perfect cushion after you plant yourself atop a sliding tube and send it down a thrillingly steep ramp. Best of all, you can find this fun adventure just steps off Lincoln's main street.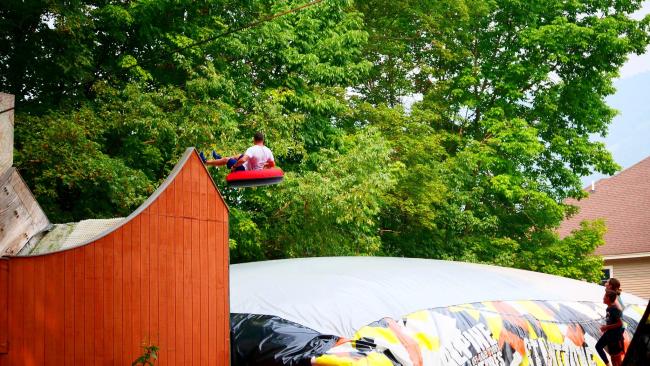 Photo Courtesy of Alpine Adventures Facebook
CANNON MOUNTAIN AERIAL TRAMWAY (Franconia, NH)
While the ride to the tippy top of Cannon Mountain is a visual treat, there's another bonus to boarding the Cannon Mountain Aerial Tramway. Once you exit the tram at the summit, take it upon yourself to connect with the epic views via your own two feet. There's a short, looped rim trail waiting just outside that leads to several scenic overlooks. If you're feeling extra ambitious, climb the viewing tower found a little more than halfway along the path – a windy, astonishing 360-degree vista waits at the top.
CLARK'S BEARS (Lincoln, NH)
Come for the bears, but don't leave until you have an old-timey photo session at Kilburn's Photo Parlor! You can find this stop situated on Clarks Bear's charming Main Street recreation. Kilburn's is all about old-time snapshots and it's been going strong for over 40 years (meaning you'll have a bountiful selection of costumes, and plenty of helpful tips for posing).  While it might be hard to resist, if you'd like to keep the look authentic, we'd say try your darndest NOT to smile.
CONWAY SCENIC RAILROAD (North Conway, NH)
Make sure you ask your conductor to tell you the full story of Hattie Evans if you take opt for the Conway Scenic Railroad's Mountaineer excursion through Crawford Notch. A quick rundown? Hattie Evans was a resident of the Mount Willard Section House, a small structure perched perilously close to the railroad tracks and the steep slopes behind it. After her husband passed away in a train accident in the late 19th century, Hattie stayed on at the Section House, welcoming rail workers & boarders alongside raising her four children. Most notably, Evans made arrangements with the train conductor to ensure her children made it to school each morning. This entailed the conductor leaning out of the moving train and hoisting each child in succession aboard. As you near the northern end of the notch, look for a monument to the inimitable Hattie on the downslope side of the tracks – it rests exactly where the Section House once stood.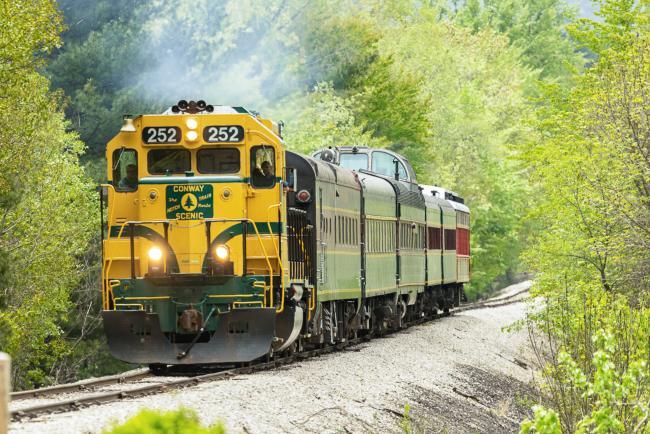 Photo Courtesy of Conway Scenic Railroad Facebook
CRANMORE MOUNTAIN RESORT (North Conway, NH)
From the summer tubing and mountain biking to a bungy trampoline, mountain coaster, and giant swing, Cranmore Mountain Resort's summer offerings keep their base area humming all season long. However, if you're looking for a new favorite experience that's suitable for most everyone in your group, we'd recommend taking a scenic chairlift ride to the Meister Hut at the top of the mountain. There, you enjoy snacks, beer, and ice cream with an unparalleled view of several peaks found in Mount Washington Valley.
FLUME GORGE (Lincoln, NH)
Franconia Notch State Park is a must-tour during your visit, and most particularly the legendary feature located in its southern stretches: the Flume Gorge. Chances are if you've done your research on the White Mountains, you've seen pictures of this rocky wonder complete with sheer rock walls, a rushing river, and photo opportunities every step of the way. In your eagerness to spot Avalanche Falls (situated right near the top of the gorge), don't miss out on another feature – the Bear's Cave, a narrow but deep vertical slot wedged in between rock formations. Might we suggest it as the perfect place for a posed (albeit slightly squished) group photo?
HOBO RAILROAD (Lincoln, NH)
A serene 80-minute train ride along the Pemigewasset River is certainly our cup of tea, but we are also utterly entranced by the front-and-center feature found inside the Hobo Railroad's train station: Doraldina's Prophecies! Watch the mystic Doraldina come to life, pick a card for you, and dispense a fortune in your favor. If you're looking for an unexpected, unique White Mountains souvenir for your scrapbook, this is it.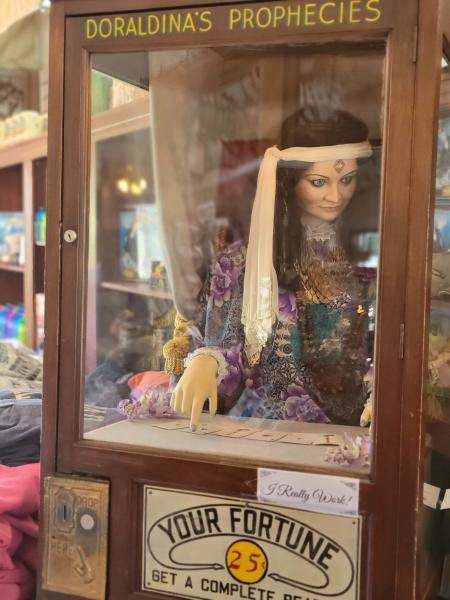 Photo Courtesy of Hobo Railroad
LIVING SHORES AQUARIUM (Glen, NH)
An aquarium in the White Mountains?! We know, it's unexpected. Living Shores Aquarium is also undeniably awesome. From native trout displays to otters, tropical fish, and an aviary, this small but mighty stop has stolen our hearts. The best unsung opportunity in our books: participating in the aquarium's daily stingray or lorikeet feedings. For a nominal fee tacked on to your general admission ticket, you can get up close and personal with sleek stingrays (watch for splashes!) and befeathered friends. Doesn't that sound like the stuff of vacation memories?
LOON MOUNTAIN RESORT (Lincoln, NH)
One of the newest additions at Loon Mountain Resort has us jumping (and climbing) for joy. Enter the Ninja Wild course, a challenging obstacle course that will test your agility and enthusiasm as you bound across features and climb a series of walls. While you might not be able to finish the full course your first time through, this experience is the perfect way to rev up your vacation energy after a long car ride. Children and adults who meet the height and weight requirements are all welcome to participate. Just remember to pack your closed-toed shoes too!  
LOST RIVER GORGE & BOULDER CAVES (North Woodstock, NH)
Lost River Gorge & Boulder Caves has wood boardwalks, mossy rocks, and 11 boulder caves to squeeze through – that alone could keep you entertained for hours. For us though, the most buzzworthy, family-friendly offering is the mining sluice found right next to the main building. This is a great option for cautious kiddos, and it's easy as pie to get started.  Buy a bag of mining rough based on which assortment of gemstones you like best, head to the sluice, and shake the rough into one of the screen-bottom trays. The sparkling gemstones that emerge with a little bit of shimmying make for great souvenirs.
MOUNT WASHINGTON COG RAILWAY (Marshfield Station, NH)
One our all-time favorite experiences at the Mount Washington Cog Railway (apart from the amazing journey to the top of the Northeast's highest peak) is, surprisingly, the museum! We highly recommend touring it AFTER your ride, and sitting atop the iconic Devil's Shingle. Take a selfie and then close your eyes. Picture yourself sliding down the steep flanks of Mount Washington at breakneck speed, the scenery a blur in your haste to get down at the end of the workday. Doesn't it render the Cog's backstory all the more marvelous?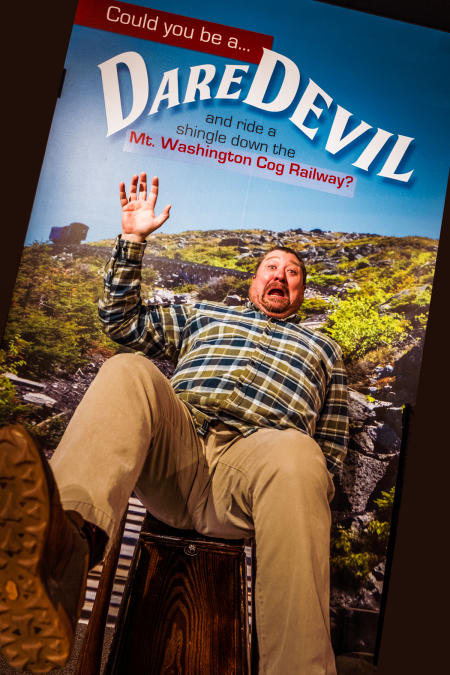 MT. WASHINGTON AUTO ROAD (Gorham, NH)
Chances are, if you're driving up the Mt. Washington Auto Road, you've got a reliable, well-tested vehicle. Have you ever thought about what it was like to drive up the Auto Road in its early years? There were horse-drawn wagons and old-fashioned cars in all shapes and sizes, all of which made the 8-mile journey to the top of New England's most imposing peak. If you're finding that hard to picture, visit the Douglas A. Philbrick Red Barn Museum. This historic structure houses an impressive array of vehicles and memorabilia from the past, and it's open during the summer Fridays – Mondays, 10am to 4pm.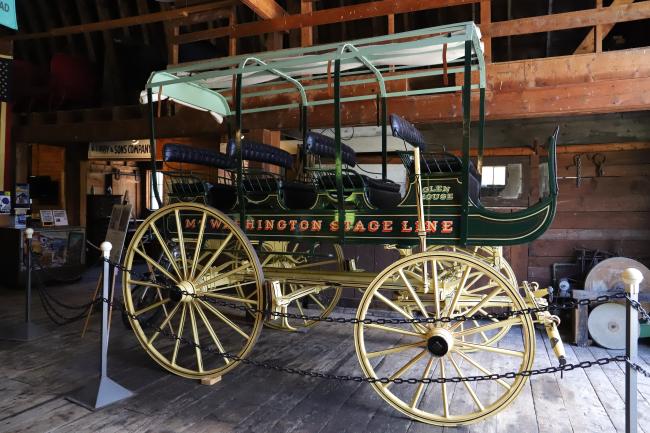 POLAR CAVES PARK (Rumney, NH)
With a name like Polar Caves Park, you might think you'll encounter critters that lean a bit more towards the Arctic persuasion. Happily, at this Rumney, NH attraction, the animal population is comprised of friendly Fallow Deer and a dizzying array of ducks. Before you start ascending Hawk's Cliff to access the 9 boulder caves found on property, we urge you to enjoy the sights and sounds of Polar Caves' Animal Exhibit. Even better? Purchase some animal-friendly treats at the main lodge, and make some fast, fuzzy friends.

Photo Courtesy of Polar Caves Park Facebook
SANTA'S VILLAGE (Jefferson, NH)
After Summer 2023, an iconic ride at Santa's Village is rolling into retirement: Rudy's Rapid Transit, a beloved family-friendly rollercoaster, has been making childhood memories since 1988. In the spirit of bidding this coaster a proper adieu, we urge you to make riding Rudy's Rapid Transit a priority the next time you tour the park. While it might be a little bittersweet, we can't help but smile a bit too thinking of which great ride will appear at Santa's next season.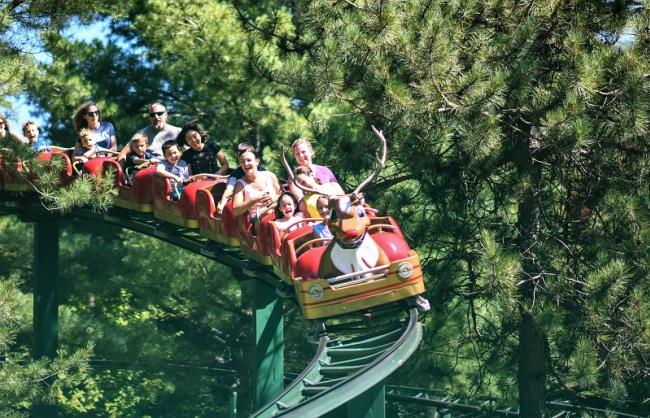 STORY LAND (Glen, NH)
Story Land is a magical place however you explore it. In our minds though, if you're headed to Cinderella's Castle, don't just hoof it – take a ride in the Pumpkin Coach! This retro whimsical option will whisk you up to the castle in style, so head behind the Swan Boats area to snag a seat. If you're feeling extra royal, toss a few refined waves at parkgoers along the way.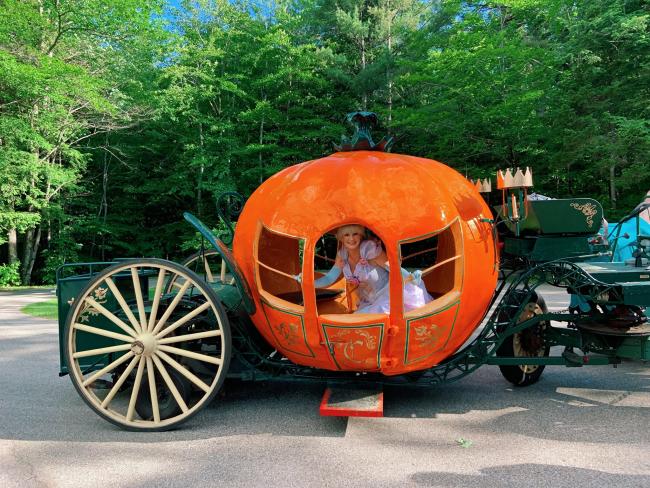 Photo Courtesy of Story Land Facebook
WHALE'S TALE WATERPARK (Lincoln, NH)
Bring those Caribbean beach vibes to the White Mountains with a trip to Whale's Tale Waterpark. In addition to a lazy river, daring waterslides, and more, this perfect summer stop has private cabanas. Might we suggest renting one for the day? Each cabana includes a lunch table, 4 chairs, 2 lounge chairs, and a cocktail table, meaning you can take full advantage of all of park amenities (including their great snack bar and drinks to help you cool off). Guests have the option to book a cabana up until midnight the day before their visit, but if you'd like to ensure your rental, book online well in advance.
WILDCAT MOUNTAIN (Gorham, NH)
Head to Pinkham Notch and Wildcat Mountain for a walk on the wild side. After your scenic chairlift ride to the summit (a must if you're after grand views of Mount Washington), take a short hike to Thompson Falls. To find the trailhead after exiting the chairlift, walk back towards the pedestrian bridge. Before you cross the river, you'll see a wood sign for the Wildcat Trail on the right. Follow signs after that for Thompson Falls and get ready to be wowed in less than 1.5 miles out and back.