If "more fall leaves, and long weekends please" is your mantra this season, start heading our way! Columbus Day weekend in the White Mountains is looking chock full of special events and lodging deals, plus all those autumnal colors to fill your Insta feed.
Keep scrolling for the latest, and don't forget to visit our 17 major attractions before they close for the season!
Columbus Day Weekend Events in the White Mountains
LOON MOUNTAIN RESORT (Lincoln, NH)
Are you looking for Oktoberfest in the White Mountains? Look no further! Loon Mountain Resort in Lincoln, NH is hosting a White Mountain Oktoberfest extravaganza on Saturday, 10/8 and Sunday, 10/9. Expect an Oompah band, a stein-hoisting contest, kid-friendly activities, and mountains of German food and drink to go along with the mountains of fall color on Loon's slopes.
Head to the Loon Mountain Resort website for additional information and advance tickets.
SANTA'S VILLAGE (Jefferson, NH)
Combine Halloween décor with Christmas vibes, and you can picture the pure magic of Merry Trick or Treat at Santa's Village. Don that festive Christmas or Halloween attire and head to Jefferson, NH. Explore the shops within the park to partake in this sweet family tradition, and don't forget to take plenty of fun photos! The merriment runs on Saturday and Sunday over Columbus Day weekend.
Tickets to Santa's Village must be purchased online in advance. Merry Trick or Treat runs from 9:30am to 5:00pm on 10/8 & 10/9, 10/15 & 10/16, and 10/22 & 10/23.
THE FLYING MONKEY MOVIE HOUSE & PERFORMANCE CENTER (Plymouth, NH)
Plymouth, NH is home to many amenities, but we're always partial to The Flying Monkey Movie House & Performance Center for a fun outing. Grab you tickets for Friday, 10/7; this time around, The Flying Monkey is hosting Dead Set (made up musicians Zach Nugent and Vinnie Amico) for an homage to the Grateful Dead and the Jerry Garcia Band. Groovy!
Tickets start at $29. The show runs 7:30pm – 9:30pm.
FRYEBURG FAIR (Fryeburg, ME)
We know what you're thinking – the White Mountains aren't in Maine! They are, however, pretty darn close. Head to the Conway area (located in the eastern White Mountains) and then hop just over the border; the Fryeburg Fair is waiting.
This iconic local fair is celebrating 172 years over eight enjoyable days. Between the agriculture, livestock, and farming exhibitions (plus a sprawling midway!), this is one of the top Columbus Day weekend events in the White Mountains.
The Fryeburg Fair runs Sunday, 10/2 through Sunday, 10/9. Tickets (ages 12+): $12. Parking fee: $5. Visit the Fryeburg Fair website for additional information, including discount days.
JACKSON AREA CHAMBER OF COMMERCE (Jackson, NH)
Order up a Pumpkin Spice Latte and hit the road! The Return of the Pumpkin People is happening in Jackson, NH throughout the month of October. This ever-popular event (hosted by the Jackson Area Chamber of Commerce and area businesses) boasts over 80 different decorated Pumpkin People, and its your task to try and spot them all on a self-guided tour!
Return of the Pumpkin People maps are available at the Jackson Area Chamber of Commerce and participating businesses.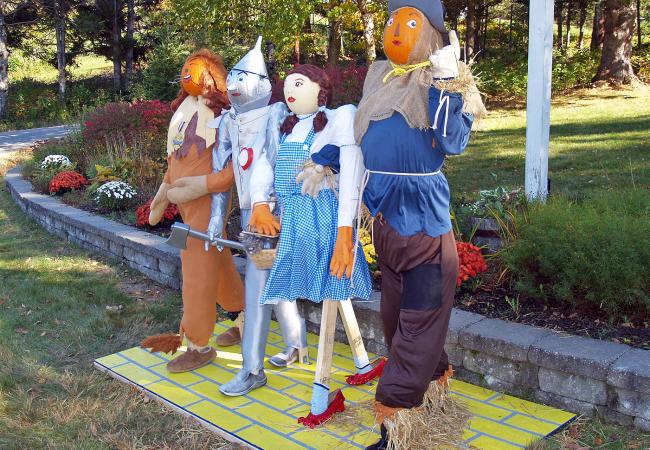 M & D PLAYHOUSE (North Conway, NH)
"Let them eat cake!" There's much more to Marie Antoinette than just that. Find out for yourself with a performance of "Marie Antoinette" at the M & D Playhouse at the Eastern Slope Inn in North Conway, NH. You have your pick of Friday, Saturday, or Sunday night for Columbus Day weekend; might we recommend indulging in a date night complete with dinner and a show, in a great homage to Marie herself?
All seats: $29. The show runs 7:30pm – 9:30pm. Complete show run: 9/29 & 9/30, 10/1 & 10/2, 10/6 - 10/9, 10/13 - 10/16.

NORTH COUNTRY CENTER FOR THE ARTS AT JEAN'S PLAYHOUSE (Lincoln, NH)
On long holiday weekends, the lineup for Lincoln, NH's North Country Center for the Arts at Jean's Playhouse can't be beat. This time around, Jean's Playhouse welcomes the Adam Ezra Group on Saturday, 10/8 to close out their Crafted Concert Series. The music starts at 7:30pm, but we'd recommend arriving at 4pm if you'd like to grab dinner and a few craft beverages from the food trucks parked just out front for this special event.
Come Sunday, 10/9 at 7:30pm, it's all about the Columbus Day Weekend Comedy Show, featuring the hilarious likes of co-headliners Frank Santorelli and Chris Zito.
Adam Ezra Group: $30 per ticket. Columbus Day Weekend Comedy Show: $25 per ticket.
SANDWICH FAIR (Center Sandwich, NH)
Travelers driving from points south, take note: the Sandwich Fair (located in Central Sandwich, NH) is your conveniently located, classic fall fete! Come check out the festivities over Columbus Day weekend, including a big emphasis on agriculture competitions and typical, yummy fair food.
Cash only. ATM located inside fairgrounds. Hours: 8am to 6pm on Saturday, 10/8 & Sunday, 10/9; 8am to 5pm on Monda, 10/10. Visit the Sandwich Fair website for ticket prices.
SETTLERS GREEN (North Conway, NH)
Shopping to the sound of buskers sounds idyllic, doesn't it? Head to Settlers Green in North Conway, NH for the 6th Annual Busker Festival. There, you'll find amazing outlet deals and talented buskers around every corner, as well as the ever-popular Tuckerman Pop-Up Beer Garden on The Green in the Courtyard.
We could sing the praises of this delightful event all day long, but we'd rather you check it out for yourself!
Both events run Saturday, 10/8 and Sunday, 10/9. Busker performances:  11am to 3:30pm. Pop-Up Beer Garden: 12pm – 4pm.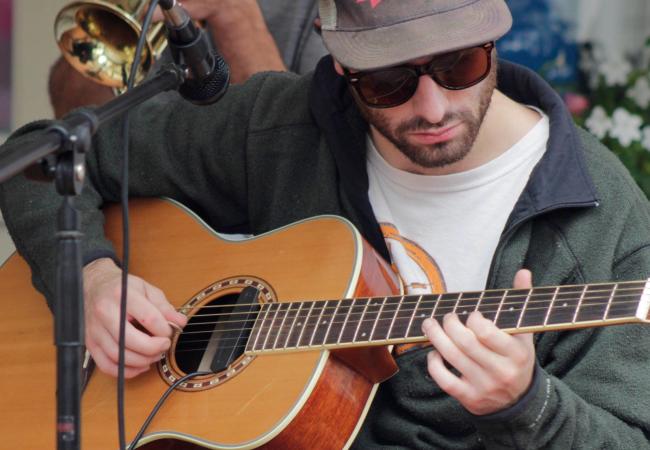 WATERVILLE VALLEY TOWN SQUARE (Waterville Valley, NH)
There's so much to celebrate during the Fall Foliage Fest in scenic Waterville Valley, NH! How about a merchant tent sale, free outdoor concert, or ski swap? Sign up for the Fall Foliage 5k Foot Race/Fun Run...registration open for kids and adults! Rent a bike or ride a boat, or just kick back and watch the fall festivities in full swing.  
For more information, visit the Waterville Valley Recreation Department website. Event runs Saturday, 10/8 – Monday, 10/10.
WEATHERVANE THEATRE (Whitefield, NH)
The Weathervane Theatre in Whitefield, NH has quite the treat for the long weekend: two outstanding musicals! Pick from "A Chorus Line" (one of the longest running shows in musical theatre history) or "A Class Act" (a musical about musicals); both will leave you awestruck, entertained, and ready for more live performances in the White Mountains of NH.
"A Chorus Line" is scheduled for Friday, 10/7 and Sunday, 10/9 (7:00pm – 9:00pm). "A Class Act" is scheduled for Saturday, 10/8 (7:00pm – 9:00pm). For additional show dates and more information, visit the Weathervane Theatre website.
WOODSTOCK INN BREWERY (North Woodstock, NH)
Those looking for live music, music bingo, or a chance to hop on stage during an open mic night should head to the Woodstock Inn Brewery in North Woodstock, NH; this local favorite offers all three, every single week!
Fridays & Saturdays: Live Band (8:30pm – 11:30pm). Sundays: Open Mic (8:00pm – 11:30pm). Mondays: Music Bingo (7:00pm – 9:00pm).
Columbus Day Weekend Deals in the White Mountains
ACTION TOUR GUIDE
The leaves won't last much longer – let's get rolling! If you're planning on touring the legendary Kancamagus Highway in search of fall colors, bring Action Tour Guide along for the ride. This GPS-enabled app narrates your self-guided journey along the Kanc, complete with fun facts, local lore, and must-stop spots.
To get 15% off Action Tour Guide's Kancamagus driving tour, use code KANC15 at checkout.
BRETTON WOODS VACATIONS
Compliment your day of adventuring with a stay at a Bretton Woods Vacation property. Whether you dream of a cozy cabin or an upscale abode big enough to accommodate the whole family, Bretton Woods Vacation has got it. Even better? They're offering quite the White Mountains lodging deal over the long holiday weekend! 
For 20% off 4 nights or more (with a maximum of 10 days per stay), use the coupon code RedLeaves22. Must check-in by Oct 30. 
​
YOGI BEAR'S JELLYSTONE PARK CAMP-RESORT: GLEN ELLIS (Glen, NH)
If you've been putting off camping until the leaves change colors and you can ward off the fall chill with a campfire and a good blanket, now is the time. Head to Yogi Bear's Jellystone Park Camp-Resort: Glen Ellis in Glen, NH for all those fall feels.
On weekends in late September through mid-October, each stay includes trick or treating around the campground, a spooky Haunted Halloween Trail for brave campers of all ages, a camp site decorating contest, and more. There are also plenty of special fall deals on their website. We are particularly excited about the "Book Any Halloween Weekend, Get Half Off your September Stay" promotion!
Promotion details: Book any Halloween weekend (9/25 – 10/15) and receive 50% off a September stay (9/8-9/25). Enter promo code FALL22 at checkout.
Now that we've given a few ideas of what to do in the White Mountains over Columbus Day Weekend, the rest is up to you!