Summer is here and the temps are rising! Even though we're surrounded by that fresh, White Mountain air, sometimes it's just too dang hot and we need instant relief! Check out our 5 awesome remedies to help beat the heat that are totally "cool".
Water Fun at White Mountains Attractions
Beat the heat at Santa's Village! Not only it is Christmas all summer-long at this fun, family-friendly attraction, but you can also chill out and cool off on the Yule Log Flume Ride and at Santa's Waterpark.  Enjoy the four water features including Ho Ho H2O, Polar Paradise, JOY Ride Slides, and Poogee's Splash Pad. Story Land is a "cool" spot for the kiddos with Dr. Geyser's Remarkable Raft Ride, Bamboo Chutes Log Ride, and Splash Battle: Pharaoh's Reign. The littlest of visitors will love Dr. Geyser's Mini Geysers" splash pad. Whale's Tale Waterpark has all the elements you need to beat the heat and stay cool this summer. Spend the day riding down 11 water slides, 3 water thrill rides, 2 tube rides, wave pool, ¼ mile tranquil river, 4 toddler slides, and the AKUA Beach Surf Simulator.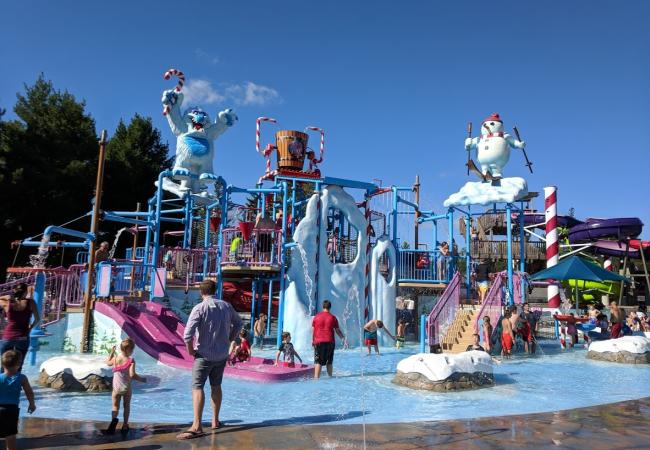 Cool Off in a Cave
A great way to take the edge off the heat is to explore some cool, dark caves. Lost River Gorge and Boulder Caves in North Woodstock, takes you on 1-mile boardwalk trail through the shaded woods in Kinsman Notch. Visit 12 glacial caves as well as the always chillingly beautiful Paradise Falls. Polar Caves Park in Rumney offers 9 unique granite, glacial caves, one that even has ice in it through August! Explore several shady Nature Trails on-site when you're done adventuring in the caves. After heading to the summit of Loon Peak on Loon Mountain's Gondola Skyride, explore Loon's glacial caves. Located in the forest just below the summit, these cool caves were formed during the last Ice Age and are now a fun maze of adventure.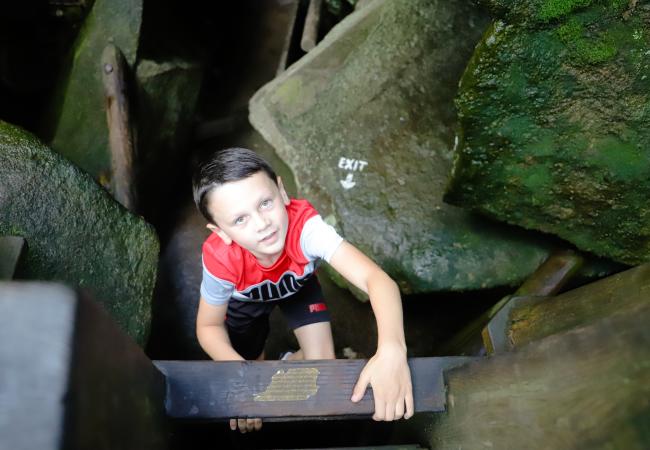 Swimming Holes!
There are many swimming holes in the White Mountains, and they're a great place to spend some time on a hot summer day. These are a few popular spots but we're sure you can find many more without looking too hard!
Otter Rocks- Route 112 (Kancamagus Highway) in Lincoln. This popular spot offers facilities including a rest room and picnic tables.
Sawyer Rock- Crawford Notch. This family-friendly spot, is a little hard to find from the road, but after passing Sawyer Rock on your left as you head West on Route 302, you will see a small pull-off on the right, and will probably see cars parked there. Take a walk down a small, dirt path and you will come to a beach, sunning boulders to jump from, and large pools of water to swim in.
Jackson Falls -Jackson. This swimming hole is located right off the road, and offers picnic tables and many flat, smooth rocks to relax on. There are cascades, slides, and a waterfall with a natural rock seat behind it.
Lower Falls -Albany. This popular swimming spot is located on the Kancamagus Highway with many cascades and pools to splash around in. While you're there, take advantage of the rest rooms and the covered picnic area with a charcoal grill.
Cascade Park -North Woodstock. Located behind Main Street, you can go for a drip, relax on the rocks, or enjoy a picnic lunch.
Also, check out the piece we did with NH Chronicle on some awesome other great swimming holes we recommend.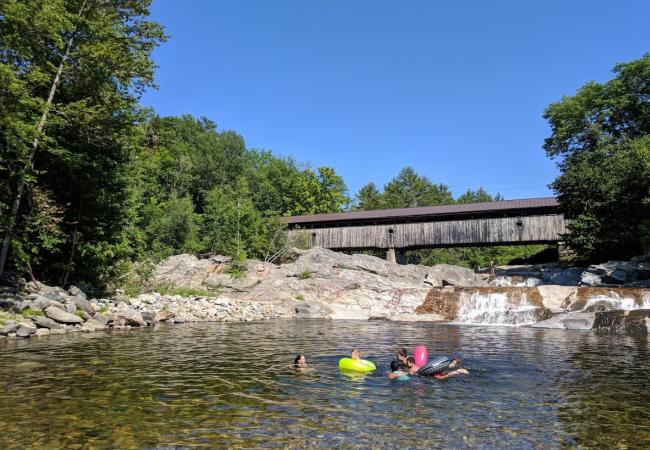 Get Out on a White Mountains River or Lake
The White Mountains is home to many beautiful rivers (Pemigewasset, Saco and Androscoggin), and lakes (Squam, Winnipesaukee, Echo). A great way to stay cool is to explore these beautiful waters by tube, canoe, or kayak. Great Glen Trails in Gorham will bring you on a Guided Wildlife Kayak Tour or a Whitewater Kayak Trip on the Androscoggin River. Rent a tube with Saco River Tubing Center in Conway and enjoy a lazy, relaxing float down the Saco. There are small, sandy beaches and rope swings along the way so you can make a day of it. Ski Fanatics/Paddle the Pemi in Campton are not only your winter activity outfitter, but they also offer tube rentals for a ride down the Pemi. Shuttle service available too! Contact them directly for information on hours of operation. North Country Kayak offers kayak tours and rentals on Littleton's Moore Reservoir. Visit their website for details on each tour offering and also how to explore on your own. Experience Squam Boat Excursions offers a variety of tours on Squam Lake. Swimming is an option, and you can BYOBeverages and food.
I Scream, You Scream, We All Scream for Ice Cream!
We can't think of a better (or more delicious) way to cool off than to eat a scoop (or two) of cold, refreshing ice cream. Head on over to our Ice Cream Blog to find out where the best sweet treats are located in the White Mountains.