Fall in the White Mountains...can you feel it?
Crisp, colorful leaves, the feel of driving slow down winding rural roads, a handpicked pumpkin, and endless trails leading up painted peaks. The classic autumn road trip is a must if you're planning a visit to our region, but we'd also recommend this list of some of the best fall activities in the White Mountains. 
Grab some paper and a pen, and cross these autumn activities off your bucket list! Our award-winning foliage is only here for a short time, and we can't wait to show it off. 
Fall in the White Mountains is beautiful AND busy. Plan ahead, and read up on the latest operating dates and hours for all major attractions. After that, peruse "Fall Foliage 101" for trip tips. The top takeaway? Book your tickets online today -- attractions can sell out quickly on weekends. 

VISIT AS MANY ATTRACTIONS AS YOU CAN!
There are 17 major attractions in the White Mountains; how many can you cross off your list this year? Columbus Day is usually the last hurrah for several of these iconic attractions, so you've got a little more than a month left to meet and greet characters straight out of a storybook, watch a bear play basketball, or squeeze through a series of granite caves (and more!). Better hop to it! And use hashtag #yeswhitemountains if you'd like to show off some pictures from all of your adventuring. 

NAVIGATE YOUR WAY THROUGH A CORN MAZE 
The largest corn maze in New England? Don't mind if we do! Head just a little north and west of the White Mountains and cross the NH border; you're traveling to The Great Vermont Corn Maze. This Danville, VT behemoth has been named one of the Top 6 Corn Mazes in America, and a few quick turns through this twisty, 26-acre swath of corn will tell you why. Plan at least a few hours if you want to conquer the whole maze; it's massive, fun, and challenging, and it's also a great way to get outside and enjoy a crisp, fall day! 
All tickets must be purchased in advance. Weather dependent. Open through October 10th.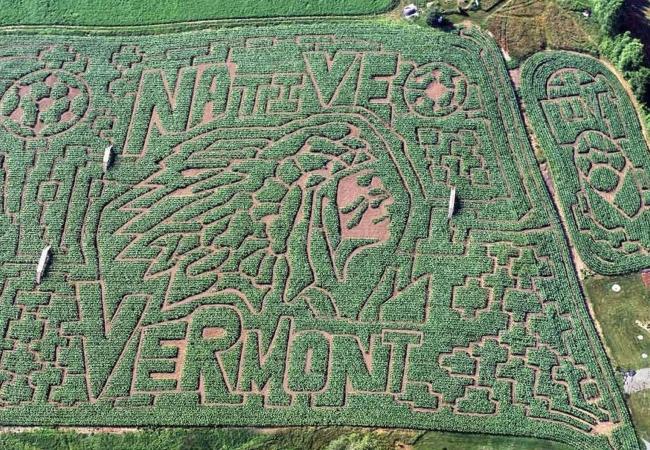 ENJOY ALL THINGS APPLE
Year after year, Windy Ridge Orchard in Haverhill, NH tops the fall lists for "favorite apple orchard," "favorite cider donut," and "favorite place to spend a fall day." Meander the back roads of the White Mountains to get there, and take your time doing some leaf-peeping along the way. Once you arrive at Windy Ridge, grab a bag and head out into the orchard. Stay for lunch, feed the farm animals, and bring home some delicious apple cider! We'd also recommend snagging some still-warm cider donuts for the road.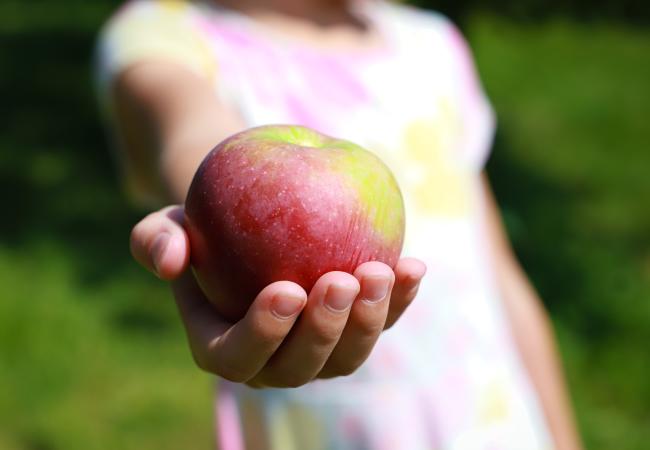 FROLIC AT A FALL FAIR
During the fall season, the White Mountains is THE place to be for fairs and festivals. Mark your calendar for Columbus Day weekend; many events are scheduled around this epic long weekend. 
Enjoy the midway, visit with farm animals, and eat ALL the fair food at the Sandwich Fair (located in the southern White Mountains, in Center Sandwich, NH) or the Fryeburg Fair (found in Fryeburg, ME, just over the border from Conway, NH). Waterville Valley's Fall Foliage Festival in Waterville Valley, NH is another great option. It will feature live music, a 5k for adults and 1.6k fun run for kiddos, a ski swap, and all kinds of games. 
But what about if beer floats your boat? Head to Loon Mountain Resort in Lincoln, for the White Mountain Oktoberfest, which includes live music, a beer garden, lawn games, and mountain top yoga. We'll see you there!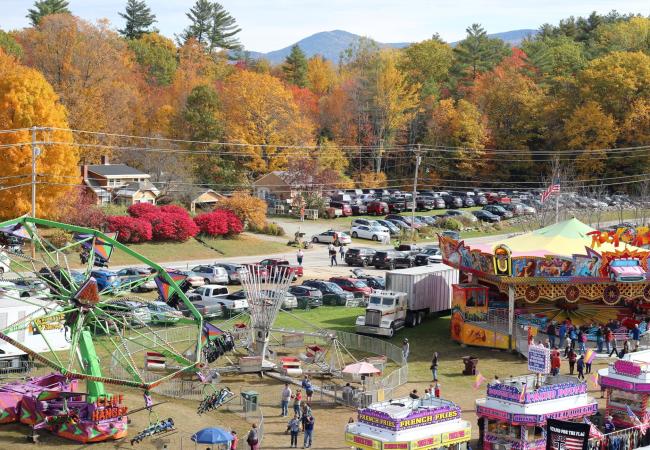 TAKE A HIKE 
The White Mountains aren't just great to look at; they're also perfect for exploring! Take a short trail to walk beneath a canopy of leaves, or ascend a 4,000-footer to look down on the trees. There are hundreds of hikes to pick from; here are a few of our favorite foliage hikes to get you started. 
Just as in other seasons, the weather of the White Mountains is unpredictable. Plan your hike based on the lowest experience level in your group, and pack accordingly (including bringing water, snacks, warm clothing, waterproof layers, and hiking boots, as well as the other 10 essentials). We also recommend getting the NH Hike Safe card, and following Leave No Trace principles throughout your trip. 
TOUR THE TASTES OF THE SEASON
Wine and beer samplings are just more fun in fall! We love searching out unexpected autumnal notes in local brews, and taking in the fall foliage while doing so. 
Start your wine and beer tour in the Lakes Region with a stop at Hermit Woods Winery in Meredith, NH for a tasting, tour, and a light lunch. Continue north to the Lincoln/Woodstock area, and head to the Tasting Room at Seven Birches Winery, Rhythm Handcrafted Beverages Studio, and the brand new wine tasting bar at Purple Tomato for a tasteful tour of the town.
After that, lunch is in order! The Woodstock Inn Brewery offers year-round and seasonal beers with names that nod to local events, lore, and natural beauty. Grab a flight while you wait for a hearty meal, and then hit the road again.
Take in the fall colors as you head "north of the Notch" and visit our friends at Rek-Lis Brewing Company in Bethlehem, NH; they've recently expanded, meaning you can bring your beer-loving, foliage fanatics friends along for the ride.
Last but not least, it's a quick drive to Littleton, NH, where you can take a walk along the town's historic Main Street and then pop in for a beer tasting at Schilling Beer Co. This brewery is perched on the banks of the Ammonoosuc River, and has one heck of a deck if you'd like to unwind outside at the end of your tasting tour.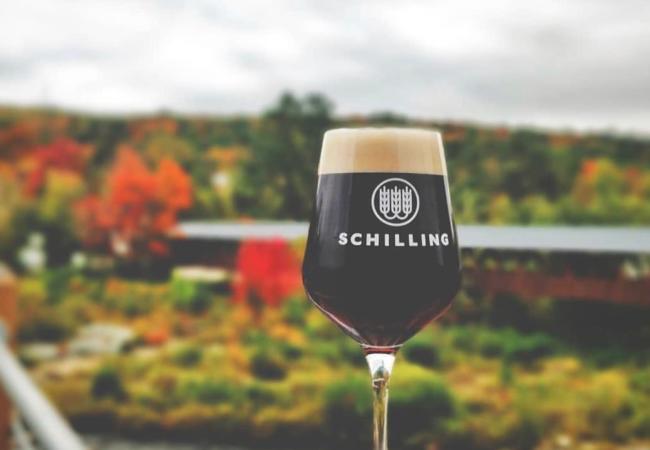 CELEBRATE THE RETURN OF THE PUMPKIN PEOPLE
For nearly 40 years, the village of Jackson, NH and surrounding towns in the Mount Washington Valley have been delighting visitors with their annual "Return of the Pumpkin People" event. Over 80 businesses and homes take part, creating unique, fun, and creative displays using pumpkins and their imaginations. Take the self-guided tour, and see if you can spot your favorite! Maps can be found at the Jackson Chamber of Commerce, or at any of the participating businesses.
"Return of the Pumpkin People" runs October 1-October 31.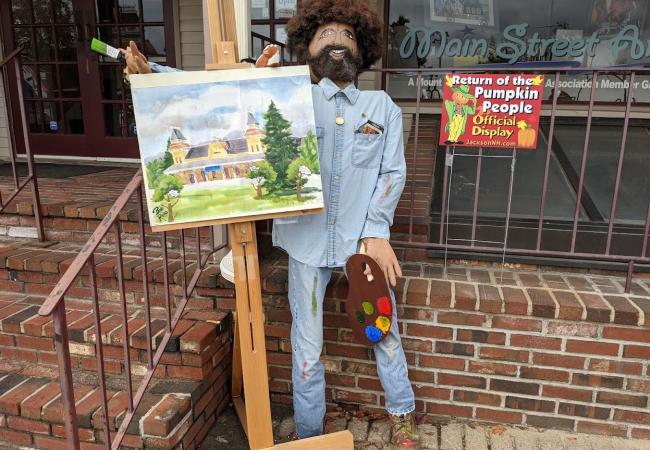 Wouldn't you love to add all these activities to your fall bucket list this year? Get started planning your great autumn escape! Monitor our foliage tracker, and view our fall itineraries for even more inspiration.
We'll see you up here, where the best things to do during fall await!