Fall foliage season has arrived in the White Mountains of New Hampshire! It only happens once a year and our award-winning colors won't last long – be sure to plan your perfect getaway soon.  To get the most out of your experience, we wanted to share a few tips for you to consider as part of your "packing list".
Plan Ahead
Several of the White Mountains Attractions are open through foliage season. To accommodate visitors and to make the experience at each attraction more comfortable and enjoyable, reservations are either recommended or required.  Some of the State Parks throughout the White Mountains are also asking visitors to book in advance, so check the website to make sure you have the most up to date information. 
Visit Mid-Week
Weekends tend to be more crowded in the White Mountains, as folks are seeking out the best spots to see the foliage, find great hiking trails, and visit attractions that are only open on weekends.  If your schedule allows, plan a visit mid-week and sometimes you may have an overlook, trail, or roadway mostly to yourself. 
Travel the Roads Less Travelled
Yes, the Kancamagus Highway is a popular spot for finding great foliage and there's no question as to why that is! There are scenic vistas, covered bridges, natural areas, and a multitude of hiking trails.  If you want to avoid some of the congestion along the Kanc, consider pulling out the map to explore one of our "roads less traveled".  Some of the side roads in the smaller villages such as Franconia/Sugar Hill, Littleton, Jackson, Eaton, and even down in the Lakes Region still offer those beautiful foliage views, with less traffic.  Head out on Route 112 West through Kinsman Notch, down Route 118, Route 113 in Sandwich, and even Route 2 in Randolph and Jefferson. (Just to give you a few ideas!)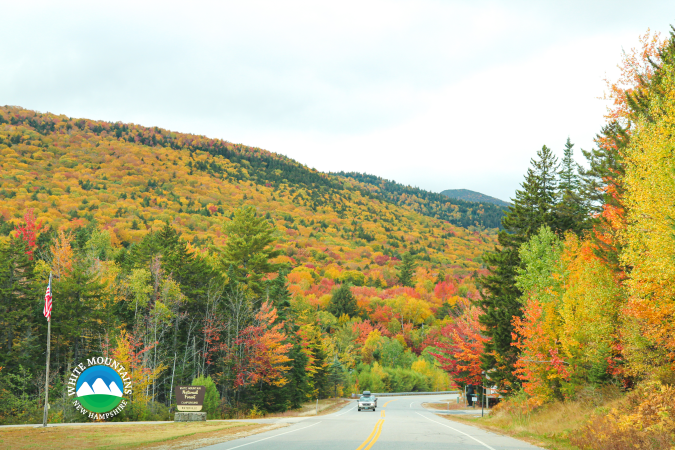 Pack Your Patience
Take a deep breath and enjoy our fresh, mountain air and the scent of crisp, fall leaves.  Enjoy the fact that you are in the White Mountains and soak in the beauty around you.  If this is your first time here, or first time back in a while, just know that some things may seem a little different – some restaurants and shops may not be open 7 days a week, there may be longer wait times at recreation areas, and attractions may sell out quicker than before. It won't always be this way and we appreciate the fact that you are spending time with us this foliage season – please remember to pack your patience along with your toothbrush and camera!
Be Safe and Respectful
When visiting the White Mountains, be mindful of your surroundings.  Stay on the trail and leave only footprints when taking a hike. Remember if you carry something in to a park, or attraction, to be sure to bring it back out with you.  Familiarize yourself with the rules when it comes to camping and ask questions if you don't know the answers. (There are lots of people around who want to help such as the friendly staff at the White Mountains Visitor Center or at any of the White Mountain National Forest Ranger Stations).  Be careful around water and on steep ledges…no Instagram post is worth hurting the environment around you, or yourself.  Respect the beautiful nature that surrounds you here in the White Mountains, as well as the staff members at your favorite restaurants, shops, breweries, hotels, and attractions. Most importantly of all, enjoy!