We'll be honest with you: staying active and getting outside in the winter can be a challenge. Icy paths, numb noses, and limited sunshine can make even the most motivated adventurers wish the season away.
Happily, winter in the White Mountains presents plenty of opportunities to get even the most stubborn of couch potatoes moving. What about petting a peppy sled dog, having a serene session of cross-country skiing on perfectly groomed trails, or snow tubing with a view followed by hot chocolate in a lodge?
All these adventures plus more are up for grabs when you embrace some of the best ways to play outside during winter! Here are a few suggestions to get you started.
We highly recommend doing some online research prior to heading to your winter activity of choice, reserving your spot online ahead of time where available, and checking the snow report for all ski resorts on their respective websites. If you'd like to add in some more activities or are planning on spending a few days in the region, check out our Winter Itineraries. 
SNOWSHOEING
Snowshoeing is one of the easiest things to do in the White Mountains during winter. Once you get the feel of the snowshoes strapped to your feet, you can spend your time focusing on the immaculate winter landscape around you and the feeling of floating on snow (or tossing small snowballs if you're so inclined).
If you have a little bit of experience, you can rent snowshoes from outfitters like Great Glen Trails Outdoor Center (Gorham, NH) and Waterville Valley Adventure Center (Waterville Valley, NH), or bring your own pair to explore our hundreds of miles of snowshoe-friendly paths.
Our favorite option for beginners? Booking a guided snowshoe tour with Lincoln, NH's Alpine Adventures! If you find you've fallen in love with snowshoeing, you can always head to the nearby Adventure Center at Loon Mountain Resort for another snowshoe tour (weekends only).
Want additional details on snowshoeing in the White Mountains? Check out our snowshoeing guides for Eastern White Mountains and Western White Mountains.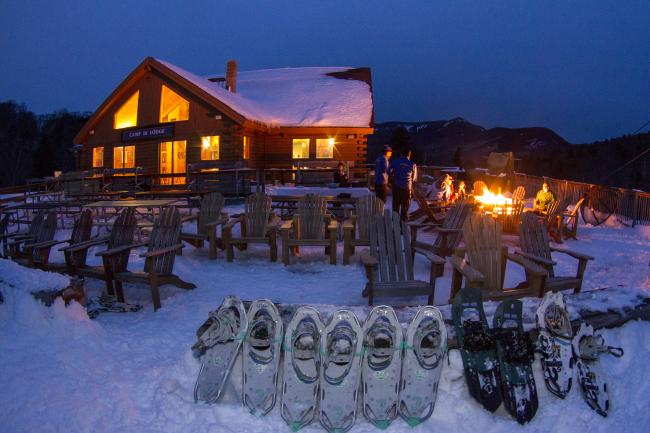 (Loon Mountain Resort)
SNOW TUBING
A simple stroll in the woods is lovely, but so is sliding down a snowy hill! You can choose to bring your own sled and scope out local tubing hills or sample the steeper snow tubing slopes in the White Mountains, including Cranmore Mountain Resort (North Conway, NH), Loon Mountain Resort (Lincoln, NH), Gunstock Mountain Resort (Gilford, NH), and Great Glen Trails Outdoor Center (Gorham, NH). Some even offer lift-serviced tubing to cut down on any uphill slogging and save more time for sliding.
For more snow tubing options, download our Snow Tubing Resource Guide. Never been before? Get a good idea of the snow tubing experience with a virtual ride down Loon Mountain Resort's slopes.
CROSS COUNTRY SKIING
We love the peaceful vibes of cross-country skiing, plus the excellent cardio workout it provides! Learning how to cross-country ski does take some practice. Fortunately, the White Mountains is legendary for its impressive number of groomed and ungroomed trails, as well as its facilities providing lessons and rentals. Might we recommend the Jackson Ski Touring Foundation (Jackson, NH), Franconia Village XC Ski Center (Franconia, NH), Gunstock Mountain Resort's Nordic Center(Gilford, NH) and the Mt. Washington Valley Ski Touring & Snowshoe Center (Intervale, NH)  as a start?
Explore to discover even more opportunities for cross-country skiing across our region.
FAT BIKING
Picture thick nubby tires and hardpacked snow, and you'll get the basics of how fat biking works. This option is perfect for avid bikers who are looking to extend their cycling adventures into the winter months, as well as newbies looking for a swifter way to enjoy the scenery. Typically, this option is available later in the winter once there's a decent amount of snow
Trail networks offering fat biking as well as rentals (like Waterville Valley Adventure Center in Waterville Valley, NH or Great Glen Trails in Gorham, NH) add regular trail updates to their websites as the season progresses.  If you're in the Mount Washington Valley and already have your own fat bike, check out the Mt. Washington Valley Ski Touring & Snowshoe Center (Intervale, NH) for their list of fat bike designated trails as well.
DOG SLEDDING
Maybe taking it easy is more your speed? If that's the case, look no further than the likes of Muddy Paw Sled Dog Kennel! This Jefferson, NH stop has a fleet of friendly rescue pups to steer its sleds, and the rides zipping across the northern White Mountains landscape are as exhilarating as they are beautiful. Best of all, your musher will guide the way, leaving you free to enjoy zipping along under canine power.
If you opt for dog sledding, book your tickets online early. Muddy Paw's excursions are extremely popular, especially on weekends.
For even more outdoor activities to get you excited for winter in the White Mountains, head to our Winter page or see if one of our Winter Itineraries is the right fit for you and your fam!
Wondering what to wear during your winter trip? Use this preliminary packing list to stay warm and cozy during our listed adventures:
Winter boots (waterproof, preferably with a boot shaft around mid-calf to keep the snow out)
Traction devices (such as microspikes, crampons, or snowshoes depending on your plans after this easy adventure)
Layers for top & bottom (including a long underwear base layer, warm mid-layers, and waterproof/weather-resistant jackets and snow pants)
Hats & mittens/gloves (we'd suggest bringing at least two pairs of gloves per person in case one set gets wet)