We don't want to scare you, but Halloween is less than a week away! Have you thought of what you'd like to do with your boo this year? Whether it's date night or bringing the whole family along for a haunted adventure, there are so many things to do during Halloween weekend in the White Mountains.
BELIEVE IN BOOKS LITERACY FOUNDATION (Intervale, NH)
If you're a Rocky Horror stan, set you sights on the Believe in Books Literacy Foundation's Halloween spectacle: a Rocky Horror Picture Show Shadow Cast! The BBLF's Theater in the Wood is your venue for all of the cult classic shenanigans you could imagine, including sipping Halloween drinks, dancing to the Time Warp, yelling out callbacks, and pulling out all the stops with the spooky, silly Rocky-themed things found in the prop bags available for purchase on-site.
Members receive $5 off per ticket. Use code MEMBER5 at checkout. Must be 16 year or older to attend (with ages 16 – 17 accompanied by an adult).
Rocky Horror Picture Show Shadow Cast: 10/28 – 10/31, 8pm – 10pm. | $20 (general seating); $25 (premium seating).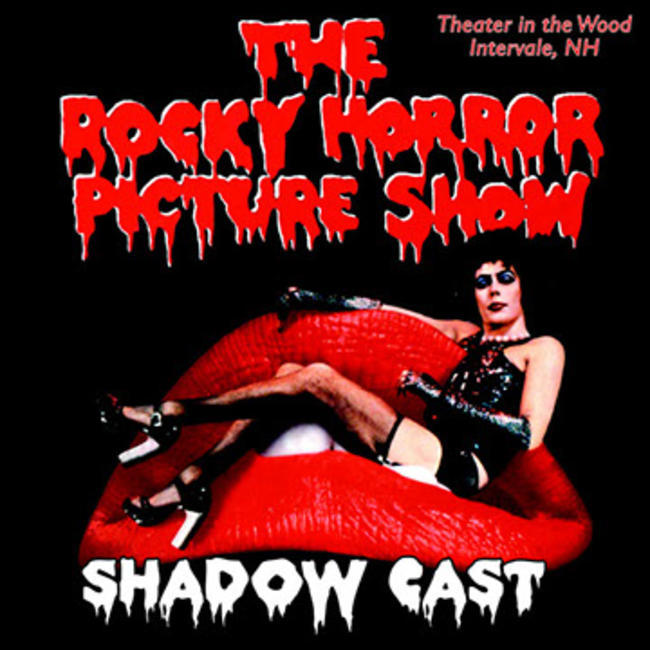 THE COLONIAL THEATRE (Bethlehem, NH)
For an otherworldly music experience, head to The Colonial Theatre in Bethlehem, NH. Friday, 10/28, this historic Main Street venue welcomes Bendigo Fletcher's "rangy, howling vocals" to the stage. Prepare to be spellbound by Fletcher's folk-rock meets pop vibes, as well as this versatile band's insightful lyrics.
Bendigo Fletcher: 10/28, 8pm – 10pm. | Tickets: $25 - $33.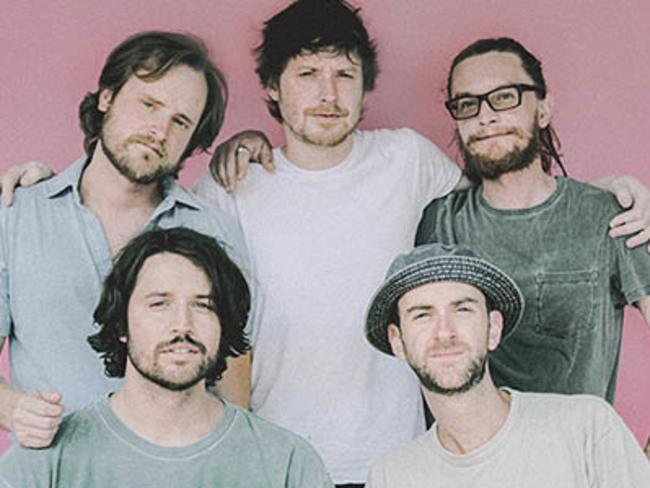 THE FLYING MONKEY MOVIE HOUSE & PERFORMANCE CENTER (Plymouth, NH)
The Flying Monkey Movie House & Performance Center is hosting a series of subtly spooky events over Halloween weekend. The festivities commence on Thursday, 10/27 with "Evil Woman – The Electric Light Orchestra Experience" (featuring 12 talented musicians breathing new life into 20 hit songs). From there, Friday night kicks it up a scary notch thanks to a Halloween Party with an IT Screening (which also includes a costume contest!).
The weekend is rounded out by a performance and storytelling session from inspiring medium Lauren Rainbow on Friday, 10/29.
Evil Woman – The Electric Light Orchestra Experience: 10/27, 7:30pm – 9pm. | Halloween Party with Screening of IT: 10/28, 9pm – 11pm. | Medium Lauren Rainbow: 7:30pm – 9:00pm.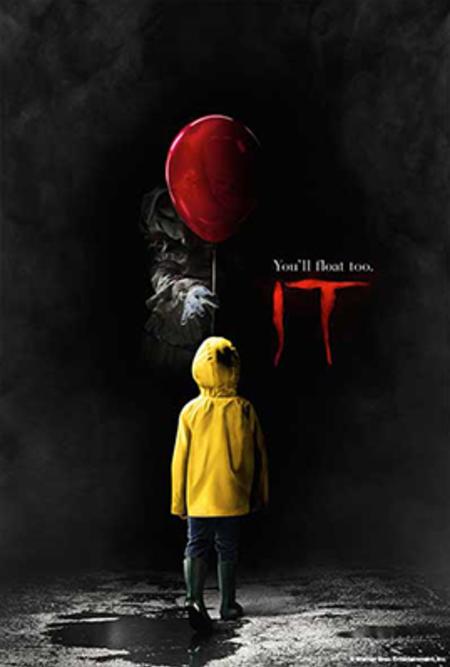 JACKSON AREA CHAMBER OF COMMERCE (Jackson, NH)
2022's Return of the Pumpkin People has its last hurrah this Halloween weekend! Pick up a map of participating businesses from the Jackson Area of Chamber of Commerce, then pack your fam in the car and try to spot all the silly and scary pumpkin people scattered across several towns. We'll give you extra props if everyone adventures in costume!
Return of the Pumpkin People: 10/1 – 10/31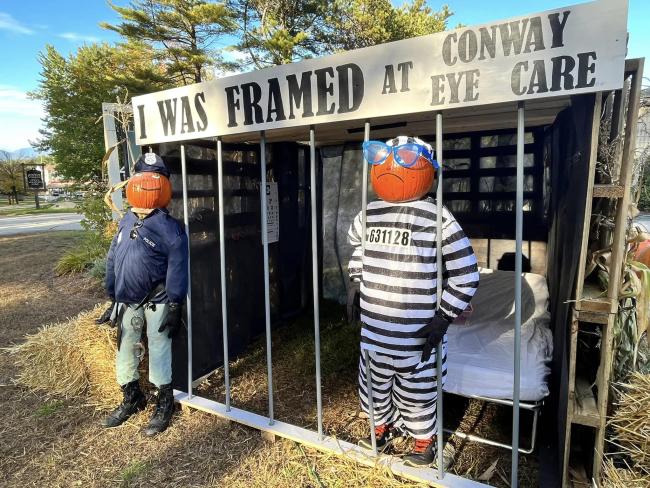 LITTLETON AREA CHAMBER OF COMMERCE (Littleton, NH)
Mark your calendars for Saturday, October 29th! One and all are invited to partake in Littleton, NH's Gathering of the Jack O'Lanterns, a pumpkin viewing spectacle perched on the banks of the Ammonoosuc River. Delight in the sights of carved pumpkins twinkling off the river, and as well as all the town-wide events (including early trick or treating, a pumpkin patch hangout, food trucks, a haunted walk, and more).
Full calendar of events, as well as parking map, available on the Littleton Area Chamber of Commerce's website.
Gathering of the Jack O'Lanterns: 10/29, 6pm – 9pm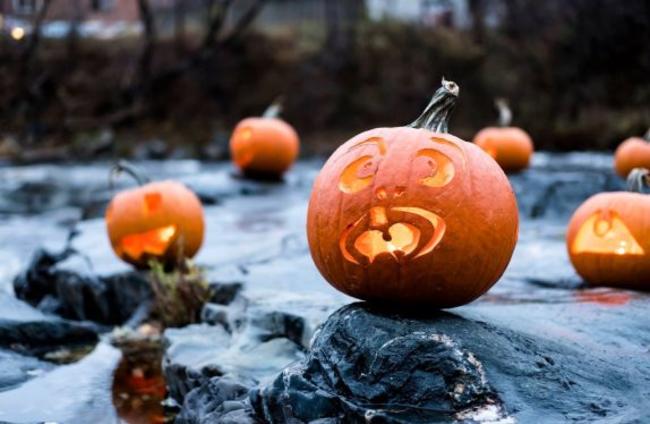 LIVING SHORES AQUARIUM (Glen, NH)
Halloween Day, what's on your agenda? We'd recommend heading to Halloween at Living Shores Aquarium in Glen, NH for $10 off admission if you come in costume! Kids 12 and under are invited to also take part in Living Shores' treasure hunt – find all six chests scattered around the aquarium and get your own treasure to take home. The gift shop is also offering 20% off storewide for Halloween only (with no costume required to take part in this special deal). 
Halloween at Living Shores Aquarium: 10/31, 10am – 5pm. | Admission: $14.99 (with costume); $24.99 (without costume).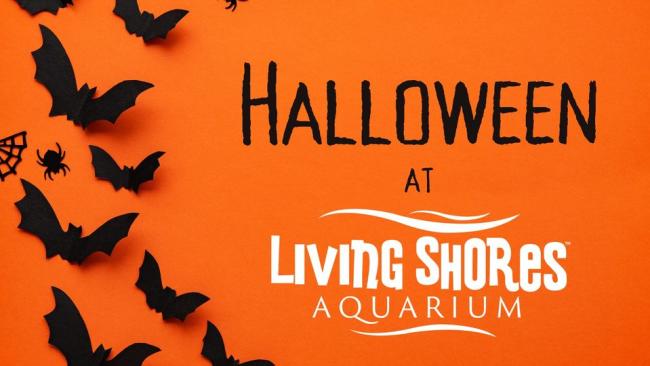 MOUNTAIN VIEW GRAND RESORT & SPA (Whitefield, NH)
Make your Halloween party an opulent affair, and head to the Mountain View Grand Resort & Spa in Whitefield, NH! Saturday, 10/29, the historic Mountain View plays host to a Halloween Costume Party; might we suggest dressing up as a glamorous White Mountains tourist from the early 1900's? Or maybe a moose?
The best dressed gets a prize, but there's plenty of fun to be found for all participants (including a Halloween-themed buffet, live band, and a photo booth).
Ages 18+ only. Reservations are required and can be made by calling 855-837-2100.
Halloween Costume Party: 10/29, 6pm – 10pm. | Price: $55 per adult. | Prices do not include taxes, gratuities, or applicable fees. | Alcoholic beverages not included.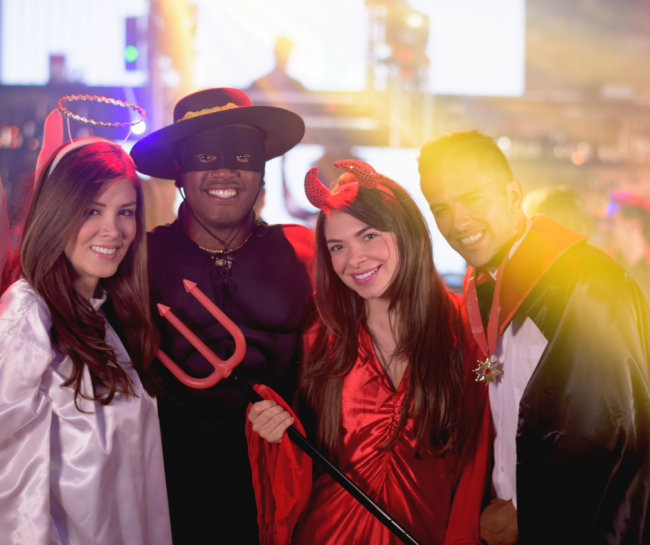 NORTH COUNTRY CENTER FOR THE ARTS AT JEAN'S PLAYHOUSE (Lincoln, NH)
Those ready for a scary good time should snag their tickets fast for the Ghost Light Haunted Tour at North Country Center for the Arts at Jean's Playhouse. This Lincoln, NH mainstay has been transformed into a haunted house walk-through experience combined with some terrifyingly good immersive theater. Allow 40 – 45 minutes to complete your tour and arrive early to make sure you can enjoy your spooky experience.
For a less scary time, book a spot for the "Daytime Light Fright" (available Sunday afternoons). This tour includes plenty of the theatre magic and creepy effects found during the Ghost Light Haunted Tours, but minus any jump scares, making it a great option for families or individuals looking to be frightened just a tiny bit.  
Ghost Light Haunted Tour: 10/22, 10/23. 10/28, 10/29, 10/30, 7pm – 11pm. | $25 per ticket ($20 per Daytime Light Fright Ticket).
SETTLERS GREEN (North Conway, NH)
Come one, come all to Settlers Green's family-friendly Boo Bash! Friday, 10/28, Settlers Green transforms into a Halloween-centric space, including a Boo Bash parade for costumed kiddos at 5pm (complete with a complimentary Boo Bag while supplies last), a free outdoor movie at 5:30pm that is just spooky enough for all ages, and other fun activities.
Boo Bash: 10/28, 5pm – 7:30pm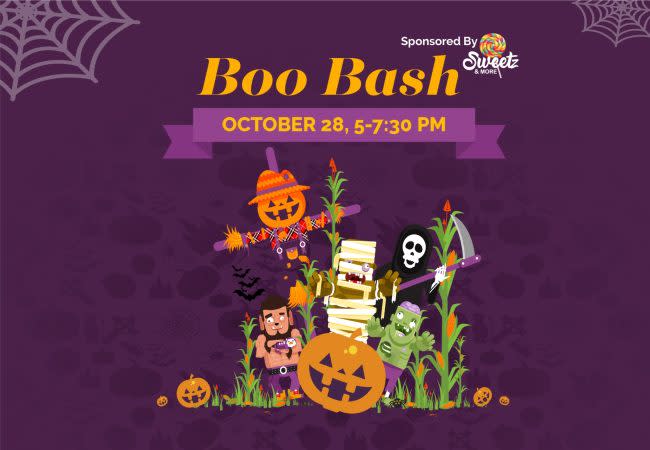 SQUAM LAKES NATURAL SCIENCE CENTER (Holderness, NH)
If a Naturally Wild Halloween sounds like your kind of spooky treat, add the Squam Lakes Natural Science Center to your must-visit list on Saturday the 29th. During this special daytime event, the Science Center's naturalists will be hosting multiple "Creatures of the Night" animal presentations at the amphitheater. Other fun activities include watching the NH wildlife enjoying fresh pumpkins in their enclosures, and the treat bags for all kiddos waiting to be snatched up at the end of your visit.
If you really want to live it up, we'd also recommend coming in costume!
Naturally Wild Halloween: 10/29, 9:30am – 3:30pm. | Trail admission: $22 for adults; $20 for seniors age 65+; $16 for youth ages 3 – 15; FREE for children 2 and under, as well as SLNSC members.

TANGER OUTLETS TILTON (Tilton, NH)
Here's a fun invitation for the family: trick or treating at the Tanger Outlets Tilton! This shopping mecca will be hosting trick or treating from store to store on Friday, 10/28 from 5:30pm – 7:30pm. Keep an eye out for the Halloween decal on participating stores and stop in at Shopper Services for a free gift if you're a Tanger Club Member!
Tanger Outlets Tilton Trick or Treat: 10/28, 5:30pm – 7:30pm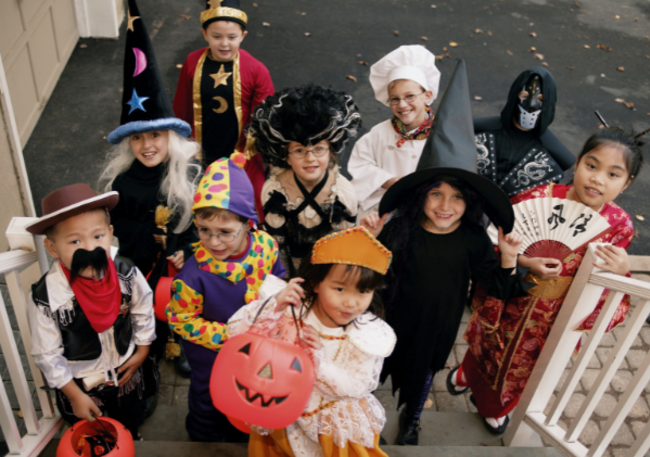 VINTAGE MARKET ON SQUAM LAKE (Holderness, NH)
Maybe spooky just isn't your thing. If that's the case, Holderness is your best destination this weekend! Vintage Market on Squam Lake returns to the Lakes Region for another weekend of rousing, on-of-a-kind shopping. From vintage furniture and fixtures to craft-filled booths, live music, local vendors, and food trucks, there's plenty to keep you as smiling as big as a jack o' lantern on the Vintage Market grounds.
Vintage Market on Squam Lake: 10/29 & 10/30, 9am – 4pm. | Admission for this weekend event is $5 a wristband (children are free). | Wristband is valid for both Saturday and Sunday.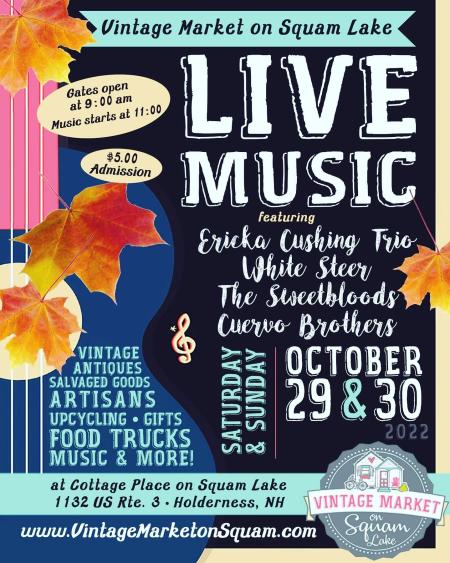 WATERVILLE VALLEY RECREATION DEPARTMENT (Waterville Valley, NH)
Whenever you're wondering what to do over a holiday weekend, think Waterville Valley Recreation Department and their amazing schedule of kid-friendly events.
Saturday, 10/29, take a scenic drive to Waterville Valley, NH for spooky fun for the whole family! Haunted Halloween Happenings, an adorable costume contest, is the big event this time around. The competition is separated by ages and includes categories for Ages 7 & Under, Ages 8 -14, and Ages 15+. There are also so many ways to win the contest, including "Most Original", "Cutest", "Funniest", "Best Duo", and more.
Haunted Halloween Happenings runs from 3pm to 6pm, and all participants will receive a treat bag at registration as well as a map of participating lodges for trick or treating.
For a full event schedule as well as all costume categories and more, visit the Waterville Valley Recreation Department website. Registration in advance required.
Haunted Halloween Happenings: 10/29, 3pm – 6pm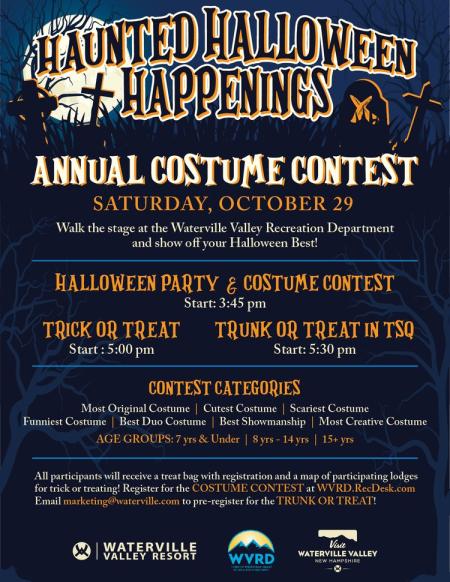 WOODSTOCK INN BREWERY (North Woodstock, NH)
Local beers and live entertainment are a weekly treat at the Woodstock Inn Brewery in North Woodstock, NH. Fridays & Saturdays feature live bands, while Sundays are devoted to open mic nights. If you're still in town come Monday, grab a few friends and settle in for some live music and some great food during the Brewery's Halloween Party! Diners in costume will receive 25% off their meals and have the chance to win a costume contest. If you'd like to stay the night, the Brewery is also offering 50% off a one night stay on Halloween night.
Live Band: 10/28 & 10/29, 8:30 -11:30pm. | Open Mic: 10/30, 8pm – 11:30pm. | Halloween Party: 10/31, 8pm – 11pm.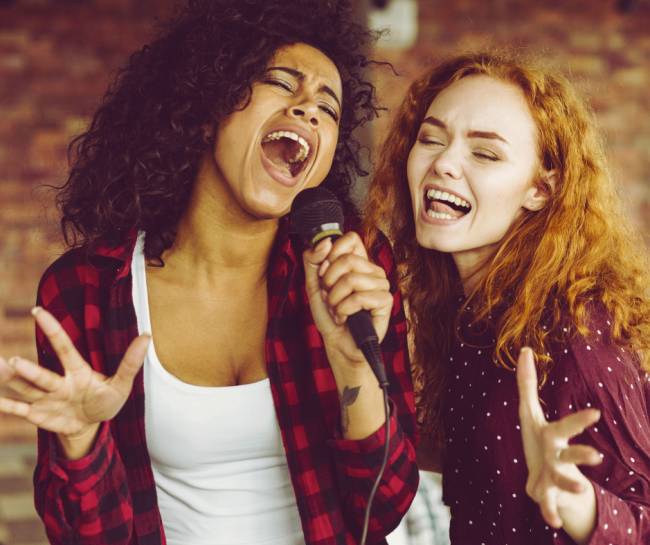 That's a wrap on the best Halloween events in the White Mountains; hopefully we'll see you out and about, exploring our truly spooktacular region!