It's almost Labor Day – hooray! This three-day weekend is one of our favorite ways to cap off a stellar summer. Scroll down for the top Labor Day lodging deals, dining specials, and local events in the White Mountains, NH.
LABOR DAY EVENTS IN THE WHITE MOUNTAINS, NH
There are so many things to do over Labor Day weekend. Shop a mile-long yard sale and celebrate a town with 250 years of history. Boogie to live music at sunset! Sip some local brews and attend a play or two. Here is our list of the best Labor Day activities.
BARNSTORMERS THEATRE (Tamworth, NH)
Live theater is always fun, but especially with the likes of "Lucky Stiff", the latest offering from the Barnstormers Theatre in Tamworth, NH. Enjoy the musical escapades of a British shoe salesman set to inherit millions save for one grim caveat.
Thursday, 9/1 – Sunday, 9/4, 7pm – 9pm. Tickets starting at $22.50.
BELIEVE IN BOOKS LITERACY FOUNDATION (Intervale, NH)
A Sunset Concert Series sounds like a splendid idea to cap off the summer! Head to the Believe in Books Literacy Foundation in Intervale, NH on Friday, 9/2 at 7:30pm to listen to the music of The Silks. You'll have your choice of a lawn ticket (BYO blanket or cushion) or a premium ticket (which includes the choice of an Adirondack chair), plus the sounds of "true grit rock & roll" to kick off your Labor Day Weekend celebrations.
Save your seat and book online! $20/Lawn Ticket: $20. Premium Ticket: $25. BIBLF member get $5 off any ticket (use code SCS22 at checkout). Doors open at 7pm.
FLYING MONKEY MOVIE HOUSE & PERFORMANCE CENTER (Plymouth, NH)
Forget the treble – are you all about that bass? If so, book your ticket for some live music at The Flying Monkey Movie House & Performance Center in Plymouth, NH! On Friday, 9/2 at 7:30pm, Victor Wooten: Bass Extremes takes to the stage. 5-time Grammy Award winner Victor Wooten has teemed up with the estimable Steve Bailey (pioneer of the six-string fretless bass) for this can't miss, bass-heavy event.
Ages 13+. Tickets starting at $39. Doors open at 6pm.
M & D PLAYHOUSE (North Conway, NH)
A musical about death and family might not sound like typical holiday weekend fare, but we love the idea of doing something totally different this Labor Day Weekend! Head to M & D Playhouse in North Conway, NH for "Fun Home", playing Thursday, 9/1 – Sunday, 9/4 at 7:30pm.
All seats $35.  
NORTH COUNTRY CENTER FOR THE ARTS AT JEAN'S PLAYHOUSE (Lincoln, NH)
If you'd rather watch a parody, Lincoln's North Country Center for the Arts at Jean's Playhouse has something that will fit the bill: "The 39 Steps", a hilarious theatrical take on the classic Alfred Hitchcock film. The show is scheduled Thursday, 9/1 – Saturday, 9/3 from 7 to 9pm; will we see you there?
Adults: $35. Junior: $30.
Another great option from Jean's Playhouse is their Labor Day Comedy Show on Sunday, 9/4 at 7:30pm. Laugh the end of the holiday weekend away with hilarious humorists Paul Nardizzi and Emily Ruskowski.
$25 a ticket. Rated PG-13.
LANCASTER FAIR (Lancaster, NH)
Nothing gets more classic NH than a country fair. Head north to Lancaster, NH for the Lancaster Fair, which has been brightening the northern White Mountains for over 150 amazing years. Our favorite fair activities include conquering all the rides on the midway, picking the cutest critter in attendance, and enjoying that special feel in the air as summer gives way to fall.
The Lancaster Fair runs 9/1 – 9/5. Free Parking. General admission (rides included): $20. Children under 36": free when accompanied by a paying adult. Additional admission prices available on the Lancaster Fair website.
SETTLERS GREEN (North Conway, NH)
Shopping might not be your thing. But what about some local brews? Swing into Settlers Green in North Conway, NH for the Tuckerman Pop-Up Beer Garden in partnership with Tuckerman Brewing Company. You can sample some amazing sips on Saturday, 9/3 and Sunday, 9/4.
Open 12pm – 4pm in The Green in the Courtyard (by Cheese Louise and Trails End Ice Cream). Dog friendly and family friendly.
Here's a unique date idea: dinner and a car show! On Monday, 9/5, MWV Old Car Club's Cruise Night will be at Settlers Green (in the parking lot right near Barley & Salt).  We'd recommend grabbing an early dinner at the restaurant, then ogling the antique cars, muscle cars and hot rods.
Fair-weather event. 5:30pm – 7:30pm.
STORY LAND (Glen, NH)
Ready for the most adorable event ever? In partnership with the Believe in Books Literacy Foundation, Story Land in Glen, NH is hosting a  Kid's Fun Run on Monday, 9/5! Kiddos up to age 13 will have their chance to jog through Story Land's magical grounds (with different race lengths available to each age group). Highlights include a Tot Trot, free Story Land t-shirts, race medals handed out at the finish line, and free admission to Story Land as part of your registration fee!
Event runs 9am – 5pm. Registration is $10/child. Race lengths: Ages 9 -13 (1k), ages 7 & 8 (1/2 k), ages 5&6 (1/2 k), Ages 4 & Under (Tot Trot/short loop).
TWIN MOUNTAIN CHAMBER OF COMMERCE (Twin Mountain, NH)
Celebrate 250 years of Carroll, NH! This small town at the crossroads of the White Mountains will be hosting one big blowout bash over Saturday, 9/3 and Sunday 9/4. Saturday is all about the Mile Long Yard Sale and craft market at the Town Center and Information Booth, plus a pancake breakfast at the Twin Mountain Fire Station. Come Sunday, it's live music and a mouthwatering food truck set up.
Visit the town of Twin Mountain website for event times and more info.
WATERVILLE VALLEY RECREATION DEPARTMENT (Waterville Valley, NH)
The Waterville Valley Recreation Department always goes all out for holiday weekends, and their Labor Day weekend events are no exception. This time, the big event is the 3rd Annual Family Chalk Art Festival on Saturday, 9/3, with art from artists of all ability levels decorating the parking of the Recreation Department. Next up? An outdoor movie at 7:30pm on Sunday, 9/4, then fireworks at 9:30pm.

Call 603-236-4695 or visit wvrd.recdesk.com for more event information.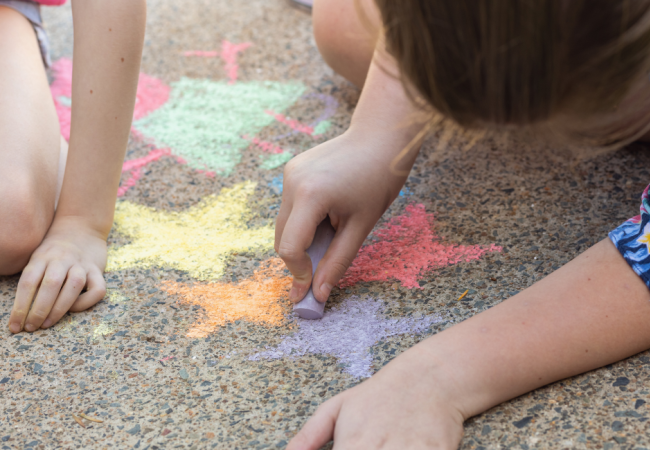 WEATHERVANE THEATRE (Whitefield, NH)
What's the latest at Whitefield, NH's Weathervane Theatre? "Blood Brothers", one of the UK's most popular and enduring musicals of all time! The story follows fraternal twins separated at birth, as well as the ups and downs of family circumstance.  Come see why this show was such a smash and book your tickets online today.
"Blood Brothers" runs Friday, 9/2 and Saturday, 9/3. Show starts at 7:30pm. Last row tickets: $29. Tickets: $43. Free Admission for Coos County high school students with valid school ID. Contact the Weathervane's Box Office for additional information.  
"Jesus Christ Superstar". Need we say more? We are so excited for Andrew Llyod Webber and Tim Rice's iconic musical to take the stage at the Weathervane Theatre.
Sunday, 9/4 at 7:00 – 9:00pm.
WESTERN WHITE MOUNTAINS CHAMBER OF COMMERCE (North Woodstock, NH)
Rubber Ducky Regatta, you're the one! The one we'll be checking out this Labor Day Weekend, that is. On Monday, 9/5 from 11:00am to 1:00pm, Western White Mountains Chamber of Commerce will be at Cascade Park in North Woodstock, NH, ready to release over 1,500 ducks into the Pemigewasset River. The first and last rubber duckies win a prize and the money raised goes towards the Chamber's scholarship fund, so it really is a win-win for all!
WOODSTOCK INN BREWERY (Woodstock, NH)
Live music lovers, we've got a tip for you: head to the Woodstock Inn Brewery in Woodstock, NH on Friday and Saturday nights. Your sweet spot is 8:30pm to 11:30pm, when the local bands are strumming and singing and there's plenty of snacks and sips to be found.  
If you'd rather opt for an open mic night, stick with Sundays at the Woodstock Inn Brewery to show off our own musical prowess! Or, how about Music Bingo on Monday, 9/5? Meet at the Main Bar and get competitive. The winner gets $200!
Open Mic runs from 8:00pm to 11:30pm. Music Bingo runs 7:00pm to 9:00pm.
LABOR DAY DEALS IN THE WHITE MOUNTAINS NH
Stay somewhere new, take a scenic drive, or shop for back to school! These are the top Labor Day weekend deals in the White Mountains, NH.
ACTION TOUR GUIDE
The Kancamagus Highway (aka the Kanc) is one of the most popular scenic routes in the White Mountains, but many drivers miss important stops along the way. Become a road trip pro and take Action Tour Guide with you during your next drive across the Kanc! Use code KANC15 for a 15% discount off Action Tour Guide's GPS-enabled, app-based audio tour for the area.
BRETTON WOODS VACATIONS (Bretton Woods, NH)
The town of Carroll, which encompasses Twin Mountain and Bretton Woods, will be celebrating its 250th anniversary with a Mile Long Yard Sale, craft fair, and more. Don't miss out on the fun! Book a stay with Bretton Woods Vacations and get 10% off your lodging with coupon code CARROLL250 at checkout.
Valid through 9/30 for stay of 3 nights or longer.
SETTLERS GREEN (North Conway, NH)
We love a good sidewalk sale! Especially when it runs across a full holiday weekend. For Labor Day outlet deals, look no further than Settlers Green in North Conway, NH. In addition to stupendous sales and plenty of lunch options, shoppers can make a day of it and stop by the pop-up Beer Garden on Saturday, 9/3 and Sunday, 9/4.
Sale runs 9/2 – 9/5 at participating stores.
If you feel like traveling a bit off the beaten path, another great option is planning your own adventure. May we suggest these Labor Day picnic ideas? How about a short hike, a camping trip, or having a blast at one or our famous Attractions?
Any way you choose to play, we hope you'll have a happy holiday!