On a recent bluebird day, the marketing crew at White Mountain Attractions decided to celebrate the winter season aboard the Mount Washington Cog Railway and take a trip to Waumbek Station. Yes, that's right – it runs in the winter! With snow pants on, cameras ready, and nary a cloud in the sky, we had high expectations for our jaunt on the world's first cog railway (affectionately dubbed the "railway to the moon").
The trip departs from Marshfield Base Station which is just off of Route 302, just past or just before the Omni Mount Washington Resort (depending on your direction of travel). From there, it's approximately 10 scenic minutes to the base station. During your drive, take note of the tallest visible peak – that's Mount Washington, and you will be ascending it shortly!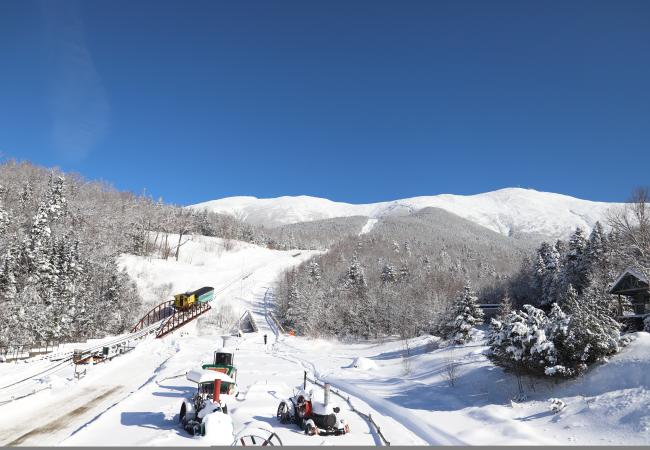 No matter the season, we highly recommend booking your tickets for the Cog Railway in advance. This popular experience sells out quickly, especially on weekends and holidays. To either pick up or purchase your tickets, head to the lower level of the base station.
Tickets in hand, it's time to head out to the platform and board your brightly hued ride for the day. We adore the meticulously maintained interiors of each train. Expect polished wood, ingenious benches built to accommodate the average 25% grade going both up and down, and plenty of windows for picture taking.
After a cheerful whistle to mark the start of our journey, the Cog begins its ascent of Mount Washington. During the winter months, the train runs to Waumbek Station (4,000' elevation), a rustic stop picturesquely perched on one of the mountain's snowy alpine meadows. Along the way, a Cog Railway brakeman will narrate your fifteen minute trip complete with historical facts, animal spotting, and tales of the infamous "Devil's Shingle".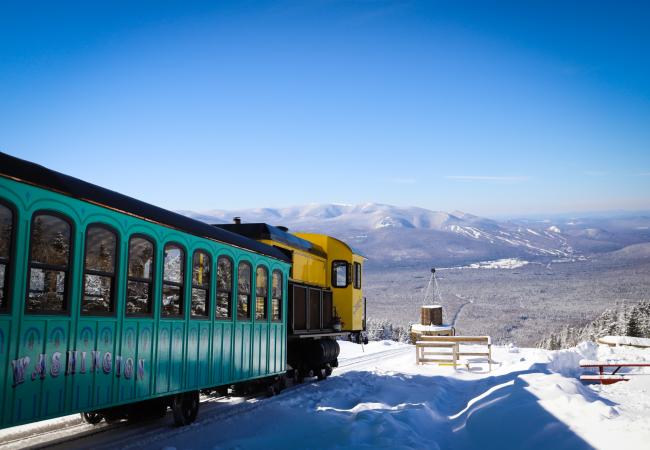 Once the train stops at Waumbek Station, visitors can spend the next 25 minutes cooking s'mores over a mountainside firepit, drink hot cocoa or coffee while admiring the view, or snuggle up in a warming hut after rolling around in the pristine snow. It's Mount Washington like you've never experienced before, and quite frankly, we're in love.
If you're lucky enough during your time at Waumbek, you just might meet some hardy snowshoers or skiiers headed up the mountain. We took a few minutes to chat with a family group before getting on the train for the ride back down, and once aboard, marveled at their endurance as well as our wind-whipped cheeks, rosy with winter's cold.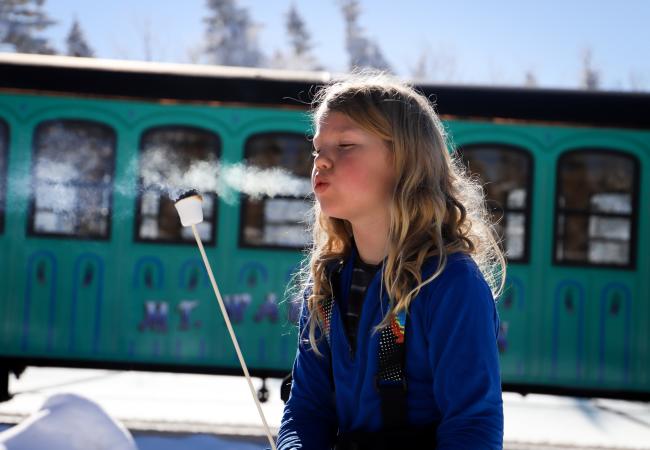 Once we arrived back at Marshfield Base Station, we took a few minutes to explore the Cog's small yet informative museum. Here, you can learn a bit more about the history of this mountainous marvel and also have the chance to sit atop a Devil's Shingle of your own. Perched atop this tiny contraption, we were reminded once again that a little bit of daring and a whole lot of imagination can lead to some truly marvelous adventures.
Ready to plan your own adventure? Take a look at some of our other winter trip ideas. We think a trip to the Cog, plus a day skiing at Bretton Woods, dining at the Omni Mount Washington Resort, or grabbing a beer at Rek'-lkis Brewing Co. in Bethlehem, would make for one heck of an outing!
(Photos by Colleen Eliason)
Follow along on this adventure on Instagram! Click the video below.