Memorial Day is getting closer. Have you started planning your weekend escape? We'd love to have you for a visit! Read on for all of the best events, entertainment, lodging, and more in the White Mountains for Memorial Day Weekend 2022.
LOCAL EVENTS
HOBO RAILROAD (Lincoln, NH)
Veterans Ride Free Memorial Day Weekend
If you've never been to the Hobo Railroad, now is your chance. In honor of the holiday, the Hobo is running one heck of a deal for their Memorial Day weekend departures: all veterans ride for free! Travel alongside the scenic Pemigewasset River abord an old-fashioned train, a pack a patriotic picnic lunch if you're feeling extra inspired.
Reserve your tickets online for this special event. Use the comments box at checkout to note that the veteran(s) in your party will be riding for free.
JACKSON AREA CHAMBER OF COMMERCE (Jackson, NH)
Wildquack Duck Race & Music Festival
Rubber ducky, you're the one that brings the fun! The Jackson Area Chamber of Commerce is hosting their 32nd Annual Wildquack Duck Race & Music Festival, and we couldn't be more thrilled. There will be live entertainment, dancing, fair food, a parade, silent auction, local vendors, kid-friendly games and fun, and of course, the famous duck race.
The day's events start at 8 AM and the first Duck Race goes off at 1:45 PM, so plan for an all-day, fun-filled affair!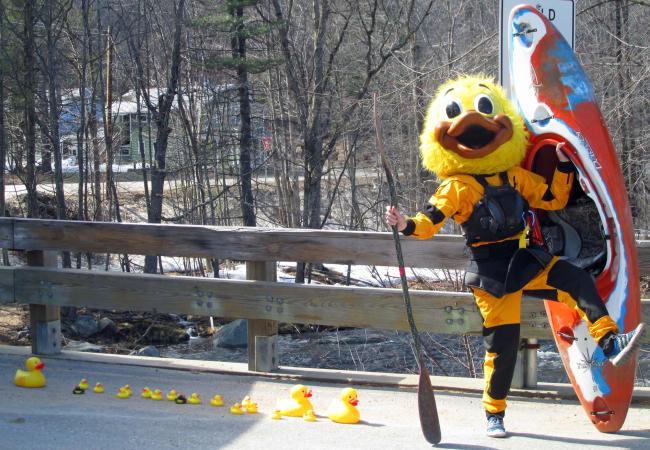 SETTLERS GREEN (North Conway, NH)
Pups & Pints
When it comes to events, we love a little alliteration. Add in some doggos, and the whole affair becomes even better. Settlers Green in North Conway, NH is bring back their Pups & Pints series for the summer, and Friday, 5/27 is the first event of the season! Shoppers are invited to bring their dogs to Barley & Salt's patio for some outdoor dining complete with live music, a free dog treat from Percy Paws, and a wooden token to redeem for a free pint of ice cream from Trails End Ice Cream.
This event runs 5/27, 4 – 6pm and is weather dependent. For more Pups & Pints dates, visit the Settlers Green website.
Tuckerman Pop-Up Beer Garden
The Green in the Courtyard is the heart of Settlers Green, meaning there's no better place for Tuckerman Brewing Co. to set up shop for their pop-up beer garden! This dog-friendly, family-friendly event runs 5/28 – 5/29, 12pm – 4pm, and will feature outside seating and music, as well as nearby amenities for excellent snacking (like Cheese Louise and Trails End Ice Cream).
Tuckerman's Pop-Up Beer Garden will be making an appearance throughout the summer months. Visit Settlers Green website for more information.
MEMORIAL DAY PARADE (Carroll, NH)
Help kick off the Town of Carroll's 250th anniversary, by taking part in their Memorial Day Parade. Hosted by the Twin Mountain Chamber of Commerce, the parade will commemorate and celebrate our fallen service members. Festivities begin at 11am with a memorial dedication at the Carroll Memorial Bandstand, followed by the parade and a BBQ sponsored by the Fire Auxiliry. 
EXPERIENCE SQUAM BOATING EXCURSIONS (Holderness, NH)
Experience Squam Boat Tour
Come Memorial Day weekend, nothing makes us happier than hopping aboard an Experience Squam boat to tour the lake! This year, visitors can expect to spot a nesting pair of bald eagles and plenty of loons, as well as famous locations from the film On Golden Pond. Special guest CJ Willingham, who served as the assistant for Katherine Hepburn on set, will also join tours for this special weekend.
Visit the Experience Squam Boating Excursions website to book your cruise – right now, this adventure is available by reservation only.
TANGER OUTLETS (Tilton, NH)
Memorial Day Block Party & Touch-A-Truck Event
Head to Tanger Outlets in Tilton, NH for a Memorial Day Block Party & Touch-A-Truck event co-hosted by the NH State Police! The festivities start on Friday, 5/27 at 11am with a Petting Zoo, food trucks, games and giveaways, and of course, the requisite, epic Memorial Day weekend sales at stores throughout the outlet center.
Other fun experiences include getting a photo with Tanger's mascot, TangeRoo (12pm – 2pm) and the change to join the TangerClub (including a free gift and lifetime shopping perks).
WATERVILLE VALLEY RECREATION DEPARTMENT (Waterville Valley, NH)
Casting For Kirby
The fish. The myth. The local legend. Come see if you can catch Kirby from the shores of Waterville Valley's Corcoran Pond! This fishing derby is open to anglers 15 years and younger, and includes face painting and prizes, as well as bragging rights if Kirby is caught. Casting for Kirby runs from 8am to 10am on Saturday, 5/28.
$6 per angler. Pre-registration is required. Visit the Waterville Valley Recreation Department website for more information.

WATERVILLE VALLEY TOWN SQUARE (Waterville Valley, NH)
32nd Annual Chowderfest
32 years of chowder – wow! The local restaurants in Waterville Valley's Town Square are back at it again, whipping up some amazing chowders for visitors to vote on during Chowderfest.  You'll have from 12pm to 3pm on Sunday, May 29th to vote the "best of", and hours of live music in the town gazebo to keep you entertained while you chow down.
Located throughout Town Square in Waterville Valley. $7.50 admission for adults/$5 admission for children 12 and under. One voting ballot per admission.
WESTERN WHITE MOUNTAINS CHAMBER OF COMMERCE (North Woodstock, NH)
White Mountain Bicycle Week
Discover the spirit of "Bike for the Better" during the 2nd annual White Mountain Bicycle Week! There are tons of different events going on Saturday, 5/28 through Saturday, 6/4, including meet up rides, a town-wide yard sale, bike-a-thons just for the kids, and downhill mountain biking at Loon Mountain Resort. To see the full list of events, visit the Western White Mountains Chamber of Commerce website.
White Mountain Bicycle Week is hosted by the communities of Lincoln, Woodstock, and Franconia Notch and Western White Mountains Chamber of Commerce.
LIVE ENTERTAINMENT
HART'S TURKEY FARM RESTAURANT (Meredith, NH)
Feat. The Sweetbloods
Hart's Turkey Farm Restaurant in Meredith, NH is sweetening the start of the summer season with live music from The Sweetbloods on Friday, 5/27, from 5-7pm in The Copper Kettle Tavern. Hart's Deck will also be open throughout Memorial Day weekend, so plan for plenty of sunshine soaking while sampling Hart's famous turkey dishes!
THE FLYING MONKEY MOVIE HOUSE & PERFORMANCE CENTER (Plymouth, NH)
Feat. The British Invasion Years
The Flying Monkey Movie House & Performance Center is hosting a British bonanza from 7:30pm – 9pm on Saturday, 5/28. The British Invasion Years is a tribute band dedicated to the 60s, meaning songs from The Beatles, The Rolling Stones, Simon & Garfunkel, The Beach Boys, and more are all on the setlist. We can't wait to get our groovy on, right in the heart of charming Plymouth, NH.
Tickets start at $29. Head to The Flying Monkey website to book yours online ahead of time.
NORTH COUNTRY CENTER FOR THE ARTS AT JEAN'S PLAYHOUSE (Lincoln, NH)
Feat. James Montgomery & Deric Dyer and Memorial Day Comedy Show
This Memorial Day weekend, the North Country Center for the Arts at Jean's Playhouse is hosting two performances. On Saturday, 5/28 at 7pm, it's all about the blues with the ultra-talented James Montgomery and special guest Deric Dyer (who played saxophone for Tina Turner). On Sunday the 29th, it's a Memorial Day Comedy Show at 7:30pm featuring two different comics and plenty of festive laughs.
WOODSTOCK INN BREWERY (Woodstock, NH)
Do you have a crew of live music lovers and local draft drinkers? We've got the perfect place for you to visit on Memorial Day weekend: the Woodstock Inn Brewery in Woodstock, NH! Grab a pint of Pig's Ear (our favorite pour of the moment) and soak in the sounds of free live music, Friday and Saturday night from 8:30 to 11:30pm.
LODGING DEALS
BRETTON WOODS VACATIONS (Bretton Woods, NH)
If you want to come up and play for all of Memorial Day weekend, you'll need a place to crash. Bretton Woods Vacations has everything from cozy cabins to spacious estates available to rent, plus a 10% off discount code for travelers checking in 5/24 through 5/30.
To access your discount, use coupon code MEM22 at checkout on the Bretton Woods Vacations website.
SHOPPING SPECIALS
TANGER OUTLETS (Tilton, NH)
Memorial Day Weekend Sale
Let the shopping commence! Friday, 5/27 through Monday, 5/30, Tanger Outlets in Tilton, NH is home to all kinds of deals from your favorite brands. Shoppers should download the Tanger Mobile App for additional great offers to round out their holiday haul.
Open 9am – 5pm throughout the holiday weekend.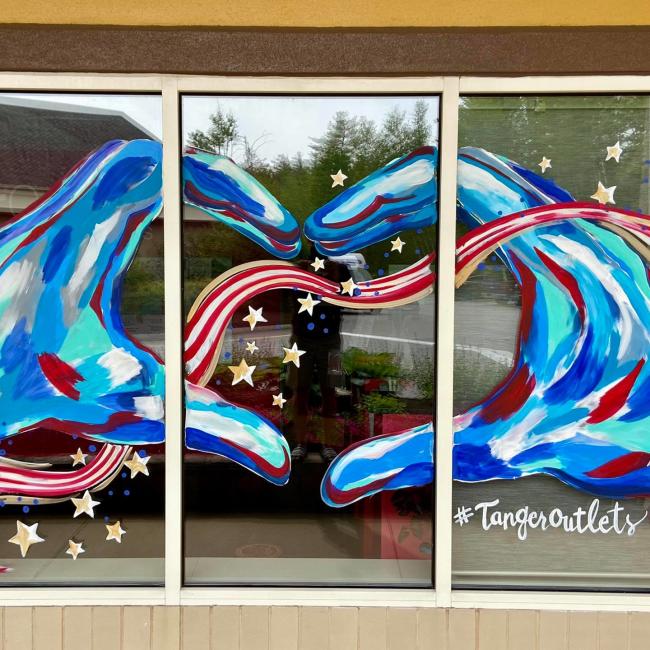 SETTLER'S GREEN (North Conway, NH)
Memorial Day Sidewalk Sale
Have you holiday plans brought you to the eastern side of the White Mountains? Squeeze in some time for shopping at Settlers Green! This outlet mecca will have Memorial Day sales going on every day throughout the weekend, 9am to 5pm.
If you're feeling extra patriotic, visit Customer Service (Suite C13) for a complementary American Flag (available Friday, 5/27 and Monday, 5/30).
OTHER NOTEWORTHY NEWS
SEVEN BIRCHES WINERY (Lincoln, NH)
Wine slushies on a patio? We're in! Seven Birches Winery is opening all of their outdoor spaces for the summer season starting this Memorial Day weekend. Care to join?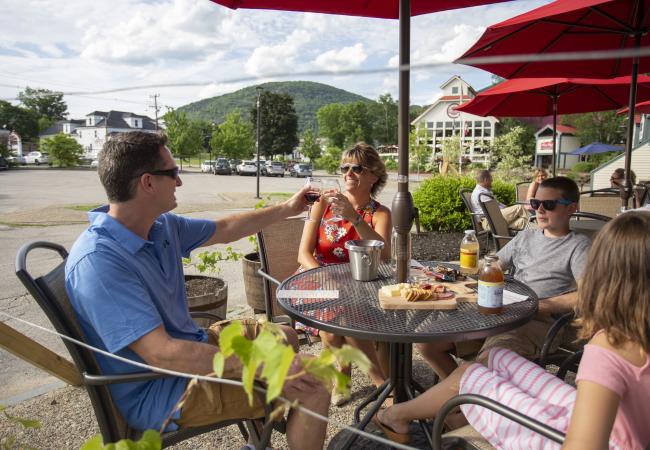 Now that you have a few ideas for Memorial Day weekend, it might be a smart idea to peruse the rest of our site for trip ideas and also review the opening dates for all our amazing major Attractions!