Maybe you love biking. Chances are if you are exploring our website, you also love the mountains! Combine the two, and you have one of the best outdoor activities in the White Mountains of New Hampshire – mountain biking. But where and how to begin?
Recently, two of our White Mountains Attractions staff members set out on a day trip across the region to see what all the mountain biking fuss was about.  
GREAT GLEN TRAILS OUTDOOR CENTER (Gorham, NH)
As amateur mountain bikers, we thought it smart to start our journey at Gorham, NH's Great Glen Trails Outdoor Center. This outfitter is famous for its meticulously groomed carriage roads, as well as its fun singletrack sections.  Oh, and one other thing – being right across the street from the imposing, gorgeous slopes of Mount Washington and the northern Presidential Range.
Head to the lower level of Great Glen Trails to start your biking journey. The gear shop is beautifully outfitted if you're looking for outdoor apparel, and so much so that we spent a few minutes surreptitiously shopping before checking in to claim our rentals.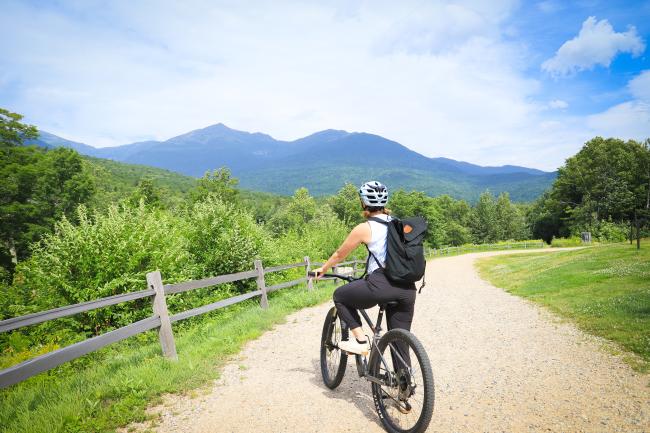 We let the staff know that it was our first time visiting Great Glen, which meant extra time explaining the gear shifters on our front suspension bikes, trail regulations (including helmets, always!), and the trail map itself. After some final adjustments to our seat posts, we set out on the trail. A tunnel crossing beneath Route 16, plus a path behind The Glen House hotel bedecked in wildflowers, punctuated the first few minutes of our ride. Map in hand, we navigated several numbered trail intersections before choosing a generous loop that would take us across the lower stretches of Great Glen's 28-mile network of paths.
 While we had intended on some serious riding, the stellar views and peaceful wood-shaded sections had us stopping to snap pictures and exclaim in wonder every couple hundred feet. All sorts of birds and butterflies crossed our paths, and we even found two Adirondack chairs set beside the Peabody River. Here though, it's best not to dawdle if you only booked a 2-hour rental. There's just so very much to see! (In the future, we plan on securing a 4-hour rental or bringing our own bikes and buying a trail pass to allow for extra time for picnicking and visiting all the beginner and intermediate trails.)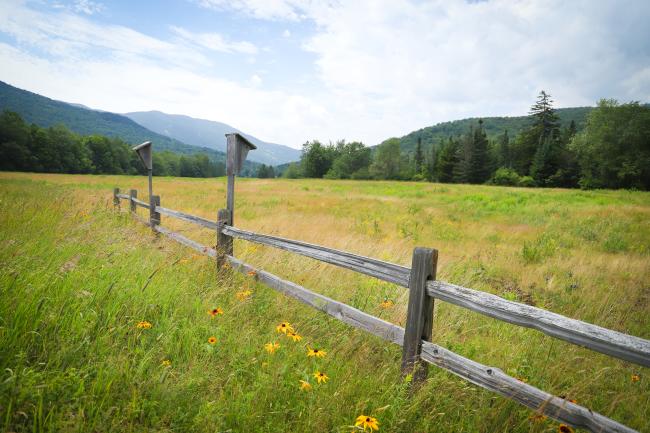 During the last hour of our tour, we searched for the small signs scattered along the trail featuring local wildlife. The back of Great Glen's trail map also serves as a scavenger hunt of sorts, with each sign including a hole punch to mark the corresponding critter on your map. If you find all the animals on the map, you can pick up a special badge at the end of your ride. This challenge is a great way to keep kids engaged throughout the ride, and also delighted our WMAA crew until our phone alerts let us know it was time to head back to Great Glen Trails.
After we wrapped up our biking session, we seriously considered topping off the day with an excursion to the top of Mount Washington Auto Road aboard a guided Stage Coach tour. Cranmore, however, was calling!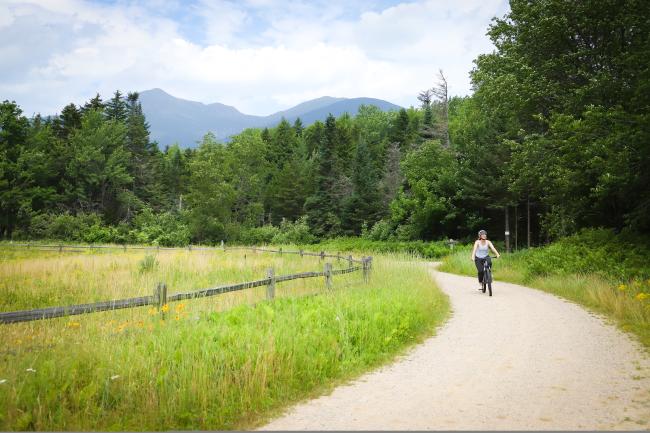 CRANMORE MOUNTAIN RESORT (North Conway, NH)
Those feeling a bit more daring should make their way to Cranmore Mountain Resort for some lift-serviced downhill mountain biking. We chose this North Conway, NH spot for part two of our journey. Besides a little bit of rainy weather, this ski hill boasting 11 trails and just over 6 miles of terrain did not disappoint.
When you first arrive at the base of Cranmore Mountain, head to the rental shop (located in the white dome building to the left of the main ticket office if you're looking at the mountain). Cranmore's lineup of cushy, full suspension bikes, full-face helmet and pad rentals, and tricked-out gear shop had us hankering for a full mountain biking kit; this time around though, we focused on just the bikes.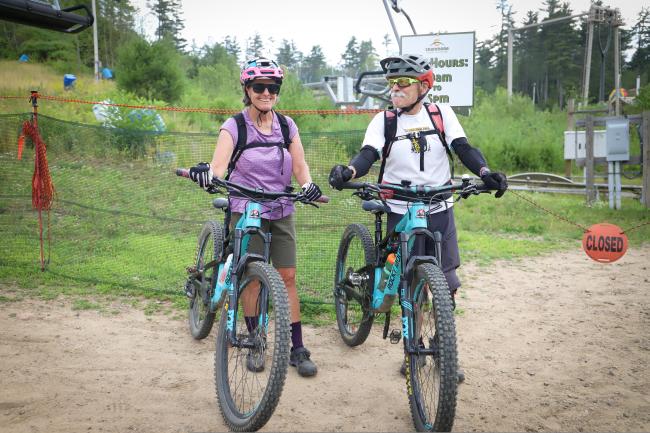 After confirming our reservation at the front counter, lacing up our closed-toe shoes, and donning our helmets, we headed outside to meet with one of Cranmore's gear experts. Using the height and weight statistics we provided during our online booking, we were quickly outfitted with a full suspension bike to suit our frames. We snapped a quick picture of the large trail map located just next to this check-in area, asked a few questions, and then we were off!
Once you've pedaled over to the chairlift area, take a few minutes to familiarize yourself with placing your bike on the practice chairlift before getting in line. At Cranmore, riders load their own bikes at the bottom, while a staff member takes them off at the top. Fortunately, this process is a breeze. A metal chute helps you guide the bike up onto the chair minus any heaving.
Just as we stepped into line for our ride up the mountain, a thunderous clap from the heavens heralded a temporary lift closure. With our mountain biking aspirations on hold, we instead focused on conversing with bikers just completing their runs down Cranmore.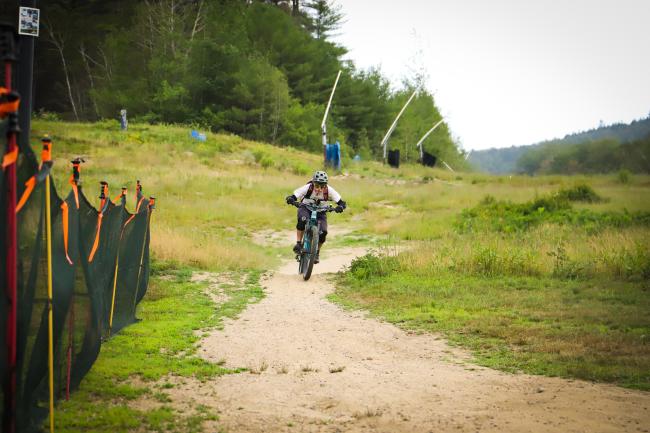 Many wore giddy smiles and sped down the last stretch of trail with a little bunny hop and flourish. Some were repeat visitors, locals with a passion for plying their hometown slope; others were fresh into town, ready to experience one of the best mountain biking spots in Mount Washington Valley. All were eager to return and add more downhill miles to their repertoire, regardless of the rain.
While our schedule dictated an early departure, we feel very much the same! Cranmore's network of beautiful beginner-friendly trails, as well as the option to book a bike lesson with a staff member, will keep us dreaming of a return trip for quite some time. For now, we'll content ourselves by watching Cranmore's sublime point-of-view videos on the "Trail Report" tab on their website.
Other Adventure Centers in the White Mountains
While we only made it to two outdoor centers during our recent excursion, there are many places to rent a mountain bike in the White Mountains, NH. Keep reading for another one of our favorites, as well as a link to some other locations.
LOON MOUNTAIN RESORT (Lincoln, NH)
Loon Mountain Resort in Lincoln, NH is next on our mountain biking list. This resort has a truly epic trail system, including smooth beginner-friendly paths with gently banked turns that will get you ready to tackle intermediate routes in no time. Some of our favorite things at Loon include the brand new Kanc8 lift (which can get multiple riders to the top of the mountain in mere minutes) and the amazing assortment of bikes to rent (including some drool-worthy premium downhill models).
Loon also offers all-day tickets for lift access, packages complete with a rental, lesson, and lift access, and special extended hours on most Friday nights throughout the summer season.
For a full list of bike outfitters in the region, as well as public and private mountain biking trail systems, head on over to Bike the Whites.
Photo Credit (Excluding Loon Mountain Resort Photo): Colleen Eliason
Come along for the ride! Click the video below.