No matter which region of the White Mountains you travel this fall, you will be surrounded by incredible foliage. However, sometimes it's best to spend a few extra minutes taking the leisurely route that is off the beaten path. You may discover a town you've never heard of, or a road you've never driven. Grab a map, and your camera, and check out these scenic routes on your hunt for fall foliage.
Northern Region
Starting in Twin Mountain, head north on Route 3 to Whitefield. Stop to take pictures at the historic Mountain View Grand Resort and Spa and if you're hungry, grab a bite to eat at their Harvest Tavern restaurant. Continue north to Lancaster , and if you're traveling during the weekend, stop at Weeks State Park to tour the historic estate or to climb the old stone fire tower. Once in Lancaster, don't forget to stop at Fuller's Sugarhouse to stock up on all of your favorite maple products. As you begin to head south on Route 135, get your camera ready for the Mt. Orne Covered Bridge that spans the Connecticut River and connects Lancaster to the state of Vermont. You will head through the town of Dalton, and on the way to Littleton, consider a stop at Moore Reservoir which is known for boating, fishing, and foliage watching. Park the car when you get to Littleton and take a walk along the town's historic Main Street and peruse the many shops and restaurants. There are great photo opps down by the Riverwalk Covered Bridge, at the Pollyanna statue at the Littleton Public Library, or the umbrella covered Pollyanna Gateway. Getting on to Route 302 in Littleton will bring you to the town of Bethlehem and to the Rocks. Take a walk through the 1400-acre property, enjoy the formal gardens, and marvel at the stunning foliage and mountain views.
Northwest Region
Your route begins in North Woodstock up Route 3 through Franconia Notch State Park. Stop at one of the many picturesque points of interest in Franconia Notch, such as the Flume Gorge , The Cannon Mountain Aerial Tramway , the Old Man of the Mountain Memorial Park , and the New England Ski Museum. Route 3 will converge with 93 north until you reach Franconia. Soak in the views from the porch or walk the trails at the Frost Place, poet Robert Frost's former home. Heading out onto Route 117 will lead you to the idyllic New England town of Sugar Hill. While there, enjoy views of Cannon Mountain and Mt. Lafayette (the Franconia Range). Take a break from the road and grab a late breakfast or early lunch at Polly's Pancake Parlor . Take Route 302 south to Lisbon and make sure you have your camera ready for stunning mountain views and beautiful foliage. Continuing south will bring you to the town of Bath where you can see the foliage surrounding the Bath Covered Bridge and the Swiftwater Covered Bridge. Head east on Route 112 which will bring you into Kinsman Notch where you can get some excellent fall foliage shots from Beaver Pond and Lost River Gorge .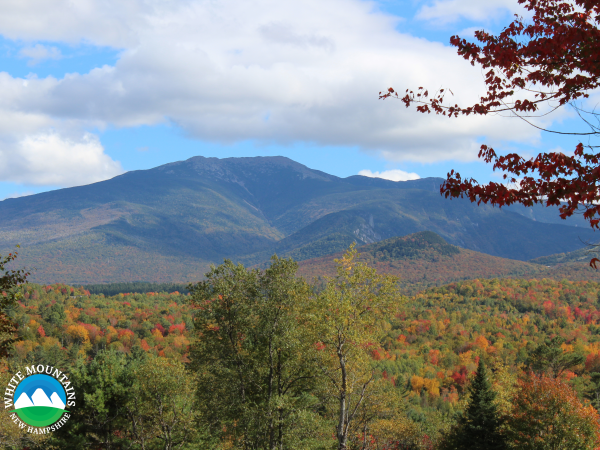 Western Region
Route 25 west from Rumney to Wentworth and Warren will offer you scenic foliage views of Carr Mountain and Mount Cube. This winding road will lead you through beautiful New Hampshire countryside, farms, and lovely foliage. Why not take a hike up Stinson Mountain for an even better view of the foliage? Stop to take pictures at the curious tourist attractions, the Redstone Rocket in Warren. Take Route 25C from Warren to Piermont and stop to take photos at Lake Tarleton and Lake Armington. From there, take Route 10 south to historic Orford where you will find the picturesque, colonial "Ridge Houses" on the hill on Main Street. Continue your scenic route back to Wentworth on Route 25A.
Eastern Region
Taking Route 113 south from Conway , your first stop will be the town of Madison which brings you by the iconic Madison Boulder, a 5,000 ton glacial erratic that is 23 feet high and 37 feet wide! Continuing on Route 113 you will pass Silver Lake which affords you beautiful foliage views. Next you will come to Chocorua where you can pull over at Lake Chocorua which has an incredible view of Mount Chocorua, which is one of the most photographed mountains in the world. The next town you will come to is Tamworth, which is home to the historic Remick Country Doctor Museum and Farm. Learn about 19th century farming in New Hampshire, visit the farm animals, and walk their trails. Connect with Route 25 east to West Ossipee and visit the Whittier Covered Bridge which spans the Bearcamp River.
Northeastern Region
Starting in Jackson, head north on Route 16 and travel through beautiful Pinkham Notch.  Stop in at the AMC's Joe Dodge Lodge to get information about local hiking trails, take in the foliage from Pinkham Notch, or grab something for your scenic drive in their gift shop. Continuing up Route 16, plan on taking a quick 1-mile walk in the woods to visit Thompson Falls for an amazing photo opp. Bring a picnic lunch while you're at it!  A drive along Route 16 will keep you in awe, with views of Wildcat Mountain, Mount Washington, Mount Madison and Mount Adams. Gorham is the next town you will come to as you arrive at the intersection of Route 2. There will be great foliage views of the White Mountains and the Androscoggin River as you drive through town. As you head east on Route 2 you will come to Shelburne, which is a charming New Hampshire village with beautiful rolling fields and old farms. It's the perfect backdrop for your fall photos. Take Route 153 south to round out your scenic route and to take a quick walk up to Foss Mountain to enjoy the mountain and foliage views. Head back down to North Conway at Settlers Green to do some shopping or have a nice meal at one of the many restaurants in the Village.