Take to the woods for a springtime walk! These 5 strolls are perfect for family ambles or a bit of exercise in between other types of adventuring.
Before you hit the short-but-sweet trail, review what's in your backpack and on your feet. Are you wearing hiking boots or trail shoes? Do you have a pair of microspikes in case you encounter shaded, icy sections?
Bring layers and your Leave No Trace principles while you're at it (aka, don't step off trail and make your own path, no matter how muddy it is – you will inadvertently widen the trail and deteriorate the landscape in the process).
THE BASIN (Franconia Notch State Park, NH)
Travelers to Franconia Notch State Park, take note: The Basin is the perfect stop to stretch your legs and see the unforgettable sight of a glacial pothole 25,000 years in the making. Many have marveled at the sculpted granite walls and the scenic plunge found at this 30-foot-wide bowl, including the likes of Henry David Thoreau and countless visitors over the years.
To get to The Basin, follow the short, sloping trail located just off I-93 south. It will take 10 minutes or less for the average hiker – just keep in mind that the trail remains icy well into late spring, so pack your microspikes!
If you'd like to see another viewpoint, set aside a few extra minutes to also explore The Basin's accessible trail (which has a far gentler grade).
Photo Credit: WMAA Staff
THE DELLS (Littleton, NH)
If big, stately trees and wide-open paths sound just lovely to you, take a walk at The Dells. This small historic park in Littleton, NH has both, plus picnic tables, a pond with a bustling wildlife scene in the warmer months, and unparalleled walkability.
It takes about twenty minutes or so to explore all the paths at The Dells. To extend your stay, we'd suggest bringing a picnic lunch to enjoy at one of the tables set amongst the trees.
The Dells abuts several properties, so you can expect moderate road noise. Please stay on the trail and pack out what you carry in!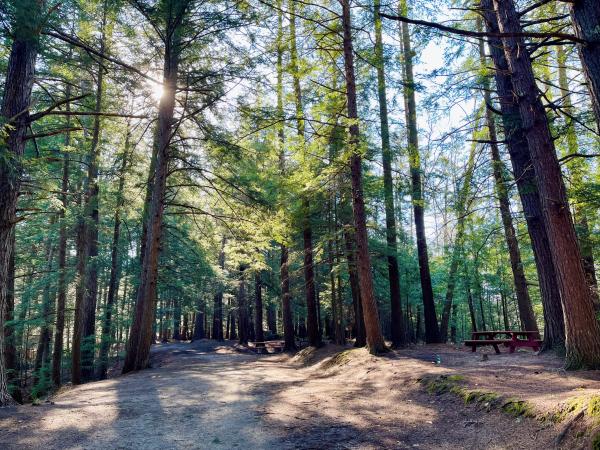 Photo Credit: WMAA Staff
DIANA'S BATH (Conway, NH)
Diana's Bath is one of the most popular trails in North Conway, NH come summertime. If you're already in the White Mountains for spring though, why not explore a bit sooner?
The ¾-mile accessible gravel path that leads to Diana's Baths offers an easy walk. At the terminus, you'll find riffles, pools, and cascades, as well as river sculpted rocks to hop along. Play cautiously though – while the water might look inviting, it remains very cold in the spring thanks to the White Mountains' slowly melting snowpack.
There is a $5 fee to park at Diana's Bath. Remember to bring cash for the self-serve pay station. If the parking lot is full, check out what else North Conway has to offer (as overflow parking on the sides of the road is strictly prohibited).
THOMPSON FALLS (Gorham, NH)
Thompson Falls in Gorham, NH is next on our list of short White Mountains hikes. To get there, park at Wildcat Mountain and traverse the footbridge adjacent to the lodge. Then, look to your left and follow the river until you see a sign for the Wildcat Trail and Thompson Falls.  
Once you've found the path, it's an easy 1.1-miles out and back to see one of the prettiest plunges in our neck of the woods. Keep an eye out for trillium, trout lilies, and lady's slippers along the way (and if you are traveling with kiddos, remind them to enjoy the blooms but resist the urge to pick them.)
Hikers will encounter a small brook crossing along the way. Wear good hiking boots and bring trekking poles if you'd like to up your chances of avoiding wet feet!
PAGE POND COMMUNITY FOREST (Meredith, NH)
Peaceful wetlands and beaver ponds set the stage for a perfect spring outing at Page Pond Community Forest. This Meredith, NH stop has a large network of trails, including the 0.8-mile Beaver Pond trail (resplendent with wildflowers) and the Leavitt Cemetery and Quarry Loop (1.2-miles of level, historic walking).
Best of all, this spot lies just south of the White Mountains, meaning it will show signs of spring well before the higher elevation walks on this list.
We'd recommend perusing the Meredith town website for more information on each trail spur (including a handy map).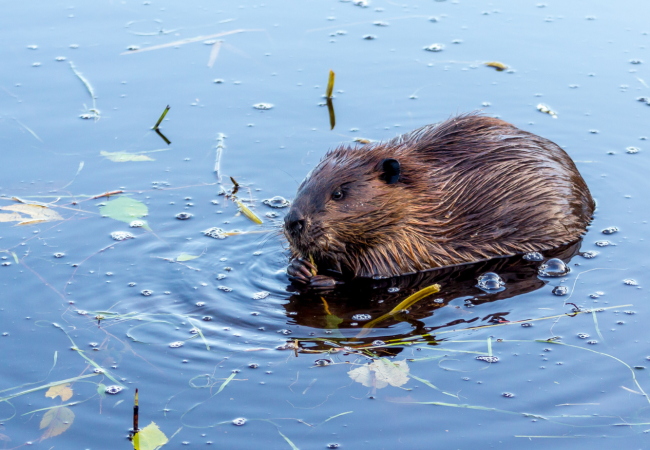 Click on over to our Hiking Tips page for more general info to get out exploring the great outdoors. If you plan on ascending in elevation or tackling the White Mountains famed 4,000-footers, review our Spring Hiking page prior to your excursion. Most importantly, have fun!
Take a walk in the woods with us! Click the Reel below.