During the winter, there's nothing we savor more than the feeling of fresh snow under our skis and snowboards and swiveling in a chairlift to admire the unrivaled scenery. To get this special kind of White Mountains experience, head to one of our many ski hills in our region. We would say they're some of the best ski resorts in NH, but don't take our word for it. Instead, start planning your own visit today!  
Once you've made it to the mountains, it's on to step two: picking a trail. We love the idea of selecting a route that has a memorable name and an even sweeter story behind it. Keep reading for our suggestions for each slope.
Not familiar with ski lingo? A green circle denotes beginner trails, a blue square is suited for intermediate skiers, and black diamonds are best reserved for experts on the mountain.
ATTITASH MOUNTAIN RESORT (Bartlett, NH)
Attitash Mountain Resort in Bartlett, NH is a beauty. In addition to being advantageously located just a short drive from North Conway, Attitash boasts a pleasing mix of beginner to advanced trails, nearby Bear Peak (with glades and wider intermediate trails), and a 20% discount on many on-mountain amenities for Epic Pass Holders.
Two trails we'd recommend at Attitash? Wilfred's Gawm, a black diamond trail named after one of the men who cleared the original trail, and Thad's Choice, a blue square named in honor of Thaddeus Thorne. Thorne was part of the original planning of Attitash Ski Area (which first opened for the 1964-1965 ski season) and served as the President and General Manger for over 20 years. He also designed ski trails for many resorts throughout New England, leaving quite an enduring mark on the White Mountains ski community.
Check out Attitash's trail map to scope out the terrain prior to your visit.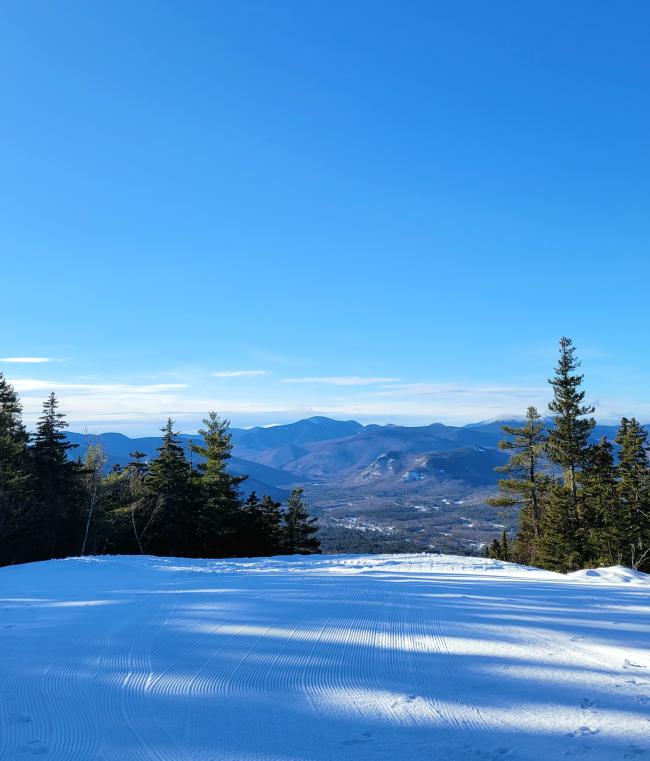 Wilfred's Gawm. Photo Courtesy of Attitash Mountain Resort. 
CANNON MOUNTAIN (Franconia, NH)
When skiers think of awesome ski resorts in the White Mountains, Cannon often comes up near the top of the list. Poised at the northern terminus of Franconia Notch State Park, this rugged peak receives plenty of rousingly cold weather. It also has some of the most phenomenal mountain views around thanks to its designation as the highest ski area summit in NH (at 4,080'). Furthermore, skiers at Cannon can brag about traversing the same trails as Olympian Bode Miller. Amateurs are in luck too, as they can stick to the gentler (yet still dynamic) beginner trails at the Tuckerbrook Family Area.
The Taft Slalom is our top trail at Cannon, and with good reason. Did you know this blue square was the first ski racing trail in North America? The Civilian Conservation Corps cut the Taft Slalom in 1932, over 90 years ago! This was 6 years before there was any lift installed on Cannon, making the journey to the top an option for only the most committed of skiers.
Get a closer look at Cannon's trails here.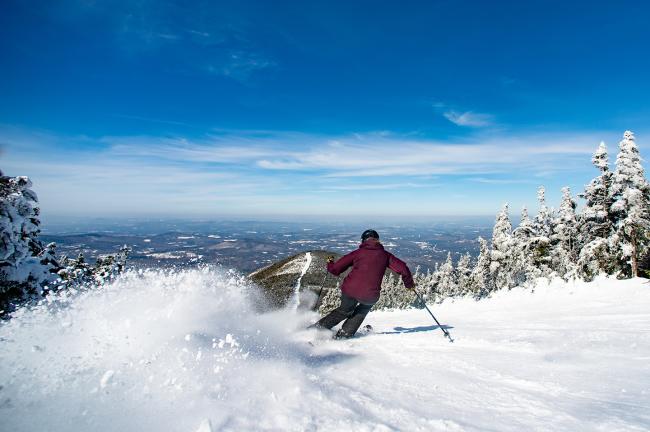 Taft Slalom. Photo Courtesy of Cannon Mountain.
CRANMORE MOUNTAIN RESORT (North Conway, NH)
Skiing is amazing! But so is having options. Cranmore Mountain Resort has both. Take your pick of on-mountain amenities like ski trails for all abilities, a Mountain Adventure Park, and a calendar full of special events, or hit the town for shopping, dining, and general frolicking. At Cranmore, your crew can happily explore in whichever way they most enjoy.
If you do choose to ski, make sure to travel down Jimmy's Run. This blue square trail is named in honor of Jimmy Mersereau, Cranmore's legendary Mountain Operations Manager. Prior to his sudden passing after 40 years of service, Jimmy made his mark in the ski world in many ways. He served as an Olympic snow groomer for the 2002 Salt Lake Winter Olympics, championed adapting Cranmore's snow grooming fleet to utilize biodiesel fuels, and posthumously received a U.S Environmental Protection Agency Lifetime Achievement Award. Jimmy's Run was also designed and built by the man himself. Keep an eye out for a bronze memorial plaque near the end of the trail and pay homage to one heck of a good run as you zip past.
Head over to Cranmore's website for a complete trail map.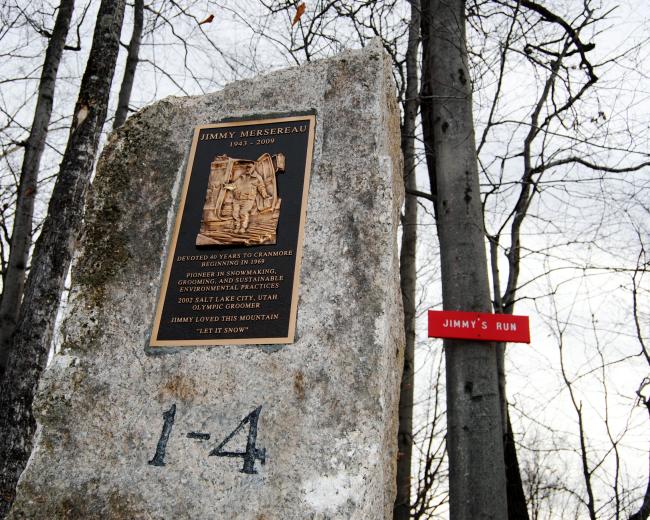 Jimmy's Run. Photo Courtesy of Cranmore Mountain Resort.
LOON MOUNTAIN RESORT (Lincoln, NH)
Visit Lincoln, NH for the next stop on our list: Loon Mountain Resort. In addition to having plenty of on-mountain options for non-skiers (like snow tubing and guided snowshoe walks), Loon also has a great mix of trails for all abilities, fantastic and speedy lift options like the new Kanc8, and the benefit of being located just a few miles from many excellent après ski spots.
Two trails that are a must-ski at Loon include Upper Walking Boss (a black diamond named after the founder of Loon Mountain, Sherman Adams) and Ripsaw (Loon's only double black diamond trail). If you have the skills to ski either and are torn between the two, we'd urge you to choose based on the view. Upper Walking Boss has mesmerizing views of Mount Washington and surrounding peaks, while Ripsaw gives skiers a higher up perspective of town.
Plan your trip to Loon! Take a look at this interactive trail map for regularly updated mountain info.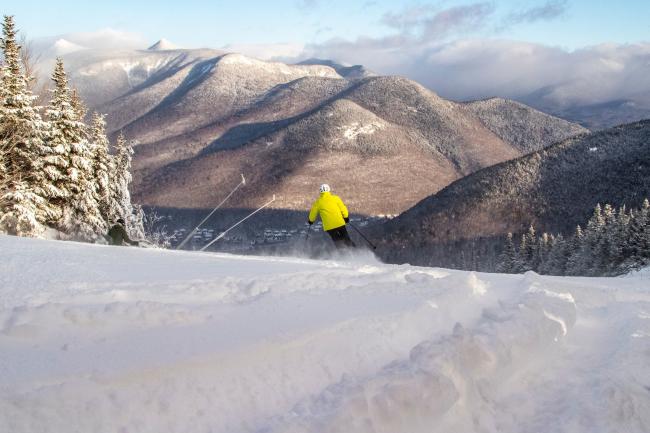 Upper Walking Boss. Photo Courtesy of Loon Mountain Resort.
WILDCAT MOUNTAIN (Gorham, NH)
If proximity to the Northeast's highest peak is a must, Wildcat Mountain is your winner. Where else can you try to spy distant skiers gliding down the bowl at Tuckerman's Ravine, or take an on-trail pic with the Mount Washington Observatory behind you, glinting in the winter sun? Wildcat's throwback feel, family-friendly lessons program, and solid mix of terrain (plus copious glade skiing for experts!) also make this mountain a must-visit.
Many of Wildcat's trail names relate to something feline, including two of our top picks. The first is Polecat, which ranks as the longest green trail in NH and features over 2 miles of beautiful views. Take your time on Polecat to soak in the sights before moving on to Wildcat Trail. This one is the first down-mountain ski trail built entirely by the Civilian Conservation Corps, and was used as a racing trail from 1935 until lift service was added in 1957.  
Visit Wildcat's website to see a full trail map and book your ski tickets.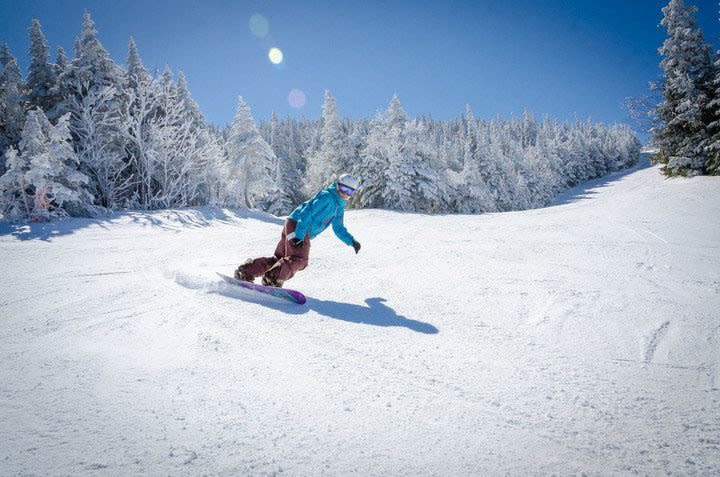 Polecat Trail. Photo Courtesy of Wildcat Mountain.
That's a wrap on the top trail names at our White Mountains ski resorts! Which one is next on your adventure list? Use our winter itineraries to help plan if you're traveling from out of town, and tag us with #yeswhitemountains if you take any great pics during your next ski trip.