Our two-day fall foliage itinerary will give you the perfect mix of the best White Mountains experiences: scenic road trips, local tastes, memorable (and adventurous!) attractions, and plenty of time spent enjoying the natural splendor of the season. For this special tour, you will start in the western White Mountains and wind across the northern fringes of our region before settling in the easternmost boundary, the legendary Mount Washington Valley.
Grab your warm layers, good footwear, and a great camera – this trip is picture-perfect scrapbook fodder.
Fall is one of the busiest times of the year in the White Mountains. We strongly recommend booking all your lodging and adventures online ahead of time. Wait times might also be a bit longer than usual, and traffic a little busier, so pack your patience and spend that extra time admiring the inimitable views!
DAY ONE
Start your day in Lincoln, NH! As a bustling mountain town complete with Loon Mountain Resort, outdoor shops, and trailheads galore, there are so many options to explore. We'll make it easy for you. Grab breakfast on the road if you're on the way to Lincoln or get a quick meal in town before you hit the first stop of the day: Alpine Adventures.
MORNING: RIDE A ZIPLINE OR TAKE AN OFF-ROAD TOUR
Whether you're a thrill seeker, a leaf peeper, or just up for something a bit more exciting after your long car ride, Lincoln, NH's Alpine Adventures offerings will amaze you.
Take a daring, bumpy, slope-climbing ride aboard one of Alpine's impressive six-wheeled Pinzgauers, and you'll quickly see why their off-road tour has been garnering so much attention. As you make your way to the top of Baron Mountain, you'll have plenty of time between bouts of bumping and laughing to admire the leaves in their fall finery.
Another option? Alpine's ziplines! Guests have two different courses to choose from. The Tree Top Canopy Tour is perfect for first timers, with lower features and slower speeds providing a softer introduction to the world of zipline touring. 5 ziplines, a 30-foot suspension bridge, and ziplines ranging from 250 to 1,000 feet long will still leave you with plenty to brag about though.
If you'd like to take it to the literal next level, pick the Skyride Tour, complete with a dual racing zipline, ziplines up to 1,600 feet long, and heights reaching up to 250 feet off the forest floor.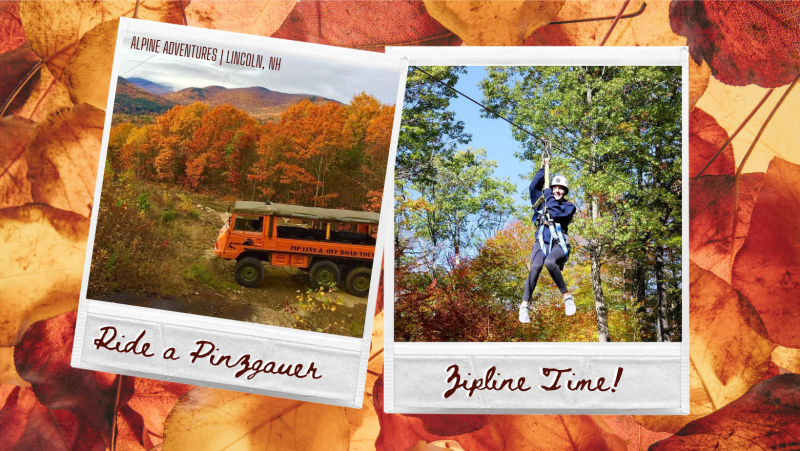 MIDDAY: EAT (AND DRINK!) LOCAL
Once your buzzy post-adventure nerves have worn off, it's time to head to the Lincoln Village Shops for lunch. Here, we'd recommend enjoying a coffee, smoothie, or homemade sandwich from a local favorite, The Moon Bakery and Cafe. Then? Walk over to Rhythm Handcrafted Beverages Studio to sample Lincoln's craft-beverage scene.
If you'd like some quick shopping post-lunch, stop in at Three on the Tree Boutique for bohemian finds and Burgeon Outdoor for locally made outdoor apparel. Both are conveniently located right in the Lincoln Village Shops.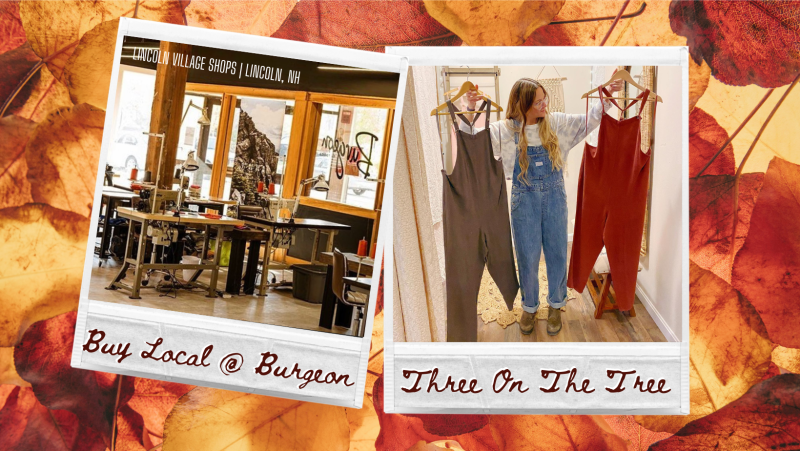 AFTERNOON: TAKE A SELF-GUIDED CRAWFORD NOTCH TOUR
Any tour through the White Mountains must include Crawford Notch State Park. This mountain pass is stunning year-round, but almost incomparable come fall. With historic stops, a grand resort hotel, and waterfalls plunging through gaps in the colorful foliage, you'll find plenty of reasons to linger during your drive to the evening's destination.
Head north from Lincoln on I-93 (you'll travel through Franconia Notch State Park along the way; for tips on touring this spot, visit our One Day Northern White Mountains Fall Itinerary or our Three-Day Fall Itinerary). Take Route 3 East to 302, and you'll quickly re-enter the great expanse of White Mountain National Forest. Stop at the Omni Mount Washington Resort along the way for a few scenic snapshots. This is one of the White Mountains last remaining grand hotels, and its particularly gorgeous this time of year with its brilliant red roof complimenting the changing colors.  
From there, you will cross into Crawford Notch State Park. Park at the historic Crawford Depot for a short half-mile stroll along the shores of Saco Lake and see if you can spot Elephant Head (best viewed from the Depot side of the road). With its rocky, gray bare summit, it's easy to see how this promontory earned its moniker.
Just past Crawford Depot, you'll see two pull offs. If you only make one stop through Crawford Notch, make it this one! While the pull offs might be unassuming, just across the road wait two spectacular waterfalls: Silver Cascade and Flume Cascade. Explorers have the option to climb up the well-worn path if you'd like a closer view of the falls.
After that, continue heading southeast along Route 302 towards North Conway, NH. If time allows, stop at the Willey House for a bit of local history, a gift shop, and ice cream.
As with all outdoor adventures, stay cautious during your time in Crawford Notch State Park! Watch where you step, wear sensible footwear, and keep to the trail. No picture is worth a vacation-ending injury.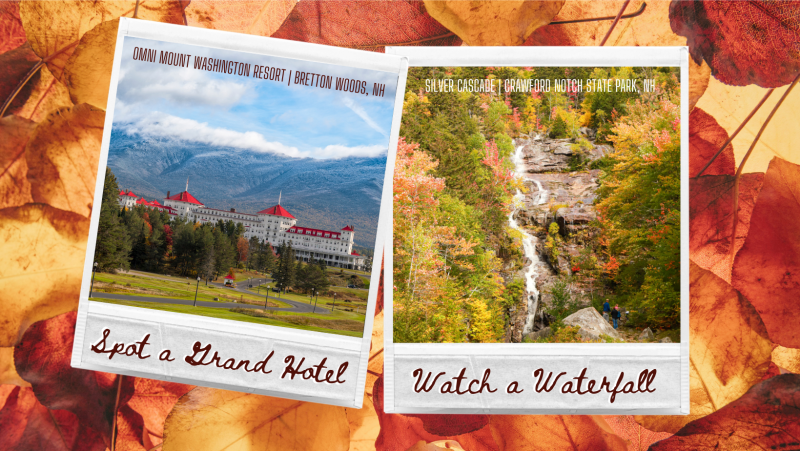 EARLY EVENING: UNWIND & DINE
You've made it! North Conway, NH awaits. Check into your lodging for the evening and take your pick of the town's dining options.
DAY TWO
MORNING: CHOOSE YOUR NORTH CONWAY ADVENTURE
After a breakfast of your choosing, head to nearby Cathedral Ledge. You have your option of paid parking and a network of short hiking trails at Echo Lake State Park (located at the base of Cathedral Ledge) or driving the 1-mile-long road to the top. The views from this 700-foot-tall outcropping are dazzling during the fall, and even more so if you spot some early morning rock climbers.
Now, the morning is up to you! We'd recommend one of the best fall activities in North Conway, NH: visiting Cranmore Mountain Resort. Take your pick of downhill mountain biking (including a lesson, bike rental, and access to Cranmore's downhill network), the Adventure Park (complete with year-round tubing, a Bungy Trampoline, and climbing wall), or the Scenic Chairlift to the top of the mountain.
Another perfect alternative? Booking your tickets for a train ride on the iconic Conway Scenic Railroad! Shorter excursions along the Sawyer River will keep your schedule a bit more flexible, while the longer Mountaineer ride will have you retracing your journey through Crawford Notch. Happily, good views never grow old!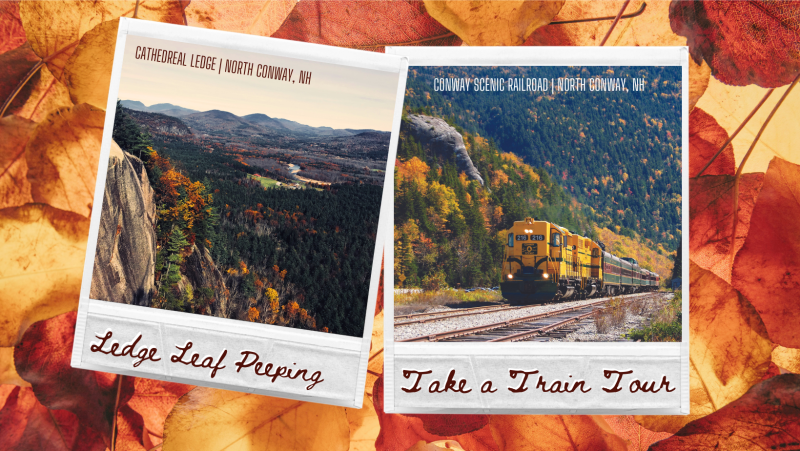 MIDDAY: TAX-FREE SHOPPING TIME
For lunch plus some of NH's best tax-free shopping, head to Settlers Green in North Conway, NH. There are plenty of dining options at this outlet hub, including Barley & Salt (for upscale pub food), Cheese Louise (a grilled cheese mecca), and The Met (a laidback coffee shop with great sandwiches).
Post lunch, shop and stroll and see if you can spot all the murals and sculptures scattered along the Art Walk at Settlers Green.
For a full list of dining options, head to the Settlers Green website.
AFTERNOON: PUMPKIN PEOPLE PERUSING
Does it get more fall than pumpkins and scarecrows? The adorable town of Jackson, NH had a great idea: combine the two and make Pumpkin People!
Once you've wrapped up at Settlers Green, head 15 minutes north to arrive in a pumpkin paradise. There are over 70 displays to discover in Jackson and surrounding towns, so it's up to you how you'd like to tour. Head to the Jackson Area Chamber of Commerce's website for a guide or wing it! Laidback fall fun awaits.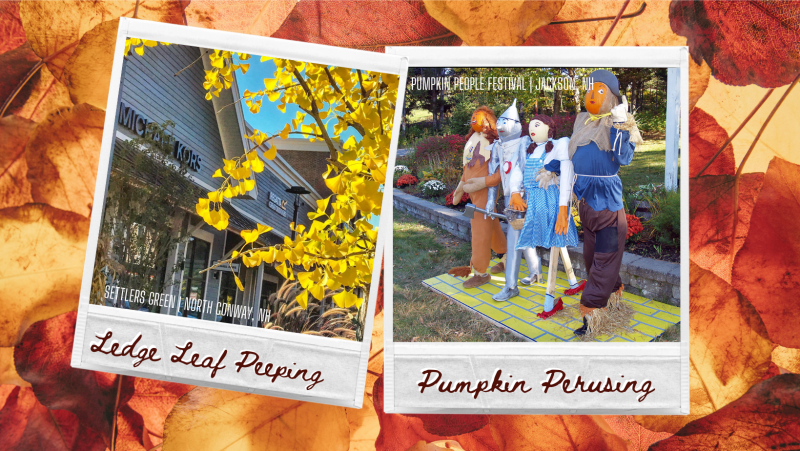 EARLY EVENING: WAVE GOODBYE TO THE WHITES
Wrap up your two-day adventure in the White Mountains with either another night at your preferred lodging, or head out on the road and back home!
Can't get enough of our fall foliage? Visit our other itineraries, including a three-day option to extend your stay and our one-day regional tours.