We may be in the White Mountains, but we are surrounded by pristine mountain lakes, lazy rivers, and beautiful, scenic ponds. Hot summer days are perfect for paddling, tubing, or simply lounging in those cool waters.  Here are some of our favorite places to cool off, relax and enjoy the natural beauty of our rivers and lakes.  
M/S Mount Washington-Weirs Beach (Lake Winnipesaukee)
For over 150 years, visitors have been exploring beautiful Lake Winnipesaukee, the largest lake in New Hampshire, aboard one of the M/S Mount Washington's cruise lines excursions. Take in a scenic, narrated tour of the lake where you will learn about the history and scenery or enjoy a delicious meal aboard their Sunday Brunch Cruise or Sunset Dinner Cruise. The Summer Cocktail Cruise may be more your speed, or perhaps a jaunt aboard the Sophie C, the cruise line's historic mail boat.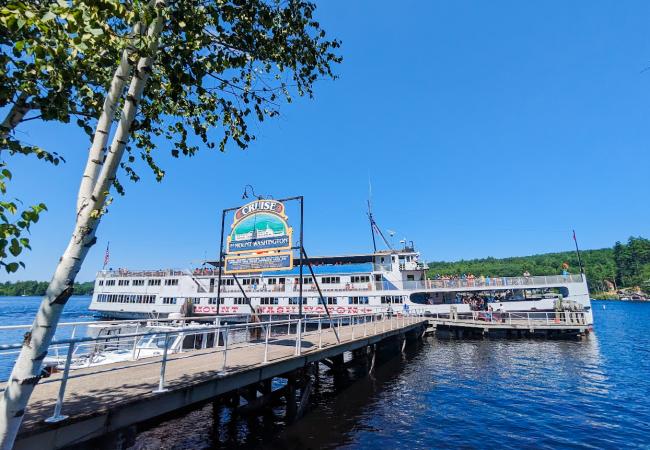 (Photo Courtesy of @colleeninthe603)
Experience Squam Boating Excursions-Holderness (Squam Lake)
Experience beautiful Squam Lake on a private tour, customized to your liking! Experience Squam Boating Excursions leaves a day of fun in your hands. Enjoy basking in the sun or relaxing in the shade, anchor at one of the coves or sandy beaches for a dip, or enjoy a beautiful New Hampshire sunset with a glass of wine in hand. You can also get a tour of where many of the scenes in the movie, On Golden Pond, were filmed.
Great Glen Trails Kayak Tours-Gorham (Ammonoosuc River)
The Ammonoosuc River may be difficult to pronounce, but it certainly offers an incredible place to kayak. Great Glen Trails offers half-day and full-day Guided Wildlife Kayak Tours which are perfect for families, those who have never been in a kayak, or those wanting a leisurely day on the water. You may even see a moose, bald eagle, or osprey! Enjoy a stunning Sunset Kayak Tour and if you're looking for a more intense adventure, book one of their Whitewater Kayak Clinics.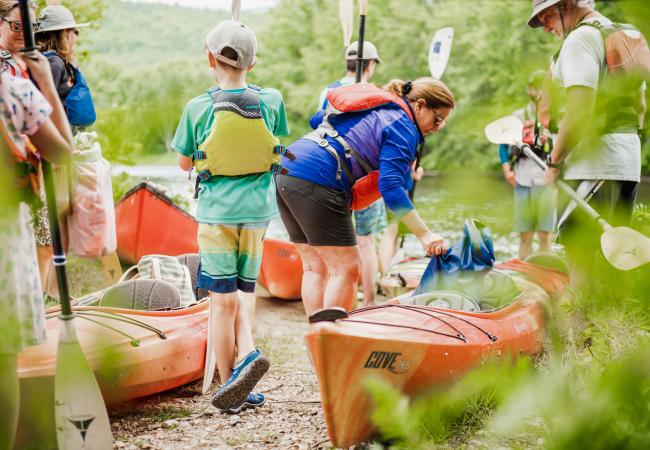 (Photo Courtesy of Great Glen Trails)
Squam Lakes Natural Science Center Cruises-Holderness (Squam Lake)
This 90-minute guided pontoon boat tour  with the Squam Lakes Natural Science Center brings you around the rocky shores, mountain views, and celebrated islands of Squam Lake. You may even see a loon or two! Your knowledgeable tour guide will give you historical and natural information about Squam and the Lakes Region. If you're looking for a themed cruise, take advantage of the Bald Eagle Adventure, the Loon Cruise, or Cruise with a Naturalist.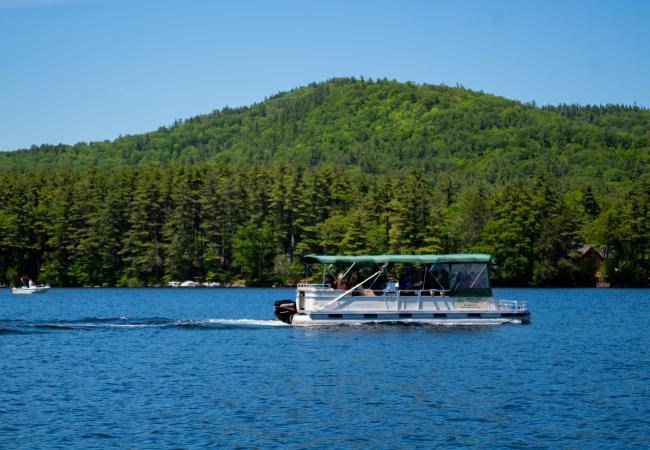 (Photo Courtesy of Squam Lakes Natural Science Center)
North Country Kayak-Littleton (Moore Reservoir)
Whether you're searching for a guided kayak tour or would rather rent a kayak or two and explore on your own, North Country Kayak has you covered.  From their home launch on Moore Reservoir in Littleton, guests can explore the natural beauty that the Reservoir has to offer. Guided Tours are offered from 10am-12pm in-season or you can opt to rent from one of their fleet of kayaks and enjoy a 3-hour leisurely excursion on your own. 
Saco River Tubing Center-North Conway (Saco River)
Tubing down the Saco River on a hot, summer day, sounds like pure paradise.  Plenty of sandy beaches, and crystal-clear water make for a relaxing and fun way to spend a day in the White Mountains. Saco River Tubing Center also offers canoe and kayak rentals for another great way to maneuver down the Saco.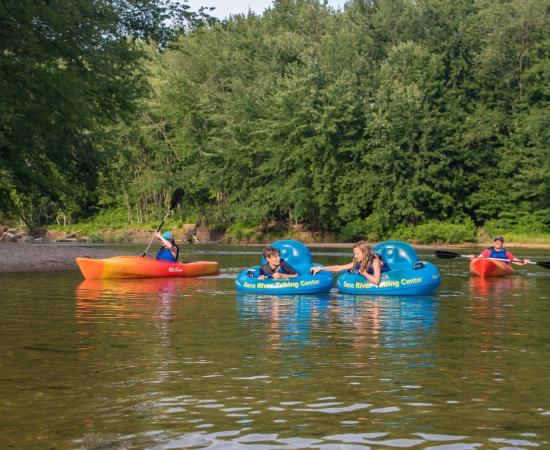 (Photo Courtesy of Saco River Tubing Center)
Tube the Pemi with Ski Fanatics-Campton (Pemigewasset River)
Let your cares float away as you embark on a tubing excursion down the Pemi River with outdoor experts, Ski Fanatics.  In the summer, they switch gears and offer tube rentals and shuttle service to and from the river.  Float time is about 3 hours, depending on water levels and how often you stop on the many little beaches along the way.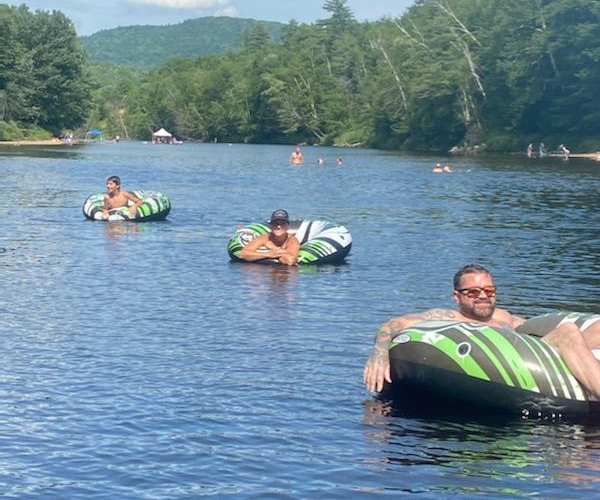 (Photo Courtesy of Ski Fanatics)
Pedal Boat, Kayak, and Canoe Rentals in Franconia Notch State Park (Echo Lake) 
Echo Lake is situated on 39 acres within Franconia Notch State Park and boasts stunning views of Franconia Notch. Relax or play on the sandy beach, or take advantage of their pedal boat, kayak, and canoe rentals. Take some time to explore the lake at your own speed.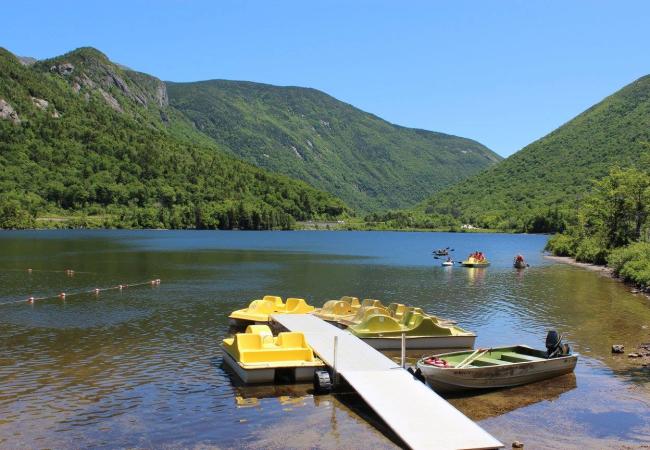 (Photo Courtesy of New Hampshire State Parks)
Looking for more ways to beat the heat this summer? Check out our blog post on the Ten Tallest Waterfalls in the White Mountains and Swimming Holes in the White Mountains