It's almost time for that in between season in the White Mountains, when most of the leaves are off the trees but snow dusts only the tallest of peaks.
What's still open in the White Mountains? There are certainly still plenty of restaurants for dining, breweries and wineries for sipping, museums for touring, and local shops for visiting. We'd definitely recommend touring some covered bridges or settling in to exploring one particular part of region.
But more than anything, we'd say visit an Attraction! Many remain open throughout the year, while others offer just a few more days to pack in the fun during fall. Keep reading for a full breakdown on the best Attractions you can still visit in the White Mountains, as well as a sneak peek at what's ahead for the rest of the year.
ALPINE ADVENTURES (Lincoln, NH)
If you're thinking that zipping is only a summer thing, think again! Alpine Adventures is open year-round for all the ziplining and Pinzgauer mountain climbing your adrenaline-loving heart could conjure up. We're big fans of the way the wooded views found on Alpine's property open up once the leaves have departed.
Come wintertime, Alpine Adventures also offers guided snowshoe tours through the wondrous woods of the White Mountains.
Open year-round. | HOURS: 9am – 4pm. | CLOSED: Tuesdays, Wednesdays, Thursdays. | Reservations highly recommended. | Visit AlpineZipline.com or call (603) 745-9911 for details.
CONWAY SCENIC RAILROAD (North Conway, NH)
No need to rush to North Conway, NH – the fabulous Conway Scenic Railroad is open year-round! Whatever season you choose to visit (and whichever train tour you book), you'll find yourself immersed in the classic, dramatic landscapes of the White Mountains.
P.S. Once the snow begins to fall, stay on top of the Conway Scenic's socials for special seasonal excursions. There's nothing better than rounding out a year full of adventure with something extraordinary! Might we suggest Santa's Holiday Express?
Open year-round. | Schedule varies. | Visit ConwayScenic.com or call (603) 356-5251 for details.
HOBO RAILROAD (Lincoln, NH)
In our opinion, there's nothing as serene as riding an old-fashioned train on a weekend, watching the riffles on a river and the woods as the seasons change. The river? The Pemigewasset. The train ride? The Hobo Railroad.
In November and December, the Hobo's ever-popular Santa Express trains resume their festive trundling. Between meeting Santa and Mrs. Claus and receiving a special gift during your train tour, this experience is one we'd recommend for all families looking for the best kid-friendly Christmas activities in the White Mountains. 
2022 SANTA EXPRESS (All trains depart at 1pm): 11/25 – 11/27,12/3 – 12/4, 12/10 -12/11, 12/17 -12/18. | Visit HoboRR.com or call (603) 745-2135 for complete train schedule and tickets.
MT. WASHINGTON AUTO ROAD (Gorham, NH)
The Mt. Washington Auto Road's guided SnowCoach tours will begin once the snow starts flying! If riding in a warm cab partway up the Northeast's highest peak and then emerging into an arctic landscape sounds like bliss, start looking into booking your tickets for this once in a lifetime experience today.
Guided SnowCoach Tours (open daily, weather permitting): Dec. 17 – Dec. 31; CLOSED Christmas Day. | Check "Road Status" for operational information. | Visit mt-washington.com or call (603) 466-3988 for details.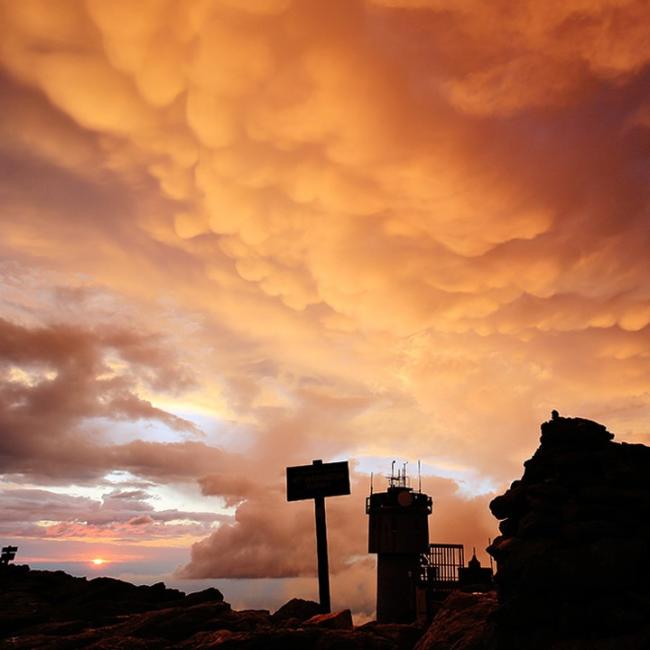 MOUNT WASHINGTON COG RAILWAY (Marshfield Station, NH)
Happily, the Mount Washington Cog Railway is open year-round! As fall transitions to wintertime, we start looking forward to the way the rocky, leaf-free peaks show off their rugged shapes, as well as the opportunity to explore snowy slopes and roast marshmallows partway up the peak. Just pay special attention to the Cog's schedule. Mount Washington is home to the world's worst weather, meaning plans can change depending on the forecast. 
Open year-round, seven days a week. | Biodiesel Trips to Waumbek: Oct. 31 – Dec. 31. | For tickets, full schedule, hours of operation and much more, visit www.TheCog.com or call (603) 274-5404
SANTA'S VILLAGE (Jefferson, NH)
Family fun is a given at Santa's Village, but especially so during the holiday season! Once November and December rolls around, it's time to embrace the spirit of Christmas over several magical weekends. Santa's Village requires tickets to be purchased online in advance, so plan ahead if you have your sights set on Christmastime at Santa's Village.
Open (Weekends Only): Nov. 12 – Dec. 18.; Dec. 31. | Hours and rates vary, and calendar is subject to change. | Attendance is limited, purchase tickets online in advance. | Visit SantasVillage.com or call (603) 586-4445 for details.
Opening Soon for Ski Season!
Aren't you excited to make the most of this season, and also start planning for the next?! Check out our latest Dates of Operation sheet to help perfect your trip scheduling. Also? Take a look at the booking feature on our website. We'll see you soon in the mountains!