The White Mountains is known for its amazing vistas, outdoor activities, and Attractions – but what about its arts and culture?
This region is resplendent with it! From museums themed around ski pioneers and retro games to renowned theaters and gorgeous galleries, no tour of the White Mountains is complete without a dabble in our cultural touchpoints.
A visit to our galleries, theaters, and museums is also a great way to spend the day if you'd like to avoid a foreboding forecast or outdoor activities. Keep reading for our top spots.
ART GALLERIES
ARTISTIC ROOTS (Plymouth, NH)
Start your tour of White Mountains art galleries with Artistic Roots in Plymouth, NH. This artsy enclave features the work of 40+ local artists as well as rotating exhibits in their gallery and open studio sessions for doodlers, painters, jewelry artists, and more!
GALLERY AT WREN (Bethlehem, NH)
Next up? The small town of Bethlehem, NH and the Gallery at WREN. If you like the sounds of shopping the work of 120+ local artists, this is your retail nirvana. There's also an inviting gallery space on the premises with bimonthly exhibits.
LEAGUE OF NH CRAFTSMEN (Littleton, NH, North Conway, NH & Center Sandwich, NH)
The League of NH Craftsmen is legendary in the New England arts community. For refined, juried crafts that evoke the White Mountains, you have your choice of three league outposts: Littleton, NH, North Conway, NH, or Center Sandwich, NH. Just keep in mind if you choose option #3 that the Center Sandwich Fine Craft Gallery is open seasonally, mid-May through mid-October.
CULTURAL EVENTS
LANCASTER FAIR (Lancaster, NH)
The Lancaster Fair in Lancaster, NH is a landmark event for the Northern White Mountains. Agricultural activities, midway rides, food, music, and more make for an amazing week of events in the lead up to Labor Day each year.
NEW HAMPSHIRE HIGHLAND GAMES & FESTIVAL (Lincoln, NH)
Do you fancy a bit of tartan? Head to Loon Mountain Resort in Lincoln, NH, mid-September each year, for the NH Highland Games & Festival. This event always draws a big, enthusiastic crowd as well as vendors, musicians, and athletes from across the country and across the pond. Expect sheepdog trials, music performances, Scottish snacks and shopping, and feats of strength and skill at this three-day event.
VINTAGE MARKET IN THE MOUNTAINS (Bethlehem, NH)
Take advantage of the beautiful weather in late July and plan road trip to the Wayside Inn in Bethlehem, NH. There, you'll find Vintage Market in the Mountains, a weekend-long event featuring vintage vendors from all over New England and the mid-Atlantic states. Enjoy live music, food trucks, special performances, and all the perusing your vintage heart can handle.
THEATERS
THE COLONIAL THEATRE (Bethlehem, NH)
Live music and indie movies? Say no more. The Colonial Theatre in Bethlehem, NH has over 100 years of excellence backing up its reputation as one of the best spots to listen to emerging and established artists (including Grammy award winners!) in the White Mountains. May through October, this historic gem is a must-visit if you're passing through town.
NORTH COUNTRY CENTER FOR THE ARTS AT JEAN'S PLAYHOUSE (Lincoln, NH)
Lincoln, NH is your gateway to arts and culture in the Western White Mountains (and in particular, North Country Center for the Arts at Jean's Playhouse). This bustling, award-winning theatre is open Memorial Day weekend through the end of December, and showcases everything from musicals and plays to cover bands, comedians, films, and a haunted house depending on the season.
BARNSTORMERS THEATRE (Tamworth, NH)
The Barnstormers Theatre is legendary for its talented performers and captivating plays. It's also one of the longest-running professional summer theaters in the country! So needless to say, if you're planning to visit during summertime and want to capture a live performance in a quaint village theatre, grab your tickets early and make your way to Tamworth, NH.
WEATHERVANE THEATRE (Lancaster, NH)
Travelers to the Northern White Mountains looking for arts and culture must schedule a visit to the Weathervane Theatre in Lancaster, NH. In addition to being located almost across the street from one of the region's last Grand Hotels, the Weathervane is an award-winning professional equity theatre offering 9 stellar productions between June and October.
THE FLYING MONKEY MOVIE HOUSE & PERFORMANCE CENTER (Plymouth, NH)
As a college town, Plymouth, NH has plenty to offer, including the always entertaining lineup at the Flying Monkey Movie House & Performance Center. Do you like the sounds of Grammy award winners, Rock & Roll Hall of Famers, cult classic movies, and all-star comedians? Fly over to this theatre's website to see which acts are up next.  
M & D PLAYHOUSE (North Conway, NH)
"Shopping" and "skiing" might be the first things that come to mind when visitors think of North Conway, but we'd urge you not to forget the M & D Playhouse the next time you're in town. This historic venue offers captivating year-round performances, and we're big fans of their focus on accessible theater (meaning low to no-cost tickets are available for certain performances).
MUSEUMS
In the White Mountains, our museums are many.  Here, you can earn about loons, walk the same woods as Robert Frost, or admire antique cars. You could also experience the "world's worst weather" in an observatory set atop Mount Washington, see how the Shakers lived, visit a castle in the mountains, and fall in love with local ski lore.
 If you'd like a full rundown on what to expect at some of the museums in our region, visit our 11 Museums to Visit in the White Mountains blog. 
Don't forget to do your research prior to visiting; many listed museums have varying hours and dates of operation.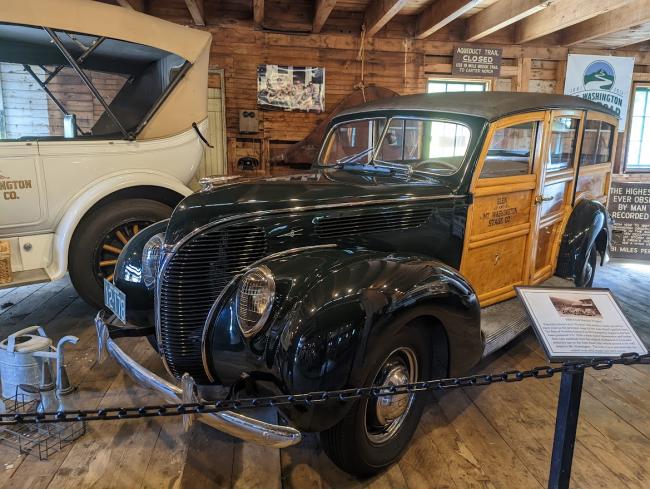 Northern White Mountains
Southern White Mountains
Eastern White Mountains
Western White Mountains
* = open seasonally