The best selfie spots in the White Mountains fall into three categories as far as we're concerned: epic scenery, amazing attractions, and awe-inspiring local art. Just keep in mind that some selfie spots are only accessible during certain times of the year, meaning you'll have to plan for next summer to catch that seasonal shot!
Remember to use #yeswhitemountains on your posts for a chance to be featured in our future digital and print publications.
Scenic Vistas
The top outdoor selfie spots in the White Mountains typically involve big views (or big rocks!), waterfalls, and covered bridges. Here's a sampling of some of the finest stops you can visit.
While donning a cute 'fit is a must for any stellar selfie, please take the weather into mind whenever you're planning a trip. Proper footwear (aka hiking boots) will get you safely to your destination, so pack your cute shoes in your backpack and save them for the snapshot. Also? Check the forecast before departing, bring extra layers to keep you warm and dry (as well as other seasonally necessitated gear) and never hike beyond your ability level.
WATERFALLS
There are over 100 waterfalls in the White Mountains region. If you want a longer hike, a short walk, or something right by the roadside, the opportunities for outstanding selfies are endless. For a little bit of inspiration, check out 5 Roadside Waterfalls We Love and 5 More Waterfalls We Love, as well as Family Friendly Winter Waterfall Hikes.
If you choose to visit waterfalls in the wintertime, be mindful of freezing temperatures, icy conditions, seasonal closures, and more during your excursion. Last but not least, keep an eye on your surroundings! Don't risk an injury or worse by posing in precarious places.
COVERED BRIDGES
Our covered bridges in the White Mountains are a top draw for photographers. While we highly recommend visiting all of the covered bridges you can during your visit, we love the idea of starting with the Honeymoon Bridge in Jackson, NH, the Bath Covered Bridge in Bath, NH (built in 1832, making it one of the state's oldest surviving bridges), the Riverwalk Covered Bridge in Littleton, NH, and the Albany Covered Bridge on the Kancamagus Highway.
Remember to pay attention to car traffic if you are taking photos at a covered bridge. While picturesque, many of these bridges also serve a practical purpose for nearby residents. Be considerate and careful!
ROCKY SPOTS
Whether it's taking a shot of where the Old Man of the Mountain once was, crawling under a massive boulder with an interesting history, or finding a favorite formation in one of our gorges, rocks are plentiful and perfect to pose on in the White Mountains. Here are a few to get you started: Old Man of the Mountain Profiler Plaza and Boise Rock (both in Franconia Notch State Park), Madison Boulder Natural Area (Madison, NH), and Glen Boulder (a challenging hike located near Mount Washington, within the White Mountain National Forest).
Here are some more Rocks That Rock the White Mountains.
OVERLOOKS
If your schedule is a bit tight, your best bet for photos is stopping at one of our many roadside overlooks. The famous Kancamagus Highway has many to choose from, but we'd say the Sugar Hill Overlook and Pemi Overlook are can't-miss pull offs. If you find yourself in the North Conway area, a quick stop at the Intervale Rest Area for brochures, a bathroom break, and a breathtaking view of Mount Washington is certainly a must do!
MOUNTAINTOPS
No selfie list would be complete without mentioning the tippy tops of our breathtaking mountains.
Some favorites include the summit of Mount Washington (in-season), the view from the short but steep Artists Bluff (in Franconia Notch State Park), and the viewing towers on the summits of Loon Mountain Resort (Lincoln, NH) and Cannon Mountain. However, we'd save all mountaintop adventures for warmer months unless you have experience hiking in the winter, good gear, or a guide service.
GRAND HOTELS
If your idea of the great outdoors is stepping out of your car for a quick moment, we'd say snap a selfie in front of a gorgeous, historic grand hotel. The Omni Mount Washington Resort (Bretton Woods, NH), Mountain View Grand Resort & Spa (Whitefield, NH), and Eagle Mountain House (Jackson, NH) all make excellent options for more glamorous ensembles.
FIELDS OF LUPINE
You'll have to wait for this one, but its well worth it. In June, the fields and hillsides of the White Mountains fill up with a fantastic amount of pink and purple lupines in bloom. Sugar Hill, NH is one of the prime spots for photos, meaning there will be plenty of other people out exploring, camera in hand.
Be mindful of private property and signage and avoid picking the lupine. They are a seasonal splendor for all to enjoy!  
Major Attractions
Our Major Attractions are a main draw to the White Mountains! Many families return year after year to their favorite theme parks, train rides, and ski hills to recreate their favorite photos. If you'd like to start a new tradition, here are some recommendations for a few Attractions to get you started. 
Please check each listed Attraction's respective website for their operating season and hours. Plan ahead for your visit, and don't forget to book your tickets online ahead of time when available. Head to our Major Attractions page for a full list of all properties to visit. 
STORY LAND (Glen, NH)
Take a seat by Story Land's Humpty Dumpty for a selfie you can recreate each visit! We'd also recommend visiting the large photo frame near the entrance to get a second selfie with some friends squeezed in beside you.
Storyland is closed during the winter season.
SANTA'S VILLAGE (Jefferson, NH)
For a festive frolic rife with good selfie spots, head to the giant Bunny or Snowman statues inside Santa's Village. Both are located close to the entrance and are perfect for posing prior to feeding the reindeer, hopping on a ride, or devouring a gingerbread cookie!
Santa's Village is closed for most of the winter season (excluding select weekends in November and December).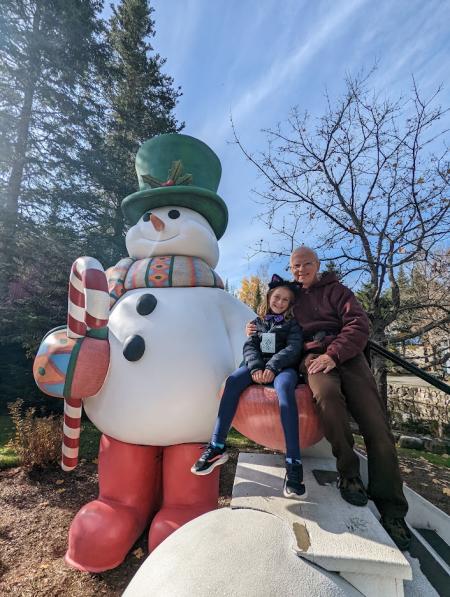 Photo Credit: Colleen Eliason 
CLARK'S BEARS (Lincoln, NH)
Awoooo! What's that? Wolfman is calling at Clark's Bears in Lincoln, NH! This legendary character has been delighting (and hollering at), parkgoers for years, although his whereabouts often prove elusive. We'll let you in on an insider secret…. when the park is just about to close for the day, look for Wolfman near the bear ring and get ready for some silly snapshots.
Clark's Bear is closed during the winter season.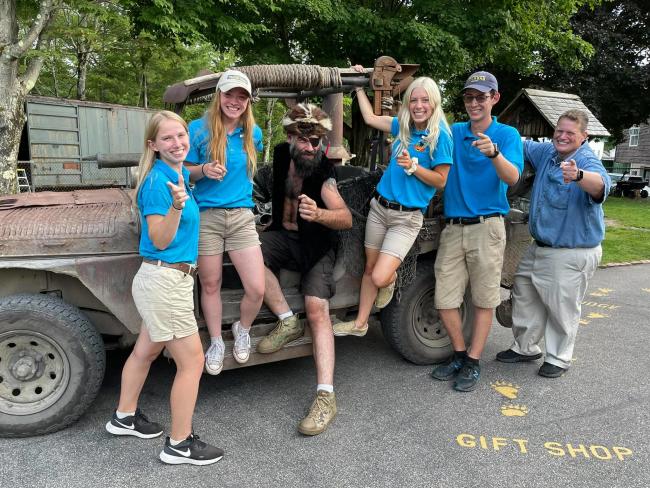 LOST RIVER GORGE & BOULDER CAVES (North Woodstock, NH)
Squeeze in some fun while you explore Lost River Gorge & Boulder Caves in North Woodstock, NH. This scenic gorge has 11 boulder caves to crawl through, a scenic boardwalk, gem sluicing, and more, but we're all about taking a selfie at the Lemon Squeezer Gauge. This spot marks the entrance to the Gorge's tightest cave to crawl through, and even attempting the Squeeze Gauge is quite the achievement.  
Lost River Gorge & Boulder Caves is closed during the winter season.
MT. WASHINGTON AUTO ROAD (Gorham, NH)
Drive to the top of the Northeast's highest peak along the Mt. Washington Auto Road and take a picture with the summit sign as proof! We love the idea of letting your hair fly free on windy days to really show off how Mount Washington earned the moniker "Home of the World's Worst Weather".
During the winter season, Mount Washington Auto Road Snow Coach tours are available to book online (weather dependent). Snow Coach tours only go partway up the mountain, so if you'd like a picture with the summit sign, wait for warmer weather. Drive Yourself tours typically resume in the late spring/early summer each year.
MT. WASHINGTON Cog Railway (Bretton Woods, NH)
While waiting for a ride on the world's first cog railroad, explore the museum at the Mount Washington Cog Railway which takes visitors on a historic tour of the construction of the Cog Railway. One of the most fascinating exhibits is the Devil's Shingle, which railroad workers used to quickly make their way from the summit to the base. A record breaking ride lasted only 2 minutes and 45 seconds as the rider was traveling at speeds up to 60mph! Have a seat on this perfect replica and pretend you are flying down the tracks at neck-break speed!
During the winter months, the Mount Washington Cog Railway offers train rides to their Waumbek Station (4,000') which provides visitors with stunning, panoramic views, hot refreshments, warming huts, and fire pits.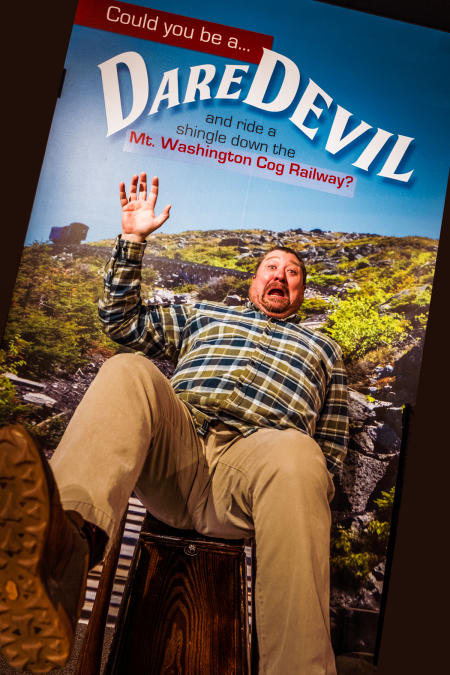 Photo Credit: Mount Washington Cog Railway
POLAR CAVES PARK
Nine granite boulder caves, an animal park, and a well-stocked gift shop – what's not to love about Polar Caves Park? This Rumney, NH attraction is photo-worthy from top to bottom, but our favorite place for pictures is the giant wood chair located right next to the animal park.
Polar Caves Park is closed during the winter season.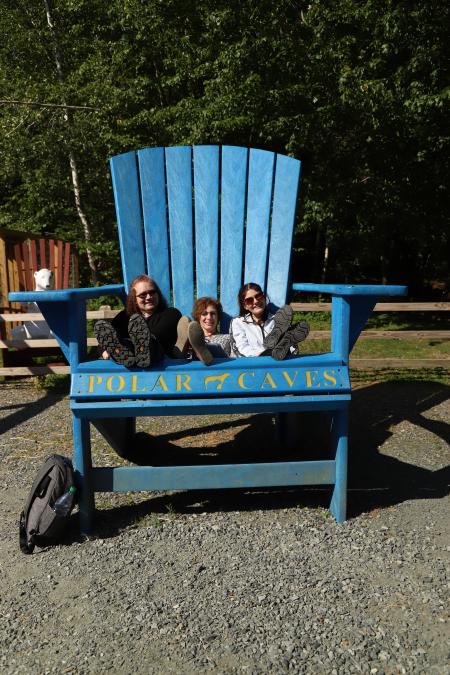 Photo Credit: Colleen Eliason
Public Art
During those quieter times of the year, one of our favorite things to do is taking a scenic driving tour. Along the way, we like visit local art walks, sculptures, and murals. There is a surprising amount of public art to be found throughout the White Mountains; might we recommend these few stops to get you started?
POLLYANNA STATUE (Littleton, NH)
The charming small town of Littleton, NH is home to many boutiques, shops, restaurants, and breweries. In the late 19th century, Littleton also played host to Eleanor H. Porter, the author of Pollyanna. Littleton has taken Pollyanna's "Be Glad" phrase to heart with a wrought iron gateway created in her honor, playful banners and spray-painted crosswalks in town, and a cheery statue situated in front of the Littleton Public Library. Bring a big hat for the occasion!
Some other fun stops in town include Bella Funk Boutique, Chutters (home of the world's longest candy counter), the League of NH Craftsmen, the Little Village Toy & Bookshop, and more. 
WELCOME TO BETHLEHEM MURAL (Bethlehem, NH)
Head to the highest town in New Hampshire; just as you crest the hill along Main Street in Bethlehem, NH, you'll see WREN and the massive "Welcome to Bethlehem" mural located just beside it. This piece feels like an homage to vintage travel postcards, but with an extra colorful and modern twist. Take a few pictures (and don't forget to bring a tripod if you want to capture the whole mural plus your smiling self). After that, tour the Gallery at WREN and shop for local pieces from over 120 artists inside WREN's storefront.  
NOCO Mural Project (Multiple Locations)
No doubt you have spied some incredible murals throughout the northern White Mountains including the "Welcome To" signs in Bethlehem (see above!) and Lancaster, but you may not have known that the majority of them were created by local artists for the NOCO Mural Project which is managed by the White Mountain Art Syndicate. Check out their website for a map of all art locations and then head to their Instagram page for some beautiful art inspiration.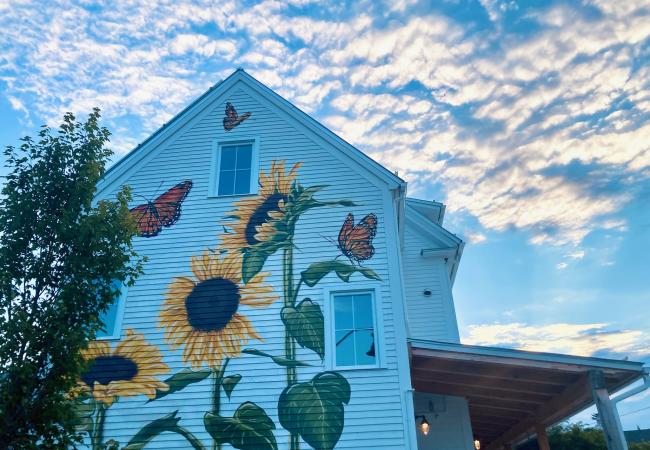 Photo Credit: Caitlin Farrar
SETTLERS GREEN ART WALK (North Conway, NH)
If you like a mélange of statues, murals, and neon art (plus shopping!), put Settlers Green in North Conway, NH on your schedule. There are so many fun pieces to discover as you wander through this outlet mecca, but if time is of the essence, check out the Public Art page on the Settlers Green website for a quick guide. Our favorite piece? Percy's Dog House, located in front of Percy Paws. Take a photo of your pup at the dog house, and use #seenatsettlers on any social posts for a chance to be featured!
ROBERT FROST STATUE (Plymouth, NH)
Lovers of poetry and local history, this is you call to visit the Plymouth State University campus in Plymouth, NH. A likeness of Robert Frost rests on a local bench (near the clock tower at Rounds Hall), pen in hand as he composes one of his most famous works, "The Road Not Taken". Frost taught classes at PSU from 1911 and 1912, but his presence remains something drawing visitors to campus more than a hundred years later.
Looking for more Robert Frost to fill your day? Visit the exterior of The Frost Place in Franconia, NH and enjoy stunning views of Mt,. Lafayette or enjoy walking the trails on property. 
Bonus! An Odd Selfie Spot....BETTY & BARNEY HILL ABDUCTION SITE
Head just a few feet north of Indian Head Resort in Lincoln, NH and look for a green historic state marker. There, you'll find the story of Betty and Barney Hill and their purported alien abduction on September 19th, 1961. The tale is harrowing, and a selfie with the sign a must.
Here are some other spooky, strange, and historic stops to take a selfie at (if you dare).
Have fun out there, selfie takers! And don't forget to use #yeswhitemountains on any photos that you'd like us to feature in digital or print publications.