Is there a better way to celebrate Dad than a trip to the White Mountains? We think not! From cider tastings to golf getaways, scenic tour discounts, and special events at our Major Attractions (like a road race up Mount Washington!), there are so many things to do in the White Mountains for Father's Day weekend.
Father's Day Events in the White Mountains
CRANMORE MOUNTAIN RESORT (North Conway, NH)
Cranapalooza continues on through the summer season, and Dad's invited! Stop by the Artist Falls Lodge at Cranmore Mountain Resort on Fridays (12:30 – 2:30pm through 8/4) for family-friendly summer games, music prizes and more. The base area also offers a Mountain Adventure Park, a scenic chairlift ride, and mountain biking if you'd like to make a full day of it.  But what to do on Saturday? We'd suggest unwinding at the Sunrise Yoga Series (recurring weekly on Saturdays through 7/29).
The Sunrise Yoga Series is held at the Arlberg Children's Center (65 North Chair Road, North Conway, NH). Price: $15 a class.
LOST RIVER GORGE & BOULDER CAVES (North Woodstock, NH)
Get Dad in the great outdoors! In addition to the mood boosting benefits of time spent outside, we bet watching a Live Animal Presentation with a Naturalist and meeting some New Hampshire Wildlife will make for a superb day. Head to Lost River Gorge & Boulder Caves on Saturday, 6/17 (10:30 – 11:30am) to see the Squam Lakes Natural Science Center critters (and also crawl through some caves).
MT. WASHINGTON AUTO ROAD (Gorham, NH)
Thousands of runners from around the world are converging at the Northeast's highest peak on Saturday, 6/17. What's the big draw? The 62nd Delta Dental Mt. Washington Road Race! This event supports local healthcare in rural northern New Hampshire, so even while registration for runners is closed, you can still feel like you're doing good by cheering on some amazing runners. The Mt. Washington Auto Road reopens to the public for normal driving operations around 1:30pm on race day – anyone up for a trip to the top?
If Dad votes "yes" and he also owns a MINI Cooper, save your drive for Sunday, 6/18 and MINI's on Top. From 5 – 7pm, more than 200 MINI Coopers will make their way to the top of Mount Washington – wow!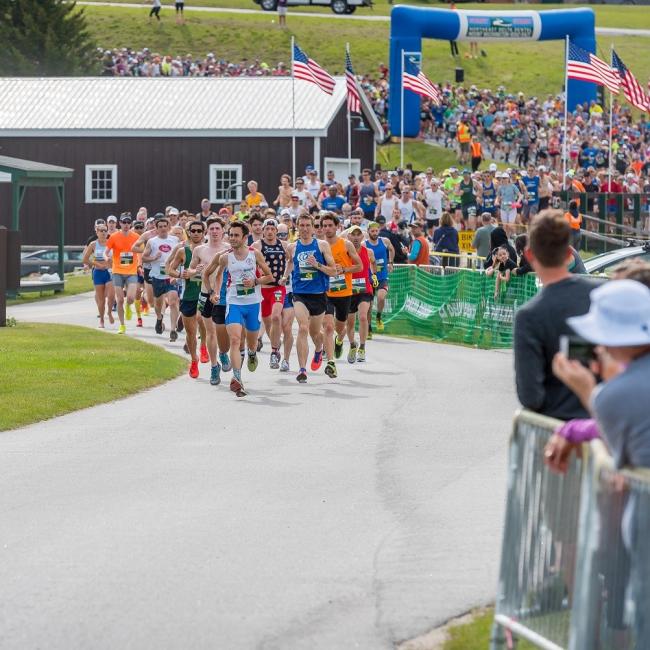 Photo Courtesy of Mt. Washington Auto Road Facebook
SANTA'S VILLAGE (Jefferson, NH)
Merriment is on the menu at the Jolly June Feastival on Saturday, 6/17 (10am – 4pm). Santa's Village is your host, and your admission ticket includes a magical amount of FREE food and beverages. Think soft drinks, pizza, ice cream, cookies, doughnuts, snacks, and even entrees at the Burger Meister Food Court. Buy your tickets online ASAP – there are no ticket sales at gate, and the Jolly June Feastival is sure to sell out!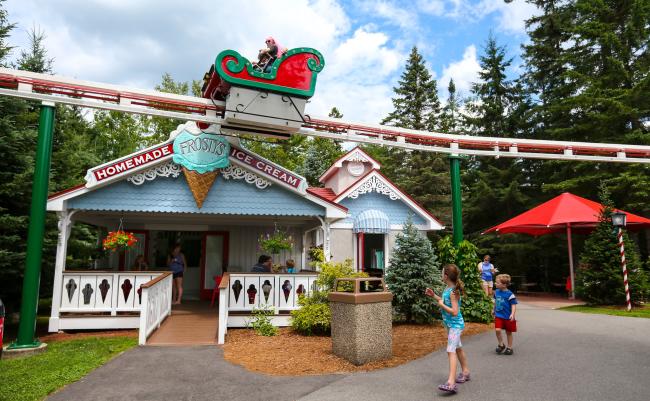 Photo Courtesy of Santa's Village Facebook
LACONIA MOTORCYLE WEEK (Laconia, NH)
Vroom vroom! Motor down to the Lakes Region for Laconia Motorcyle Week – this once-a-year bonanza is celebrating 100 years of rallying June 10 through June 18, and we think Dad will love connecting with other motorcycle enthusiasts and enjoying lakeside views.
We also encourage you to road trip and find other nearby lakes like scenic Chocorua Lake (pictured below).
WEATHERVANE THEATRE (Whitefield, NH)
Are you ready for a wonderful weekend? The Weathervane Theatre has two great shows on its playbill – Jersey Boys on Saturday, 6/17 (7pm – 10pm) and the North Country Shakes: The Bard on Broadway on Sunday, 6/18 (4 – 8pm). You're probably familiar with the former, a Tony award-wining smash, but what about the latter? It's Shakespeare in the park meets classic musicals, and it's also FREE!
For more information & tickets, head to the Weathervane Theatre's website.
WREN – LOCAL WORKS MARKETPLACE & GALLERY (Bethlehem, NH)
Quilt making, painting, and poetry – if Dad appreciates the arts, WREN Local Works Marketplace & Gallery is a must-stop the next time you're traveling through Bethlehem, NH. The latest show, "Echoes & Reflections", is  a collaborative effort between 6 established artists and is on display in the Gallery at WREN through Saturday, 6/25.
"Echoes & Reflections" is on display in the Gallery at WREN, Monday-Saturday 10 AM-5 PM (closed Wednesdays) and Sunday 10 AM-4 PM.
WOODSTOCK INN & BREWERY (North Woodstock, NH)
Live bands and open mic nights – you know the drill! Every week, the Woodstock Inn & Brewery livens up the western White Mountains with local talent. Will you summon your courage to take to the stage this time around? We can't think of a better time than when Dad is there to cheer you on!
Live Band: Friday, 5/16 and Saturday, 6/17 (8:30 – 11:30pm). Open Mic: Sunday, 6/18 (8 – 11:30pm).
Father's Day Deals & Meals in the White Mountains
ACTION TOUR GUIDE
Take a scenic drive along the Kancamagus Highway with Dad and bring Action Tour Guide along for the ride. Enjoy scenic vistas, historic landmarks, and plenty of stops for hiking and picnicking – with Action Tour Guide's app, you can make the most of your self-guided adventure. Even better? With discount code KANC15, you'll get 15% off the tour.
BRETTON WOODS VACATIONS (Various Locations)
Want another good reason to bring the whole family to the White Mountains this Father's Day weekend? Bretton Woods Vacations is offering their biggest discount EVER. With the coupon code HAPPYDAD, you can get 20% off your stay at one of Bretton Woods Vacations' many fantastic properties found throughout the region.
Valid for reservations with June check-in dates.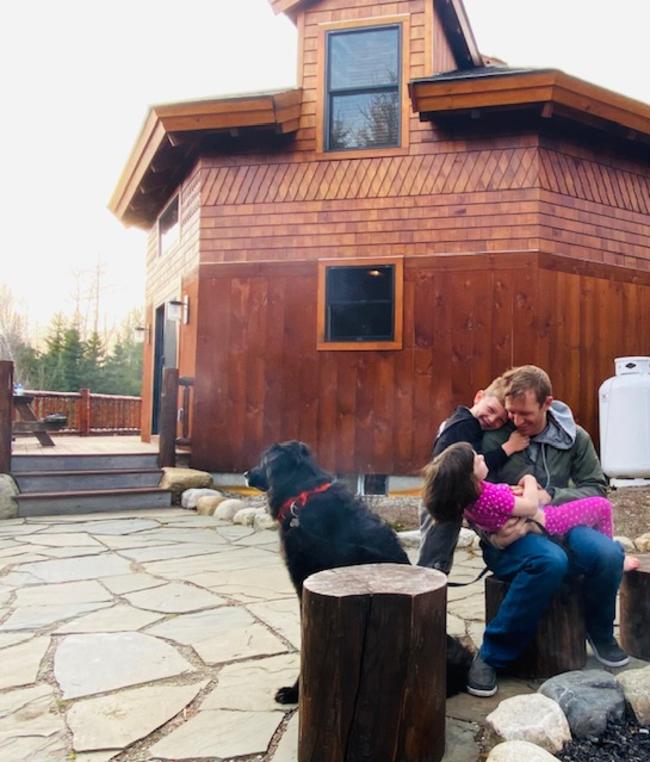 EAGLE MOUNTAIN HOUSE (Jackson, NH)
A Father's Day Luncheon at the Eagle Mountain House sounds like a surefire recipe for celebratory success. Make your way to Jackson, NH on Sunday, 6/18 for a smorgasbord of enticing entrees, including Bacon Cheese Fries, Nashville Hot Chicken Sandwiches, Corned Beef Reubens and Peanut Butter Cake, and so much more. You'll have from 11am to 4pm to enjoy and it's only $30 per person, so eat up!
HARMAN'S CHEESE & COUNTRY STORE (Sugar Hill, NH)
Sure, Dad tells cheesy jokes. That's part of what makes him so lovable! Honor the big cheese with a free ½ pound of the legendary cheddar offered at Harman's Cheese & Country Store in Sugar Hill, NH. Trust us – this stuff tastes so good, you'll be greeted by stunned silence.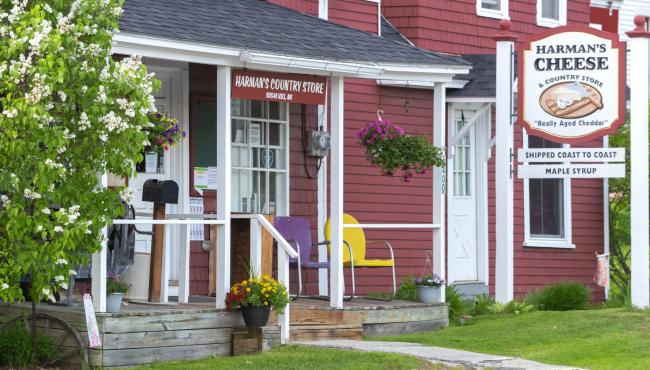 Photo Courtesy of Harman's Cheese & Country Store Facebook
OMNI MOUNT WASHINGTON RESORT (Bretton Woods, NH)
Plan a golf getaway that Dad will remember for a lifetime. The Omni Mount Washington Resort is offering a free round of golf for Dad at either the Mount Pleasant or Mount Washington courses, so take your pick of 9 or 18 holes. The full-service clubhouse, golf lessons, and amazing views of the Presidential Range are certainly a draw, but we think what Dad will treasure the most is time spent with YOU!
Purchase of 1 full round of golf required to access Father's Day deal. Includes green fee and cart fee. Subject to availability and course conditions. Space is limited. Call 603-378-4653 for more information and tee times.
OWL'S NEST RESORT & GOLF CLUB (Thornton, NH)
Is Dad seeking to up his game this season? Swing by the SportsNest at Owl's Nest Resort & Golf Club in Thornton, NH. This one stop shop is offering 25% off storewide for Father's Day, so whether Dad has got his eye on a new golf club or tennis racquet or golf balls, apparel, and other miscellaneous sporty gear, great last-minute presents await.
SEVEN BIRCHES WINERY & RHYTHM HANDCRAFTED BEVERAGES STUDIO (Lincoln, NH)
Cider, seltzer, or wine? Happily, Dad doesn't have to pick and choose this Father's Day. Seven Birches Winery and Rhythm Handcrafted Beverages Studio are both offering FREE tasting flights, so make your way to Lincoln, NH. Cheers!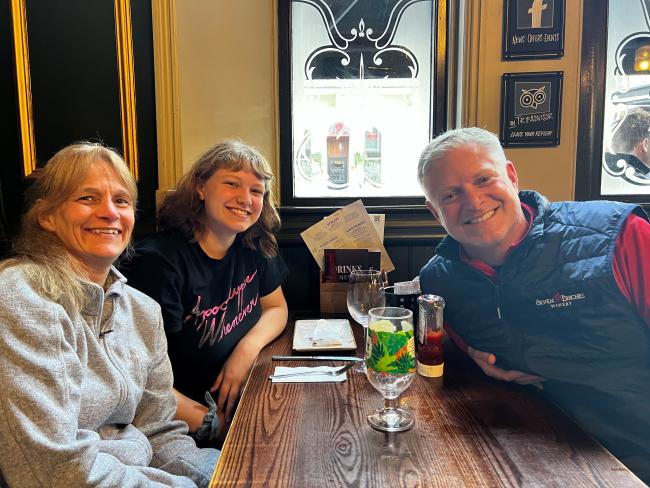 Now that you've got your Father's Day plans nailed down, we hope you get up to some marvelous exploring!
Our Trip Ideas might spark some additional inspiration, but we'd be wrong to neglect a shoutout to our places to eat in the White Mountains too. Take your pick of relaxed breakfast spots, five-star dinners, and every imaginable meal in between. Wherever you pick, Dad is sure to love 'em.