Is it just us, or does fall bring on the craving for something new? We challenge you to jazz up your menu these next few weeks and pull some inspiration from some of our favorite local restaurants, breweries, maple syrup makers, and wineries! Here the best flavors of fall found in the White Mountains.
HERMIT WOODS WINERY (Meredith, NH)
One look at their impressive fruit wine list, and it's easy to see that Hermit Woods Winery in Meredith, NH is all about embracing the bounties of our region. That mentality also extends to their outstanding appetizers to pair with any wine pouring.
How about a Sage and Pumpkin Flatbread? We can feel the fall vibes already.
Sage and Pumpkin Flatbread
INGREDIENTS
1 Naan bread 
2 oz of marinara (House-Made Marinara Recipe below)
1 oz of Tomme cheese
.5 oz of diced pumpkin (Roasted Pumpkin Recipe below)
.5 oz of diced roasted red pepper 
Chopped sage
House-Made Marinara:
10 oz of canned tomatoes
3 tablespoons of garlic
2 oz of chopped basil
2 tablespoons of salt
1 tablespoon of pepper 
Roasted Pumpkin:
2 oz Olive oil
3 cups of Pumpkin 
5 oz Brown sugar
Salt and pepper to taste
DIRECTIONS
Preheat oven to 450F.
Put 2 oz of marinara on naan.
Sprinkle 1 oz of Tomme cheese.
Place diced roasted pumpkin and roasted red pepper on top of cheese.
Sprinkle sage on top.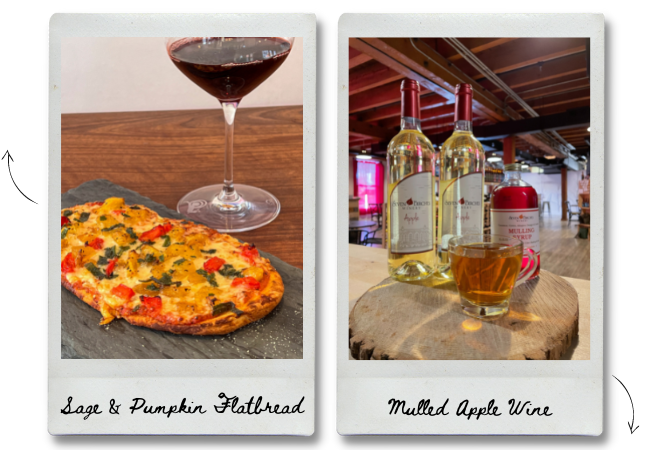 SEVEN BIRCHES WINERY (Lincoln, NH)
After a day spent exploring outside in the colder weather, nothing hits the spot quite like a glass of warm mulled wine from Seven Birches Winery in Lincoln, NH. If you'd like to capture the same cozy taste at home, keep reading!
Mulled Wine
INGREDIENTS
2 bottles of Seven Birches Apple Wine
1 bottle of Seven Birches mulling syrup
1 cinnamon stick
DIRECTIONS
Combine all liquid ingredients in large pot and gently heat. Garnish with a stick of cinnamon and enjoy!
WOODSTOCK INN BREWERY (North Woodstock, NH)
The only thing rivaling the Woodstock Inn Brewery's famous Double Pig's Ear Brown Ale is its very own namesake chili. This hearty, warming chili is the perfect topper for football Sunday standbys like nachos and hot dogs. Might we recommend saving a few ales to pair with your chili?
Double Pig's Ear Brown Ale Chili
INGREDIENTS
2 white onions diced
1 tablespoon of minced garlic
3 Ibs ground beef
1 Ib ground pork
2 large cans of red kidney beans (drained & rinsed)
1 can of black beans (drained & rinsed)
2 jalapeños diced
2 cans of diced tomatoes
2 large cans of tomato sauce
1 tablespoon oregano
3 dashes Tabasco Sauce
1 tablespoon cumin
Two 16oz cans of Woodstock Inn Brewery's Double Pig's Ear Brown Ale
DIRECTIONS
In large pot add onions and garlic. Cook on high heat for 2 mins.
Then add ground beef & pork cook till browned.
Next, add one 16oz can of Double Pig's Ear Brown Ale and cook on med-high heat until beer is completely reduced.
Add beans and diced jalapeños, stirring into meat mixture.
Then add the second 16oz can of Brown Ale, reducing fully again.
Finally add diced tomatoes and tomato sauce, along with oregano, cumin, and Tabasco Sauce. 
Put on low heat and simmer a couple hours and boom! Double Pig's Ear Brown Ale Chili aka the best chili outta the White Mountains. Enjoy!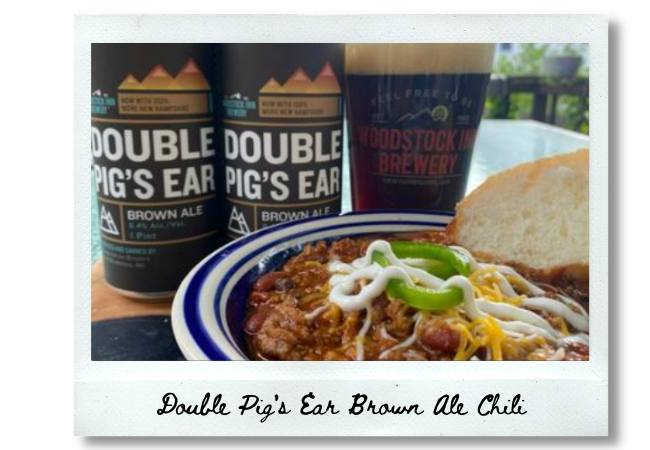 FULLER'S SUGARHOUSE (Lancaster, NH)
In our minds, fall is the time to try baking something new. Lately, we've had a hankering for anything featuring cinnamon, maple syrup, and apples. Instead of an apple pie though, we're betting on Fuller's Sugarhouse's line up of autumnal recipes spotlighting their award-winning, downright delicious maple syrup. Head to Fuller's Lancaster, NH location to pick up a pint of your own!
Apple Cider Donuts with Maple Glaze
INGREDIENTS
Donuts
1 cup and 2 tablespoons of all-purpose flour
1 ½ teaspoons baking powder
¼ - ½ teaspoon sea salt
2 teaspoons cinnamon
1 large egg (at room temperature)
1/2 cup fresh apple cider
1/2 cup sugar
1/2 teaspoon apple cider vinegar
1 teaspoon pure vanilla syrup
4 tablespoons unsalted butter
Maple Glaze
1 ¼ cup confectioner's sugar
3 tablespoons Fuller's Sugarhouse Pure Maple Syrup
1 tablespoon dark corn syrup or Karo
1/2 tablespoon water
1/4 teaspoon cinnamon
DIRECTIONS
Preheat oven to 350 º F (177 º C).
In a medium mixing bowl, whisk together the flour, baking powder, sea salt, and cinnamon. In a small separate bowl, whisk the egg. Set both aside.
In a small saucepan over medium-low heat, combine the apple cider, sugar, and butter, stirring continuously until butter has just melted. Remove from heat, let cool for 2 minutes, and stir in the apple cider vinegar, vanilla, and whisked egg. Slowly pour the wet ingredients into the dry; stir well with a whisker until combined and almost no lumps are visible.
Using a tablespoon or a cookie scooper, spoon/scoop batter into a donut pan (3/4 full). Bake in the oven for 12-14 minutes (standard-size baked donuts) or for 6-7 minutes (mini baked donuts), or until light brown and cooked through. Let cool for 2-3 minutes on a rack. Then, remove baked donuts from pan and place them directly on a rack to cool completely before dipping into glaze.
For the Glaze, Whisk everything together in a small bowl until smooth.
Set rack of donuts over a baking sheet lined with parchment paper.
Dip the top of the baked donuts into the maple glaze, turning to coat well. Let baked donuts rest on rack until glaze sets.  
Makes 6 Servings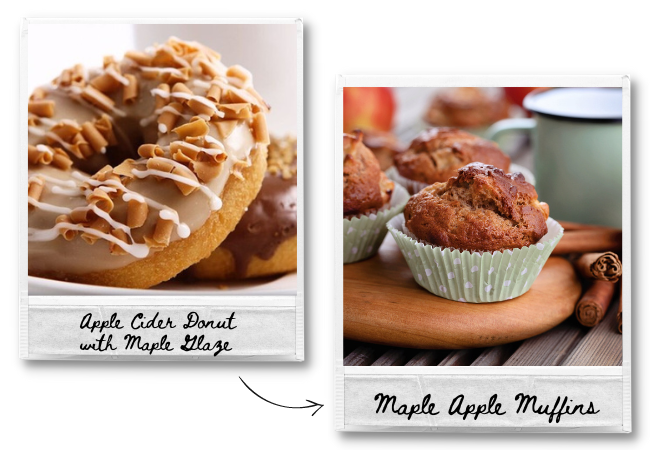 Maple Apple Muffins
INGREDIENTS
1 cup all-purpose flour
1/2 cup whole wheat flour
1 ½ cup rolled oats
2/3 cup sugar
1 tablespoon baking powder
1 ½ teaspoons Cinnamon
1/2 cup milk
1 egg, beaten
1/4 cup Fuller's Sugarhouse Pure Maple Syrup
2 – 3 medium apples, peeled, cored, and diced
1/2 cup Melted butter
DIRECTIONS
Preheat oven to 375 degrees and place muffin wrappers in the muffin cups. Whisk together flours, oatmeal, sugar, baking powder and cinnamon. Set aside.
In a separate bowl mix together the milk, egg, butter, and Fuller's Sugarhouse pure maple syrup. Pour the liquid mixture into the dry mixture and stir together.
Add in the diced apples and continue to stir. Once all combined, fill the muffin cups 2/3 full. Bake for 20-25 minutes and then let cool before eating.
Looking for more maple syrup recipes? Read "Make It With Maple!".
POLLY'S PANCAKE PARLOR (Sugar Hill, NH)
Here's one more sweet one! This time, we're delving into the delicious realms of pumpkins and pancakes courtesy of Polly's Pancake Parlor in scenic Sugar Hill, NH.  A little cinnamon or pumpkin pie spice, plus canned pumpkin, is the secret to making Polly's Whole Wheat Pancake Mix a fall affair.
Whole Wheat Pumpkin Pancakes
INGREDIENTS
1 bag of Polly's Pancake Parlor Whole Wheat Pancake Mix 
3 large eggs
2 ¼ cups of milk
3/4 cup (or 12 tablespoons/1 and a half sticks) of melted butter or vegetable oil
Approx. half a can (7.5 oz by weight or about 3/4 Cup) of 100% canned pumpkin
2 tablespoons of cinnamon (or pumpkin pie spice)
DIRECTIONS
Prepare mix as directed on pancake mix package, using the eggs, milk, and butter.
Then, add the canned pumpkin (NOT pumpkin pie mix) and 2 tablespoons of cinnamon, and mix until combined.
Allow batter to rest for at least ten minutes. (Pro tip: If you want that real Polly's taste, Polly's rests your batter overnight to allow the whole wheat the hydrate and the batter to thicken up.)
Prepare pancakes as directed on a hot griddle.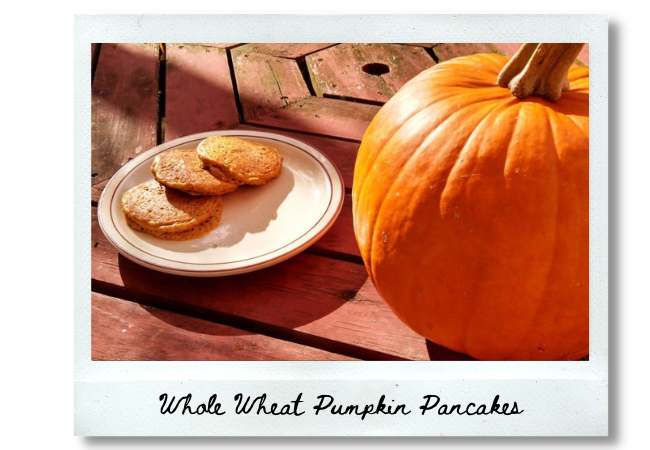 After you've prepared a very fine fall feast, there's just one more thing to do: visit more of our local restaurants to find your next favorite dish this season!