In our opinion, Maple Month goes way too fast. Don't miss out on the best of the season – grab a few jugs of maple syrup from one of our local sugarhouses, and try your hand at one of these sweet recipes.
MAPLE CINNAMON WHISKEY SOUR
1.5 oz Hudson Baby Bourbon
2 tbs Fresh Lemon Juice
3 tbsp NH Maple Syrup
Bing Cherry
Pinch of Cinnamon
Cinnamon Stick
Fill drink shaker with 2/3 ice and pour in bourbon, lemon juice, syrup, and cinnamon. Shake.
Strain over glass with ice and garnish with a Bing cherry and cinnamon stick.
(Recipe courtesy of Adair Country Inn & Restaurant in Bethlehem, NH)
MAPLE BAKED BRIE
1 (14 ounce) Round Brie cheese
1 cup Chopped walnuts or pecans (you can also add dried fruit)
2/3 cup Fuller's Sugarhouse pure maple syrup
1 18-inch French baguette, cut into 3/4-inch slices
Preheat oven to 200 degrees F (95 degrees C). Place the unwrapped Brie cheese into a baking dish, sprinkle with walnuts, and pour the Fuller's Sugarhouse pure maple syrup over the nuts and cheese.
Bake in the preheated oven until the cheese warms and softens, about 10 minutes. Serve cheese with slices of baguette.

MAPLE MUSTARD CHICKEN
5 boneless skinless chicken thighs (1 pkg.)
½ cup Fuller's Sugarhouse pure maple syrup
¼ cup Dijon Mustard
½ tsp onion powder
¼ tsp garlic powder
1 tsp dried tarragon (rubbed between your palms to break up and release the oils)
Pinch crushed red pepper
Preheat oven to 450°. In a casserole dish or other high sided baking pan, place your chicken thighs in a single layer and generously season with salt and pepper front and back.
In a small bowl, combine Fuller's Sugarhouse pure maple syrup, mustard, garlic powder, onion powder, tarragon, and red pepper, and whisk to combine.
Pour syrup mixture slowly over the chicken thighs making sure that each thigh is covered in sauce.
Bake uncovered at 450° for about 30 mins or until the internal temperature of the chicken is 165° or it's no longer pink. The top of the chicken will be slightly charred in spots and the sauce will have condensed.
Let rest for 5 minutes before serving.
(Recipes courtesy of Fuller's Sugarhouse in Lancaster, NH. Visit the Fuller's Sugarhouse website for more recipes!)
MAPLE PORTER SAUSAGE PENNE
1 lb sausage
½ pint grape tomatoes
½ bunch of asparagus, cut into 2-inch pieces
1 ½ lb. penne pasta
1 tbsp garlic, diced
½ cup Woodstock Inn Brewery Kanc Country Maple Porter
2 tbsp butter
1 bunch of scallions, diced
Parmesan cheese
Crumble sausage into frying pan and cook until browned.
Add asparagus and after 1-2 minutes, add grape tomatoes and garlic until tomatoes break open.
Deglaze pan with Maple Porter and add butter until blended.
Toss with cooked penne pasta.
Garnish with scallions and parmesan cheese.
Serves 4.
(Recipe courtesy of Woodstock Inn Brewery in Woodstock, NH. Visit their website for more recipes!)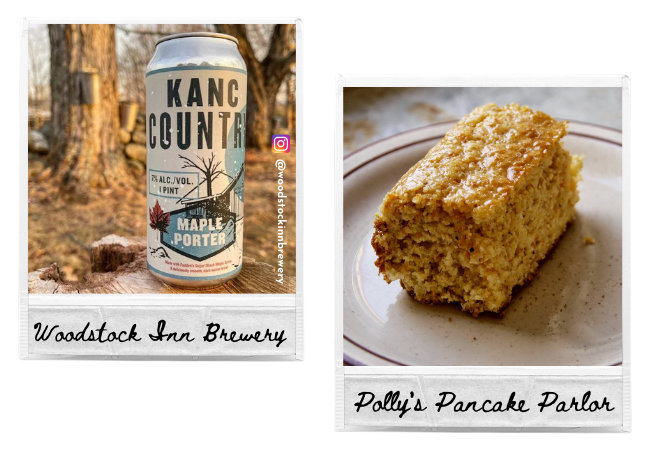 MAPLE CORNBREAD
6 TBSP of melted butter (separated into 4 and 2 TBSP, let this cool off before adding it)
12 oz (340 grams) or 2 and 1/2 cups Polly's Cornmeal Pancake Mix
1 tbsp baking powder
1/2 tsp baking soda
1 Cups of Milk
2 Large Eggs
1/4 cup of Polly's Maple Syrup (plus another 1/4 cup for topping)
Preheat your oven to 400 degrees F. Butter or grease an 8″x8 baking pan.
In a medium bowl whisk together the Cornmeal Pancake Mix, baking powder, and baking soda.
Create a large well in the center of the dry ingredients and add in milk, eggs, 4 TBSP of the butter (not all of it), 1/4 cup of the maple syrup and gently mix the batter together until just combined (do not over mix). Set aside remaining butter. 
Transfer the batter to the greased baking pan. 
Bake at 375 degrees F for 20-25 minutes, until a toothpick comes out clean and it is light browned on top. While that is baking, combine the remaining butter and maple syrup.
Remove the baked cornbread from the oven.
Immediately brush the cornbread with the maple syrup and butter mixture. 
Then allow bread to cool completely before slicing (if you can stand it)! 
AUNT BEA'S MAPLE SPONGE CAKE
1 ½ cups maple syrup
8 egg whites
½ tsp salt
2 cups of cake flour
1 tsp of baking powder
8 egg yolks
1 tsp vanilla extract
Glaze
1 cup confectioners' sugar
2 tbsp milk
14 tsp vanilla extract
Preheat your oven to 325 degrees F.
Separate 8 eggs, set yolks aside for later.
Heat 1 1/2 cups of maple syrup to boiling. While your syrup is heating, beat the 8 egg whites and 1/2 tsp of salt to stiff peaks. Continue to beat the egg whites, while very slowly pouring the hot syrup over them. Stop beating at this point. From here on out, treat the batter very gently.
In a separate bowl sift together 2 cups of cake flour, and 1 tsp baking powder.
Gently fold the flour and baking powder into the egg whites, being careful to not deflate the egg whites.
Beat your egg yolks together with the 1 tsp vanilla until lemon in color.
Gently fold this mixture in as well. Carefully pour the mixture into an ungreased angel food cake pan.
Bake at 325 degrees F for 50 minutes (or until a knife inserted comes out clean). While that is baking make your glaze by combining confectioners' sugar, milk and vanilla and beating until smooth. Remove your cake from the oven.
Allow it to cool upside down in the cake pan until COMPLETELY COOL, at least an hour. Use a knife to loosen it from the edges and drop it out of the pan, upside down onto the plate you'd like to serve it on. Pour your glaze over the top. Slice and enjoy!
(Recipes courtesy of Polly's Pancake Parlor in Sugar Hill, NH. Visit Polly's website for more recipes!)