Winter visitors to the White Mountains have their annual traditions such as skiing, snowshoeing, and winter hiking.  For many, a visit to the breathtaking Ice Castles has been added to that list.  But what is the magic that goes into making it?
Icicle cultivation is the first step. Just like a fine wine made of well-tended grapes, this icy behemoth starts with hand-harvested icicles. It's a monumental task, as Ice Castles' founder Brent Christensen is quick to note. "Some years it's really cold, some years it's not, and we just kind of hold our breath and work with what we have…we're at the mercy of the weather." In large part, this is due to Ice Castles' naturalistic building approach, which focuses on "the beauty that happens as icicles form, drip and merge" rather than symmetrical manmade blocks of ice.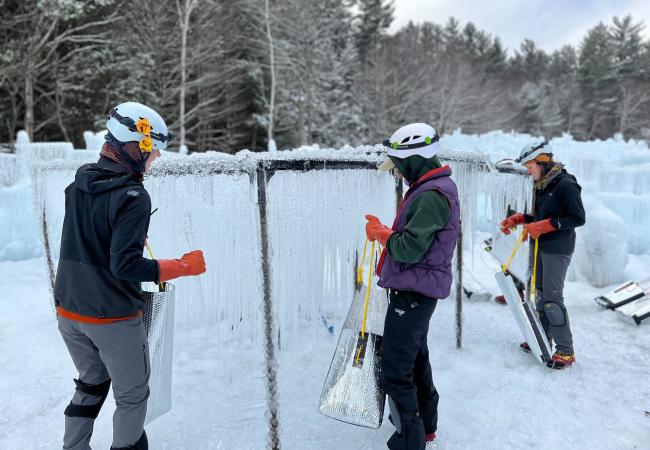 It begins with chilly temps, and an orderly arrangement of pipes providing a steady drip of water. In time, these pipes yield beautiful icicles. Before they can fuse to the ground below, the Ice Castles' crew steps in. With insulated gloves to stave off the chill, these intrepid harvesters snap off each individual icicle, tucking them into silver insulated bags and then a plastic sled for safe transport around the property.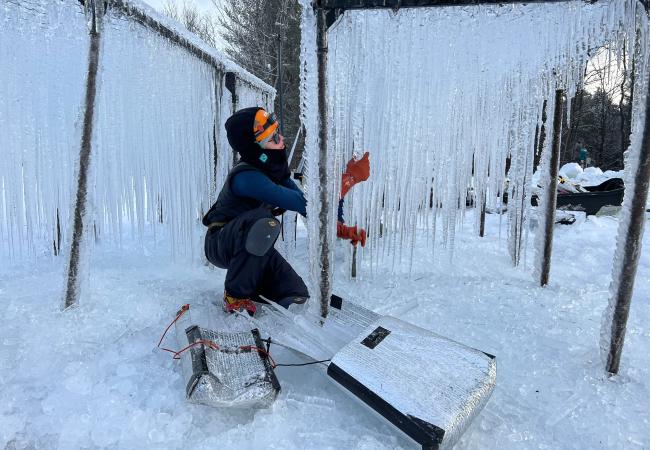 From there, Christensen outlines the next stage. "Once it turns cold, we start placing and fusing icicles in formations that we want things to grow into. Then once those are strong enough after a day or two, we climb on top of them and add more icicles." As the main structures begin to take shape, a visual rhythm emerges. Thick, weighty columns of ice define the structure. Smaller towers in between create continuity. Eventually, the smaller icicles are added to create that signature "Elsa was just here" appeal.
It's orderly yet artistic – a bit of science mixed with inimitable magic. For Christensen, "when you dance with Mother Nature, you let her lead" (while also adding a few flourishes here and there). Perhaps that's why each year, with all its brilliantly hued columns, towering crags, and whimsical slides, Ice Castles looks a little bit different. For every tunnel to scoot through or winding passage that feels familiar, there's a new cozy alcove and hundreds of thousands of freshly placed glittering icicles, lit by sunshine in the day and rainbow LED lights come nightfall.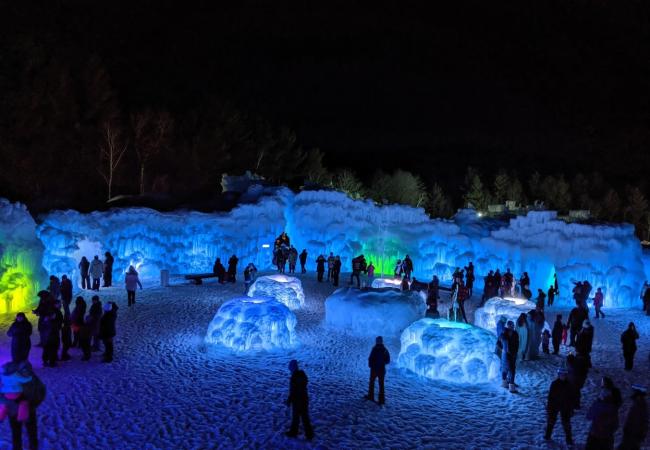 In addition to this glimmering structure that brings repeat visitors each year from near and far, Ice Castles also has snow tubing, sleigh rides, and a mystical, illuminated walk through snow-frosted woods located on the property. With so much to see, it's no wonder why Christensen is proud to call Ice Castles "an otherworldly experience" found right here in the White Mountains of New Hampshire.
Come discover the latest iteration of Ice Castles in Woodstock, NH starting January 2023! For tickets and more information, visit the Ice Castles website.