Winter walks in the woods are simply magical and there are so many amazing trails to explore in the White Mountains this time of year. While hiking in the higher elevations in the winter can be a challenge and sometimes even dangerous, there are plenty of hikes that do not require a lot of effort and can be great for first-time winter explorers or for those with kids. Here are some of the trails that we love and will make you love to get you out in the winter woods.
SMARTS BROOK (Thornton, NH)
This popular loop trail on Rt. 49 in Thornton is great for winter hikers and snowshoers alike. A beautiful walk in the woods, this trail features foot bridges, a brook, and a couple of smaller waterfalls. Explore the large ice formations along the rock face at the start of the loop.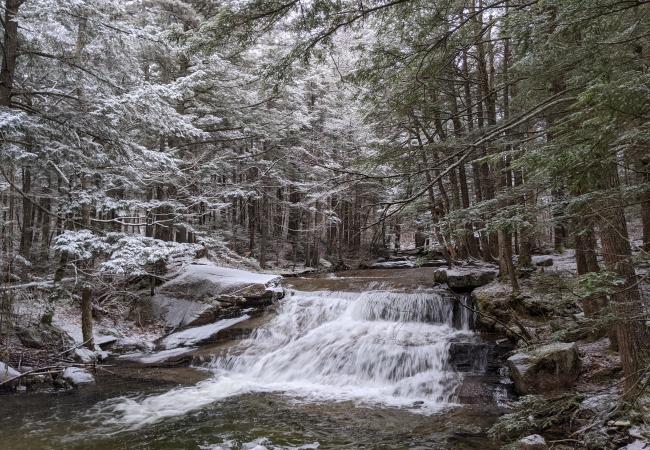 Photo Credit: WMAA Staff Photo
KILBURN CRAGS (Littleton, NH)
This 1.4-mile round trip walk is located on the side of Walker Mountain in Littleton and has stunning views of the Presidential Mountain Range, Cannon Mountain, and a bird's eye view of the town of Littleton. The trailhead parking lot can only accommodate about 4 cars, so keep that I mind when planning. The summit is at about 1300' so you get a lot of bang for your buck with the view without a lot of effort.
Head to our Kilburn Crags blog for an even better idea of what to expect during wintertime, as well as a fun TikTok! 
BRONSON HILL CONSERVATION AREA (Franconia/Sugar Hill, NH)
This amazing conservation area has nine trails that are blazed for year-round recreation and is a wonderful spot for those looking to get out in the woods and not gain much elevation. This spot is great for snowshoes and cross-country skis as well. Be sure to take the 1.6-mile Overlook Farm Loop for sweeping views of Franconia Ridge, Cannon Mountain, and beyond. (*Please note that Ammonoosuc Conservation Trust conserves this piece of private property and that parking is limited. Another parking lot can be found on Pearl Lake Road.)
Prepare for your adventure with a little extra information! Our Bronson Hill blog and Reel are a great place to start. 
CHAMPNEY FALLS (Kancamagus Highway, NH)
The trail to Champney Falls is often included on the hike to Mt. Chocorua which would make this hike much longer and much trickier in the winter! By cutting out the Chocorua part of the hike, your journey will take you just to Champney Falls, which is about a 3.1-mile round-trip. Champney Falls is a 70-foot-long series of cascades that resemble a frozen castle in the winter. This trail is more on the moderate side, so please use caution when venturing out. 
If you would like to visit more winter waterfalls, check out our list of Family-Friendly Winter Waterfall Hikes.
CATHEDRAL LEDGE (North Conway, NH)
This special spot has been the scene for many engagements and weddings, and when you see the view from the top, you'll know why! In the winter months, the gate to the park is closed so plan on parking and walking the one mile up the auto road to the top of the ledge where you will be greeted by sweeping hikers and snowshoes. After that, warm up by hopping in and out of shops around town and taking advantage of NH's tax-free retail therapy! 
CHAMBERLAIN-REYNOLDS MEMORIAL FOREST (Center Harbor, NH)
The Chamberlain-Reynolds Memorial Forest is comprised of 157 acres with one mile of waterfront that is part of the Squam Lakes Association. There are four miles of walking trails, several beaches, and a boardwalk trail through a (quite lovely!) swamp. The trails all range from easy to moderate all with beautiful scenery and landscapes to explore.
WALTER NEWTON NATURAL AREA (Plymouth, NH)
This peaceful walk in the woods is a favorite for locals, year-round, but is a beautiful spot to visit in winter when the trees are filled with snow and the gorgeous Rainbow Falls is frozen in place. The loop trail is only 1.6-miles and is perfect for families with kids or for those just looking for a smaller hike. Since this hike is on the shorter side, we'd also recommend heading to lunch or dinner after your adventure! Find some of our favorite stops here. 
PONDICHERRY WILDLIFE REFUGE (Jefferson, NH)
With incredible views of the northern Presidential Range, this wildlife refuge is a rare gem any time of year, but it is especially magical in the winter.  There are nine trails to explore within the 166-acre refuge and is great for those looking for a nice winter walk, or a day out on snowshoes or cross-country skis. Travelers looking to make a full weekend out of their wanderings should book local lodging ahead of time in one of several picturesque nearby towns.
Winter hiking can be a fun and beautiful way to experience the White Mountains. Keep in mind that it is always recommended to check weather and trail conditions before venturing out, and to be prepared with appropriate gear. In addition to warm, waterproof clothing, appropriate footwear, water, snacks, and the other 10 Essentials, we suggest bringing microspikes with you, which are an inexpensive purchase from most outdoor outfitters or from larger box stores.
Spend some time familiarizing yourself with the Hike Safe website, which is brought you to by NH Fish & Game and has great tips for gearing up and venturing out safely. Especially in the winter, planning ahead with safety in mind is key to any outdoor excursion in the White Mountains!