This lovely outing at Bronson Hill Conservation Area in Sugar Hill, NH ranks as one of our very favorite quick winter hikes in the White Mountains. Here, history and great views are everywhere!  
Trail Rating: Easy
Mileage: approximately 1 mile out and back
To access this beautiful hiking area, you have your choice of two parking lots situated on the northern and southern borders of the property. For the purposes of this hike, head to the small parking lot off Dyke Road, on the south side of Bronson Hill. This lot (generously located on private property) can accommodate up to four cars at time, so plan accordingly.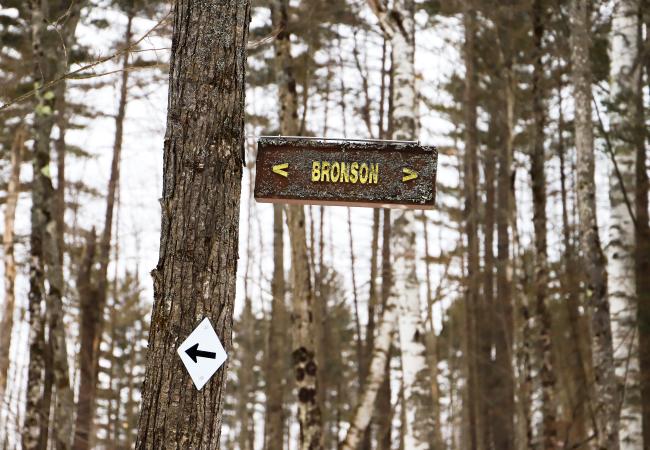 Once parked, we took a few minutes to don our microspikes, adjust our layers, and double check that we had our other winter essentials. It was a chilly, blustery day filled with wind-nipped cheeks, trees cracking and swaying above, and plenty of snow squalls whipping through the woods and fields, which served as the perfect reminder that no hike is too small to prepare for. With the help of our proper footwear, outerwear, and navigational odds and ends (in this case, a printed map of the area*), we were ready for a mighty fine walk in the woods.
The quickest route for hopping on to the Overlook Farm Loop is to take Overlook Way, a short connector trail starting right across the road from the parking lot. This trail has a mix of deciduous and coniferous trees and mild changes in elevation, making it the perfect choice for a conversational catch up with friends or nature explorations with children. Take note of the towering pines in particular; we were enamored with the immensity of their quiet, powerful presence.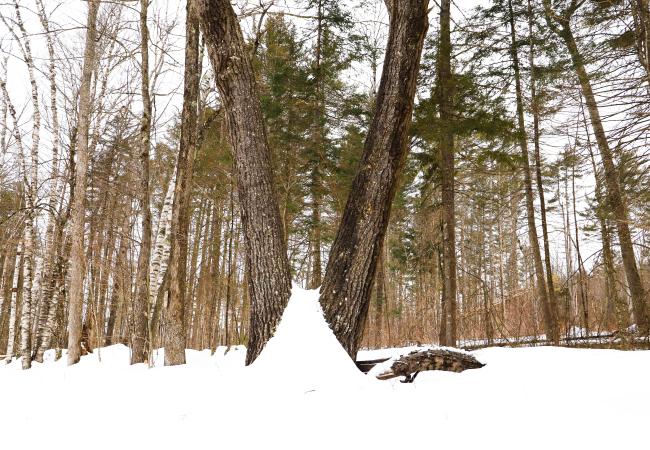 In just a few minutes, you can expect to arrive at a trail junction. Take a right onto the Overlook Farm Loop, where a stately avenue of trees will lead you to some truly amazing views. Pay attention to the woods on your right as you walk – an old cellar hole serves as a reminder of the residents who once dwelled within this well-preserved parcel.
At the end of this tree-lined stretch is a vast field and a modest hand-hewn cabin, prettily situated with 180-degree views of Franconia Notch and the White Mountains.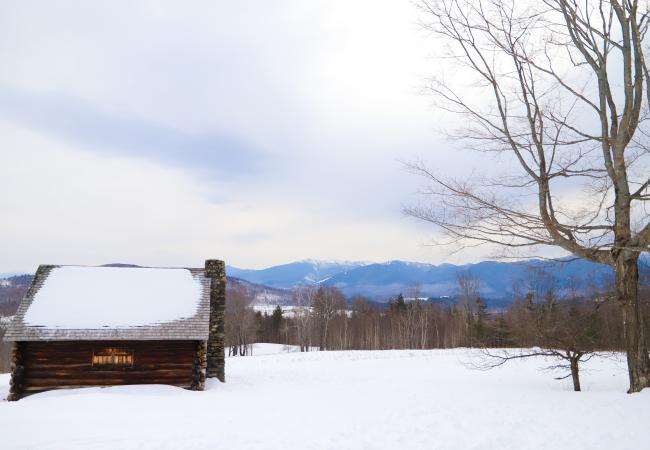 A small granite bench sits out front for those ready to repose, but the promise of a few minutes sheltered from strong winds sent us inside the cabin. If you choose to go inside, spend a few minutes reading the carved poem above the mantle. It speaks to the simple yet overwhelming love for hills and heights, and the exhilaration of wild spaces.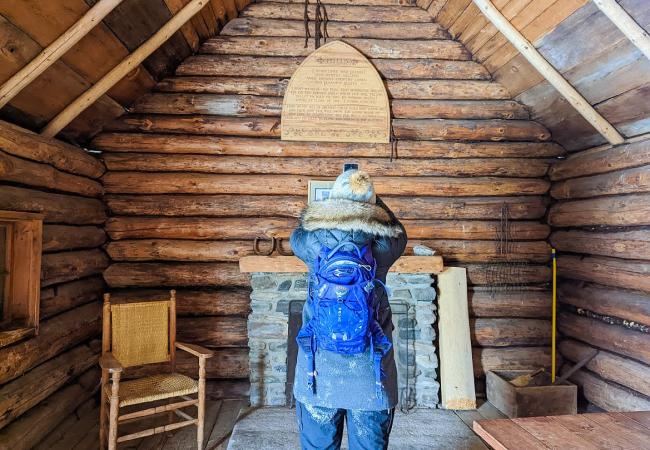 Once your time inside is done, be sure to leave no trace! Pick up all your gear and any errant snack wrappers, and latch up the cabin tight so it's ready for its next set of visitors. After that, retrace your windy steps home.
*Looking to plan your own mini adventure? Visit the Ammonoosuc Conservation Trust's website for additional information on the trail network at Bronson Hill Conservation Area, including a printable map! This short out and back hike is just one way to explore the conservation area.
If you've worked up an appetite, be sure to stop at Polly's Pancake Parlor for a stack of their famous pancakes, and a hot cup of cocoa, or opt for one of their homemade soups or quiches.  While their hours are limited this time of year, Harman's Cheese is another places to visit while in town. Purchase a pound of their "World's Greatest" cheddar cheese or peruse their quaint country store for other locally made products.  Make it an overnight visit and book a stay at nearby Sunset Hill House or the Franconia Inn. 
(Photos by Colleen Eliason)
Go on a virtual hike with us! Click the Instagram video below.