When temperatures dip into the single digits, we're all about a quick winter hike in the White Mountains.
Kilburn Crags, located on the outskirts of Littleton, NH, is a great option if you are looking to get a little exercise north of the notches. This hike as it all: a gentle incline, plenty of wildlife, and one heck of a rewarding view. It's the perfect option for families with small children, pups needing a quick romp on the weekend, or new hikers looking for an easy outdoor escape.
Trail Rating: Easy
Mileage: 1.4-mile roundtrip
Elevation: 1,300'
The trailhead is located just off I-93 on Route 18/35 and has a sizeable sign, making it easy to spot from the road. During the winter, parking is limited to two spaces; we find it's best plan your walk for an "off" time (such as midday, midweek) if you're looking to secure a spot. Before you start up the trail, take a minute to review the trailhead sign. Notably, while dogs are welcome, they must always remain leashed.
On a sunlit winter day, this trail is breathtaking. The woods come alive with bird song, the tap-tapping of woodpeckers, and the twinkling of fresh snow. Make a game out of spotting the silliest shadow if you're with children, or see how quickly you can ascend to the summit with the help of a perfectly hardpacked trail.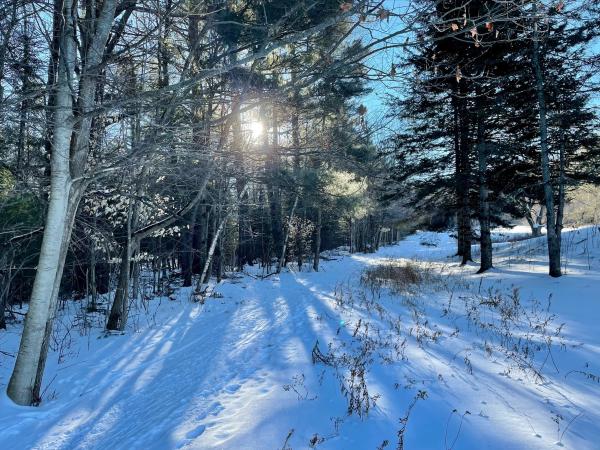 Along the way, you have your pick of two small wood benches to sit for a moment and take in the peaceful views of mixed coniferous and deciduous trees. The trail splits several times as you ascend – follow the green signs with gold arrows and keep to the left each time.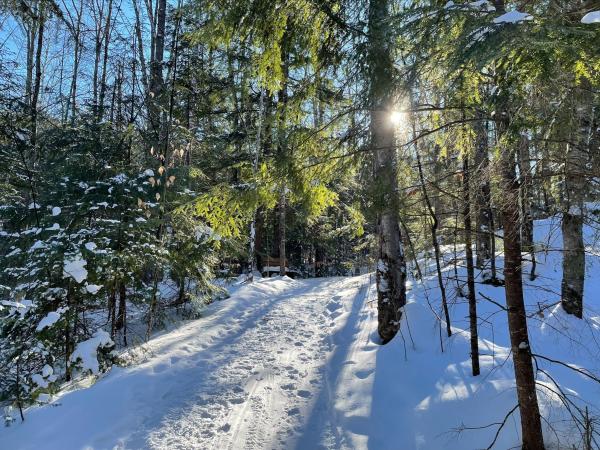 In the last stretch of your stroll, there is a picnic table perfect for hot cocoa sipping (if you're clever enough to have brought your own camp stove).  
While we did give a moment to daydreaming of summer months and sun dazed snacks at the top of this craggy knoll, the wintertime view is breathtaking as is. From this vantage point, one can see the sweeping expanse of the northern White Mountains, from the snow-draped tops of Mount Washington and its fellow Presidentials to the imposing spine of Franconia Ridge and the ski trails on Cannon Mountain.

From here, the world seems vast…and yet your warm car is happily just a quick walk away!
For other quick winter hike ideas, check out our "Family-Friendly Winter Waterfall Hikes" guide or "Easy Winter Hikes in the White Mountains".