IPA. Pilsner. Stout. Belgian. If you've been seeking to spend your spare weekend hours in a state of microbrew bliss, make your way to the White Mountains.  
Our region has a mind-boggling number of beers and breweries, and undoubtedly, we enjoy a good pour….but picking just one is darn near impossible. This time around, we thought it best to defer to the experts and hear from our local brewers themselves.
Here's the behind-the-scenes lowdown on some of the best breweries and beers in New Hampshire.
REK'-LIS BREWING COMPANY (Bethlehem, NH)
Head to the highest elevation town in New Hampshire and travel partway down Main Street. Tucked just behind the trees and illuminated by strings of Edison bulbs, you'll find Rek'-lis Brewing Company.
This North Country standby has steadily expanded over the last few years to include the classic Brew Pub, a dog-friendly patio, and a freshly appointed (and slightly more casual) Pint House. If you opt for the Brew Pub, you can expect everything from poke bowls to smoked chicken tacos and a fleet of vegetarian options.
But, as you might have guessed, the main draw at Rek'-lis is the undeniably awesome beers. Here's a quick take on what's brewing in Bethlehem, NH.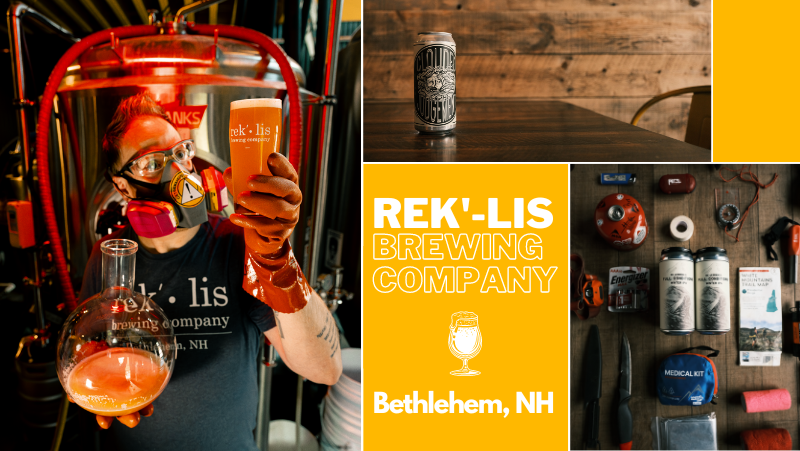 Brewer:
Jeremy Wolf
Rek'-lis' Most Popular Beer:
Clouded Judgement 
Behind the Brew/What's New:
We recently brewed a beer in collaboration with NH author Ty Gagne called Full Conditions. The beer was interesting, and we got to use new yeast strains that we have never used before.
Favorite Beer:
Now That's What I Call Munich. It is a simple, clean, perfectly traditional lager.
SCHILLING BEER CO. (Littleton, NH)
Schilling Beer Co. is just a quick ten-minute drive from Rek'-Lis – might we suggest doubling up on breweries while you're in the area?
Hop on over to Littleton and follow the steady stream of die-hard devotees heading towards the River District. If you spot a historic red gristmill sharing riverside real estate with a sleek store/tasting room, you've found your microbrew nirvana: Schilling Beer Co.
This brewery is lauded for its tantalizing wood fired pizzas and immense smashburgers, as well as the view of the Ammonoosuc River and the nearby covered bridge that spans it. While you might catch us scooping up swag at the tasting room (trucker hat, anyone?) or trying out the freshly opened Mill Street Kitchen (in the tan building on Schilling's campus), the real magic here is, again, the BEER.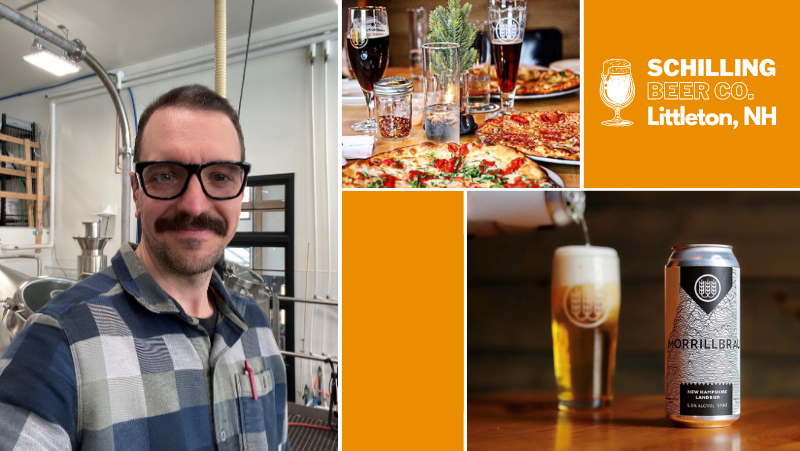 Brewer:
Ryan Murphy
Schilling's Most Popular Beer:
Alexandr, a Czech Style Pilsner.  This beer is the heart and soul of Schilling Beer Co., easily our most widely known beer.  Alexandr continues to showcase the balance and drinkability of Czech Pilsner in all seasons - even the North Country winters.
Behind the Brew/What's New:
Earlier this year Schilling released Morrillbräu - a New Hampshire Landbier - brewed with nearly 100% New Hampshire grown barley from Morrill Farms in Concord. Landbier, hailing from the Franconia region of Germany, is as much a brewing tradition as it is a style of beer (with the main requirement being ingredients sourced from nearby the brewery). We were excited to partner with a local farm and produce what we believe is an excellent representation of this tradition.
Favorite Beer:
The beer I'm most excited about right now is our recently released Bière De Coupage.  This beer comes from our Ammonoosuc Room Series of wild and spontaneously fermented beers, and is crafted in the Belgian tradition of blending a portion of spontaneous beer with fresh saison.  It features a complex aroma and flavor profile with a balanced acidity in the finish that can appeal to beer and wine drinkers alike.  A project like this is exciting because it takes a lot of patience and skill in the brewing and blending.
TWIN BARNS BREWING CO. NORTH TAPROOM (North Woodstock, NH)
A day spent exploring Franconia Notch is a must during any journey through our region, and so is a visit to one (or several) of the best White Mountains breweries. A relative newcomer to the scene? Twin Barns Brewing Co.'s new taproom in North Woodstock, NH.
The beer at this stop originates in New Hampshire's Lakes Region (Meredith, to be exact), so don't expect an immense brewing facility. Instead, you'll find that the cozy interior of Twin Barns' North Taproom marries the laidback vibes of lake and mountain life in a space suitable for kicking back with your crew.
The Taproom does offer light snacks; if those don't quite float your boat, feel free to BYOF (Bring Your Own Food) and order takeout from a local restaurant! You can spend the rest of the night unwinding with friends and seeing which of Twin Barn's sublime beers pairs best with your meal du jour.
Here are a few beer ideas to get you started….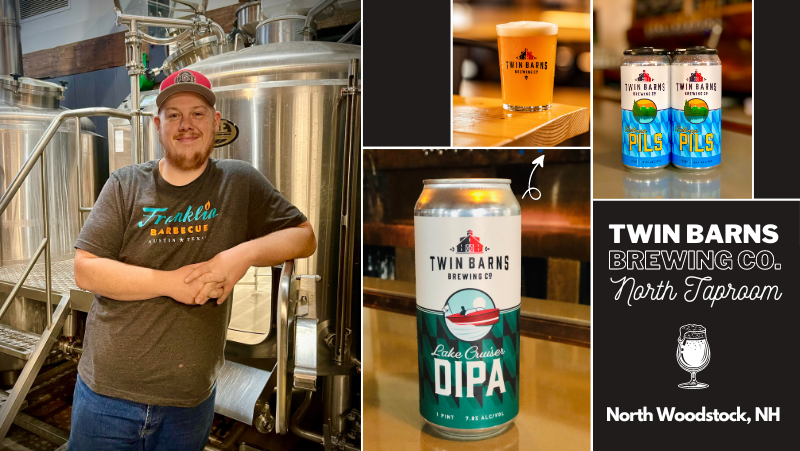 Brewer:
Randy Booth
Twin Barns' Most Popular Beer:
Lake Cruiser Double IPA (DIPA) 
Behind the Brew/What's New:
Twin Barns Brewing named their Double India Pale Ale (DIPA) "Lake Cruiser" to evoke the serene and invigorating experience of cruising along the lakes of New Hampshire.
This craft beer captures the essence of leisurely boat rides with its smooth yet powerful flavor profile. "Lake Cruiser" DIPA showcases a perfect balance of hoppy intensity and malty richness, akin to the way a boat glides effortlessly on the water.
The name also pays homage to the brewery's rural origins, nestled in two 19th century barns, creating a nostalgic connection to the beauty of nature and the joy of exploration. With every sip of Lake Cruiser, patrons embark on a flavorful journey, reminiscent of a delightful day spent cruising the tranquil waters, making it an emblem of Twin Barns Brewing's commitment to crafting unforgettable beer experiences.
 Favorite Beer:
I love our Belknap Pils from Twin Barns Brewing for its perfect blend of refreshing taste and crispness. This pilsner exhibits a delightful balance of floral hops and subtle malt sweetness, making it an ideal choice for any occasion, whether it's a warm summer day or a cozy evening by the fire.
WOODSTOCK INN BREWERY (North Woodstock, NH)
The Woodstock Inn Brewery has been serving up staples of the White Mountains beer scene since 1995, and if the thriving atmosphere at this brewery/restaurant/inn is any indication, they show no signs of stopping anytime soon.
Special offerings like private pop-up igloo dining in the winter and a rousing roster of local live music, as well as a menu packed full of comfort items, are just part of the appeal at the Woodstock Inn Brewery.
During warmer months, you can find us at the Dam Bar, a patio dining space complete with downed beaver trees as roof supports; come winter, we are hard pressed to pick between the Brew Pub, Tap Room, and Main Bar spaces. All offer the brewery's signature brews (plus a few extra if you opt to pull up a seat at the lively Main Bar).
So what to sip first? Keep scrolling!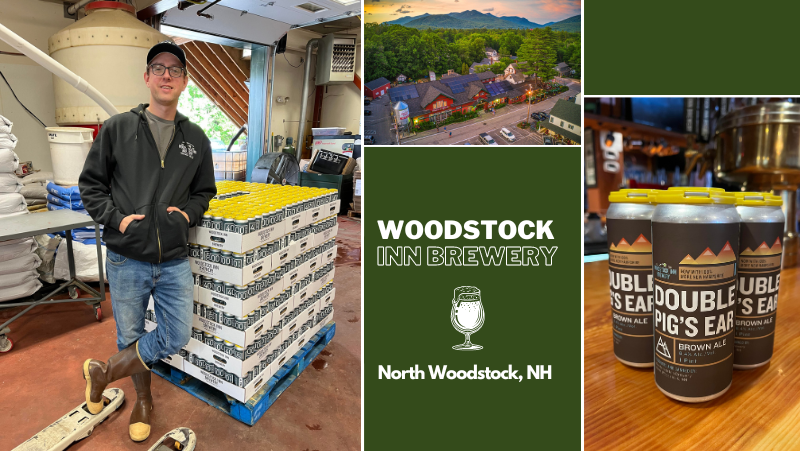 Brewer:
Peter Dodenhoff
Woodstock Inn Brewery's Most Popular Beer:
Double Pig's Ear Brown Ale, the double strength version of our classic Pig's Ear Brown Ale
Behind the Brew/What's New:
Our Pig's Ear Brown Ale was one of the three beers the brewery opened with way back in 1995, and it remains one of our most popular beers to this day. The name comes from the area of Lincoln/North Woodstock known by the same name that housed the local logging and lumber mill workers from about 1895.
Favorite Beer:
I love our new Burst of Green Double IPA. It's a rotating hop series, which is fun for us brewers to play around with, and this first version features Nelson Sauvin (probably my favorite hop variety). 
*Note: The first series of Burst of Green Double IPA will be released in late Aug./early Sept.
Are you ready to order a tasting flight? We'd suggest going on one of these hikes under 5 miles first so you can cheers a great day with an even better brew. After that, try this tasty tour of our cideries and wineries too!