Forget staycation mode and hit the open road! Our family-friendly winter activities in the White Mountains are ones you'll remember for years to come.
Whether you're looking for winter activities for toddlers or something that will keep your active teenagers entertained, there's plenty of adventures fit for the whole family. Discover an icy castle, lit bright in the night. Tear down the slopes atop a snow tube or ascend to new heights on a soaring indoor climbing wall.
Any which way you choose to play during your White Mountains weekend, your kids are sure to have fun.  
OUTDOOR ACTIVITIES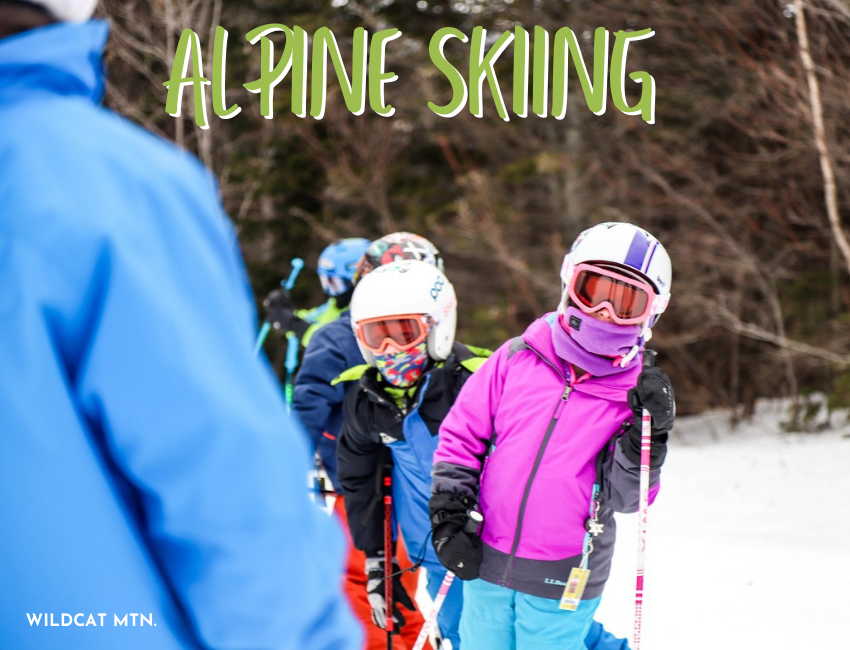 There are plenty of options for alpine skiing in the Whites, and all with a mix of daring downhill runs and beginner-friendly bunny slopes. Many also offer kid-friendly programming, including lessons and rentals. Take your pick of the below peaks depending on the location of your trip!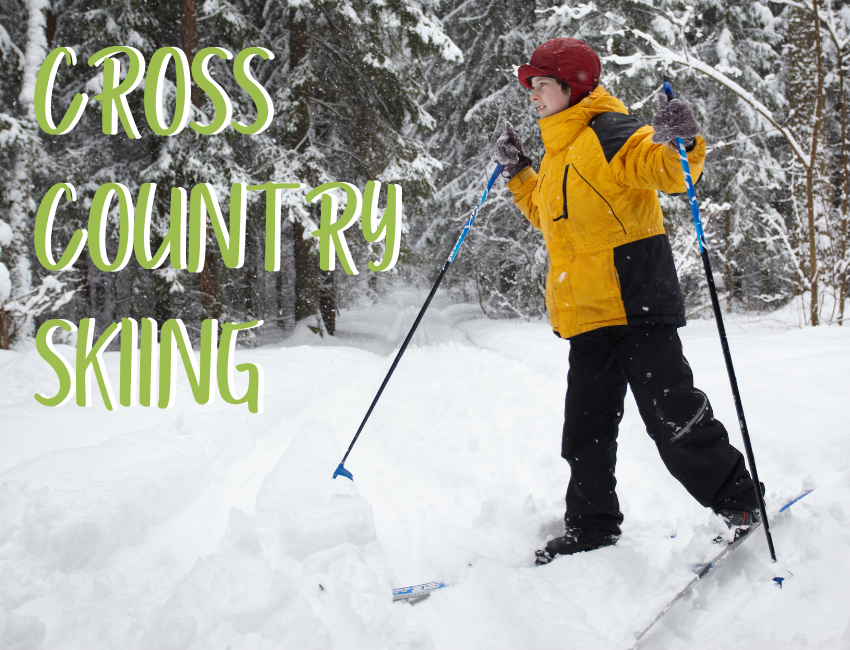 Is your crew new to winter sports? Get out on the trail and away from daunting terrain and build up your snow legs with a bit of cross-country skiing!
Many cross-country ski outfitters in the White Mountains offer rentals and special equipment such as pulks (small sleds pulled via hip belt) to encourage adventurous parents to bring their little ones along. Some also offer in-depth family and youth lessons to help develop independent skiers of all ages.
Trip Tip: Dress for cold weather, but plan to get warm! Cross-country skiing can be quite a workout. Wear multiple layers and bring a small backpack in case you need to stow excess clothes.
Places to Cross-Country Ski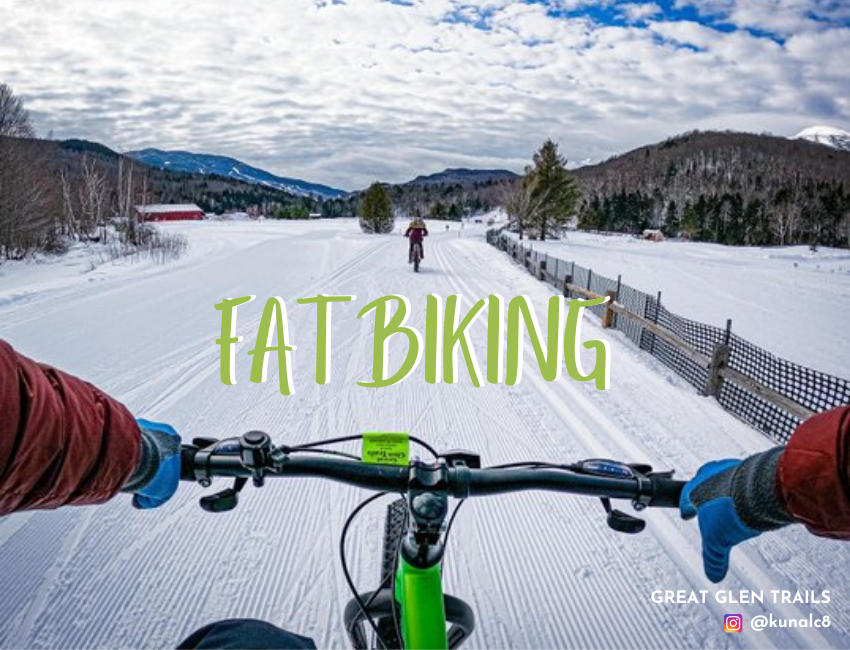 Some kids love wheels, no matter the season…
If this sounds like your family, its time to try out of the most unexpected winter activities: fat biking in the White Mountains. Many outdoor centers in the region offer picturesque views and endless miles of snowy trails, as well as youth and adult rentals for fatbikes and helmets (based on trail conditions).  
Trip Tip: Be sure to review each attraction's fatbiking best practices (typically available on their website) prior to arriving. There's no time like the present to start teaching your kids the importance of trail stewardship!
Places to Fat Bike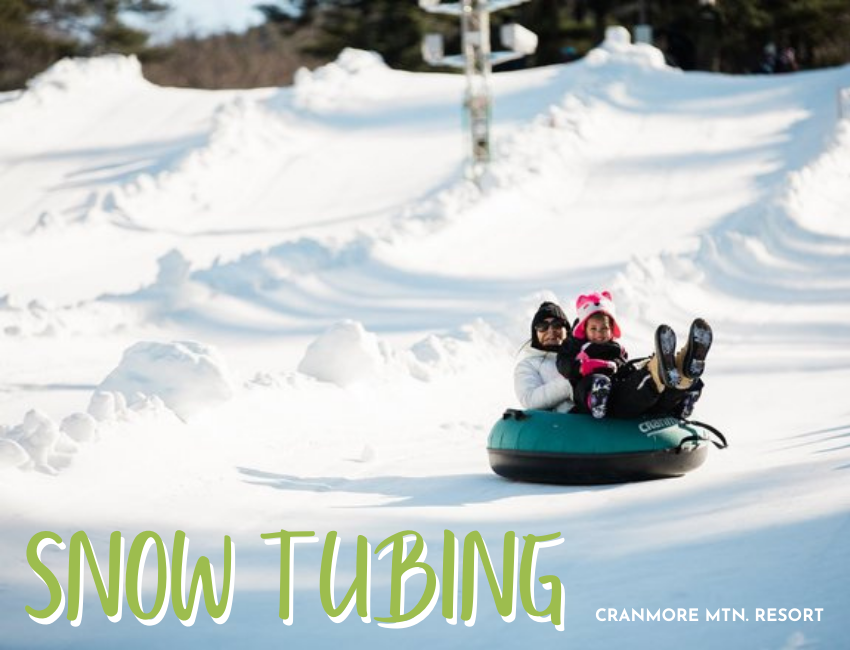 If you lean towards the more traditional, nothing beats snow tubing. Where else can you laugh as your loved ones spin wildly down well-groomed slopes, and then cap it off with a warm cocoa? There are several spots to try out this time-honored sport, including Cranmore Mountain Resort in North Conway, NH and Loon Mountain Resort in Lincoln, NH.
Cranmore offers up to 10 lanes of lift serviced sliding, and even riders under 42" can try out tubing (as long as they ride with a paying adult). Meanwhile, Loon has day and night lift serviced sliding for riders 8 years and older, as well as a walk-up hill for younger riders.   
Trip Tip: Snow tubing parks are extremely popular, especially on holiday weekends. Make sure your trip is a success. Do your research on which slope is the best fit for your family and book your tubing tickets ahead of time!
Other Places to Go Tubing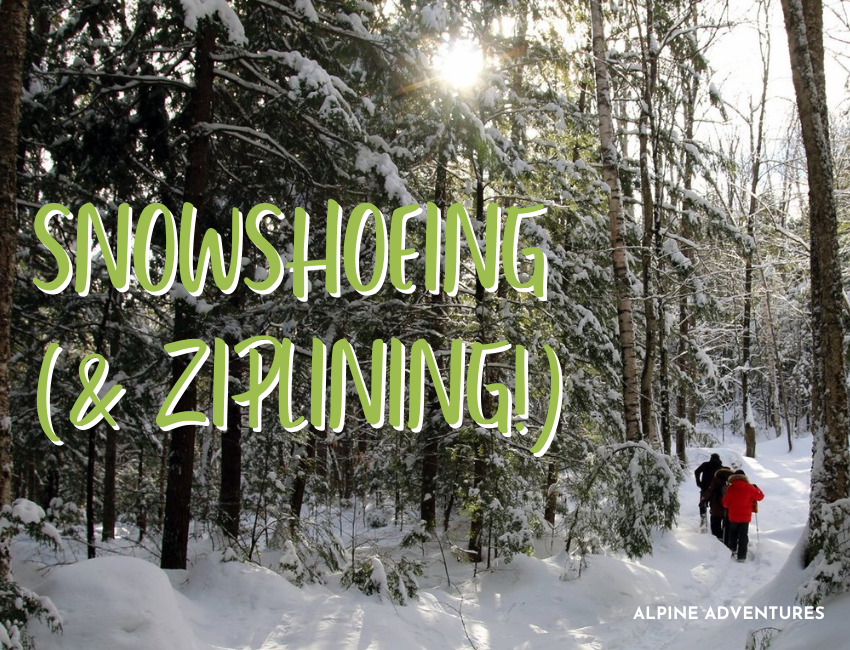 Alpine Adventures in Lincoln, NH is the perfect stop if your family is torn between taking to the skies or staying true to terra firma. This all-season outpost offers many ways to play, including ziplining, guided snowshoe walks, off-road adventures, and more. For adventurous kids, nothing beats zipping along six different courses, winding through wintry treetops. Looking for a more sedate option? Cautious children will love taking a guided snowshoe walk through a classic, quiet White Mountains forest.
Trip Tip: Bring lots of warm, waterproof layers for your outside adventures. Also? Be sure to review Alpine Attractions height, weight, and age restrictions prior to purchasing your tickets online.
Other Places to Go Ziplining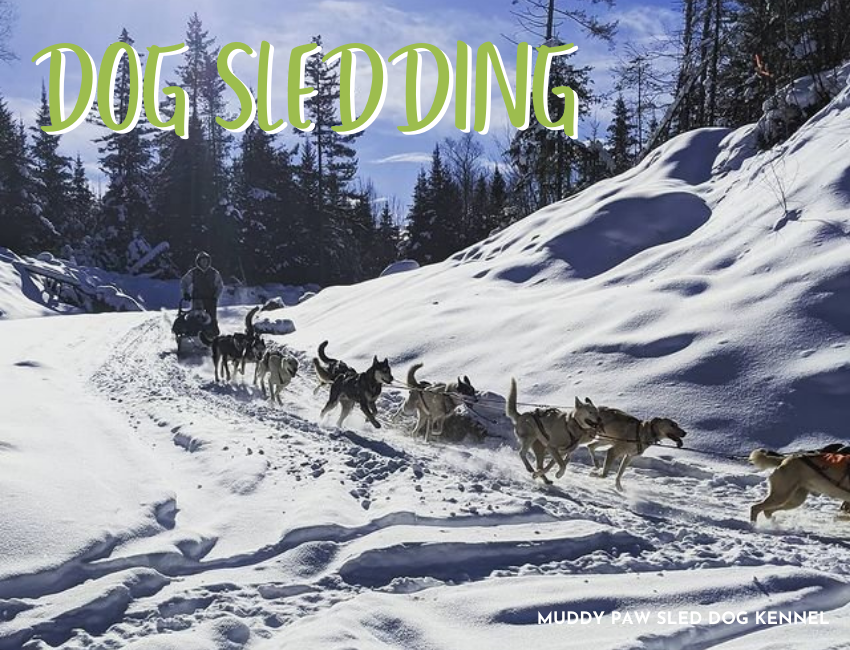 Blame it on too many viewings of Balto in our youth, but there is something so inimitably exciting about taking a sled dog tour. Muddy Paw Sled Dog Kennel in Jefferson, NH offers several different dog sledding experiences, but we're partial to the family-friendly Mini Mush sessions. Spend some time meeting the pups, hop aboard for a quick, scenic tour, and wrap up your adventure with some belly rubs and hearty scratches.  
Trip Tip: Weather conditions in the White Mountains can be unpredictable. Some years, Muddy Paws conducts its tours via rolling cart instead of sled. We love both, so be ready for fun either which way!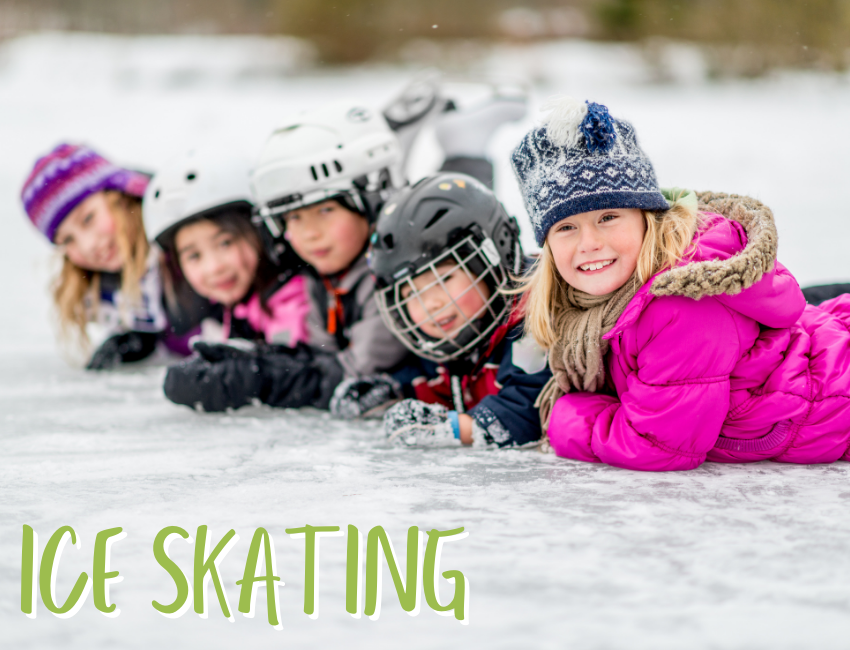 There's plenty of adventure north of the notches, including some fabulous ice skating at the Franconia Inn Activities Center. Head to the cross-country ski shop on the grounds of the Franconia Inn to secure your rental skates and take a few spins around their frozen pond.
Trip Tip: Looking to try out a few different skating locations in the northern White Mountains? Bring your own skates and visit the local rink in Franconia proper, as well as one in nearby Littleton. 
Other Places to Ice Skate
Schouler Park (North Conway, NH) *BYOS = Bring your own skates, or rent them at a local outfitter.
Talk about a classic! Ice Castles in Woodstock, NH is renowned throughout the region as one of the most magical spots to visit when the temperatures drop. In addition to a mesmerizing ice castle built for kid-friendly exploring, Ice Castles also boasts an illuminated mystic forest walk, sleigh rides, and tubing. Purchase your tickets online ahead of time for the best chance at snagging a spot.
Trip Tip: If you really want to wow the kiddos, read up on our Ice Castles blog before making the trek to Woodstock. You're guaranteed at least one incredulous "how did they make this?!" per stroll at this gorgeous stop.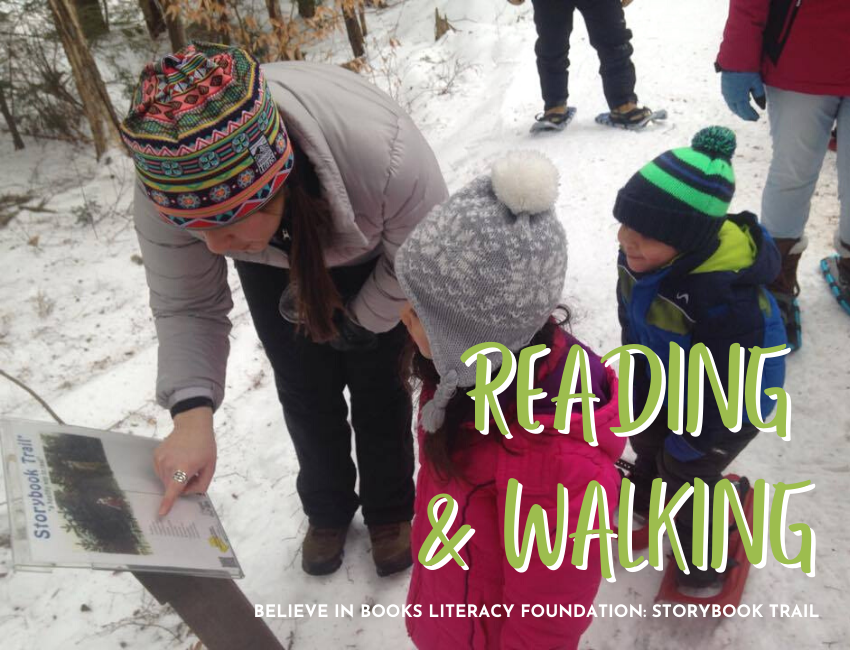 Books have the power to imbue each moment with magic. The Believe in Books Literacy Foundation has taken this sentiment to heart with their utterly enchanting Storybook Trail. This winsome ½ mile trail, located in Glen, NH, is great for shorter legs, and display panels highlighting a favorite children's story ensure that little ones enjoy the walk each step of the way. Featured stories change periodically, meaning every walk yields a fresh adventure.
Trip Tip: Don't forget to bring some smaller bills with you. The Foundation charges a nominal day use fee ($10/car or $5/person for walk ins). If you find yourself coming back quite often, look into getting a membership!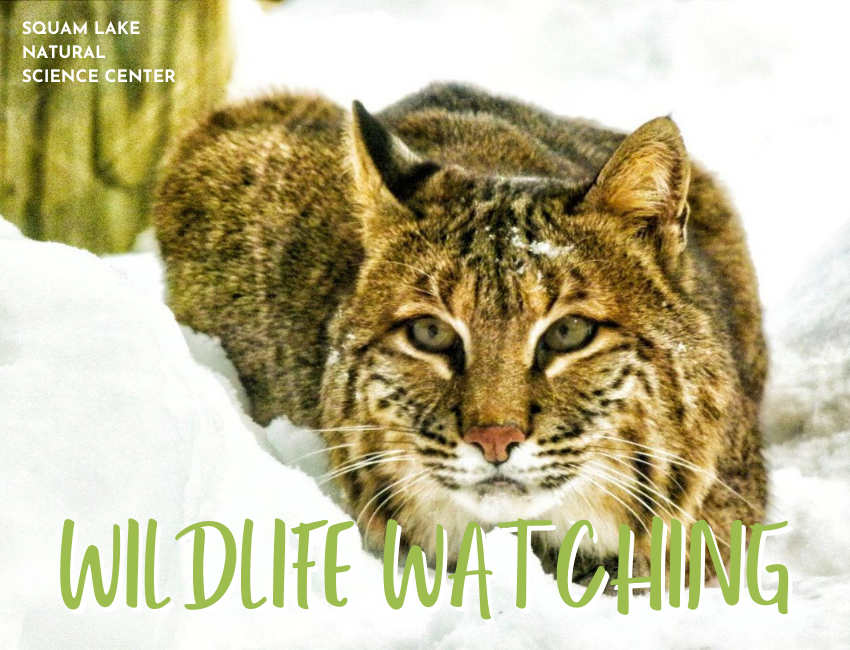 Some might view the Squam Lakes Natural Science Center (SLNSC) as solely a summer destination, but we find that half the wonder of NH's wildlife is understanding how they live during the harsh wintertime. Head over to the Science Center in Holderness, NH to take part in one of their guided tours through the live animal exhibit trail. Learn how these native animals stay warm during winter months, and see if you can spot any bounding through the snow!
Trip Tip:  Is it extra snowy out? Families are encouraged to bring their own snowshoes or borrow a free pair from the SLNSC for their tour (based on availability). "Wild Winter Walk: Guided Tour of the Live Animal Exhibit Trail" requires advanced reservations.
Please note, SNLSC is closed for the winter season barring these special guided tours.
INDOOR ACTIVITIES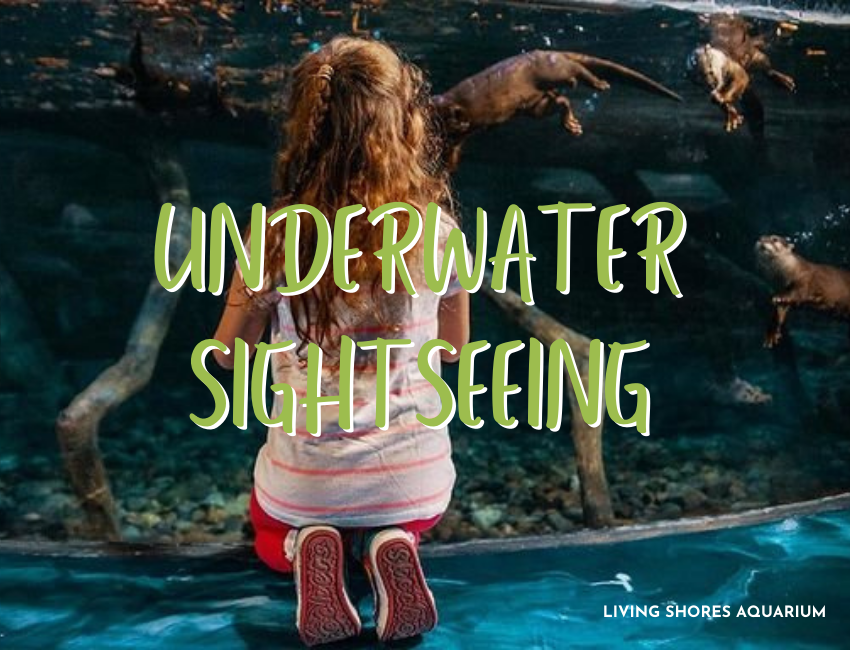 Living Shores Aquarium in Glen, NH is a mecca for kids looking to get out of the winter cold and into a whole other world. From this one fantastic facility, families can spend hours exploring 32,000 square feet of underwater magic. Dip your hand in tide pool and touch a stingray. Observe playful otters. Walk through a tropical aviary full of lorikeets! There is so much to discover at Living Shores Aquarium,
Trip Tip: Does your child have a favorite aquarium animal? Visit the "Educational Talks" page on Living Shores' website to plan your visit around some in-depth learning.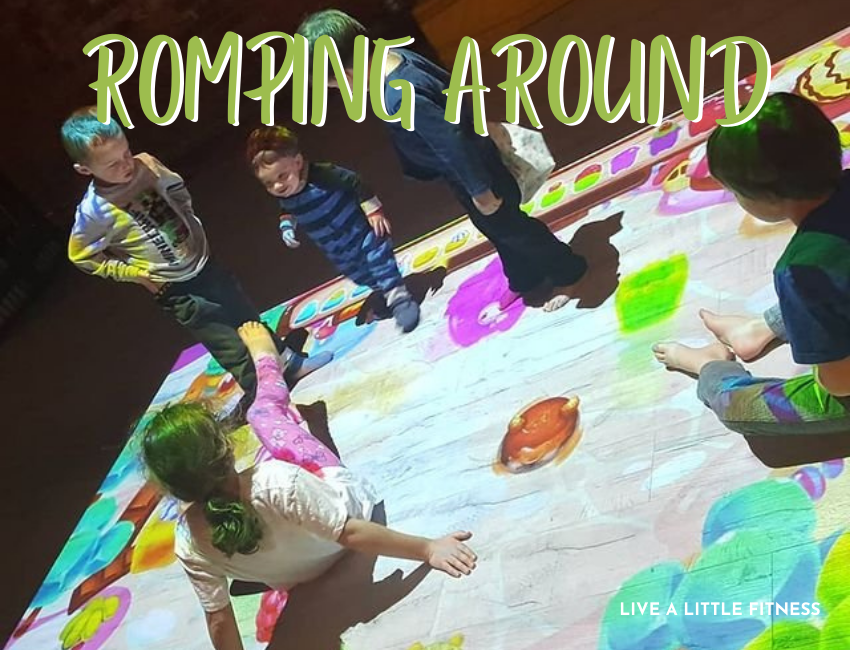 Unleash that pent-up vacation energy at Live a Little Fitness' Kids Play sessions. The highlight of this Lincoln, NH center is an interactive, oversized tablet projected onto the floor of the play area. Here, children can spin, slide, jump, and tap to their heart's content to see how each game responds to their movements. It's a great way to get active when the temperature drops, and it's also only a quick drive from Loon if you're looking for an indoor, off-mountain activity.
                Trip Tip: Kids Play sessions are currently available by reservation only.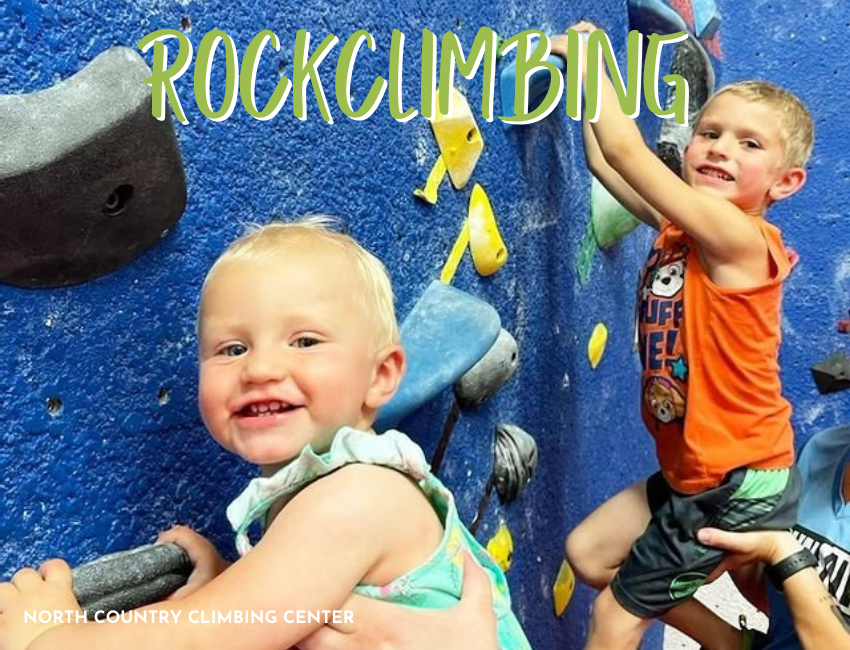 Are your kids inspired by high spaces and feats of strength? North Country Climbing Center (NC3) in Lisbon, NH has it all; climbing walls for a range of ages and abilities, lessons for children just starting out, and a welcoming community of climbing professionals. Learn a bit about ice versus rock climbing, sample the skill of bouldering, and marvel at the innate ability that powers all kids up these indoor walls.
Trip Tip: Parents, never fear: if you don't know how to belay, N3C offers auto belayed climbing. Also? Rock climbing shoes aren't a requirement. If your child is just starting out, clean athletic shoes or socks will suffice.  
Information regarding waivers, open climbing sessions, and climbing lessons can be found on N3C's website.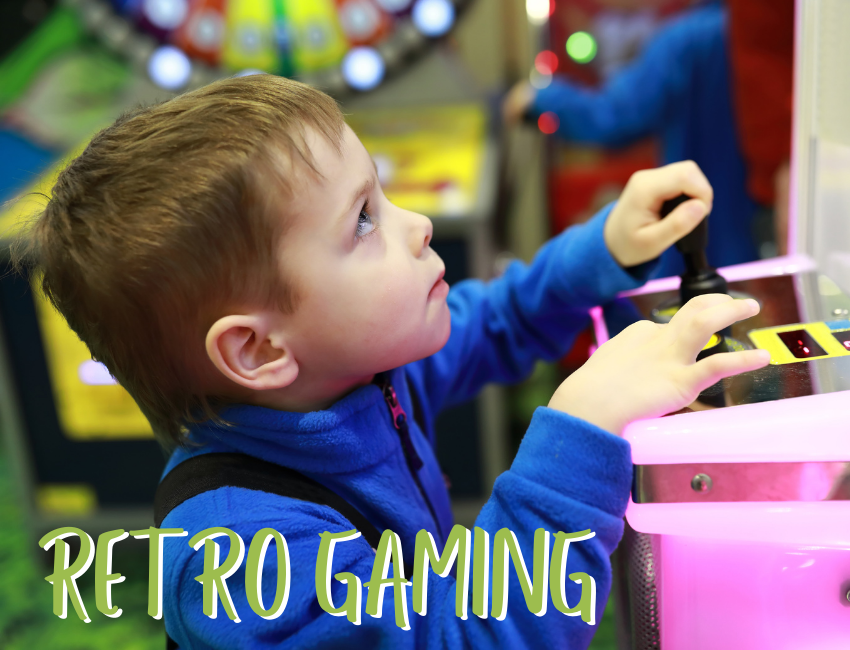 Funspot, located in Weirs Beach, NH, is one of those places where the name truly says it all. This iconic arcade, known for its staggering selection of traditional and modern games, has been a mainstay in the Lakes Region for decades. It's also toasty warm, and open every day, year-round. With over 600 games to choose from, as well as bowling lanes, bingo, mini golf, a restaurant, and more, this spot is a hit for the whole family.
Trip Tip: Does you trip coincide with a birthday party or anniversary? Look into booking one of Funspot's free designated party areas!